December 03, 2020
Reflecting on Tony Hsieh's Death
I've been disconnected from my old world for awhile now...the one where my identity revolved around being "a connector" among and amidst technology entrepreneurs. It was the world of start-ups, the world of venture capital, the world of creators and engineers and a world predominantly led by men. It was a world where I never truly felt like I belonged, despite having many positive experiences and magical moments along the way. I always felt like a circle that didn't fit into the square or a triangle that didn't fit into the circle, deeply yearning to create a community for other misfits, a bit like the infamous Island of Misfit Toys that Yukon Cornelius, Hermey the Elf and Rudolph fell upon in the Arctic tundra. It was in this world of hardware, software, apps and IoT that I had the opportunity to not just meet Tony Hsieh, whose death came with great sadness, but also hang out with on occasion. I hadn't realized that he stepped down as CEO of Zappos in August after 21 years, not until I read of his death, which just so happened to be on my birthday. 
Credit: Renee Blodgett[/caption] Death is such a heavy word for most of us and there's no doubt, I felt a deep sense of sadness both in my  heart and gut when I first learned of the news, a very common reaction when we experience the loss of someone we once knew. Yet, in my new world which is predominantly led by Consciousness and Spirit, I know that his 'death' isn't really 'death' at all -- it is a mere shedding of his shell -- aka the mask and costume -- he chose to wear for yet another physical experience. Those still embedded in scientific materialism may see this as perhaps a 'religious statement' however it couldn't be further from my meaning. As folks like Bruce Lipton, Dr. Joe Dispenza, Gregg Braden, Mark Gober and countless others have written about, we are now aware that the bridge that has always separated science and spirituality is getting closer and closer every day. We know that powerful healing and elevated states of awareness can happen through meditation. Evidence points to the notion that consciousness exists outside the physical brain, almost like data stored in the cloud, to take an analogy from the world of technology. Knowing that Tony's Soul and his Consciousness lives on, why shed a tear of sadness? It is because within this physical plane of existence, we grieve the loss of a 'being' who came here to bring light, joy and happiness, the latter of which was even in the title of a book he authored: Delivering Happiness: A Path to Profits, Passion and Purpose.
Despite this innate knowing, we realize we can never look into the person's eyes again, not in their latest physical manifestation anyway. Nor can we hold their hands, hear their laugh or share a cup of coffee. And so, there was a jolt to my physical system when I heard the news despite that innate realization that his Soul lives on and becomes reconnected to universal consciousness so to speak. "It" becomes part of the aether, part of the Void, part of the All That Is and part of the Cosmic soup. As a misfit himself, I always felt that he somehow knew this and is one of the reasons he didn't project some of the traditional fears that so many others plug into, at least not in any of my direct experiences with him. I can't recall the exact moment I first met Tony but I think it was in 2007 in Austin -- long before his  'Happiness' book hit the market. By the time the book was released, I had already experienced many special "Tony moments" including a Zappos tour to better understand his vision of what customer experience, loyalty and appreciation should look like.
At Zappos
Above and below: great memories at Zappos. Credit: Renee Blodgett
Above and below: fun and creative energy at Zappos. Credit: Renee Blodgett
Above and below, fun times at Zappos
Creativity throughout the workplace at Zappos. Credit: Renee Blodgett
Tony also invited me to their holiday parties, and on one such event, a pair of shoes was waiting for me upon arrival that was a perfect match for the 1920's flapper outfit I chose to wear that evening. 
Renee Blodgett, Shore Slocum and Jeni Holt at Zappos Holiday Party. Credit: Renee Blodgett
Then there were interactions at Austin's annual SXSW, which was all about parties -- thrown by individuals and vendors -- and they went on for days. They weren't the kinds of parties we attended during the "heyday" of Comdex and CES that ended around 11 pm -- SXSW parties would carry on throughout the night -- every night -- for a week, and often we'd end up at some all night joint for pancakes at around 5 am. Those who were part of this eco-chamber well remember SXSW and it's "magic moments."
It was SXSW 2007 that Evan Williams set me up with my Twitter account directly on my phone in one of those long corridors well before the Twitter frenzy hit, Robert Scoble looking on with a beaming smile to demonstrate how 'cool he thought it was.' I remember thinking at the time: 'another ridiculous name for a start-up that has no meaning.' But, I respected Ev and the rest is history. That same SXSW, I hung out with other technology visionaries (and bloggers) as we ventured from party lounge to party suite. Zappos had a gathering and if my memory serves me right, it was here I was first introduced to Tony. Calm and centered were two words I'd use to describe him, which amidst the chaos of SXSW's youthful glam and tech illuminati was hard to pull off. Simply put: SXSW was full of inventors, creators, engineers and artists and all the frenzied energy that came along with it. Alcohol too of course. It was either that same SXSW or subsequent ones (likely both) that I'd jump aboard Tony's rented bus which would transport us from party-to-party. Sometimes, we wouldn't get off at all and the bus became the party with plenty of beer along for the ride and even a decorative balloon artist on board to boot.
It turns out that Steven Rosenbaum who shared those same Austin experiences had equally fond memories as he writes in his own beautiful tribute to Tony on MediaPost. Luminaries abound became the order of the day in those fun but often misunderstood days of technology creation and advancement. Tony was among the few that were not just truly respected but truly liked. Whether you were drinking beer with him at the TechSet Blogger Lounge in Vegas or Austin or hanging out with him over much better food at LeWeb in Paris (Geraldine & Loic LeMeur certainly knew how to throw a party and curate a menu), if you met up with him, you'll remember another important quality that Tony possessed: Presence. As entrepreneurs rose in fame (and bank accounts), so too did the ego and with "it" often came 'lack of presence,' where you always felt that they had somewhere more important to get to or someone more important to talk to other than you. We've all been there and it's an inauthentic and empty feeling, isn't it? 
Tony Hsieh speaking at the Tony Robbins Business Summit I attended in Vegas in 2009. Credit: Renee Blodgett
On another occasion, there was an awkward moment when I was turned away at the door of a 'nearly all male' poker party that I was invited to by several entrepreneurs in my 'circle.' As I recall, it was in some 'power suite' on the top floor of some 5 star hotel I don't remember the name of, and suddenly Tony was at the door and told the person to let me in. He did so with a balance of both softness and firmness and a smile that simply let you know that 'all would be okay.' And of course, all was okay. Those who knew him well and shared in these special "Tony moments" understand this feeling. As Sarah Lacy wrote in her Business Insider article about his passing, Tony was "fundamentally someone who wanted to make people happy." She also shared a story I resonated with as it was similar to my own experiences with him over the years. During an uncomfortable moment deep in an underwater cave, Tony took her hand and like I felt in my own special "Tony moments", let her know that all would be okay. You see, he had that way about him and people just 'felt it.' You know that beautiful quote from Maya Angelou: "people will forget what you said, people will forget what you did, but people will never forget how you made them feel." 
"People will forget what you said, people will forget what you did, but people will never forget how you made them feel."

-- Maya Angelou
Tony lived that. In 2011, I had an idea for a photo book and began shooting entrepreneurs across industry sectors who turned to heart as their 'go to' for decision making. Tony Hsieh was among my 'picks' -- it was a project that I never completed but had a blast in the creation process. I don't even remember the city where we had the photo shoot but I do remember that it was just the two of us in a small hotel suite where the lighting was far from ideal. My own primitive lighting system wasn't good enough for the backdrops and so we had to make do. He was more than indulgent when I asked him to stand on the couch or up against silly props, and he simply smiled in a way that always put me at ease.
Above and below, from our photo shoot in 2013. Credit: Renee Blodgett
Photo shoot with Tony. Credit: Renee Blodgett
When his book came out, I somehow found myself at nearly every book party and not just in the United States. There were parties in France and Ireland, as well as in the likely suspects in the states, like NYC, San Francisco, Los Angeles, Las Vegas and Austin. He would hand his books out like candy so I had collected many over the years and at one particular event, he gave me more than a dozen. I used to keep them in the trunk of my car and after a networking gathering or a coffee or lunch meeting, if I felt the person could benefit from his book, I'd give one away. This went on for years and we used to joke about it whenever we saw each other. "You'd think that you worked for me," he always said with a laugh. The truth is: I loved the book and it felt so 'full' compared to the 'emptiness' from so many other start-up books I had read at the time. His 'voice' exuded heart and purpose...at least it felt so to me.
Tony Hsieh signing books in Austin after his Delivering Happiness book release. Credit: Renee Blodgett
And, his passion echoed elsewhere as well, which went on to create community, the Happiness Bus Tour and others within his sphere who would also spread the value of happiness as an important ROI at the workplace.
Jenn Lim speaks at SXSW on Delivering Happiness, extending the message beyond a Happiness Bus tour. Credit: Renee 
Tony's Soul Imprint Lives On
So friends, I write this piece as a tribute to his 'physical experience' as Tony Hsieh in this timeline and in this reality. I write this piece as a nod to the contributions he made to humanity, speaking up and out on the importance of living from a place of heart, purpose and ultimately a higher consciousness. Although I lost track of him in recent years, the last two times I saw him, there was a sadness beneath those dark eyes. I couldn't explain it nor did we have time for a "heart-to-heart" but I could sense and feel it -- one of those innate kinda things we all have from time-to-time. As an empath who now teaches about consciousness and spirituality, I've always felt people's emotions and not just from time-to-time, but almost always. 
It was as if his own "magic moments" had come to an end, or at a minimum diminished so much that he wanted to be elsewhere, like the Island of Misfit Toys. As a visionary, he loved to build and create so perhaps being at the top of an empire just didn't offer the same magic. Had his most vibrant contribution to humanity felt too distant to recapture? Whatever it was, I noticed it both times I last saw him, deeply buried in his soul that others may have seen as well if they were present enough to feel it...sense it, know it. The one thing I feel, sense and know now is that the Soul chooses its purpose and its 'story,' as well as its timeline and its own reality. You see, in a quantum world view, the particle and the wave exchange places. They can be one or the other or both. Physical matter such as our perceptions of who we are as physical human beings, the skyscrapers in the cities we frequent and even the houses in which we inhabit are projections in a way....and less real than we perceive them to be. Even if Einstein couldn't make peace with all things quantum in the days of Bohr and Planck, he knew this deep down too. Remember that we are not outside of time and space but we are time and space. From a mathematical model/perspective, its like a "fusing of the three dimensions of space and the one dimension of time into a single four-dimensional manifold." 
"A human being is a part of the whole called by us universe, a part limited in time and space. He experiences himself, his thoughts and feeling as something separated from the rest, a kind of optical delusion of his consciousness. This delusion is a kind of prison for us, restricting us to our personal desires and to affection for a few persons nearest to us. Our task must be to free ourselves from this prison by widening our circle of compassion to embrace all living creatures and the whole of nature in its beauty." -- Albert Einstein
And so my friends, Tony Hsieh's Soul and its beautiful imprint lives on. Or, if that's too much for the scientific materialists among you, then perhaps you can handle the notion that his Consciousness lives on. But for us mere mortals still imprisoned in our 'shells', living out this one quantum string that shows up as a theatrical play we perceive as reality, we shall miss his physical voice, touch and embrace. Or, the perception of them anyway. We could say then, that from a quantum perspective, RIP Tony Hsieh takes on a new meaning, one which is full of life not rest.
Selected Industry Event Posts
December 3, 2020 in On Innovation, On People & Life, On Spirituality, On Technology, Reflections, Social Gigs & Parties | Permalink | Comments (0)
March 20, 2020
The Coronavirus: A Spiritual Perspective!
You could say that words poured through me, not out of me.
What a turbulent and unpredicted ride over the last few weeks as we have all been dealing with a tsunami of news reports from around the globe. Unlike many health related risks in the past, Covid-19 is impacting the world – all of us, not just one country or region. We can no longer feel safe because it's happening "to those people over there" as humanity's ego so often does. We are all being hit by a virus that we as a global community are still trying to understand.
The Coronavirus itself isn't new but the strain is – as such, even the medical community is in unchartered territory as are the hospitals who are trying to ramp up support, beds, and supplies if the pandemic spreads.
On top of being in unchartered territory, the fact that we don't have enough testing kits yet, we are faced with even more uncertainty and doubt.
We're told that it is highly contagious – that it can pass through hair and eyelashes, can live on physical substances, such as stainless steel, metal and plastic for up to 3 days. (think grocery carts and door knobs) and on cardboard for up to 24 hours (think Amazon packages and UPS boxes).
With this deluge of information -- some of it hype and some of it real -- how do we know what reality is? And, can we truly control that reality?
As with any flood of fear-instigating data, there's always someone who can financially benefit and often it tends to be large corporations, pharma and yes, governments. The result of hysteria and panic can be potentially worse than the virus itself.
So even if some of this is in play, it doesn't mean that the facts from medical doctors are not very real nor does it mean that the threat isn't very real.
Some people have raised questions such as: "if we are truly to step into a greater consciousness, knowing what we know about manifestation and the higher vibrational energies that we all hold, are we not giving into the fear being created around us by staying at home?
Are we not giving into mass consciousness? Are we not allowing ourselves to be controlled? Are we not creating more damage by staying away from others when at this volatile time, we need to be unified more than ever?"
As with everything in a Quantum World view, there are no absolutes and so the answer is YES and NO.
Consider this: if there are no absolutes and only probabilities with multiple layers and complexities, imagine that Covid-19 has its own consciousness. What if humanity called its consciousness into our dimension on purpose?
OUR COLLECTIVE SOULS RESPOND TO HUMANITY'S AND GAIA'S HEARTACHE
In a world of growing isolation where so many have been building stronger relationships with their phones and social media accounts than the loved ones in front of them, we have been starving for a type of human connection that doesn't exist in a data bank in the cloud.
We are craving for a re-connection to the Earth, one which humanity has been pillaging in unhealthy ways for decades upon decades.
Gaia herself is calling out to be healed, asking humanity to wake up and see the repercussions of our actions.
What a better way for humanity to 'get the message' than for its consciousness to call forth an intrusive and disruptive consciousness to wake us up, even if that be in the form of a virus.
The Laws of Attraction and Repulsion ensue, that we as individual energy forms and yet part of the 'whole', will repeatedly bring forth whatever it takes for us to either wake up, or repeat the same pattern of disharmony over and over again.
Enter the domino effect which disruption often creates, where we are forced to take a step back and get out of the mud.
Our eyes have been so glued to a tree for so long (aka digital screens) that we have lost sight of the forest, the collective good and 'all that is' we are an integral part of. In this process, we have no choice but to return to our innate understanding that all is interconnected regardless of our belief systems, the color of our skin, the culture and language that we perceive defines us and so on.
We return to Oneness knowing that we are part of a universal consciousness and that universal consciousness is part of us– we don't operate out of time and space but we are time and space, not separate from it.
In other words, what if the virus is in fact a medicine for humanity, a sort of self-correcting one?
BUT, WHAT ABOUT PHYSICAL SEPARATION? HOW DOES THAT HELP US HEAL DURING SO MUCH UNCERTAINTY?
There's no question that there will be physical and emotional ramifications from this so called self-correcting medicine. Family members, especially those whose immune systems are compromised or the elderly, may die. We will miss the physical connection we have grown accustomed to in everyday life – at work, school and in our communities.
There's no denying that all of this feels painfully real in the physical world in this dimension in the here and now. But, how we interpret, process and handle the crisis we are faced with collectively as a global community is what is so critical to our healing.
Many have been living and suffering for a long time from a different kind of pain….a disconnection from themselves, from others and from Gaia herself. For those who were awake or in the process of "waking up," there was an unprecedented inner knowing that we better change our ways or die.
When the natural order of things – all living things – are in disharmony, Gaia needs to rebalance and because we are connected to Gaia's consciousness, that combined consciousness comes forward as ONE energy to self-correct.
The natural laws of the Universe have kicked in, forcing us to go inward and remember what's truly important. Once you do, you'll begin to see a bigger picture consciousness that is presenting itself from a macro-view. Rather than see the virus as some kind of evil manifestation, imagine that it as the emergence of divine intervention.
As with every re-balancing, old ways of doing and seeing things will die. Old orders, archetypes and structures will die off or at a minimum, diminish so a new way of seeing and doing things can finally sit into the creator's seat, get the voice it deserves and ultimately begin to thrive.
So, rewind the clock back to when I said that in a Quantum World view, there are no absolutes to the answer of "are we are giving in to old patterning by isolating ourselves right now?"
Let's look at a YES response. Yes, because we don't want to feed and give voice to the fear that could emerge on a global scale if we allow it to, which leads to the ego raising its ugly head. The fight or flight mechanism of "I better save myself or I will die." That is a lower vibrational mindset that doesn't serve us or the collective whole.
Let's look at a NO response. No, because we are allowing a new consciousness to emerge to correct the natural order and going with the ebb and flow of that energy, a bit like a martial artist approaches his or her opponent. Remember that we still exist in a human body which can catch the Covid-19 (known as a novel virus) even if our immune systems are strong.
While it may not have a deadly impact on those who are young and healthy, it doesn't prohibit us from being a vector, which means we can 'host' the virus and pass it along even without symptoms or ever getting ill.
So, because we are connected to other living things, we need to think about the impact we could have on others, especially those with impaired immune systems and the elderly. From this perspective, we have a social responsibility to carry out social distancing, at least for a little while.
For those of you who feel that being together during this time is the most important thing, consider a higher purpose, that of the natural law of order correcting itself. Rather than feel stressed and anxious, use this time to go inward and reflect.
This is also a time for allowing what is, a time for allowing just you and your Higher Self to BE in silence with the here and now. Alone. Listen to your inner voice that will guide you in ways that no one else can.
MINDFUL INTENTION: Peace, Love, Inner Knowing
If this is a time to reflect and be alone, does that mean during this time, we don't provide support to others? No, of course not – remember that we are all connected after all.
But, first and foremost, it means understanding the energy of the Covid-19 consciousness and working WITH the energy, not fighting it, nor retreating out of fear but out of respect for the energy. In understanding how to work with the energy of a new consciousness we don't yet understand, being humble is part of the process. We want to go with the flow of what the bigger picture has in mind for humanity, from a place of EBB and FLOW. Qigong masters understand this well.
Also during this time, mindful intentional meditation and staying in a high vibrational energy of unconditional love is what is also called for – it is not only powerful and healing for ourselves, but for those who are infected with the virus and the planet as a whole. This is about emerging with the FLOW of Universal Energy, not taking one side or the other.
Think of it as a retreat for soulful reflection and in that inward time, we can also support others energetically (remember there are no borders or boundaries to our energy fields).
Then, we may re-emerge feeling renewed physically, emotionally and mentally. On the other side lies a world which has shed a layer of skin or two and shall show us a new consciousness we can either embrace or not.
I hope we all learn from the lesson and embrace it collectively as a whole. Rather than fight it, go to fear or over analyze it, truly feel into the blessing that this correction will ultimately create for humanity.
Blessings to you at this time.
March 20, 2020 in America The Free, On Health, On People & Life, Reflections | Permalink | Comments (0)
September 09, 2017
On Discipline & the Art of Courage
Where the art form and discipline of martial arts mastery meets the peacefulness of a dramatic late summer sky. This photo captures so much of the raw mystery and surreal nature of time spent with our friend Chris, a kung fu wizard of sorts who depicts a warrior as much in this life as his last hundred.
If we are creative beings, it may be easy to be disciplined about our gift but harder to wear it on our sleeve in other areas of our lives. I learn every day from living with a martial arts warrior about the left brain side of that creative mind as well as the other side of discipline, the other side of strength, the other side of the unspoken, the other side of polarity and the other side of courage. 
How our friends touch and rip open our lives and us them, is forever circular for what they move in us reaches deep into the universe. The trickle effect and ripples we create in other people's hearts and souls are powerful beyond what we can imagine in a linear thinking world. 
Lest not forget that we are all energy after all. Everything around us is energy. For what we sow, we too shall reap, for what we put out, will return. 
Sometimes the most important thing is just "showing up" and doing so with an open heart and an open mind. That alone will not just transform your own journey but everyone and thing on its path!
September 9, 2017 in America The Free, Reflections, San Francisco, Sports, TravelingGeeks | Permalink | Comments (0)
May 27, 2017
Simplifying Your Life Connects you to Your Life Purpose
I've been spending more time thinking about mind/body balance and soulful, purposeful decision making more than anything else lately – in my personal life but also in my business life because let's face it, our work is where we spend most of our time.
I've been asking what mind/body balance and purpose means to people and have extended this question to other cultures. As someone who runs an online travel site dedicated to Transformative Travel, I have access to people from around the world and know first-hand how much knowledge, insight and ancient wisdom we can learn from people whose views are as foreign to us as the Chinese alphabet. This is particularly relevant in the midst of current events and unnerving shifts in politics, including rhetoric that global leaders are embracing as acceptable lately, particularly in the states, the Philippines, Venezuela, Russia, France, Germany and England. I could go on….but that's not the primary point of this share.
Photo credit: johnhain/pixabay
It shouldn't be a surprise that the feedback I got from Asian and Southern African voices were a little different than the types of things that came from the hearts and minds of those living in North America and Europe. And, it shouldn't be a surprise that Millennials had a different take than Baby Boomers. That said, one measure of happiness and joy remained constant regardless of demographic, culture or age: connection and quality time with people who they valued most in their lives, whether that be family or friends, or both.
Truth be told, we like to spend time with people who make us feel good about ourselves and the world around us. We also like to connect with people we feel understand us and so when ideas, thoughts, products, services, people or things fall into our path that are inherently different to our world view, our first inclination is often to reject it and flock to safety: our friends and family who understand us, or at least in our perception.
The problem with this strategy as a "go-to pattern", is that it is more likely than not, to keep fears alive within us which limits us from our biggest potential. There are three things that can set you free from those fears, at home, in the classroom or at work.
First, we are enough exactly as we are…perfect, in fact. While this may sound like a new age concept for my East Coast and Celtic friends, or the kind of thing you'll read in every self-help book you've ever come across, it is not only critical to understand this statement, but embrace it and I don't just mean intellectually: "I got it. I'm good." Our DNA actually needs to know this as a "truth."
We come with baggage – all of us. We come with hard-coded conditioning from the families and communities who raised us and while some of it has inherent value that keeps us guided and even grounded at times, some of it throttles us, holds us back and tells us through a small dark voice that we're not capable at doing X or Y and that X or Y may be our life purpose or at a minimum, something that brings us joy. That voice may tell us that we're not cute enough, or tall enough or thin enough or smart enough, or athletic enough or whatever rules were engrained in our heads at an early age.
Knowing that regardless of where we spend our time – the people we love and keep us in that comfort zone – or strangers we meet on our life path who may push us far beyond that comfort zone, we are good enough exactly as we are. This realization and acceptance will allow you to be in a quiet place with no one around you at all or in a noisy place surrounded by foreign tongues and ideas, and embrace all that is, exactly as it is, without trying to change it to what you can handle. The truth is that you can handle it all if you change your belief system.
Second: be present and grateful every single day. Being present and grateful when you're in a quiet or noisy place, will allow you to take in every texture and layer of an idea, person or thing. When we're not present, we miss all of those layers, which are essentially the intricate voices that allow you to reach new dimensions. Presence and Gratitude raises your frequency and when this happens, you will hear insights and observations (or feel them) that will dramatically change your life at home and at work. Don't try to understand how this works – just believe and know that it does and you may just be surprised.
Even though I'm more of an artist in the way I approach the world, I am also a very analytical person by nature and that combination has made me a good marketer over the years. The biggest mistake I made early on in my life, was trying to understand how something this esoteric or unfounded scientifically could pave the path to success. While science is now catching up and there are new correlations every year, it's still hard to embrace something we don't understand. Bottom line: don't try to analyze how the simple act of being present and accelerating your awareness for gratitude will unlock problems and stagnation in your life. Trust me: go with the flow on this one and beautiful new things will come knocking at your door.
By focusing on what we do have, rather than longing for what we don't, we begin to see the world differently. It is suddenly full of textures, tastes and smells we never imagined was possible to experience. You can start this process through a commitment of only 15 minutes a day -- half of that time will be making notes about what you're grateful for in your life (that day) and half of that time will be spent staring at something in nature and truly be present with it.
It can be a tree, grass on the fields near your house, flowers in a park or your garden or a butterfly – anything that you're drawn to is the right thing. Focus on its beauty and stay present with the process. Remember it's a short commitment of time, so give it a try and see how you feel after a month.
Some people refer to the daily note taking process as a Gratitude Journal, but call it whatever works for you and be as specific as possible. In other words, the things you jot down can be as mundane as how the fabulous color of your living room walls make you feel or as simple as holding your child on the couch while you watch a movie. Cooking with your best friend. Having tea with your mother. Taking a morning run on the hill near your office. You get the idea.
The third point is all about purpose. Have you ever thought to yourself or out loud – what is my life purpose? You may have spent your twenties searching for it, traveling or adopting every hobby or sport you could, or maybe you didn't focus on it until mid-life, in your forties or fifties, after you had gone through a few life crises or lost a family member. Perhaps you're in your twenties and thirties and are still wondering or perhaps you're older and knew early on in life and are still living that purpose today.
Wherever you fall on the list, there's always room for creating new purpose. Even if you're joyfully living your purpose today and have most of those questions answered, each decision you make (including the small ones), should be a purposeful one. Regardless of whether you're a CEO, a head of a department, running a community, a teacher or lawyer, retired, a mom, an entrepreneur or an artist, purpose matters a lot. It doesn't matter what hat we wear during the day, making decisions that are purposeful and soulful, ones which are truly aligned with our nature, are the right ones.
We will know when we make a purposeful decision because we will feel centered, and on our path. And, it is the fluid one, you know, the path that may or may not be the road less taken, but it is the one which flows with ease, like a river that naturally moves over the rocks beneath it like a dancing angel that floats through the stars but never clashes with one.
When something isn't aligned in our lives at home or at work, our souls are out of sync and you know when you're there because you'll feel it in your body. A misaligned life often shows up both physically and emotionally.
Verbally, it may come up in more traditional ways we see around us every day: ongoing complaints about our boss, a disagreement with a management decision that may or may not even affect us, or conflict at home you don't quite know how to fix. When our daily lives don't feed and nourish our souls, it's time for a reset. Get quiet. Listen to your inner voice. After all, a silent voice is the one that always transforms the world. First and foremost, we need to do it for ourselves. It's not a selfish act to nurture what matters to us most – our values, our passions, and especially our purpose.
When you're truly making purposeful decisions that feed your inner voice, every door will open. The right job will emerge. The right partner will appear.  The right life opportunities will present themselves. You will be set free, to flow down that river at your pace, one which isn't defined by someone else's voice or rhythm.
Comments welcome. I look forward to hearing what has worked for you and what hasn't here and on my reflective voice column.
May 27, 2017 in Magic Sauce Media, On Branding, On People & Life, On Spirituality, PR & Marketing, Reflections | Permalink | Comments (0)
March 08, 2017
Gratitude & Remembering America's Core Values Will Set Us Free
Given how much travel writing I do these days, I rarely post anymore over here which is where it all began. Two of my former blogs became Down the Avenue when I started publishing to the web, now more than 15 years ago. Truth be told, Down the Avenue is like an old friend. When the blog editor opens and I see it's old familiar interface, it's like going into an old coffee bar you used to frequent in your home town.
The difference is, that instead of opening up an old fashioned notebook in that same coffee bar and putting pen to paper like I did for many years across many continents, I type in a window and all of my personal ramblings come out, word for word. And, instead of those ramblings getting buried under a bed or in an attic somewhere that may someday be seen by a select few, the words get published for the world to see in a matter of hours, and often minutes.
When I'm in a reflective mood or simply need to make sense of something, I turn to my favorite cafe (this longstanding personal blog) and it all comes out. Once it's out there in black and white, it's so much easier to see that our lives and the world is far from black and white.
After the election, I like so many Americans were stunned with the outcome. While my intuition told me that Trump would win months before it became reality, a voice deep inside me wished this nation of immigrants would see through his sad but brilliantly navigated narcissist roadshow.
The truth is that racism and fear of others not quite like us, has always been front and center, especially for the white man. I grew up in that world. While I may not have been surrounded by Conferderate born conservatives, I was surrounded by people who told me to stay away from the other side of the tracks, you know, where poor black people lived because, well....it wasn't safe. My thinking as a child was that if it wasn't safe, why don't we invite them over to our side of the tracks where it was safe. Seems logical doesn't it? At least in a child's mind, who hasn't learned about fear and hate yet, it is.
I started traveling because I craved diversity which my small home town in upstate New York had very little of. I wanted to know how others thought and lived and ate and slept and walked. My grandfather was a conservative and while he had his own prejudices that he often shared about the Poles, Italians, Czechs, Dutch, Germans, Jews and others who lived among us, it was often with humor.
That said, underlying tones would remain, enough for me to want to see their worlds first hand. That same grandfather voted for Reagan and sent my uncle to New York Military Academy, the same school Trump went to and during the very same years. Founded in 1889, this private school,which we visited on more than one occasion years later, is spread across 120 acres in rural Cornwall. I think it was perhaps therapeutic for my grandmother or somehow confirmed their decision that sending him there was the 'right' decision to ensure he was on the 'right' path. I was sent to private catholic school by the very same grandparents for the very same reason.
You see, there was so much fear that we'd end up on the wrong side of the tracks if we didn't have discipline in our lives and military and catholic institutions are designed to bring you just that. For me, discipline is internal, not external as defined by an institution, school or political ideology. When we stray from our own voice, our own knowing, our own intuition, our own understanding, we can get in trouble.
Forgive the musings, but the reason I bring up this story is because it has to do with divide, something which plagues our world right now.
You see he believed in the rags to riches America, that this country was the place that his granddaughter as a woman could most succeed. When I used to talk about living in Europe, he said "if you want to be astronaut one day, you can in America, you can't achieve dreams like that in Europe. Even though there haven't been any women presidents, why couldn't you be the first?" As hard and difficult as he was at times, he used to say things like that to me all the time -- anything was possible. This was rare for the male generation of his time and while he expected me to set the table and help my mother clean the dishes after supper, he never expected me to only consider teaching or motherhood because that's what women did.
I guess my mother knew that too since I never gave birth to a child, I've supported more than one man and have worked my ass off since I was 14, starting with washing dishes for Italian-run restaurateurs who never stopped screaming at each other. When you're raised by a man who runs their own business, you learn to have an entrepreneurial spirit. From as long as I can remember, I've made my own source of income.
To make a living, I've mowed lawns, raked leaves, shoveled snow, wheel barreled sand, sold chocolate, cosmetics, and books door-to-door, worked in rural fields, sold art in Holland, picked greengages, grapes and oranges, patched and sewed in foam and glue factories, washed dishes, milked cows in Israel, managed restaurants, taught English in Kenya, bused tables in Belgium, waited on tables and tended bar on five continents and 8 countries, photographed events, performed plate smashing and dance ceremonies in Greece, sold ice cream in Australia, played piano in England, co-led swing dance classes, created direct marketing and advertising campaigns, written articles, authored photo books, led communications and marketing teams, run departments at a software and hardware company, given presentations and speeches, managed accounts and clients at PR agencies, launched start-ups, run my own communications consultancy, drafted creative briefs and written strategic plans.
Whoah Nellie - are you tired yet? I am and that's the point.
When people are surprised that anyone with a brain voted for Trump, I'm not. I know this other America because I grew up in it and around it. My America was one where you could buy a house and afford to send your child to college. It was doable for the working class family and even easier for a middle class one. It's 68 years since my grandfather paid $4K for our corner house, the one that would become my childhood home. They made sacrifice after sacrifice to make sure I had a better life (after all, that's what most parents do) and yet I still can't afford to buy a home in THIS America.
While I may live in one of the most expensive cities in the country and a former Google employee apparently paid $2 million in cash for a tear down house on my street, I realize that San Francisco and the Bay Area isn't reality. I get that. What is reality is that while house prices may not be $2 million in Phoenix or Seattle or Denver or Dallas, they're still far beyond what the average American can afford today. College is through the roof and our weekly grocery bill is absurd.
My monthly rent would make anyone with an above average salary bowl over, my health insurance payments even with a high deductible are nearly $700 a month (that's nearly $9K a year) and they just went up again and I have no health issues. I'm told that because I'm over 40, they'll go up even more with Trump's proposed healthcare plan, which quite frankly simply isn't doable. I can't work enough hours in a day to sustain these growing costs and so savings get depleted every year.
I think to myself often: it's not as if I haven't proved that I can do whatever it takes to make a living and am humble enough to go there. But...I'm tired. Most people are. And, this my friends, is why American born citizens are angry. It's not just white laborers and manufacturing plant workers who are wondering how to survive but 90% of the country. Will there even be a retirement fund? The Silicon Valley bubble I live in don't understand this 'other world' and that's why they were shocked when Trump won the election and I wasn't.
There's too much pain out there. While we were all immigrants once upon a time making a living on this great land, many of us expected (or at least hoped) we'd be better off 30 years later rather than struggling more than ever to pay bills, college loans and a mortgage. We all have our own stories of how we struggle and why we're tired even with a great education, skills and oodles of rich tried-and-true experience.
This tired group voted for Trump.
While I may feel some of their same pains, I couldn't conceive going there, because I don't believe in divided nations, divided communities, divided families, the result of a fear based approach to governing. After every decision and tweet, there seems to be more racist rallies, marches and incidents. Why? Because these decisions and words violate how we feel as unique individuals who make up the United States of America: Asians, Jews, women, blacks, Muslims, Mexicans, Italians, the list goes on. Conde Naste so elegantly wrote in a piece about the executive order on immigration which has turned into a Muslim ban, many of whom see as a religious war: "Above all of it loomed the spirit of the order itself, a sharp and cynical act from the highest office of this nation that, in spite of its many stumbles, has stood more than any other in modern history for refuge, for openness, for fairness and opportunity."
As a born marketer and brand expert, I saw it coming -- Trump is a brilliant rally chief. Making America great isn't about turning back the hands of time, nor is it to create a mantra that suggests we aren't great as a nation today. Let's face it, we are at a crossroads and the decisions we make during this very pivotal time will determine whether we continue to lead the free world -- or not.
NPR's Robert Siegel interviewed Yale historian Timothy Snyder this week, who is known for his sprawling books about war, genocide and the descent into dictatorship in mid-20th century Europe. His latest book "On Tyranny" addresses the concern about the rise of Donald Trump, and his lessons range from establishing a private life and listening to dangerous words to being weary of paramilitaries.
Says Snyder in his interview:
"The president has never given any indication that he understands or respects the rule of law and the things that the presidents have done so far. And this speaks directly, I think, to the central threat, suggests that he is deliberately spreading a world of unreality. And this is exactly why we have to understand history, because where fascism, to use your word, begins is with the neglect or the repudiation of the real world. Fascism says what you and I experience as facts or what reporters experience as facts are irrelevant. All that matters are impressions and emotions and myths.
And so when the president and his aides set out to create a world of alternative factuality, that is the catalyst which helps us slide from one system to another."
As alarming as that sounds, it's what many people feel is happening to our democracy (we do live in one right?) yet can't quite put the same words to it. They're feeling a loss of control. A loss of fundamental freedoms.
Why these new orders are impacting so many Americans, including third generation white ones, is because it feels like a betrayal of our nation's history, principles, laws, and customs. And, as Conde Naste also writes: "a betrayal of her spirit and aspirations."
Since the beginning, America's attractive power enticed millions of immigrants to leave the comforts and security of their homelands for the promise of hope, opportunity, and a liberty the world had never known. They also unleashed an entrepreneurial spirit that created unparalleled prosperity and spawned the greatest generosity ever exhibited by a country.
Several years ago, I wrote a book review on Rescue America, which devours why we're flailing and how we can return to an America we can be proud of again. They make countless references to American history, the Constitution, the principles behind freedom and what it means to be "free."
They take a deeper look at the Declaration of Independence, why it was created and what our forefathers wanted for Americans as a result. Equality and improving the human condition was a large part of what the "greats" who ran this country wanted; they also wanted a unified America.
"The natural effort of every individual to better his own condition...is so powerful a principle...(it is) capable of carrying on the society to wealth and prosperity...(and) surmounting a hundred impertinent obstructions." - Adam Smith
Thomas Jefferson didn't really propose an ideal on equality, but rather recognized and acknowledged an equality that already existed. What Jefferson meant by the Pursuit of Happiness and a "free" America was the inalienable right of the pursuit of happiness that one is free to become the best self that one is capable of becoming.
I love this as much as I love the benefits that Abraham Lincoln envisioned for Americans: the capacity and the freedom to choose, by the quality of one's decisions and by the inherent value and ownership of the fruit of one's labors.
"The man who labored for another last year, this year labors for himself, and next year, he will hire others to work for him." -- Abraham Lincoln
As a nation, we have achieved astonishing wealth -- if you combined the wealth of the Greek, Roman, Chinese and English empires, the wealth generated in America over the recent century would supersede them. And yet as free and democratic as our virtues are, most of us are struggling in today's America.
It's clear from the recent chain of events, we've lost a lot of important things along the way, the concept of gratitude being a big one and that attitude needs to come from the top so it can trickle down. The way out of this mess of course is action from the bottom -- continuing to exude gratitude regardless of how tough it gets, fighting for our freedoms and personal voices, ensuring that we always have a free press, not a constrained one and a healthier and happier life for all, not just the wealthy white.
Those who voted for a different America didn't think of the consequences of a leadership that uses fear to increase their power rather than service to lead with integrity. Diversity is after all, our biggest strength and guidance from the top matters a lot. Our children ARE watching and that's the point -- this generation is learning about what kind of leadership is acceptable for the most powerful leader in the western world.
"The direction in which education starts a man, will
determine his future in life." -- Plato
The mentors we meet along the way and the guidance we get determines our direction even more than education. It also determines our resilience and our ability to take one more step amidst negative set backs.
This is why voting for someone with a moral compass matters more than the laws they implement. As a nation, this guidance is what makes up our core ethics, values, the way we treat others and the way we look at the world.
What happens when the principles that gave you all you possess eventually lead to distracting and damaging habits and attitudes that take you away from those principles and lead to the wasting away of prosperity?
Do you abandon those principles, or do you recommit to them through honor, discipline and commitment? Isn't it time that as a nation we unite more than ever and work on restoring and recommitting to America's core values before its too late?
"Anyone who trades liberty for security deserves
neither liberty nor security." Benjamin Franklin
Photo credit: New Ten Commandments Website
Entitlement stands at polar odds with personal responsibility and gratitude. When we come from a place of gratitude, it's astonishing what's possible in our lives and how it flows to others around us. Everyone benefits. Gratitude is critical to restoring our spirit and our values, individually and collectively as a nation.
"As we express our gratitude, we must never forget that the highest appreciation is not to utter words, but to live by them." John F. Kennedy
The best thing we can do is to sit in another man or woman's shoes as often as possible. By demonstration, we show that we embrace all Americans, not just those who look, dress, act and worship like us. These acts will not only squash the hate and fear-based rhetoric that suggest that all Muslims are dangerous, all blacks carry guns, and all Mexicans are drug dealers, but it will set our hearts free as humans. From this place and as united citizens, we will only vote for and hire candidates who will truly serve this nation, not destroy it. Remember it's not just the economy that is flailing, but our spirits too, which is a far cry from what it means to be American. When our spirits crumble and shatter, our nation's spirits will too. And this my friends, is far more dangerous.
March 8, 2017 in America The Free, On People & Life, On Politics, On the Future, Reflections, Travel, TravelingGeeks | Permalink | Comments (0)
In Honor of International Women's Day
Today is International Women's Day and there's no greater woman in my life than one who isn't alive anymore. Here's a toast today to my grandmother, a resilient yet loving woman who was born in 1916, the magical spirit who raised me. She was physically by my side until she died of cancer when I was 16, and has emotionally been by my side ever since.
Many years ago, an entrepreneurial friend of mine who also an author of technology and other business books sat me down to do a 'reading.' Mystical by nature, he is one of the few people I know who plays in both the science and spiritual realms, embracing them both equally and with ease. It was an aura reading and during my session, he saw a warm yellow glow around me, an angel of sorts he said, and as he described it, I knew it was same warm yellow as the shutters on my childhood home in upstate New York. This aura was a protector of sorts, he said, something I have always felt throughout my life.
You've likely heard the phrase 'he/she marches to the beat of a different drum.' There's always one family member who does just that and they are often referred to as the black sheep, the one who strayed from what the rest of the family considers 'normal.' It is often the different drum folks who appear to have no discipline externally, but inside, discipline drives them. It takes courage to take the internal road again and again.
"Just Trust Yourself & You Will Know How to Live." - Johann Wolfgang von Goet
She lived her life to powerful and passionate drum and raised me to live my life that way too. I think about that different beat often these days as our country cries in so much divisive pain. I recall a precious moment in the back patio of our wood paneled den, an add-on to the original house, and one my grandfather built by hand. I was cuddled up with a stuffed animal and one of those hand-knitted afghans that she had knitted as it was a cold winter's night. She said she planned to always be there to protect me -- her voice is as clear today as it was 40 years ago.
With my wide blue child eyes, I looked up at her and asked why I needed protection. With sadness in her voice, she said. "Because you will choose a more difficult path and I won't be there to help you. And, because you're a woman in a man's world." As children, we never think our guardians will disappear, leave or die because it's not in our realm of possibilities yet. I remember thinking: well I'll protect you too forever and ever, as small children do. There's always a forever and ever.
It took me many years to understand the man's world piece and how prolific it is, largely because I have always ignored traditional rules. They have a way of catching up on you however because reality is reality and as a woman, you'll eventually hit a stone wall you'll need to overcome in which case you need to make a decision: how do I want to cross over?
Mom always said to take the high ride and so I always have. There are times when we need to make tough decisions and be harsher than our nature, in order to stand up for ourselves and for what is right. That often comes at a price and as women, we often weigh the price. If we are protecting our children and a way of life for them, we may temporarily make that sacrifice out of love. And, sometimes we need to stand up and say No More, Enough. And, sometimes we need to bond together with other women to support what they're going through when you know they've been dealt a bad card and only by unifying can we overcome.
I applaud International Women's Day for being there as a day we can celebrate each other. I, like many women around the world, marched on January 21 (I even shot some video on the day), wrote about the proposed cuts on Planned Parenthood, and go out of my way to make sure no little girl suffers from poor self esteem. As a woman who went through Anorexia in my teens, it kills me when I see girls who feel unworthy and make unhealthy decisions because of it. We should embrace individuality, regardless of how we and the girls and women around us want (and need) to shine.
My grandmother and other powerful women in my life served as mentors and guides and in some cases, angels. Their faith in me gave me faith in a universe that will always provide what we need, when we need it....when we have faith in ourselves. Without family support and my dearest friends being far from my own back yard, I rely on that belief system which starts with gratitude and a sense of purpose.
Deep down, we all know our purpose and must live our lives beating to that purposeful drum, regardless of what that path and calling happens to be. Our inner voice guides us to that path and it's merely up to us to listen and follow that voice for true magic to happen. More often than not, I've been a solo journey since 16, and my grandmother's spirit has been with me, reminding me to take the high road, have dignity, honor, integrity and grace when ugliness gets in the way, whether that be in my personal life or business one. And along that high road, sometimes we need to make wrongs right and have the strength and courage to do the right thing, so that other women around us and who are not yet born, never deal with the same issues.
"Well-Behaved Women Seldom Make History." Laurel Thatcher Ulrich
My grandfather played a role in that too. When I was a teenager and about to embark on a year abroad to South Africa on a scholarship within days, I had just ended playing a piece on the piano that my grandfather loved. He came up behind me sitting on that mahogany wooden piano stool and put his hands on my shoulders, a rare move for this disciplined and often hard man born into a 1916 world. "Whatever happens, I want you to know that I'm leaving you the house and everything in it when I die." Where did that come from I thought? It was so out of the blue. "Your mother made me promise that I would do this before she died and I'm going to honor it. There will be will anger towards you, not from your father but from your uncles but there is nothing I can do about that after I'm gone. They won't understand." Then he repeated: "I promised your mother and I agree with her: this is the right decision."
I guess it had something to do with both of them wanting to protect me. The truth is that the money I got from that corner house in small town America barely scratched the surface. Living in Silicon Valley, it didn't even cover two years of rent after taxes but in her own way, it was an effort to make sure I was taken care of as the only girl in the family. And sadly, my grandfather was right. My favorite uncle whose knee I bounced on as a child, who I devoured oysters and drank wine with as an adult and who I understood the most, never talked to me again.
This has very little to do with me being a woman as it does family dynamics and the fact that situations like this after a death are not uncommon. It saddens me in this world of growing divide under the current leadership however, that we don't pay more attention to what connects us rather than excuses to break important bonds, whether they be family ones or personal ones.
We have to remember that our view of how life should be and how people live their lives, is one microscopic view, such a small lens of which to see the world around us. And, as women, I feel the need to think beyond again and again, is even more critical. Putting ourselves in someone else's shoes (when it's a man's shoes, think about how he was conditioned - this is key), gives us the strength to break through barriers.
Women, at least the ones in my circles around the globe, have exceptional nurturing spirits. The feminine energy is known for this and now more than ever, we need to cherish it and share it with everyone around us. And, we need to do whatever we can to not just give girls and women the ability to shine, but to thrive and make their own choices about their bodies and their lives. Here's to the incredible women still living in my life whose heart and spirits touch me every day.
March 8, 2017 in America The Free, On People & Life, On Women, Reflections | Permalink | Comments (0)
January 14, 2017
Proposed Cut of Planned Parenthood Funding by New Administration
As I listened to the discussion over the new Administration's (can't even say his name) proposed $250 million cut of Planned Parenthood on NPR this week, I thought "is this a throw-back Thursday joke of some kind?
This de-funding proposal, as all listeners of the latest developments know, is for standard women's reproductive health services since federal funding doesn't fund PP abortion. As someone who has lived in Africa twice and helped to bring on TEDx speakers to address the importance of birth control and empowering women in Africa and other developing regions of the world, I find it astounding that in the supposedly most developed country in the world, we're having this conversation in 2017. Apparently most Americans still support Roe v. Wade (most recent numbers from Pew Research say 69%) and we've come so far with women's equality and rights or have we?
I was raised by my grandparents which means that my conditioning came from people born in 1915. Think about it. When I went on the pill for the first time after returning to the U.S. from living abroad, it came from Planned Parenthood – I wasn't in an at risk category but felt safe going there when there were few people I could talk to about birth control. The grandmother who raised me died when I was 16 and I wasn't about to turn to my grandfather. Yet, an interesting thing happened after I finally disclosed it to him. He said, "smart move – I'm glad you took the initiative, especially without your mother here to guide you." Then we started talking.
He told me about a hospital scene when my grandmother was giving birth to my dad and the doctor asked him if there were any issues, what his decision was: to save my grandmother or the baby? I asked him with my wide open 21 year old eyes, "What did you say?" "Of course, I told him to save your mother. What kind of question is that?" as if I was a fool for not knowing the answer. My eyes watered up. Pro-lifers will likely say that the baby's life is equal to the mother's and sure, it is – after all, in an ethical argument, all lives are equal. After all, if there were labor issues in this scenario, I wouldn't be here to write this heartfelt stream of consciousness or whatever it is turning into. Moments after his response, it occurred to me that the doctor asked my grandfather to make that decision. "Didn't mom have the right to make that call herself?" I asked him. "No," he responded. "It was the man's decision."
My grandfather was about as Republican as it gets, conservative about a lot of things and born in 1915, was an adult during times like this and yet he was pro-choice. Here we are having this conversation over a hundred years later as to WHY any government has a right to decide for a woman about her reproductive health? To decide for or in any way, impact a woman's constitutional rights? Oh United States of America in all of your intellectual, financial, military and world power glory, haven't you become smarter? Don't you know that women and diversity are the pulse of this powerful land?
How and where did this country get so lost? To a place of putting other desires above honor, truth and dignity. We have charted into a new world and definition of what it means to be an American or at a minimum, what American will now project to and come to be defined by the rest of the world.
Let's not be so complacent or remotely okay with a new status quo, one which has begun to suggest that a man or woman's honor, word, integrity, or conduct means nothing. How do we explain that words, conduct, and honor are not fundamental to America's ideology to our children who are watching and listening every single day? Words can't describe how I feel as a woman listening to what is happening to this country and knowing what is yet to come in the next four years. The PP cut is just the beginning of many decisions that will take us far far back in time.
Meryl Streep summed it up in 5 powerful sentences in a response to the President's Elect's distasteful mocking of a reporter's disability: "It kind of broke my heart when I saw it, I still can't get it out of my head, because it wasn't in a move. It was real life. It was the moment when the person asking to sit in the most respected seat in our country imitated a disabled reporter, someone he outranked in privilege, power and the capacity to fight back. This instinct to humiliate, when it's modeled by someone powerful, it filters down into everybody's life. Because it kind of gives permission for other people to do the same thing".
January 14, 2017 in America The Free, On People & Life, On Women, Reflections, TravelingGeeks | Permalink | Comments (0)
12 Travel Instagrammers Who Inspired Me in 2016!
Truth be told, I tend to hate lists but readers seem to love them. The reason I hate them is because it requires me (or one) to choose. As a parent, if someone asked you if you had a favorite child, it's like asking whether you have more love for one or the other, not necessarily who you align with the most. As a traveler, when someone asks you what your favorite country is, dang....it's hard, at least it is for me. I have my least favorites but even in the gloom of some treacherous experiences I had in China when the doors first opened up to westerners so many moons ago, when our room was broken into in Naples or when we were scammed in India, there were insightful outcomes from all of these incidents. And, as all travelers know, one isn't like the other and as easy as it is to stereotype
(and I do at times based on a myriad of similar experiences in one place),
one STILL isn't like the other. It's important for us to be open and to constantly yearn to learn, for it is in that openness that magic happens, on the road...or not.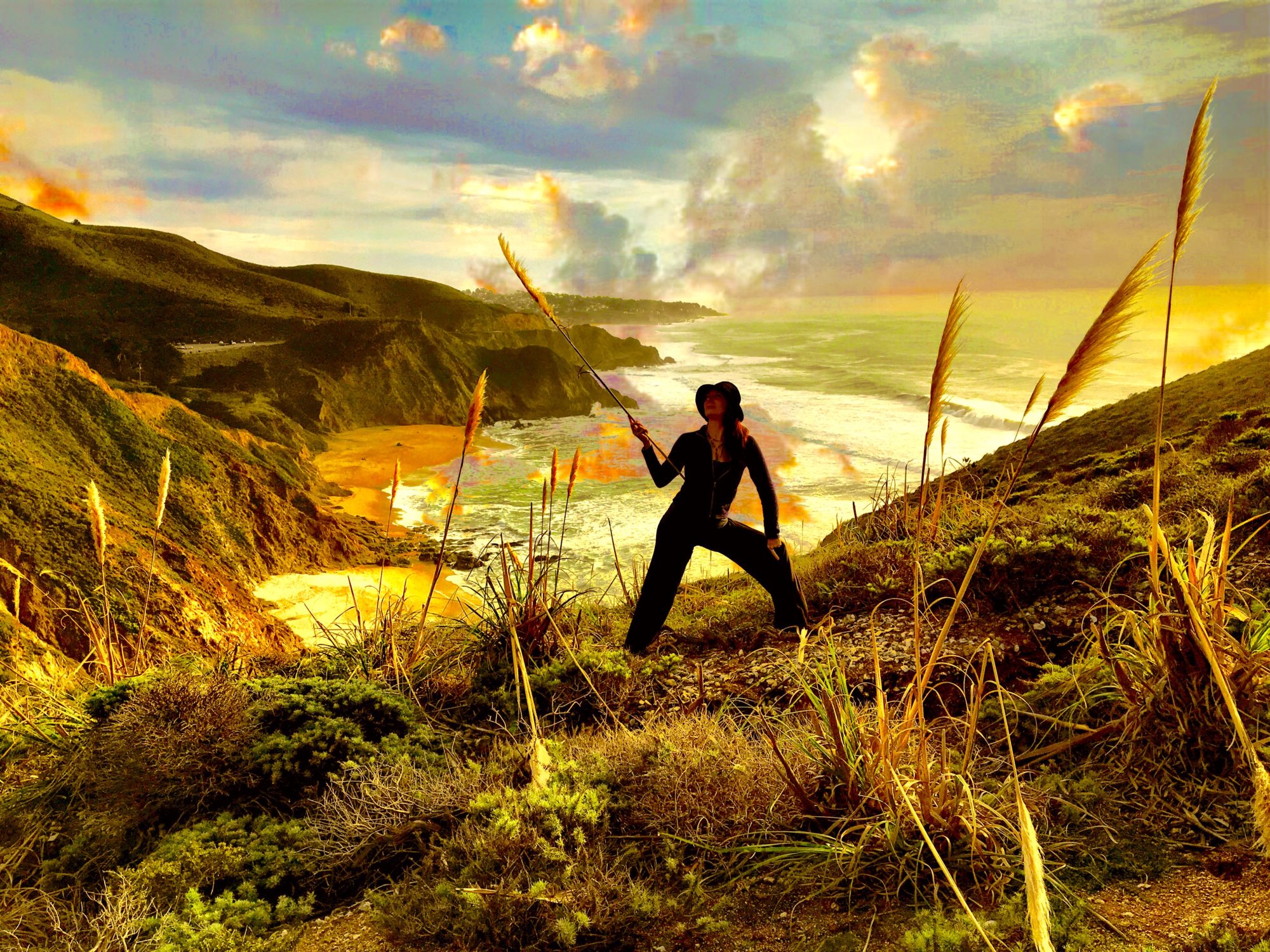 Above is a shot I posted on my feed towards the end of 2016 which we took near my home along the northern California coast. There's a little distortion from it when I blew it up to nearly 2,000 pixels, but I love how I felt that day and so here it is. Taken on my iPhone 6
. I curate this list with trepidation because there were so many feeds that inspired me this past year and 2016 marked a shift for me with Instagram; I became more addicted to the platform and therefore more engaged. As time consuming as it is, I have begun to think about Instagrammers I have met through my
travel world
and my foodie one through my food Instagram account
@LuxuryFoodies
, and their lives on a regular basis. This is building community at its essence, at least in an online world. Unlike other platforms, I learn more about their inner worlds and perspective on life -- it's the combination of carefully thought out language, creative descriptors and powerful photography that even long form blog posts like this one can't capture. Note that I didn't select these because they necessarily have the best photos but because I "felt" something powerful through their posts over time, which included their engagement with me and with others. Taking the time to inspire AND be inspired by others is hard and time consuming and deserves applause.
Photo credit: @dotzsoh, taken of Singapore, where she says in her description: Never let a little stumble be the end of your journey! (Hear Hear)
As a nature lover, there's no doubt that I have had more photography aha moments from folks like
@earth.pro
(198K followers),
@jacob
(443K followers),
@nature.geography
(1.4m followers),
@tree_magic
(111K followers),
@earthpix
(10.3m followers),
@destinationfervor
(389K followers) and one of the earliest feeds I discovered
@dotzsoh
(@742K followers) whose tagline is:
Live the Life you Love and Love the Life you Live.
There's plenty others who have truly inspired and touched me this year (and where I felt 'understood' because they resonated with what I wrote or posted), so this Top 12 List could easily be 100 if I had more time. There's a rawness and authenticity to those on this list however and I love that aspect of their feeds. Note: I have listed them alphabetically to keep things simple.
@ConciergeCouple
Amrita and Rich are Canadian-based and it shows through their authenticity. They share their own shots but occasionally of friends they meet on the road; I love the sharing and pro-community piece of this, which is a gift to us as followers of their feed. Their account is genuine and raw and weaves in questions for us to ponder with real-live shots of both their urban and natural experiences. Their tagline: they want to help inspire the traveler inside everyone.
@Dbtravelphotography
She's more of a new discovery for me. Danielle Ashley calls herself a photographer first, not a traveler and while she doesn't have a lot of posts yet, I love the dreaminess and colors she chooses in her editing process. There's plenty of beach shots and sunsets, something that calms my mind in the flurry of stressful moments when I'm not on the road. Her tagline: This is the incredible world we live in. She hopes that her photography will inspire others to travel.
@EstherJulee
Esther makes me laugh -- she provides insights, asks questions and makes us think. Based in Portland Oregon, her tagline has her moving to a new city every year, which will undoubtedly give her a very unique perspective on the U.S. and the world around her. Bravo!
@JSFTravel
Sarah and Kris call themselves JetSettingFools, so there's a bit of humor in their perspective and feed, which I love. Their tagline: One Life, One World -- we want to experience it, not just exist in it. How can you not love that mantra and way of looking at the world? Experiential travel (and I'd argue life), is what truly transforms us.
@MakeTravelCount
Janie and Scott are independent travelers based in San Francisco and yet we still haven't met. No tagline, but all photos are theirs and I find them everywhere -- in other words, they seem to really take the time to engage with their community with words that go a little deeper than I often have time for, even though I almost always feel more moved than perhaps the words "Fabulous shot" invoke. I should create a glossary of what's going on in my head when I say fabulous versus nice versus awesome versus wow moment versus incredible versus you had me at hello. Who doesn't want to feel seen and heard? They make you feel that way by adding more texture to their shares on a regular basis.
@Must.Travel
I love nature and dreamy skies and it shows in my posts, so it should be no surprise that I connect to photos that bring color to life in unique and creative ways or simply happy and joyous ones. This feed is more realistic in that its not full of pinks and oranges that I often gravitate to in nature or cloud porn that makes me reflect. Colors do pop in this feed however which I love -- it's hard to believe that I have shot so many black and white shots in my life given how much I connect to dreamy colors in my life today. Their tagline? There are on foreign lands, it's the traveler who is foreign. I love this and it's so spot on.
@TangoTraci
Traci shares a lot of street and urban shots as well as nature, posting her own and occasionally highlighting others on her feed. She seems to be present; it's what I feel through her feed although we've never met. Her tagline? Dance me to the end of love -- Leonard Cohen. I so so LOVE this! Let's go on a hike together someday Traci.
@TravelKiwis
Could I be biased because they're kiwis and I absolutely fell in love with the authenticity and generosity I experienced in New Zealand? Who knows, but I do love the energy of Terry and Maura's feed. How brave is this? They sold their home to travel. I do feel like I'm browsing through a photo album of sorts but it just works and they draw me in for reasons I can't explain. Perhaps it reminds me of my first world trip or perhaps its their genuineness that just shines through again and again.

@TheWonderlustBlog
Anthea seems like someone I could travel with and well, she's from South Africa, one of my top countries, so we'd likely share a lot of "favorite spots." Remember I lived there twice and my ex-hubby is South African. Now based in Heidelberg, also a gem destination for photography, her tagline is: Photographer, Traveler, Dreamer and Light Chaser. Simple but beautiful, right? Light is so critical to all that we capture, whether it shows up in reality in our photography or remains just in our mind's eye.
@TravelTalesofLife
I discovered this traveling couple a little more recently. Their tagline is: Travelers. Adventurers. Storytellers. AND, they want to prove that you are never too old to explore. Often, I hear people who say they're too old for adventure travel or to change the way they travel or even live their life. You're never too old for a new perspective or a new routine in your life and let's face it, life truly begins just outside your comfort zone. I love that they seem to be big believers and advocates of this viewpoint and are living their dream with new remarkable views each and every day.
@Travlinmad
Lori seems like she'd be a blast to travel with -- she covers food, culture and experiential travel around the world according to her tagline and this is reflected in the photos she shares. I think food is such a big part of my travels and always used to incorporate food shots into my
@weblogtheworld
feed and only separated it out over to
@LuxuryFoodies
in 2016, but I applaud people who can weave both into their feed and make it work. She shares a bit more culture than nature, but she does a great job at both. Two thumbs up! I'd love to explore a village or two with her one day.
@WorldTravelBug
Michaela posts a lot of photos from Asia, especially dreamy sunsets, whether that be traditional beach ones or those from a magical experience like a balloon ride. Words that she uses to define her? Cultural, Stylish and Luxury. Bucharest based, her tagline says she loves Asia, sunsets and sunrises and rooftops. I resonated with rooftops since my grandfather was a roofer and I spent most of my childhood looking at the world from the top of them.....and, I'd argue that it has changed my life. One of these days, I have a feeling our paths will cross.
January 14, 2017 in Reflections, Social Media, Travel | Permalink | Comments (0)
May 08, 2016
In Honor of Mother's Around the World & My Own
The truth is, I used to reflect about Mother's Day every year and even write about it occasionally. My mother who was actually my grandmother -- Irene was her lovely name -- was one of the most inspirational woman I've ever known and I've encountered a lot of amazing female souls over my lifetime. It wasn't until later in life that I learned that Irene was the English name for Renee and the French name came from my mother's side who apparently came from several generations of French heritage, although we rarely talked about that.
I always assumed I was much more English than anything else until Ancestry.com told me otherwise and I realized just how dominantly French my background really was. In fact, my nearly 30% Italian genetic make-up was even more prominent than the English side of the family -- their DNA seemed to have passed over me somehow. When I think of her, I think of roses. I think of tulips too, since we planted them together and without fail, they sprouted from our upstate New York garden every spring.
Credit: Mirror.co.uk.
What set her apart was her ability to be raw and truthful, raising issues people were uncomfortable hearing, but doing so in the most genuine and diplomatic of ways -- her English mother Ida taught her well perhaps although given what I knew about my great grandmother, my guess is that it was simply unique to Irene. I've never been able to live up to the level of dignity and elegance that she showed everyone around her simply by walking into a room.
I learned so much about the trials and tribulations of motherhood and what it was like to be a woman growing up in the 1920's and 3o's simply by being a good listener in my mother's kitchen, one which was never modernized. Its retro white cupboards remain until this day even under new ownership.
I wrote about the connection between My Mother's Kitchen and blogging on my personal blog 12 years ago (yes, I've been blogging for a long time) and that wasn't even an early entry. Her sassiness and loveliness will always be remembered and while it is no doubt tragic that she never witnessed my wedding day nor has she seen me as an adult woman facing so many of the same challenges she did over forty years later, her voice and the decisions she made never leave me.
She was one to take the high road, which I've had to do on more than one occasion, especially in business when those who you encounter are not as ethical and honorable as you had hoped.
I wasn't planning to write about Mother's Day this year -- honoring her memory is a wonderful thing to do, but often so painful that it derails me from a forward march, which is more and more necessary every day as I see myself age as she had and for many of the same reasons. Given how much I've traveled and where I've lived (ten countries), a part of my life she also never witnessed, I have been fortunate to discover other incredible women who while may have never replaced her, were integral to shaping how I see the world....through sad and nurturing and yet still innocent and deliciously loving female eyes. While most of these women are no longer with us, kudos and hats off to Josephine Blodgett, Betty Cummings, Donna Blodgett Ambrosino, Bertha Blodgett Herkel, Audrey Farnum, Bernie Daggett, Shirley Lockwood, Dona Badman, Callie Marcellus, Adelaide Sachs, Maryjane Fredericks, Nila Edwards and Charlotte Lawton. Seeing each and every one of them in my mind's eye brings a smile and a comforting imaginary hand I can somehow hold onto during tougher times. As for the others, one of these days, I will write about all of them, but for today in honor of mothers around the world, the Clinton Foundation came up with a great list of six moms they want to honor this year, who share an unyielding desire to support their families and give their children better lives. As they so beautifully portrayed, "regardless of their starting point, it's the upward mobility these moms are working to enable that's important. This Mother's Day, and every day, we're honored to help empower moms to build better lives for themselves and for generations beyond."   I chose three of the women they honor today who are part of the Clinton Foundation's initiatives - for the others, please read the original piece on Mom's That Inspire Us.
CHRISTINA MWALE, SMALLHOLDER FARMER, MALAWI Christina Mwale, a smallholder farmer with the Clinton Development Initiative (CDI), lives with her son on a small farm in Malawi. With each harvest, Christina hoped that she would finally grow enough crops to support her family and earn an income. But more often than not, the harvests would yield less than before. With the help of CDI, Christina was able to learn new farming techniques that have helped her improve the quality and quantity of her crops, and increase her earnings. Her new income has enabled her to move her family into a new house. And she is also using her money to purchase land so she can generate a higher profit from her harvests in future seasons.  Christina has become a leader in her community. She finds being able to support her son and share her knowledge with other smallholder farmers in the community to be the most rewarding parts of her work.
SHARON BOYD-STRUTHERS, ART TEACHER AT ROCKEFELLER ELEMENTARY, ARKANSAS Sharon Boyd-Struthers, a mother and grandmother, is an art teacher at Rockefeller Elementary in the Little Rock School District. She epitomizes the wonderful relationship that the Clinton Center staff has with educators across the community. Sharon is a regular attendee of the Clinton Center's annual professional development workshop held in partnership with the Arkansas Arts Educators Association, which supports teachers in continuing their education. During the Clinton Center's temporary exhibit, Chihuly, Sharon lead a summer-long program, where she taught children the art and creativity of glass fusion. Upon completion of the Chihuly exhibit, the Clinton Center was able to support Sharon and her students with the addition of a second kiln for her classroom. She understands the important role a teacher plays in a child's life, and whether it's with her students, her children, or her grandchildren, Sharon goes out of her way to provide young people with enriching opportunities.
(PHOTO CREDIT: ST. BERNARD PROJECT) EVELYN STEVENS, NEW YORK Evelyn Stevens lived with her son Khepera in a home in Far Rockaway when Hurricane Sandy hit. The storm badly damaged the first floor of their home, forcing Khepera to move out. The loss of her home and Khepera moving out was devastating to Evelyn. Evelyn quickly began to take the necessary steps to repair and rebuild her home. She received assistance from FEMA and Flood Insurance and then used that money to hire a contractor to start the reconstruction. Unfortunately, the contractor ended up being fraudulent and never started the work. Determined to rebuild a home for her and her son, Evelyn applied for aid from various nonprofit organizations. The St. Bernard Project, a CGI commitment maker and Clinton Foundation partner, answered her request to assist with the rebuilding of her home.
May 8, 2016 in America The Free, On Women, Reflections, TravelingGeeks | Permalink | Comments (0)
November 26, 2015
Turn Back To The Land That Shaped You This Thanksgiving
Happy Thanksgiving! On the morning of another Turkey Day, I reflect on the things I am grateful for, and there are plenty despite it being a rocky year.
I salute this day to the people in my life who stood by me during the rocky and the joyous and to a place which shaped who I am today – the Adirondacks.
In a world where we look at miniature screens more than we talk to or perhaps even touch people or a tree, I think we all too often forget about the importance of nature – the land that originally fed Americans when they first landed in New England so many moons ago…..my and your ancestors. It was about Communion. Harvest. Sharing. Being Thankful. Joyous for making it to a New Land, a land which was so ripe for harvesting and planting, they did.
When I was a child, our nourishment still came from this land. In our home, we didn't eat chemically modified food. I was lucky to be raised by my grandparents who held values from the turn of the last century, led by a misfit grandfather who showed me how to tend a garden and even more importantly why knowing how had so much value. Some of the things we grew in that garden we ate on the holidays. My grandmother canned everything, from jams and jellies to blueberries to make pies and tomatoes, which we used for sauce in the winter.
I challenge you to two things on this Thanksgiving day as we gear up for a month long holiday season of commercialism and even more technology being thrown our way as an important "must have" in our lives.
First, return to the land that raised you….the hood you call home and really look at the earth where you played, first learned how to ride a bike and perhaps where you first swam in a natural body of water such as a lake, pond or ocean. Be with it. Understand it. Feel it. Be grateful for it in a way you may never have. Teach your kids how to be with it and feel it.
Secondly, think about everything you put in your body and…your children's bodies. If it's modified and not natural, don't do it. Really think twice about supporting a horribly "gone-wrong" food system in this country that can only change if everyone stands tall and says NO MORE to fructose corn syrup, GMOs and processed boxes of crap.
Eat healthy and wisely today and every day moving forward. Be thankful for the earth that raised you and the fact that you can make choices every day about how you treat people and what you eat.
If we don't give time and energy to our land (and to how food is planted on our land), there may be a time where that choice is no longer ours!
November 26, 2015 in America The Free, Holidays, On People & Life, On Spirituality, Reflections, TravelingGeeks | Permalink | Comments (0)