August 21, 2019
Zen 2.0 Brings Connectedness & Compassion to Kamakura Japan
We are excited to team up with Zen 2.0 as a media partner this year. Based in Kamakura Japan, Zen 2.0 is an international conference on Zen and mindfulness that integrates modern wisdom and diversity into Kamakura's history and traditions. The event hopes to create a "soul connection" for what you could call an "awakening."
The event will take place this September 21-22, 2019 at Kencho-ji (venue name) in Kamakura, which is roughly an hour south of Tokyo along the coast. We feel that their vision is very aligned with our own, which is focused on global consciousness, compassion, spiritual learning and mindfulness. Zen 2.0 values compassion so highly that they list it as their first bullet for what they wish attendees to feel at the conference. In the middle of it all, it's about meeting like-minded people who are on a journey to awaken the magic within while having fun in the process.  This Mindful City of Kamakura is surrounded by nature and faces the water, which is nurturing and healing in itself.
Kencho-ji: Over 760 Years Old
The venue this year for Zen 2.0 will be held at Kita-Kamakura's
Kencho-ji
, the head temple of the Kencho-ji branch of the
Rinzai School of Zen
. The first and second Zen 2.0 events have been held at this historic venue that is over 760 years old.  Many visitors to Kencho-ji all agree that it possesses an incredible energy and just by setting foot onto the holy grounds of Kencho-ji can really feel the refreshing atmosphere contained within. 
August 21, 2019 in Conference Highlights, Events, On Japan, On Spirituality, On the Future | Permalink | Comments (0)
August 19, 2019
IONS Annual Conference Brings Together Scientists & Spiritual Seekers Under One Roof
Truth be told, I've known about Petaluma-based IONs (Institute for Noetic Sciences) for awhile now, and have attended some of their smaller workshops and events over the years. That said, we weren't aware of their annual IONS International Conference , now in its 18th year so were thrilled to team up this year as a media partner.  This summer's event which was held from July 18th-21st in Santa Clara, California brought together over 900 scientists, spiritual teachers and consciousness explorers all under one roof for several days of discussions around cutting edge research in consciousness science, personal transformation, and expanded human potential. So, what makes this event so special?
The fact that they can gather so many respected scientists, researchers and business entrepreneurs together to embrace spirituality publicly in a way that is rarely done is astonishing in itself. By embrace, I mean that those in the world of cutting edge science are listening to spiritual teachers and wisdom keepers in a way they haven't in the past and moreso, trying to figure out a way to not only deepen the conversation, but allow both sides an equal seat at the table.
Imagine a world where left and right brain thinkers & teachers can not just converse but understand & respect each other?? Where the mystical and the factual combine energies and create magic?[/caption] Moving away from the "us" (those who need data to be proven in traditional scientific ways for it to be real) and "them" (those who connect to the unseen world without proof and embrace ancient wisdom of top spiritual masters regardless of faith), is the way forward. You see, those who have had a mystical experience have often had more than one and they don't need scientific proof for their experience to be real, valid or self-affirming. Wisdom keepers are those who LIVE a spiritual life and while some have a religion which may be attached to it, more and more, people do not.
For so many, their "religion" may be of an ancient belief system like Buddhism, Hinduism, Judaism, Christianity or Islam but for others who are awakening now, particularly millennials, we are starting to see that their 'faith' if you like or connection is to that of the Earth, the elementals, and rituals which indigenous elders have worked so hard to keep alive for thousands of years. And, for others, it's the stars themselves -- they have an inner knowing that they are part of a greater universal make-up beyond the Earth and even beyond our Galaxy and Universe. This year's theme at IONs was "The Possibility Accelerator: Creating our Future, Now."
What was so beautiful was that science is starting to catch up if you will to some of the profound observations mystics have had for years. And while we heard from some of the scientific and research powerhouses like leading thinker, author and speaker Deepak Chopra, Dr. Daniel J. Siegel, who addressed the perspective of interpersonal Neurobiology. Dan included contemporary insights from the physics of reality and used the Wheel of Awareness to explore these questions and their practical implications.
ION's Chief Scientist Dean Radin (see our interview with him) spoke about some of his latest research findings.
Dean Radin in the media room before our interview.[/caption] We also heard from visionaries like Shamani Jane (CEO of the Consciousness and Healing Initiative (CHI), who also led a pretty interesting interactive embodiment exercise in her breakout session. Julia Mossbridge, Ph.D. spoke on the "Precog Economy," and what we can do to mitigate some of the risks. I've heard Deepak speak a number of times over the years -- in this powerful talk on day one, he spoke about intentions and manifestations. In other words, there are countless ways we make our intentions come true. So true that some people manifest their deepest dreams, wishes and desires while others do not. Deepak Chopra addressed the power of your view of reality (The Nature of Reality) and practical ways to experience transformation and healing in the process.
Above and below: Deepak Chopra on the main stage.
I'm relatively new to Rupert Sheldrake's work, however his name has been coming up quite a bit lately in the context of morphic resonance, a process whereby self-organizing systems inherit a memory from previous similar systems, which essentially means that the so-called laws of nature are more like habits. According to Sheldrake, "the hypothesis of morphic resonance also leads to a radically new interpretation of memory storage in the brain and of biological inheritance. Memory need not be stored in material traces inside brains, which are more like TV receivers than video recorders, tuning into influences from the past)."
This concept apparently lacks mainstream acceptance and has been characterized as pseudoscience however we see it as a reality in our work all the time. Rupert Sheldrake gave a talk on the main stage which addressed the various aspects of spirituality, from mainstream-like things like rituals, meditation and prayer to the impact of nature, flowers, gratitude, pilgrimage and music, which have no specific religious affiliation whatsoever. 
Rupert Shaldrake, Ph.D. covered both Science and Spiritual Practices.  Chris Grosso spoke about what it means to be Perfectly Imperfect. He shared his so called messy story with the audience, including his past addictions and his path to leading a clean and balanced life. Throughout this very tough process, he found healing and love although it wasn't an easy road. He asks: what does it mean to accept yourself fully in all of your perfect imperfection? He spoke of using our own difficult life experiences and tragedies as catalysts towards spiritual awakening through various meditations, creative exercises, compassion practices and more. 
Chris Grosso on Becoming Perfectly Imperfect, Being Okay with it and Finding Healing and Love in the Beautiful Mess of Being Human. Below, Director of Development and Communications Alex Morrison introduced IONs President and Chief Scientist Cassandra Vieten who I've seen speak before and we LOVE her energy!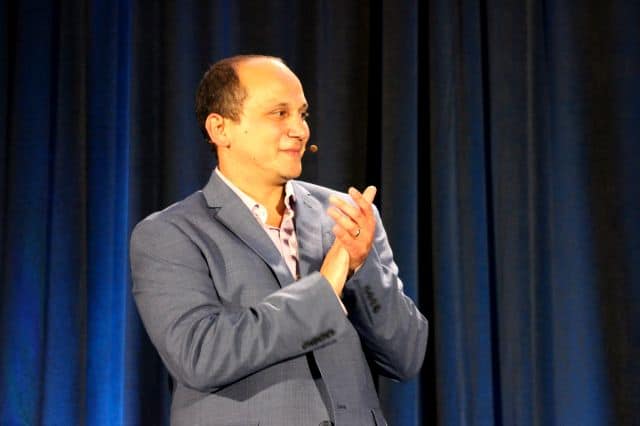 Alex Morrison, Director of Development & Communications at IONs
Cassandra Vieten summarized things beautifully which included interactive breakout sessions with others in the main room.  As a workshop leader and professional trainer, her research has focused on spirituality and health, transformative experiences and practices, development of mindfulness-based interventions for emotional well-being, and enhancing the effectiveness of change agents. Her primary interest lies in how psychology, biology, and spirituality interact to affect experience and behavior.
She wrapped with a question for all of us as a community to ponder: what kind of ecosystem can we create that will support the changes we want to make and the world we want to build? Her assessment included creative ways we can become world builders and change makers together collectively as a community.
Cassandra Vietan, Ph.D. on the main stage![/caption] ION's CEO Claire Lachance also graced us with her beautiful presence on the main stage. Although I didn't get time to connect with Claire for long, I loved watching her navigate the floor before, during and after the event. One thing I noted was how authentic she was when connecting with others, whether they be vendors or complete strangers. Her passion lies in values-driven strategies, organizational sustainability, and servant leadership. The key now is integrating those leading-edge business practices with valuable learnings from science and ancient wisdom traditions. I'm so excited to see what she has in store for IONs in the coming months ahead.
Claire Lachance, ION's CEO on the main stage.
Ervin Laszlo talked about the resurgence of the search for meaning and oneness through social togetherness. This has led to the cultivation of spiritual and transcendental experiences which is helping to restore coherence at a time when the world most needs it. Charles Eisenstein addressed Eco-Healing. He asserts that today's ecological crisis can best be understood as the inevitable terminus of an age-old story of separation. In other words, our separation from Mother Earth -- we love his work. John A. Jowell suggests that "othering" and "belonging" is the problem of the 21st century. He led a keynote address on Friday as the underlying issue we face today is who we are and what our relationship is to the "other."
Rollin McCraty, Ph.D. shared the science of the Gloabal Coherence Initiative, which leverages decades of research at the HeartMath Institute (we're fans!). Rollin talked about the interactions between humanity's energetic field and that of the Earth. If you don't think Gaia has her own consciousness, think again! Roger Nelson, Ph.D. is the Director of the Global Consciousness Project (GCP). His focus is on mental interactions, anomalous information transfer, and effects on physical systems by individuals and groups. He created the GCP in 1997, building a world-spanning random number generator network designed to gather evidence of coalescing global consciousness.  And we loved seeing Yvonne Cagle on the agenda. I first met her when I was involved with the Singularity University team many years ago. 
"We are Stardust." -- Edgar Mitchell, Founder of IONS
Yvonne was part of an Astrophysics Meets Theology Panel on Thursday evening together with Brian G. Keating, PhD. & Professor of Physics, Ginny Whitelaw, Ph.D. (and Zen Master), Luxas Mix, Ph.D. Priest & Researcher, H. Bruce McEver, MBA and Bruce Damer, Ph.D., Scientist, Designer & Author. The panel kicked off with a reference to a quote that IONS founder Edgar Mitchell was known to say: "we are stardust." The dialogue built bridges between these two arenas of exploration and how spirituality and astrophysics are not mutually exclusive but are complementary to and inform one another.
Amber Seitz, Bruce Damer, Renee Blodgett at IONs Conference Reception[/caption] We also loved the humor and authenticity of Frederick Chavalit Tsao, MS who came over from China. His talk was on Pioneering the Oneness Worldview in China and Beyond. He founded the SANGHA Retreat by OCTAVE Institute, he is creating opportunities for societal healing in China in a unique way and a festival is tied to it (its coming up in November 2019 in Shanghai). In an effort to foster harmonious communities, Fred shared his own story, one which reflects his belief that worldviews can essentially shift when people have the opportunity to be more mindful about the way they live, lead and gather together as a community. 
Chatting with Fred Chavalit Tsao at his book signing!
Inner Knowing From the Heart: Compassion, Forgiveness & Love
There were also plenty of voices from the other side. IONs board member Azim Khamisa has his own personal story and journey, which some of you may have heard as it hit national news in the states. Hailed by dignitaries such as the Dalai Llama, Bill Clinton and Al Gore, Azim delivers his inspirational message to a world in desperate need of forgiveness, peace and hope. Following the murder of his only son Tariq in 1995 through a senseless, gang-related incident, Azim chose the path of forgiveness and compassion rather than revenge, and this amazing choice led to the establishment of the Tariq Khamisa Foundation (TKF) and the subsequent forgiveness movement which has reached millions. 
IONs Boad Vice Chair Azim Khamisa led the NextGen Consciousness in Action Awards[/caption] Azim Khamisa presented the NextGen Consciousness in Action Awards to Lyla June, Jewel Love and Sarah Peck. Lyla is a poet, musician, anthropologist, educator, public speaker and community organizer of Dine, Cheyenne and European lineages. She also performs poetry, hip-hop, acoustic music and other performances. Jewel is a licensed psychotherapist and CEO of Black Executive Men, which is focused on wellness. His work helps black men in corporate America find inner peace through psychotherapy and other programs, including his work at Urban Healers, which aims to promote healthy masculinity through modern ceremonies and rituals. And, Sarah Peck has been leading spirit, mind and body programs at Teachers College, Columbia University for a decade, which includes her dissertation work working with spiritual healers and clients with serious illnesses.
Azim Khamisa  with Lyla June, Jewel Love and Sarah Peck.
Lyla Love really moved me with her talk on stage, addressing the importance of all of us reconnecting with the Earth and the ancient wisdom of our ancestors. She played the drum and sang an indigenous song from her own lineage, which is included in our wrap up video below. 
Lyla June on the main stage speaks out and sings an indigenous song/chant with drumming, which I couldn't help but get up and dance to (so inspiring!!!)[/caption] It wasn't until Lyla was on stage that I learned that she was the daughter of Pat McCabe, who is such an inspirational individual and speaker. Her talk was called Recognizing Our Perfect Design for Thriving Life. In other words, as cracks in foundational beliefs (we all have our own) begin to appear, as imposed knowledge gives way to inner knowing, we are in a perfect position to reconsider aspects of our design for a thriving life.
Who are we, she asks? And, how are we all related? She took an indigenous perspective to hit home her message and to allow us ever so gently to dive deep within ourselves where the best answers always lie. For within ourselves, we can tap into our Higher Self, which is indeed connected to the wisdom of our ancestors. All of our ancestors at one time or another were deeply connected to the Earth and the wisdom that lies within the consciousness of Gaia -- perhaps when we do feel lost or disconnected, it's because we've abandoned the inner knowledge we already have and our ancestors already passed on. This is a message which not only hits home with us in our work but one we share often as a powerful way to heal and renew our souls.
Pat McCabe, an inspiration for all of us: The Thriving Life Paradigm.
I missed the pre-conference workshop with Susan Mokelke, JD although would have loved to hear her take on Shamanic Journeying. In her workshop which focused on a Pathway to Another Reality, she asserts that the Shamanic Journey is one of the more visionary methods to explore the hidden universe otherwise known mainly through myth and dream. She used drumming in her workshop to help alter consciousness and awaken one's soul and dormant spiritual power, not unlike what we do in our own work -- so powerful! We love her work. ne of my favorite speakers Deborah Johnson brought the house down as she gave a captivating talk on the main stage about what it means to be human, what it means to show up, what it means to be spiritual, what it means to embrace the other, what it means to make a difference. She spoke of polarities (as in polar opposites, saying that you care and want to make a change to help humanity but then voting for something that hurts humanity)
Deborah Johnson gets a standing ovation at the IONs Conference[/caption] And, although I unfortunately missed the sessions with Jill Purce and Luisah Teish, Jill liberated the audience through the ecstasy of chant (we've been listening to her work all week) and Luisah spoke of the power of art, storytelling, ritual and folklore. So up our alley, she talked about the personality of the Moon (it does have one for those who doubt it) and her relationship to the Sun and Ocean -- SO love this. Attendees were able to perform an African Moon Ritual and produce a 'work-of-art' in honor of the Moon. Here are some shots of the event, which I would refer to as the "in between stuff," which is as powerful as the content itself. IONS attracts some of the most interesting attendees, so you'll find yourself in equally fascinating conversations in the hallways, at lunch and in between sessions. 
Dedicated to happiness and joy
A Japanese group we met who are working on innovative and conscious technology
A creative wall of leaves and birds -- attendees could add their own magic to the wall
Vendors were very diverse, from meditation best practices and centers dedicated to mindfulness to medical and holistic practitioners and companies -- Biofield Anatomy, which is the significance of energetic imbalances.
At our booth at this year's IONS -- above and below 
Playing around at other people's booths. Space Less Traveled: Documentary About Edgar Mitchell.
Attendees having lunch outside at this year's IONS
At the IONS Booth
The Awakened Futures Summit (Consciousness Hacking): Where Psychedelics Meets Technology
Creative energy at its best: IONS 2019
Cassandra Vieten, Ph.D. on the Ecosystem of Change: Creating our Future, Now
In the hallways -- they also had a bookstore set up so you could purchase speakers books as well as others. They had a book signing area as well for those wishing to ask speakers questions and have them autograph books.
Breakout Rooms at IONS 2019
Panel Discussions at IONS 2019
Magic Moments at IONS 2019
The main stage at IONS 2019
Joyful & Transformative Moments at IONS 2019
Speaker Bruce Damer at IONS 2019 at the final reception 
Above & Below, Performers on the main stage at IONS 2019
Experiential in Motion
They also had something they call poster sessions. Noetic researchers, scholars, community leaders and enthusiasts presented posters on their projects and passions. The poster sessions provided unique opportunities for attendees to connect with one another and discuss exciting projects where they may have shared interest.
A few of them included: Water: Fractal Antenna of Information with Denise Barrett, Why It's Important to Know Why We're Here with Annette Cravera Goggio, the ability to couple our position space with K space to allow us to imprint our intention with Allison Gillott, Aquarian Theosophy with Eric L. Lundgaard and the Integration of the Four Pillars of PSI Research with Marilyn Stickle. Other topics included Subjective Temporal Dynamics, the Pancea Theory, Sound Reiki, Thermodynamics and Metabolism, New Scientific Paradigms Meets new Non-Materalist Paradigms and more. We even saw a fun spoon bending experiment, which isn't new, but it's always fun to go through.
Photo credits, above and below: Zenka
Spoon Bending in action - oh so fun! Credit: Zenka
Exhibitors & Vendors
Some of the great exhibitors and vendors at this year's event included John F. Kennedy University, New Harbinger Publications, Unity International, Integral Transformative Practice, The Monroe Institute, Consciousness Hacking, River of Light Massage & Healing Arts, Biofield Tuning, Radiant Health/Network Spinal, The Extraordinary Project, DreamBuilder LIVE, Zero Balancing Touch Foundation, Biofield Healing Institute (fascinating stuff), Human 2.0 (we love what these guys are doing), IONS, LightHaus, Lucia N 03 Light Experience and the Space Less Traveled: Documentary About Edgar Mitchell.
People traveled from around the world, including: Canada, the United Kingdom, Belgium, Australia, Spain, Singapore, Japan, Israel, Switzerland, Portugal, Germany, Mauritius, Austria, United Arab Emirates, Thailand, Taiwan, Mexico, Hong Kong, Greece, Estonia, Czech Republic, Brazil, Sweden, South Africa, New Zealand, Italy, France, Costa Rica, and China.  Whoah, what a list, right? They had nearly 850 people attend this year, over 70 conference presenters and 23 exhibitors. Interested in learning more about IONs and their vision? For centuries, the power of science has propelled us forward. It has unlocked the mysteries of the natural world and driven human innovation. Robust scientific inquiry serves as the basis for progress by providing a sturdy, objective foundation on which to build. 
At IONS, they are inspired by the power of science to explain phenomena not previously understood, harnessing the best of the rational mind to make advances that further our knowledge and enhance our human experience. And, they're helping to get both sides together in a public forum, thereby giving credibility to both. The goal? To create a more compassionate and sustainable world, one which empowers and supports all aspects of humanity, not just the privileged, educated and traditional leadership.
"The mission of IONS is to reveal the interconnected nature of reality through scientific exploration and personal discovery, creating a more compassionate, thriving, and sustainable world." 
Here's a fun video summary we took of the event this year. Enjoy! Would we team up again? You betcha. It was our first, but hopefully not the last. We love that the event bridges the gap between Science and Technology and the world of Spirituality & Mystics. They allow a platform and space where both sides can come together to discuss cutting edge breakthroughs, research and more.
August 19, 2019 in Conference Highlights, Events, On Innovation, On Science, On Spirituality, On Technology, On the Future, Videos | Permalink | Comments (0)
March 08, 2017
Gratitude & Remembering America's Core Values Will Set Us Free
Given how much travel writing I do these days, I rarely post anymore over here which is where it all began. Two of my former blogs became Down the Avenue when I started publishing to the web, now more than 15 years ago. Truth be told, Down the Avenue is like an old friend. When the blog editor opens and I see it's old familiar interface, it's like going into an old coffee bar you used to frequent in your home town.
The difference is, that instead of opening up an old fashioned notebook in that same coffee bar and putting pen to paper like I did for many years across many continents, I type in a window and all of my personal ramblings come out, word for word. And, instead of those ramblings getting buried under a bed or in an attic somewhere that may someday be seen by a select few, the words get published for the world to see in a matter of hours, and often minutes.
When I'm in a reflective mood or simply need to make sense of something, I turn to my favorite cafe (this longstanding personal blog) and it all comes out. Once it's out there in black and white, it's so much easier to see that our lives and the world is far from black and white.
After the election, I like so many Americans were stunned with the outcome. While my intuition told me that Trump would win months before it became reality, a voice deep inside me wished this nation of immigrants would see through his sad but brilliantly navigated narcissist roadshow.
The truth is that racism and fear of others not quite like us, has always been front and center, especially for the white man. I grew up in that world. While I may not have been surrounded by Conferderate born conservatives, I was surrounded by people who told me to stay away from the other side of the tracks, you know, where poor black people lived because, well....it wasn't safe. My thinking as a child was that if it wasn't safe, why don't we invite them over to our side of the tracks where it was safe. Seems logical doesn't it? At least in a child's mind, who hasn't learned about fear and hate yet, it is.
I started traveling because I craved diversity which my small home town in upstate New York had very little of. I wanted to know how others thought and lived and ate and slept and walked. My grandfather was a conservative and while he had his own prejudices that he often shared about the Poles, Italians, Czechs, Dutch, Germans, Jews and others who lived among us, it was often with humor.
That said, underlying tones would remain, enough for me to want to see their worlds first hand. That same grandfather voted for Reagan and sent my uncle to New York Military Academy, the same school Trump went to and during the very same years. Founded in 1889, this private school,which we visited on more than one occasion years later, is spread across 120 acres in rural Cornwall. I think it was perhaps therapeutic for my grandmother or somehow confirmed their decision that sending him there was the 'right' decision to ensure he was on the 'right' path. I was sent to private catholic school by the very same grandparents for the very same reason.
You see, there was so much fear that we'd end up on the wrong side of the tracks if we didn't have discipline in our lives and military and catholic institutions are designed to bring you just that. For me, discipline is internal, not external as defined by an institution, school or political ideology. When we stray from our own voice, our own knowing, our own intuition, our own understanding, we can get in trouble.
Forgive the musings, but the reason I bring up this story is because it has to do with divide, something which plagues our world right now.
You see he believed in the rags to riches America, that this country was the place that his granddaughter as a woman could most succeed. When I used to talk about living in Europe, he said "if you want to be astronaut one day, you can in America, you can't achieve dreams like that in Europe. Even though there haven't been any women presidents, why couldn't you be the first?" As hard and difficult as he was at times, he used to say things like that to me all the time -- anything was possible. This was rare for the male generation of his time and while he expected me to set the table and help my mother clean the dishes after supper, he never expected me to only consider teaching or motherhood because that's what women did.
I guess my mother knew that too since I never gave birth to a child, I've supported more than one man and have worked my ass off since I was 14, starting with washing dishes for Italian-run restaurateurs who never stopped screaming at each other. When you're raised by a man who runs their own business, you learn to have an entrepreneurial spirit. From as long as I can remember, I've made my own source of income.
To make a living, I've mowed lawns, raked leaves, shoveled snow, wheel barreled sand, sold chocolate, cosmetics, and books door-to-door, worked in rural fields, sold art in Holland, picked greengages, grapes and oranges, patched and sewed in foam and glue factories, washed dishes, milked cows in Israel, managed restaurants, taught English in Kenya, bused tables in Belgium, waited on tables and tended bar on five continents and 8 countries, photographed events, performed plate smashing and dance ceremonies in Greece, sold ice cream in Australia, played piano in England, co-led swing dance classes, created direct marketing and advertising campaigns, written articles, authored photo books, led communications and marketing teams, run departments at a software and hardware company, given presentations and speeches, managed accounts and clients at PR agencies, launched start-ups, run my own communications consultancy, drafted creative briefs and written strategic plans.
Whoah Nellie - are you tired yet? I am and that's the point.
When people are surprised that anyone with a brain voted for Trump, I'm not. I know this other America because I grew up in it and around it. My America was one where you could buy a house and afford to send your child to college. It was doable for the working class family and even easier for a middle class one. It's 68 years since my grandfather paid $4K for our corner house, the one that would become my childhood home. They made sacrifice after sacrifice to make sure I had a better life (after all, that's what most parents do) and yet I still can't afford to buy a home in THIS America.
While I may live in one of the most expensive cities in the country and a former Google employee apparently paid $2 million in cash for a tear down house on my street, I realize that San Francisco and the Bay Area isn't reality. I get that. What is reality is that while house prices may not be $2 million in Phoenix or Seattle or Denver or Dallas, they're still far beyond what the average American can afford today. College is through the roof and our weekly grocery bill is absurd.
My monthly rent would make anyone with an above average salary bowl over, my health insurance payments even with a high deductible are nearly $700 a month (that's nearly $9K a year) and they just went up again and I have no health issues. I'm told that because I'm over 40, they'll go up even more with Trump's proposed healthcare plan, which quite frankly simply isn't doable. I can't work enough hours in a day to sustain these growing costs and so savings get depleted every year.
I think to myself often: it's not as if I haven't proved that I can do whatever it takes to make a living and am humble enough to go there. But...I'm tired. Most people are. And, this my friends, is why American born citizens are angry. It's not just white laborers and manufacturing plant workers who are wondering how to survive but 90% of the country. Will there even be a retirement fund? The Silicon Valley bubble I live in don't understand this 'other world' and that's why they were shocked when Trump won the election and I wasn't.
There's too much pain out there. While we were all immigrants once upon a time making a living on this great land, many of us expected (or at least hoped) we'd be better off 30 years later rather than struggling more than ever to pay bills, college loans and a mortgage. We all have our own stories of how we struggle and why we're tired even with a great education, skills and oodles of rich tried-and-true experience.
This tired group voted for Trump.
While I may feel some of their same pains, I couldn't conceive going there, because I don't believe in divided nations, divided communities, divided families, the result of a fear based approach to governing. After every decision and tweet, there seems to be more racist rallies, marches and incidents. Why? Because these decisions and words violate how we feel as unique individuals who make up the United States of America: Asians, Jews, women, blacks, Muslims, Mexicans, Italians, the list goes on. Conde Naste so elegantly wrote in a piece about the executive order on immigration which has turned into a Muslim ban, many of whom see as a religious war: "Above all of it loomed the spirit of the order itself, a sharp and cynical act from the highest office of this nation that, in spite of its many stumbles, has stood more than any other in modern history for refuge, for openness, for fairness and opportunity."
As a born marketer and brand expert, I saw it coming -- Trump is a brilliant rally chief. Making America great isn't about turning back the hands of time, nor is it to create a mantra that suggests we aren't great as a nation today. Let's face it, we are at a crossroads and the decisions we make during this very pivotal time will determine whether we continue to lead the free world -- or not.
NPR's Robert Siegel interviewed Yale historian Timothy Snyder this week, who is known for his sprawling books about war, genocide and the descent into dictatorship in mid-20th century Europe. His latest book "On Tyranny" addresses the concern about the rise of Donald Trump, and his lessons range from establishing a private life and listening to dangerous words to being weary of paramilitaries.
Says Snyder in his interview:
"The president has never given any indication that he understands or respects the rule of law and the things that the presidents have done so far. And this speaks directly, I think, to the central threat, suggests that he is deliberately spreading a world of unreality. And this is exactly why we have to understand history, because where fascism, to use your word, begins is with the neglect or the repudiation of the real world. Fascism says what you and I experience as facts or what reporters experience as facts are irrelevant. All that matters are impressions and emotions and myths.
And so when the president and his aides set out to create a world of alternative factuality, that is the catalyst which helps us slide from one system to another."
As alarming as that sounds, it's what many people feel is happening to our democracy (we do live in one right?) yet can't quite put the same words to it. They're feeling a loss of control. A loss of fundamental freedoms.
Why these new orders are impacting so many Americans, including third generation white ones, is because it feels like a betrayal of our nation's history, principles, laws, and customs. And, as Conde Naste also writes: "a betrayal of her spirit and aspirations."
Since the beginning, America's attractive power enticed millions of immigrants to leave the comforts and security of their homelands for the promise of hope, opportunity, and a liberty the world had never known. They also unleashed an entrepreneurial spirit that created unparalleled prosperity and spawned the greatest generosity ever exhibited by a country.
Several years ago, I wrote a book review on Rescue America, which devours why we're flailing and how we can return to an America we can be proud of again. They make countless references to American history, the Constitution, the principles behind freedom and what it means to be "free."
They take a deeper look at the Declaration of Independence, why it was created and what our forefathers wanted for Americans as a result. Equality and improving the human condition was a large part of what the "greats" who ran this country wanted; they also wanted a unified America.
"The natural effort of every individual to better his own condition...is so powerful a principle...(it is) capable of carrying on the society to wealth and prosperity...(and) surmounting a hundred impertinent obstructions." - Adam Smith
Thomas Jefferson didn't really propose an ideal on equality, but rather recognized and acknowledged an equality that already existed. What Jefferson meant by the Pursuit of Happiness and a "free" America was the inalienable right of the pursuit of happiness that one is free to become the best self that one is capable of becoming.
I love this as much as I love the benefits that Abraham Lincoln envisioned for Americans: the capacity and the freedom to choose, by the quality of one's decisions and by the inherent value and ownership of the fruit of one's labors.
"The man who labored for another last year, this year labors for himself, and next year, he will hire others to work for him." -- Abraham Lincoln
As a nation, we have achieved astonishing wealth -- if you combined the wealth of the Greek, Roman, Chinese and English empires, the wealth generated in America over the recent century would supersede them. And yet as free and democratic as our virtues are, most of us are struggling in today's America.
It's clear from the recent chain of events, we've lost a lot of important things along the way, the concept of gratitude being a big one and that attitude needs to come from the top so it can trickle down. The way out of this mess of course is action from the bottom -- continuing to exude gratitude regardless of how tough it gets, fighting for our freedoms and personal voices, ensuring that we always have a free press, not a constrained one and a healthier and happier life for all, not just the wealthy white.
Those who voted for a different America didn't think of the consequences of a leadership that uses fear to increase their power rather than service to lead with integrity. Diversity is after all, our biggest strength and guidance from the top matters a lot. Our children ARE watching and that's the point -- this generation is learning about what kind of leadership is acceptable for the most powerful leader in the western world.
"The direction in which education starts a man, will
determine his future in life." -- Plato
The mentors we meet along the way and the guidance we get determines our direction even more than education. It also determines our resilience and our ability to take one more step amidst negative set backs.
This is why voting for someone with a moral compass matters more than the laws they implement. As a nation, this guidance is what makes up our core ethics, values, the way we treat others and the way we look at the world.
What happens when the principles that gave you all you possess eventually lead to distracting and damaging habits and attitudes that take you away from those principles and lead to the wasting away of prosperity?
Do you abandon those principles, or do you recommit to them through honor, discipline and commitment? Isn't it time that as a nation we unite more than ever and work on restoring and recommitting to America's core values before its too late?
"Anyone who trades liberty for security deserves
neither liberty nor security." Benjamin Franklin
Photo credit: New Ten Commandments Website
Entitlement stands at polar odds with personal responsibility and gratitude. When we come from a place of gratitude, it's astonishing what's possible in our lives and how it flows to others around us. Everyone benefits. Gratitude is critical to restoring our spirit and our values, individually and collectively as a nation.
"As we express our gratitude, we must never forget that the highest appreciation is not to utter words, but to live by them." John F. Kennedy
The best thing we can do is to sit in another man or woman's shoes as often as possible. By demonstration, we show that we embrace all Americans, not just those who look, dress, act and worship like us. These acts will not only squash the hate and fear-based rhetoric that suggest that all Muslims are dangerous, all blacks carry guns, and all Mexicans are drug dealers, but it will set our hearts free as humans. From this place and as united citizens, we will only vote for and hire candidates who will truly serve this nation, not destroy it. Remember it's not just the economy that is flailing, but our spirits too, which is a far cry from what it means to be American. When our spirits crumble and shatter, our nation's spirits will too. And this my friends, is far more dangerous.
March 8, 2017 in America The Free, On People & Life, On Politics, On the Future, Reflections, Travel, TravelingGeeks | Permalink | Comments (0)
May 27, 2016
Exploring the Future of Travel @ TravelTechCon
Introducing Travel Tech Con, an independent conference organized by a group of travel startup founders who share a common passion of moving the travel industry forward. Now in its first year, the event this month spanned over two days, the first of which had 15 startups present at the Plug & Play Center in Sunnyvale California. Day two focused on players in the world of travel tech addressing what needs to change in the next ten years to bring an industry with an antiquated infrastructure up to what consumers expect in 2016 and beyond.
Photo credit: EMaze.
From Virtual Reality, Artificial Intelligence, Blockchain, the Internet of Things, Big Data, Open Travel Standards, Automotive Innovations and more, we heard from Adobe's Head of Global Industry Strategy & Marketing for Travel & Hospitality Mohammad Gaber, Emergent VR's Peter Wilkins on the future of VR and Travel, OSLET's Gadi Bashvitz on using personalization to drive conversions, Chute's Ranvir Gujral on AI, GEIOS' Michael Frischkorn talked about using IoT to help travelers create more memories, and Roomstorm's Maksim Izmaylov talked standards, a necessary for efficient global communication.
There was also an interesting panel on emerging automotive tech which was addressed by Roadgazer's Maria Mokhnatkina, Bosch's Tom Lindma, Skurt's Tin Hang Liu and Princeton Optronics' Alexey Kovsh. The second day was held at Yelp so not surprising to hear from Yelp's Rachel Zhao who talked about making it global while keeping it local. SFOX's Akbar Thobhani, Factom's Tiana Laurence and Norm Rose talked about the opportunities Blockchain can bring.
Think of it as a distributed network that offers value….value that can't be duplicated. When you're dealing with strangers, blockchain can offer tremendous benefits. Since travel is so distributed and so global, blockchain is a way to help make travel booking more direct and more efficient, cutting out the umpteen number of middle men that are in the way of a vendor and the consumer today.
This will allow direct booking will increase and improve. Since blockchain is all about being decentralized, it may be harder at first to establish loyalty although new models will certainly evolve to re-engage and build loyalty with customers. The future is here but it's just not distributed…yet. The idea for vendors is that they should be able to continue using their existing systems but supplement them with blockchain to more directly reach their customers.
Blockchain is contextually the next infrastructure platform that could eliminate the middle man in travel as well as help to reduce fraud. Other trends include the growth of services like AirBNB and couchsurfing and as more services like it emerge, identity and transparency will increasingly become more important. And of course, we talked about the interests of millennial travels since their patterns of behavior is so different than the generations behind them.
Millennials increasingly want experiences not physical objects. People are traveling earlier than ever and they want to see the world. There's less fear than ever before, largely because millennials are more familiar with the world because of social media and technology.
While so many tour companies and destinations still focus on print articles and advertising, they don't realize that most millennials find their ideas about where to travel and what to do through social media and online networks. They trust what their friends recommend on these social networks over something they might read in a magazine they don't have a personal connection with.  Because they use technology all the time and it's an integral part of their world, they also expect technology to be part of their travel experiences.    
May 27, 2016 in America The Free, Conference Highlights, Events, On Innovation, On Technology, On the Future, Travel, TravelingGeeks | Permalink | Comments (0)
March 30, 2016
DENT 2016: From the Morality of Sex Robots & AI to Free Diving & Mental Health
Putting a dent in the future -- isn't that a compelling idea? And, what's even more compelling is that it means such different things to different people and why the eclectic DENT Conference in Sun Valley Idaho, is so unique.
From technologists, entrepreneurs and scientists, to artists, astronauts and Olympic Gold medalists, people gather around to hear radical new ideas, learn from the best of the best and share their best practices, all under the roof of the Sun Valley Inn, a stone's throw from Baldy Mountain and incredible skiing, even in the Spring. The brain child of Seattle-based Steve Broback and Jason Preston, DENT is now in its fourth year and my third year of attending, DENT's format is a mix of educational, interactive and thought provoking, with un-conference break-out sessions, fireside chats and general talks.
Since the backbone of the conference stems from the technology community, it seemed fitting that American futurist and author Amy Webb would speak. As the Founder of the Future Today Institute and an Adjunct Professor at New York University's Stern School of Business, she dabbles in a lot of projects. She asks us wryly: "What happens when we get what we say we want?" On the topic of Emerging Tech Trends and the hot button in Silicon Valley right now: Big Data, she addressed where and how that data will change how we think about the world and how we interact with it. What if an algorithm could predict our news? What if a news story could be written by an algorithm, using curated and scraped data that could get published? If you follow financial and sports news today, you may be surprised to learn that many of these stories are already being written by algorithms. Yet, it's not something we really think about and curation is already there in some industries. What if algorithms designed our real world experiences OR even more radical: what if algorithms could program our people?
Photo credit: www.goldenhourblog.com
I've been seeing this for the last few years -- curation is becoming more and more automated and we are moving towards hyper personalized news. Rather than reading a single news story, data that reaches our desktop or mobile device is becoming more personalized for you....all programmed by an algorithm.
The nugget of news will be personalized based on our own old data and online behavior which means that there's an infinite number of possible stories that could be distributed. What if in the not too distant future, there will be editors but no journalists. Imagine that you will have your own personalized news feed that is pre-filtered based on your likes and preferences.
Yes, it's happening, but it begs the question: is that what we really want? Because there are so many possible places to get our news, the real value will be super customized and personalized. Sure, it will be content vetted, but isn't there an element of joy when we discover new things outside our comfort zones? If the vetted, curated big data funnel merely delivers me content on travel, photography and food because those are topics of interest I search about the most, will I ever learn about something new I might want to try, like martial arts or sky diving?
And, if I'm a democrat that searches more for Bernie Sanders talks than Ted Cruz, will the articles on Bernie be more favorable than the ones on Ted Cruz, and how does that algorithm decide what bias to let me see -- and more importantly, not see. What gets marshaled to the top and what gets moved to the third page of my search? Machines are learning from human behavior every day, including political views, our income brackets and the ugly biases of racism and homophobia. Truth be told, we are leaving bread crumbs everywhere, every single day. Perhaps in the future, we will PAY to be anonymous and that will be worth more than anything else. I couldn't agree more.
Amy reminds us that the future isn't something that happens to us passively -- – it is something that we are creating proactively and collectively. PATH's CEO Steve Davis addressed Malaria. What does Malaria have to do with technology and innovating the future you ask? A lot when you reflect on the fact that it's 2016 and with all of our advancement, Malaria still remains the number 3 killer in the world.
A child dies every two minutes, and 453,000 people die each year. How is that possible you wonder? It's not just that Malaria is a disease of poverty, but Malaria contributes to poverty. 
If you're not familiar with PATH, they work on vaccines, drugs, diagnostics, service and system innovation and they partner with organizations to drive down these diseases that affect so many and so unfairly. With so many creative and bright minds in the room, Davis asked people to think about how to effectively design new issue and systems over the next 10-15 years around products, around operational management and logistics and around financing, all of which could accelerate the progress they make in Africa and beyond.
Currently, Malaria is not being solved by the private sector but he suggests that the real solution is a complex level of collaborations between private sector and governments and that cost and affordability is critical to solving this. Says Davis, "In regular technology innovation, we think about the cost later.
With Malaria, we need to think about the ultimate cost first and then design around that to get to that price, otherwise it won't work." They work in endemic conditions, where there's not proper education systems and the environment is harsh which means that their work comes with enormous constraints. It should be no surprise that the health systems they work in, especially in Asia and Africa, are incredibly complicated from years of aid and development agency and colonialism mixed with new agencies pouring money into the system.
They are tracking index cases through droids and an app and using this model alone, they are attempting to check and treat every household to better figure out where people may have gotten infected. With a bunch of new data models, knowing where the reservoir is and where the mosquitoes are, is critical to their long term success.
They've been working with Tableau to see where transmission is coming from and to give the data back to the health workers in the front line. To make malaria history, they need to deploy resources faster than the disease can spread, so it's an aggressive but important mission. There's a huge sea change in global demographics. The faster we can get people in these countries to move into lower and middle working class, the faster we can eradicate diseases that are impacting so many.
Photo credit: Tableau.com website.
A few of their projects include the ISS Food Intake Tracker, which provides NASA scientists a better understanding of nutrition to help mitigate negative physiological effects of spaceflight. The challenge budget for this was only around $144,600 and a challenge award was $36,288. They also wanted to find a new space suit glove solution since the ones they've been using for years are brutal on the hands. Talk about the power of outsourcing ideas to the community at large!!
Parenti says their mission is to teach marketable skills to lead to jobs when prisoners get out. The idea is this: if we could reduce the percentage of recidivism and break the reincarcernation cycle then maybe the kids of those prisoners won't go down the same path as their parents did. Today, they're already teaching technology skills in San Quentin, which is an industry known for judging the quality of your work, rather than stigma of your past.
Apparently, there are three parts to free diving: time, depth and distance. The current world record is eleven minutes and 35 seconds, going down to 129 meters on one breath. Crikey - I can't imagine the possibility and yet I've learned through my travels to nearly every continent, to never be surprised at what humans are capable of.
Like in life's daily obstacles, Mandy had to learn how to overcome the evil monkeys in your head when you're having an off-day. That off day might look and feel even worse if you're free diving below 200 meters in Canada's waters, which is like swimming in complete darkness than it would if you were at 200 meters in crystal clear warm Caribbean waters. She highly recommends visualization, which I subscribe to as well and used it when I first walked over hot coals for the first time. It's effective in sports, reaching goals and of course, on that very off day.
Lest not forget a photo walk, the views of snowy Baldy Mountain even in Spring and late night conversations in one of Sun Valley's massive sized hot tubs, an experience not to be missed.
While you won't see the Avista Concept on the road as a production vehicle, its sculptural beauty and performance apparently aim to inspire the next generation of Buick vehicles. They were on-site to bring people into a surreal 3D world of that concept car.
March 30, 2016 in America The Free, Conference Highlights, Events, Magic Sauce Media, On Innovation, On Science, On Technology, On the Future, Science, Travel, TravelingGeeks | Permalink | Comments (0)
January 17, 2016
New York Times Travel Show Round-Up, Much More Fun Than CES!
I missed last year's New York Times Travel Show since we were about to embark on a 5 week long journey cross country -- our hashtag for the tour was #WBTWxAmerica for those interested in seeing photos on Twitter, Facebook and Instagram. We left New York the week before the event, and only a day before the city got hit with a snowstorm.
This year, we were proud media partners of the event since it remains one of my favorite travel shows in the industry. I love the fact that the show is a great mix of trade and consumer content and brings together some of my favorite destinations in the world all under one roof.
Despite the fact that is an American East Coast event, countries as far away as Taiwan and Japan showed up, there were wellness offerings from gems like Tahiti, St. Lucia and Bali, plenty of South American representation, and it took me nearly a day to make my way through the Africa aisle alone. From learning cool facts about specific destinations and exploring the latest from African safari tour companies, which we'll be expanding in 2016, I could have easily spent a full day in discovery mode.
Below, Arthur Frommer, from the infamous Frommer's Guides, opened the official consumer day of the event, which included a formal ribbon cutting at the entrance on Saturday morning, January 9. Some of my personal highlights are outlined below - as always, questions or comments, leave them in the comment section or feel free to tweet or email me @weblogtheworld.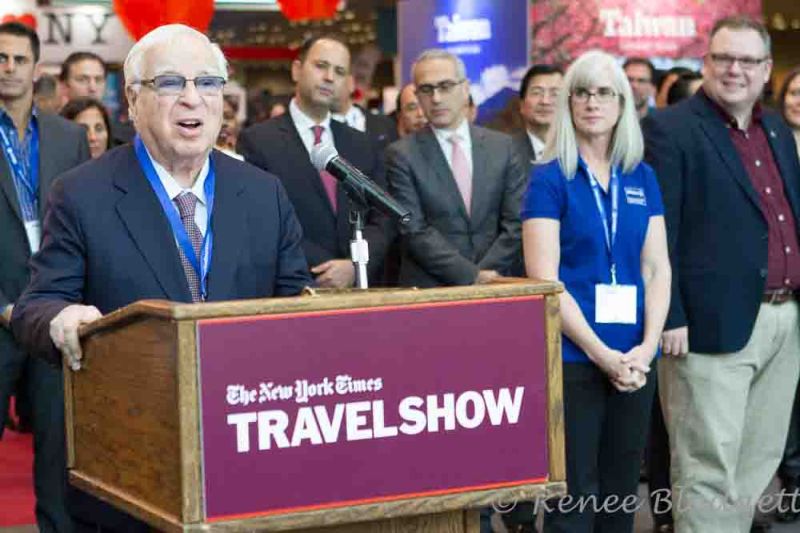 Eastern Europe
I was thrilled to see my pals from Estonia, Lithuania and Latvia on-site; we went on a press trip with them a few years back and loved it -- see my coverage of Estonia and Lithuania. They also served scrumptious cheese from the region which I dared not say no to -- food is such an integral part of travel for me, that I can't separate the two. Speaking of food, Dubrovnik is having a Good Food Festival from October 20-23, 2016, where you'll get dinner with a famous chef, taste traditional and not so traditional dishes, take part in gastro tours, entertainment and live musical performances and have an opportunity to attend workshops and presentations. More details at www.tzdubrovnik.hr.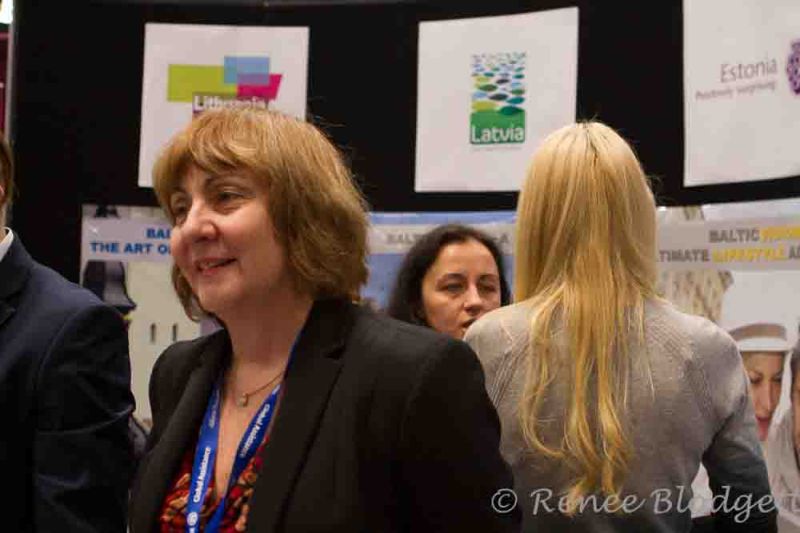 Croatia was promoting Wellness Travel among other things, which was exciting for us since we are not only expanding our Wellness coverage significantly in 2016, but it's a personal passion of mine and has been for years. Be sure to read my Wellness Travel Round-up of the show, which is going live next week.
I also got enticed by some of Adriatic's tours, which does land tours to Croatia, Montenegro, Slovenia, Bosnia, Herzegovina, Albania and Macedonia and charter cruises of the area. They specialize in excursions to Croatia and the Balkins, including island hopping, which had me at "hello." Niche Touring offers fully guided travel for small groups, which makes for a much more intimate setting, something we applaud.
They too focus on Croatia, but to off-the-beaten-path hidden places often not found on a typical tourist itinerary. Their tours emphasize the history, local food, and culture of each region, shared by the Croatian people you meet along the way. We're keen on reviewing one of their tours as I was impressed by their big heart and personalized approach to tours of the area, which include both water and land experiences.
I didn't have time to visit the Hungary or Czech Republic booths, although I have been in recent years and they remain on my fabulous destination list, so if you haven't been, be sure to read our coverage (Hungary and Prague specifically). Our content on Russia isn't deep but it's worth a meander as the content is full of rich photographs and history. And, my last trip to Berlin Germany this past year included more time in East Berlin than West, so be sure to read through our coverage over the past year.
Europe
I've lived in Europe, traveled through the continent extensively and have had long stints in Amsterdam, Corfu, Innsbruck and London, where I studied for many years. In fact, I've been to every country except for Norway which is very much calling to me -- seeing new images of northern fjords makes it hard to resist. If you're eager to see what I'm referring to, there's no better place to start than Instagram - do a search for #Norway and you'll be blown away.
This past year, I went to Germany and Austria, so be sure to browse through my articles of Berlin, Vienna and Salzburg, including a fabulous one on Salzburg's 50th Anniversary of the Sound of Music and the previous fall, I went to Normandy and Brittany, where I took so many enticing photos, you'll be booking your flight to France tomorrow. High on my "return list" over the next two years are Greece, Italy, Switzerland and Spain. Who knows -- maybe one will even be a winter trip. It was great running into Michael Gigl from the Austrian Tourism Board aka @AustriaTravel at the show.
I didn't spend time with destinations at the show because of my strong familiarity of the countries, however I did talk to a few tour companies and river cruise companies who are offering some interesting itineraries in Europe today. I'm far from a cruise expert although hope to experience a few of the higher end cruise lines so we can do a unique comparison based on "physical/experiential", "fine touches" and "wellness" in 2016 and 2017.
On my hot list right now are RIVER CRUISES. Watch for more from us in that area as we begin to explore what some of the leaders in river cruising are doing in Europe and Asia. For example, Uniworld Boutique River Cruises operate a fleet of 21 river cruising cruise ships along the rivers of Europe, Russia, Egypt, and China.
All inclusive Scenic offers unlimited drinks and butler service for guests and Viking River Cruises apparently has six new Viking Longships making debuts in 2016 across Europe. Avalon operates 15 ships in Europe and eight more in the Galapagos, Mekong Delta, China and Egypt and AmaWaterways has an impressive list of options through European rivers as well. Itineraries across river cruise companies range from major cities like Amsterdam, Budapest, and Vienna to delightful, small towns and villages like Austria's Durnstein and Germany's Breisach.
Africa
Africa, in particular, South Africa has always had an emotional hold on me, largely because I spent an exchange student year abroad in South Africa during my most formative years, lived there again just as Apartheid was lifted and led a blogging tour there roughly a decade later.
I also taught English in Kenya, saw some of the most surreal desert scenery on the edge of Somalia, slept on beaches in Lamu, Pemba and Zanzibar and saw gorillas up close in Uganda and Zaire before the western world had an opportunity to. I have gone on life changing safaris in Tanzania, Kenya and South Africa where I watched elephant trunks swaying in unison over a river for hours and was transformed by a tree standing alone in silence along the Namibian Border.
I was swept away by the hospitality and insights of the people of Zimbabwe and it's majestic Victoria Falls, ate so many avocados and bananas on Dizzy and Wally's farm in Zambia that I could barely walk, and I was brought to tears by the generosity and warmth of the Malawi people where we camped on a beach for more than a month. In the nineties, I marveled at ancient tombs in Egypt and fell in love with the markets of Morocco -- the list goes on. It's clear that I have a bias but with good reason. Africa is a magical continent and it boasts far more than safaris and Stellenbosch boasts some of the best wine you'll ever taste.
The girls from Zambia were a hoot and I could have talked to them for hours and after seeing stunning photos of Botswana, my heart cried out to be there with nothing more than me, a tripod and my Canon 7D. I've been wanting to go to Madagascar for years as well as to some of Mozambique's more remote islands where they boast luxury experiences worth having. And, if I got an invitation to Mauritius, I'd be packing my bags tonight. Morocco and Egypt had plenty to take in (Egypt handed out fun t-shirts) and I learned about luxury properties in Casablanca I didn't know existed.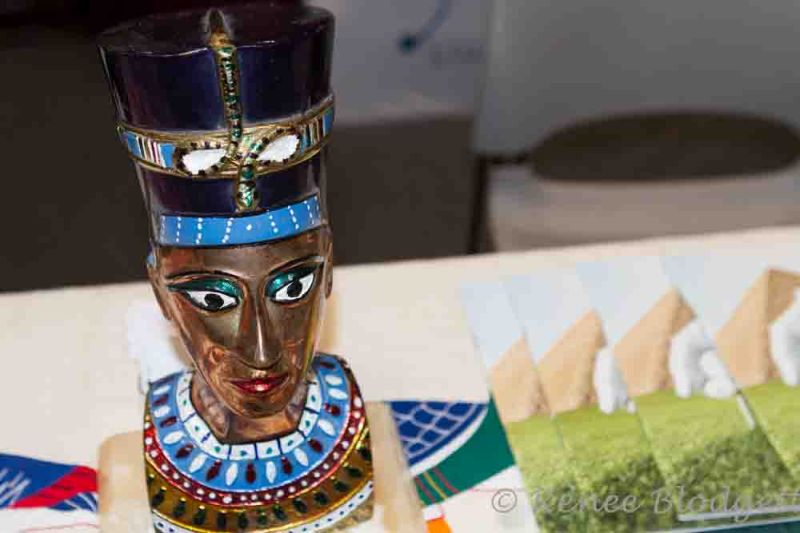 African tour companies were in full force, from offering a variety of options, whether it be glamping in the bush, safaris, photo tours, luxury resorts and spas to cruises departing from Cape Town. Uber Luxe Safaris were offering unique itineraries, from chimpanzee trekking, a canopy walk in the Nyungwe Forest National Park, Birding, Water Fall Trails, tea tours and hanging with monkeys. Uber Luxe Safaris is based in Rwanda and specializes in authentic luxury experiences in East Africa.
The Zulu Nyala Private Game Reserve looked compelling. Nestled between the wilderness reserves of Mkuze, Hluhluwe, St. Lucia and South Africa's Sodwana Bay, the reserve boasts elephant, rhino, buffalo, hippo, giraffe, leopard, cheetah, antelope and more. The privately owned reserve is home to over 40 different species of animal and bird life and on-site, they have 50 ethnic-styled suites and panoramic views from common areas in the Lodge.
They also have a tennis court, craft and curio center, a games room, which is great if you're traveling with kids in tow, a pool, a bar and reading lounges. I chatted with the guys from Eyes on Africa for awhile who offer tours to Namibia's Etosha National Park, Sossusvlei red sand dunes, South Africa's Kruger National Park, Livingstone and Vic Falls, River rafting and helicopter flights in Zimbabwe and Zambia, canoe rides along the Lower Zambezi River, Mount Kenya, Amboseli National Park, Zamzibar, Selous, Africa's largest wildlife reserve, the Serengeti for the Great Migration, Kilimanjaro and the Ngorongoro Crater, island hopping in the Seychelles and swimming with whale sharks in Mozambique among other experiences.
I was also enticed by Bush Butlers, who I might add were the only ones who served Biltong at their booth - two thumbs up! They offer tailor-made safaris and tours to a number of intoxicating locations, from Tanzania, Kenya and Bostwana to Uganda, Zimbabwe, Namibia and South Africa.
They cater to your needs, which include family style safaris, luxury safaris, or beaten track adventure style trips. Some of the highlights include seeing hippos in Gabon, viewing gorillas in Uganda, ballooning in Namibia, taking in Madagascar's Baobabs, seeing the world's largest land migration in Tanzania's Serengeti, scuba diving with whale sharks and manta rays, and catching tiger fish on the mighty Zambezi River. I can assure you that going through the Namibian Desert in a 4x4 Explorer will transform the way you look at the world.
Original biltong from South Africa - I was in heaven!
Antarctica
While I still haven't been to Antarctica, we have a bunch of coverage on We Blog the World from other writers, so be sure to read through them and take in the photos.
The images are breathtaking and before seeing them, it wasn't a big priority on the list, but today, it's in the top 10. Hurtigruten is one company I discovered at the show that encompasses all things Antarctica. They're known as a leader in polar exploration and offer new Discovery Style Voyages, which is great for people with a true spirit for exploration and learning, but without the rigors of a full expedition.
Photo credit: ESTHER KOIJKMEIER.
MS Midnatsol is the ship, which holds a maximum of 500 travelers, and they start and end in Punta Arenas at the tip of Chile where I visited a few years ago. I'd encourage you to take the time to explore Chilean Patagonia including Torres del Paine if you venture that far south. The ship explores some of Chile's deep fjords before making it's way to the more wild and beautiful Antarctica. Remember how I said that Norway was calling to me earlier on? Note to self: Hurtigruten also sails to Norway, visiting 34 small ports, most of which big ships simply can't enter.
Asia
Truth be told, I didn't spend as much time in the Asia section as I had hoped, but did visit Japan, Taiwan who always has a big booth at the show, China, Indonesia, Thailand and Malaysia. There were some great dance and music performances on-site all weekend and many countries were giving out bites, with all the spices from home. Oh so delish!
Malaysia had a colorful area with cultural backdrops where you could dress up in a traditional costume and have your photo taken - my favorite was this little girl who was eager to pose in front of the camera. Adorable!
While China can be overwhelming given the country's size, I find that it's worth spending time with locals who specialize in tourism since they have detailed maps, which you often can't find online and can elaborate on some of the gems outside traditional hot spots like Shanghai and the Great Wall.
I spent time with the rep from the region of Henan, which is central and to the north of the country, which touts a number of unique excursions and adventures. We may explore this region in more depth and consider a trip in the future.
Sri Lanka and Sri Lankan Airlines was holding a fun promotion at the show, which involved social media; simply engage your audience with a photo and hashtag #SriLankanUSA2016 for an opportunity to win a trip. Here, I learned a lot more about Sri Lanka than I expected and it's risen to the Must Visit List, so stand by as we do a little more research and plan for a future trip.
Central America and the Caribbean
Panama has been getting more visibility lately as has El Salvador so I spent time gathering information on eco-friendly lodges, resorts and wellness getaway ideas for both countries.
The Dominican Republic  was handing out a salted cod concoction!
Cooking demonstrations were part of the agenda on both days for a variety of destinations including Latin America. On Saturday, they had a Taste of the World Kid's Kitchen where Robert "Chef Bobo" Surlves and Spoons Across America engaged children in hands-on tasting and cooking classes. There were number of other cooking presentations as well, from Taiwan and South Africa to upstate New York and Lebanon.
Anguilla presented me the biggest surprise from the Caribbean Region. A place I knew so little about before the New York Times Travel Show, I left with a burning desire to visit -- after doing a little digging, it seems like an ideal location for a romantic getaway or a wellness retreat.
North America
We love Canada and there's a ton of coverage on We Blog the World so be sure to read through the articles, which cover a variety of regions from the west to the east coast and everything in between.
We also have coverage of some of the southern Arctic region as well.  As for the U.S., remember that we drove across country earlier this year, so in 2015 alone, we hit around 20 states between our trip and other side trips on both coasts separate from our journey. It's hard to say what my favorite memory was, but rest assured, there was no state that didn't hold a precious gem of some kind, whether it be blues music, food, culture, dancing, fashion, theater, thermal baths or nature.
There is a ton of coverage on our trip, which includes New York, Virginia, Tennessee, Arkansas, Oklahoma, Texas, Mississippi, New Mexico, Arizona, California. If you've never done the drive, I strongly encourage it and feel free to hit us up for tips. Below, a shot of a break we took at dusk on the way from Oklahoma to Texas.
This year, hot on the list is New Hampshire, Vermont, more Upstate New York (we're biased remember) and Long Island (I've yet to really explore), Pennsylvania and North Carolina. A trip to New Orleans would also be a nice plus if there's time between our international travel.
South America
As lame as it sounds, I only visited one booth in South America - Argentina, a country I've been wanting to visit for years.....of course, they were pouring fabulous wine wine from Mendoza on Sunday and serving cheese, crackers and salami to accompany. I love the Argentina Tourism PR and marketing team as well as the guys from Aerolineas Argentinas. One of these days, you'll find a wealth of rich photography taken on my Canon 7D from an extended stay in Argentina, so stand by.
Above, I refer to Ines Segarra as the Head of Fun for Argentina, although her official role is the Director of Tourism based out of New York.  That doesn't mean I'm not paying attention to other countries on the continent.
Also high on my wish list is Peru and Colombia, although we have plenty of coverage on We Blog the World on both from other writers. At the show, I talked to a few tour operators about some of the excursions they offer to the region. I loved my time in Chile and Ecuador, including the Galapagos Islands, so be sure to read our coverage of both countries, where there are plenty of engaging stories and photography from other writers as well.
At some juncture, I want to see and experience Bolivia's Salt Flats or Salar de Uyuni in Spanish. It is located in the Daniel Campos Province in Potosí in southwest Bolivia near the crest of the Andes and they were formed as a result of transformations between several prehistoric lakes. It is apparently covered by a few meters of salt crust, which has an extraordinary flatness and is beyond surreal. While this photo is sure to blow you away, you'll find plenty of other breathtaking images on the web and on Instagram.
Photo credit: Huffington Post Below, saying YES to GLOBAL WELLNESS in the Wellness Pavilion, a new section of the show this year. (see my write-up for the specifics).  Also in the Wellness Pavilion, I attended a light experience with the folks from Color Spa -- more details in the wellness travel post.
There was an entire section dedicated to fun things for kids to experience across cultures and tons of music and traditional culture.
Trade Day
Trade Day is simply what it says it is....the day those of us who are in the travel trade come together to learn from each other and network. It is typically held the day before the official show opens, and tourism boards, government officials, cruise lines, safari companies, hotels and resorts, chefs, authors, journalists and others in the travel biz, partake in conversations centered around marketing, sales, operations, logistics and best practices.
To give you a snapshot, I attended panels on Travel Media in the Digital Age with Facebook's Mike Rooney, PhocusWright's Lorraine Sileo, and TripIt's Lauren Moreno, a session on Wellness Travel with Anne Dimon of Travel to Wellness, Brian Povinelli of the Westin and Bonnie Levengood of MSC Cruises, and a Culinary Tourism discussion with TravelSommelier's Darren Humphreys, Parla Food's Tim Ries, Friends of the High Line Stephanie Schneiderman, and Tia Stephanie of Tours Cultural Journeys to Mexico and Colombia.
The cruise lines showed up in force and we heard from Cruise Planner's Michelle Fee, Celebrity Cruises Michelle Homoky, Wendy Whitener of Carnival, Ken Muskat of MSC, Lisa Falango of Royal Caribbean, Anthony Viviano from Princess & Cunard Line, and river cruising specialists, Cindy Christen from CroisiEurope, Cindy Sullivan from Globus, Susan Shultz from American Cruise Lines, John Restuccia from Uniworld, Chris Greco from Rauck and Kirsten Karst from AmaWaterways. Other sessions included a focus on Europe, the Caribbean, Asia, Latin America, Hawaii, Florida and National Parks.
Speaking of Florida, they had a great chef at their booth who was preparing delicious popcorn, shrimp and papaya - YUM!
I'll end with a visual of where this piece began -- below is a shot of Arthur Frommer doing the ribbon cutting on Saturday morning. Bravo and kudos to the New York Times Travel Show team. If you haven't been before, it's a must attend, so be sure to watch for announcements on next January's date and the details.
January 17, 2016 in America The Free, Conference Highlights, Events, Magic Sauce Media, On the Future, Travel, TravelingGeeks | Permalink | Comments (0)
April 29, 2015
Melding of Minds on the Future of Humanity Over an Arc Fusion Jeffersonian Dinner
Ever heard of a Jeffersonian dinner? I've been invited to one or two over the last few years, one of which was being held in Washington DC, where it was birthed in the 1800's by none other than Thomas Jefferson himself. Because of those invitations, I had some vague idea of what they were, but never actually participated in one until the Arc Fusion folks hosted one recently in San Francisco.
Photo credit: www.smithsonianmag.com  
Rewind the clock to 1819 and visualize yourself at a long and decadently adorned table with Thomas Jefferson at Monticello, his elegant Virginia home. Around the table, you're seated with a group of people steeped deep in culture, philosophy, education, history, politics, art, literature, science and theology.
The idea behind a Jeffersonian Dinner is to bring people together from different disciplines, creating a new cause-centered community around a topic of importance or significance you might want to discuss for whatever reason. This can be done to tap into new resources, raise funds for a non profit or important issue, or simply to expand the group's thinking about a variety of topics.
It's important that it be somewhat intimate so 12-15 people at a table is a good size and I'd argue that while someone's home isn't a requirement, it makes it more personal -- a private dining room could also work.
The purpose of the Jeffersonian Dinner is to build a sense of community and partnership around a shared interest or theme. One of the rules is that everyone participates in a single conversation and are not encouraged to engage in one-on-one dialogues with their partners on either side.     
Photo credit: blog.asana.com. 
How fitting that the San Francisco Arc Dinner be held at the 1880's Payne Mansion on Sutter Street and also how intriguing that the topic at hand was not about the past, but about our fears and concerns for the future, say in 100 years.
David Ewing Duncan kicked off the event. A historian, author, journalist and also CEO of Arc Fusion, which celebrates the conversion of IT, healthcare and biotech, David decided to take us down memory lane before dinner.
Photo credit: Arc Fusion Website.
We went back to 1915 and recalled some of the provocative insights, inventions and historical moments of the time. Franz Kafka's Metamorphosis Complete Idiot's Guide to Beating Stress was out at the time (surprising I know), the first EKG was used in 1913 and OMG was first used in 1917 (yes really). 
The industries David and his team at Arc are most interested in exploring are at the intersection of what is happening in health, IT and biotech. It's not hard to see why, with nearly $800 billion being spent on health and wellness and $1.1 trillion on IT services with $50 billion on Health IT alone. 
He asked attendees before they came to the dinner whether they felt they'd be alive 100 years from now. 18% said yes whereas 82% voted no. In case you think that even 18% is insanely overly optimistic, remember that the audience is highly vested in technology and some are actually working on the most important research in the fields on longevity/aging, science, technology and medicine.
The same audience voted on what will be most important to humanity's fate in 100 years -- 40% voted for politics whereas it was no surprise to see technology lead that vote at 60%. As far as the impact on humans in the next 100 years, 36% felt it would be in gene editing and a whopping 70% went for stem cells. Pharma only came in at 11% which tied with health and wellness and bionics took last place at 9%. 
Other things on people's minds included mood manipulation, synthetic biology, longevity tech, next generation deep learning and renewable energy. 
James Canton asked the audience to imagine a future where embedded devices and technology automate the work, resolving issues that need to be addressed in our bodies. The truth is that nano and quantum technologies are expanding so rapidly that we are now in a game changing time for our health. Innovative ecosystems will start to do disease detection for us, hopefully before it turns into disease.
Drew Endy asserted that learning "how to" solve problems is the secret to sustaining life over the long haul. His deepest wishes include a future where biology will have distributed manufacturing and distributed systems and that humans will start to think of a world outside of themselves. Hear hear.
Casey Lynett addressed where we are going with Alzheimer's pointing to some important finds for this disheartening disease that seems to be soaring not reversing. 
Artist and molecular biologist Una Ryan showed us her work, reminding us of the beauty inside our bodies through our cells, our protein and our blood. She refers to the image below as the Tree of Life since it contains everything that makes our bodies operate. 
The food they served at the dinner was not surprisingly farm-to-table and organic. It was also very purposely selected based on a fascinating premise -- each ingredient was chosen to serve every vital organ of the body. Dishes ranged from salads and nori rolls to fresh fish and wine for the heart -- two thumbs up for the Trefethen Cabernet Sauvignon that showed up on our table.
The most riveting part of the evening, at least for me since it touched on some of the most controversial conversations happening around healthcare today, was the fireside chat between venture capitalist and serial entrepreneur Vinod Khosla and renowned doctor Dean Ornish.
Both visionaries took the stage to share their take on the future of healthcare. Vinod formed Khosla Ventures to focus on both for-profit and social impact investments and as a big believer in the importance raw data can have the future of health, he invests in both healthcare and biotechnology.
Says Vinod, "almost nothing that is relevant in medicine today will be relevant in 20-30 years. Even though some of it may still be true, it will be too imprecise to be that useful so no one will use it." He asserts that medicine will be mostly science and data driven over the next 10-15 years.  
He added, "we will have more research opportunities but we won't use them because we won't have the causality which is most important."
He also went on to say that we won't use doctors that much in the future to get a diagnosis and what we may pay more credence to is the doctor or (non-MD) who has the highest EQ not the highest IQ. Hear hear Vinod! I couldn't agree more. Bedside manner, using common sense and logic and listening between the lines to a patient is something that so many traditional doctors so sadly "don't get."
Dean takes a slightly different approach although they agreed more than disagreed. While he agrees that data gives us a lot of useful information we may not have had access to twenty years ago, if all we are is a set of algorithms, then humans can simply be replaced by an app. The reality says Dean is that we are so much more.
What I love about Dean's approach and always have ever since I first met him now over a decade ago, is that while he's far from a luddite, he tries to get people (and the industry) to look at the underlying cause of an issue. He believes that lifestyle and diet shifts are fundamental game changers, pivotal to reversing symptoms and in many cases, the disease itself.
He's interested in lifestyle medicine which is very low tech, but the power of low-tech interventions is very very real and something that techies sadly discount all too readily, focusing most of their time on connected devices, data and the Internet of Things.
Personally I lose sleep at night thinking about how so many brilliant scientific and medical minds can be so misguided, overlooking the raw fundamentals of what can keep us healthy and happy, holistically so.
Bottom line, we need to treat the underlying cause and also look at the mind, body and spirit, NOT just the body alone.
This integrated approach is what the techies and scientists keep missing and a sad reason why insurance companies put holistic care like acupuncture and body work, organic food, diet modifications and supplements last on the priority list.
It's the same broken record when it comes to addressing the disgusting impact that processed foods are having on Americans today. (Note: processed food ingestion is increasing globally of course, but the yanks still sadly take the cake when it comes to fast food and boxed processed ingredients as their go-to- diet). I digress but the whole thing sickens me so much that I can't help but vent at times like this.
Truth be told, as Dean took the provocative and controversial low-tech stance amidst so many tech-centered entrepreneurs in the room that night, I wanted to stand on my chair and boldly blurt out - "GO DEAN and oh btw, don't stop here!"
He is a big advocate of lifestyle and diet changes and given recent research findings, they're finding that the same lifestyle interventions that deter heart disease are the same ones that can keep prostrate and breast cancer at bay and even in some cases, Alzheimer's.
You can apparently see a positive and reversing effects to 500 genes over the course of 3 months through lifestyle changes.  For most chronic diseases, which account for 86% of issues, we can reverse their onslaught through shifts in our lifestyle and diet. 
Dean thinks that we'll see a future where the placebo effect will be more important not less. Why? Because, it works.
Vinod doesn't disagree with Dean although he wants to see data behind it, proving that it's real. In his view, the math is the math of networks, but agrees with Dean that diet is important and that symptoms are the wrong way to look at a disease. 
Given that we live in an information age and are drowning in so much data we don't know what to do with it, I agree with Dean that while data may be important and there's no doubt having access to what our bodies are doing and why is useful, its only part of the equation. Plenty of people have data but even if you know that smoking cigarettes can kill you, if you're suffering from deep anxiety and depression, you're not going to quit smoking anytime soon.
Anxiety and depression are very real, particularly in the states. The stats are going up and pharma companies are making millions on drugs, some of which cover up the real issues that lay behind what is making them depressed in the first place.  
Dean asserts that what is even more vital is the mantra I keep beating people over the head with every day: the more so called connected we are, the more disconnected we are....I mean physically and emotionally disconnected, not the fact that we can now communicate with people instantaneously on Facebook or Skype from our cell phones in real time.
What's really missing is the deeper sense of meaning you get from being physically and emotionally connected to others. There's no doubt that people need to rediscover inner peace, joy and purpose in their lives.
Bottom line, it's all about changing the raw materials we give to people and place as a priority. I'll end with this note and thought to reflect on: if we can take this "ground level" low-tech approach seriously by beginning with the things that provide deeper purpose and meaning, then we can really begin to accelerate healing. While data can continue to feed the bigger picture, if we don't get back to the fundamental basics of what feeds the soul, we'll remain a far cry from a truly sustainable solution to holistic health, happiness and well-being. A big high five to Dean Ornish!  
For more information on Arc Fusion, check out their site at http://arcprograms.net/ where you'll also learn about their upcoming Arc Fusion Summit being held in southern California September 1-2, 2015. What David has created is a truly innovative, future thinking and leading-edge organization and he has managed to bring together some of the smartest minds to address what both plagues and interests us most today.
April 29, 2015 in America The Free, Conference Highlights, Events, Magic Sauce Media, On Health, On Innovation, On People & Life, On Science, On Technology, On the Future, Reflections, San Francisco, TravelingGeeks, WBTW | Permalink | Comments (0) | TrackBack
November 19, 2014
Web Summit 2014 Exceeds 20,000 Attendees in the Heart of Dublin
Last year I missed Web Summit, what has become Europe's number one technology event, amusingly labeled as the Davos For Geeks. I went the first two years and this year's event is a far cry from my year one experience when they only had 500 attendees.
Now in its fourth year, 20,000 people flew into Dublin early this week for the premier 3 day event. Founder, Paddy Cosgrave opened the Summit in the morning, emphasizing the importance of the social element to the Summit where deals can – and have been – done. That said, there was still a lot of activity around the main stage, where they had a host of high level discussions and speakers on the hour all day.
The center stage had Brendan Iribe, the founder of Oculus Rift who spoke about the rise of virtual reality and its applications in everyday life. Skip Rizzo the Director for Medical Virtual Reality and early stage developer of Oculus Rift gave a demonstration of the technology's uses for post-traumatic stress disorder for returning veterans.
From being shot at to street explosions, the virtual reality exposure therapy has assisted veterans in dealing with their PSD, explained Rizzo, outlining how in one recent study, of 23 completers of the therapy, 16 showed gains and benefits resulting from it. Next stage development will be treating civilians who have experienced stressful situations in their lives. Index Ventures partner Saul Klein talked about how entrepreneurialism is becoming mainstream.
From money and venture hype to an emotional topic around healthcare.  Jorge Soto described how from a personal family diagnosis of cancer, a way to decode disease and identify cancerous cells in their earliest stages may have been found.
Then, John Collins of Stripe spoke of the rise of his online payment company and how it has disrupted the existing online payments ecosystem."
Gary Marcus, scientist, best-selling author and NYU professor took on the topic of artificial intelligence,  Amazon's Werner Vogels chatted with Ben Rooney, Stewart Baker, Matthew Prince and James Ball took on privacy rights, and Dropbox CEO Drew Houston chatted with Laurie Segall from CNN on the main stage. Below Paddy talking to a speaker.
Evernote's CEO Phil Libin spoke about his company being an 'anti-social network' and that 'you should be able to say less and do more.'
From a geek app to acting,  actress, businesswoman and philantropist Eva Longoria spoke to Jemima Khan about the importance of women in business.  "Women start businesses at three times the average yet can't get funding," she said issuing a challenge to the women in the audience. "
Later in the afternoon, former CEO of Apple John Sculley took questions after his main stage appearance with David Carr.
One thing about a conference growing to 20,000 attendees so quickly, is that rather than it feeling like a conference, it felt more like a university campus, or even a small town if you will. Within the web summit, there were micro-summits that addressed various topic sectors. 
For example, they had a Builders, Enterprise, Machine, and Marketing Summit, and at each of them, there were a host of start-ups demoing their latest.
Town Square and Village Green also had their own selection of start-ups and then there were "alpha company booths" in the main exhibit hall dedicated to early start-ups, which was about a 10-15 minute walk from the main stage. Here I was able to see demos from lifestyle vendors, specifically digital health -- Kolibree, the connected electric toothbrush (disclosure, I'm an advisor), Gudpod, who hopes to revolutionize the way people take vitamins & supplements with a 'Keurig like' internet connected appliance & pod system and Bluetens, who is bringing medical grade mobile electro-stimulation device to the masses to help relax your muscles.
Food Summit was a great addition to the event this year. I wrote about their initial announcement back in November of 2013.
The Food Summit portion has also grown quickly and there were countless vendors touting their latest in fresh ingredients and farm-to-table practices. Gluten and GMO-free were buzz words throughout and I saw everything from a fresh apple stand surrounded by pumpkins (t'is the season) to homemade yoghurt, ice cream, jams, jellies, honey and olive oils.
I absolutely loved tasting the oh so many samples from Crossogue Preserves. Imagine these flavors on your toast in the morning: grapefruit, Irish whiskey, orange and ginger, lime and brandy, plum and port, gooseberry and elderberry, hedgerow, fig and apple and more. Yum!!
Other favorites were the Irish sea salt and Harnett's Oils, such as hemp, grapeseed, orange and rosemary and basil oils.  I was in heaven. It was a great way to spend an hour or so away from the tech and the noise.
To get to the Food Summit, you had to pass by Herbert Park, which was on the grounds of the main event, which was held this year at the well known Royal Dublin Society on Merrion Road in Dublin. It was a perfect fall day with plenty of ducks on the pond and vibrant colors exploding from the trees.
Photo credits: Stage photos from the Web Summit sportsfile Flickr stream. Photo of Kolibree & Bluetens, Herbert Park and all Food Summit Photos: Renee Blodgett.    
November 19, 2014 in Client Announcements, Conference Highlights, Europe, Events, Magic Sauce Media, On Technology, On the Future, TravelingGeeks, Web 2.0 | Permalink | Comments (0) | TrackBack
November 17, 2014
Sculpteo 3D Printing Engine Will Create a Mini YOU!
We've been seeing significant advances in 3D printing lately, a prototyping process that makes it possible to create an actual object from a 3D file. The object is formed by applying successive layers of solid material.
This fall in Paris, I attended an event called Digital Day, which was a conference focused on an interactive discussion around the latest in technology and innovation largely from French start-ups.
The event held workshops and vendors participated in an area where they showed up their latest. I was fascinated by Sculpteo, who has offices in both Paris and San Francisco. On-site, they had a machine which scanned YOU and then from that scan, was able to create a 3D object of yourself...a miniature version that is.
And so, of course I did this, how could I not?  Below I'm standing in the machine as I wait for it to circle around me and scan my body.
Above is the engineer at work as the image of me comes up on the screen in real time. As it formulates what it needs of my body, I watch in amazement.  Sculpteo allows users to upload a 3D file, change the size and dimensions of the object directly within the browser, select a printing material, and order their design to be 3D printed and shipped. 
Below are a few views on the computer screen of what the Sculpteo machine sees as it scans my body.
Here are some of the objects of people Sculpteo has already created to give you an idea of what they're capable of....
I've been waiting to receive my 3D image of myself before posting this review -- alas, it has arrived. How fun! I'm astonished at how realistic it is.
It was sitting atop one of my books on a bookshelf and a friend noticed the miniature "me" from across the room and walked over immediately to pick it up.  
He looked up and down at "it" and then at me and repeated the process. "Incredible," he said to me in a very committed voice. "Simply incredible." I couldn't agree more.    
November 17, 2014 in America The Free, On Technology, On the Future, TravelingGeeks | Permalink | Comments (0) | TrackBack
May 07, 2014
DLD Kicks Off Their First NYC Event in Chelsea
The DLD (Digital-Life-Design) Conference has been around for awhile albeit more well known in Europe than in the states. It makes sense since it started in Munich Germany in 2005 and only expanded in recent years, first in Israel and most recently to the states with their first official U.S. conference in New York City from April 30-May 1, 2014.
Their mission is to act as a global network on innovation, digitization, science and culture which connects business, creative and social leaders, opinion-formers and influencers for crossover conversation and inspiration.  
DLD is organized by DLD Media, which is part of Burda Digital and originally founded by Steffi Czerny and Marcel Reichart. DLD has also hosted events in Beijing, San Francisco, London, Moscow, New Delhi, Rio, Hong Kong and Tel Aviv, where there is a growing community because of the efforts of Israeli-based Yossi Vardi who acts as Chairman of the conference together with Hubert Burda.
Who attends? The conference is invite only, but the categories and interests of those who make up the audience are aligned with the content. Think creative communities, international leaders, disruptors and thinkers from digital and consumer markets, as well as media, technologists, scientists, designers, politicians, artists and social scientists from around the globe.
The format is a combination of keynote style talks and panels.  
I last attended the original DLD in 2010 and still remember the magic of Munich in January. Snow fell on me as I walked from my hotel to the venue every morning and back every night, the majority of my commute on pedestrian only streets. As cold as it was, I took plenty of shots of remarkable people and activites over the course of a few days.
I lived on salty pretzels, sausage, beer and coffee and recall having a fight with my new Google Nexus phone, brutal enough that I tossed it in a snowbank because it wouldn't work after umpteen attempts. DLD felt like early days of TED except without the celebrities and Monterey Beach nearby. 
One of the things that make DLD so unique is the eclectic and rich curation of tantilizing voices and minds from around the globe by Steffi, Marcel, Hubert and Yossi. Like TED, Davos and Renaissance Weekend, the attendees could equally be speakers because they all have inspiring, compelling content to share.
When the audience is as engaging as the people on stage, but are also compassionate and eager to help make the world a better place, then you have a "creative global community with heart" in a business setting. It's a bit how I see and would describe DLD! 
Imagine hearing and engaging in discussions on the future of investment, net neutrality, youth marketing, the future of art and design, urban planning, violence, social physics, failure and neuro science all within a 48 hour period.
Imagine in that same 48 hour period, having a chat with Deepak Chopra on spirituality in the workplace and then hearing about future plans for the Arctic Passage from Iceland's President Olafur Ragnar Grimsson. I originally met Grimsson at the Startup Iceland Conference in Reykjavik last summer (refer to my write up on the event including his talk). Below is a shot I took of him in the networking area at DLD during a tea break.
By now, you're pretty energized, which is great preparation for your visit to a nearby German biergarten for massive plates of sausage, pretzels, sauerkraut and pickled vegetables while listening to an authentic Bavarian band. 
Imagine that sometime during your day, you discovered an interesting project or two by Victor Chan, the Founding Director of the Dalai Lama Center, who has also co-authored books with the Dali Lama. Below, he reflects in the courtyard while we took a session break after the rain finally cleared.
Then, later, you dive deep into a discussion about where beauty is missing in the world from architecture to schools and churches.This small group of really smart people you met over German beer care enough to think of solutions about where the world can start. 
I chatted with right brain and left brain thinkers from Sweden, China, France, England, South Africa, Australia, Germany, Israel, Finland, Austria, India, Iran, Pakistan, Estonia, Russia, Singapore, Ireland, Denmark, Hong Kong, Taiwan, Korea and Canada.
This is a sample of some of my warmest memories over the course of two days. Welcome to DLD! Their first New York event did not disappoint and held to the same top notch standards they're so known for at their main event in Munich every winter.
One of the other fabulous things about a European run event, is that they care about food. And, of course, presentation matters!
While the conversations in the lounge areas and the after parties could keep you engaged for hours, they also have an hourly agenda for conversations happening on the main stage. I'll start with one of my favorite talks by an Austrian designer I originally met at TED more than a decade ago.
Stefan Sagmeister kicked off his thoughtful and quietly provactive session on Beauty with stunning images of a medieval castle in Lisbon. He said, "Every aspect of this castle was informed by form."
He asks, "how did we manage to get from the darkest side of the middle ages into the 20th century and somehow along the way, lost our desire to make things beautiful?"
He points out that the end of the 19th century was obsessed with beauty and weaving in culture and history into architecture, art and design: the Parliament which is Greek, the Opera which is of Renaissance architecture and the Gothic-ness of Vienna's City Hall.
Yet today, Sagmeister asserts, "theres not a single high end designer who talks about beauty, which IS about being human."
Below is an image taken from his design website.
I had an interesting chat with Dutch-Brazilian visual artist Rafaël Rozendaal who uses the Internet as his canvas. His artistic practice consists of websites, installations, lenticulars, writings and lectures. Spread out over a vast network of domain names, he attracts a large online audience of over 30 million visits per year.
His work researches the screen as a pictorial space, reverse engineering reality into condensed bits, in a space somewhere between animated cartoons and paintings. Rafaël's installations involve moving light and reflections, taking online works and transforming them into spatial experiences.
The below digital image is a website called Room Warp. Note that the below screen capture is a still of a moving digital image that will make you a tad dizzy if you stare at it for too long. You need to go to roomwarp.com to see the live image in action.
He creates digital art that all have their own website name. Others fun examples include FutureIsUncertain.com and IfYesNo.com. 
While we're on the topic of art, let's move to Kollabora founder Nora Abousteit who was on a panel entitled Creative Cities which Peter Hirshberg moderated. Says Nora on art as it relates to cities and technology, "Art helps us reframe things in the technology world." What's happening in Las Vegas with the Downtown Project is certainly an example of this.
Also in the discussion was Burning Man's Jenn Sander, Gidi Schmerling from the Tel Aviv Municipiality and CEA's Gary Shapiro.
This engaging discussion was about all the elements that make cities thrive. How do you turn a city/metro area into a creative technological hub like Silicon Valley?
If similar factors come together argues Shapiro then a similar ecosystem can evolve. He pointed out that Tel Aviv and Silicon Valley share a culture that allows failure and supports entrepreneurs taking risks which is necessary for a startup culture to succeed.
While I missed the Cracking the Code of the Art Business panel, Arty's Carter Cleveland, Artnet's Ben Genocchio, Christopher Vroom from ArtSpace, Aditya Julka from Paddle 8 and Michaela de Pury explored this topic in depth.
Digital Music was also part of the agenda, another game changing industry. Says Shazam's CEO Rich Riley, "the way people consume music is changing dramatically and it's important that the industry responds to how people want to listen to and share music." In other words, don't force a square hole into a circle! 
Below, Blaise Belville and Torsten Schmidt discuss digital trends in music.
I'm a sucker for meeting a new musician regardless of what instrument they play or style they're passionate about. As a storyteller, I often find that musicians have the most interesting stories at conferences, particularly technology ones.
Given how many Israeli attendees there are, it was no surprise to see Israeli violinist Miri Ben-Ari perform on the main stage. She had me at hello; her energy is electric, her style vibrant and her music foot tapping. 
I also attended the Wearables Panel because it's a hot topic right now and one I have a personal interest in because the design is crying for innovation. What was most refreshing is that of the four panelists, three were women.
The problem with wearables today for me as a woman, is that none of them are desirable enough to want to wear. Despite how functional and cool they are, the design behind the wearable is still being made by technologists for technologists.
Intel's Sandra Lopez, MIT's Amanda Parkes and Nike's Stefan Olander discussed the future of wearables and where it's heading. The session was moderated by the Financial Times' Vanessa Friedman.
Sandra and Amanda noted that while today, we might think of buying a wearable device or object of clothing on a technology site or online store, in the future, if it is a fashionable item we want to wear because of how it looks and makes us feel, then we'll expect to buy them at more traditional retail outlets.
I certainly don't need another technology infused bulky plastic black watch or geeky looking Fitbit-like arm band to clash with my outfits. 
Another fabulous panel of all women was the Freedom of the Internet in the U.S. and Europe. Bloomberg's Diane Brady moderated a discussion between Miriam Meckel from the University of St. Gallen (solo shot below) and the European Commission's Viviane Reding. 
As if suggesting that it rarely happens, Viviane says "a government should have power to do precisely what they want and need to do to make Internet safe and open." She was fabulous btw.
The "Building a Vertical Business for the Consumer Internet" Panel
Adding some humor and controversy to the DLD stage was Douglas Rushkoff, author of Present Shock. "A photo with $4.6 billion dollars printed under Evan William's face in the Wall Street Journal is NOT disruption," he asserts as he talks about humanism and how current economic and investment models are not necessarily supporting the best entrepreneurs and ideas.
If there's not a significant return on investment, then the idea and entrepreneur doesn't get funded, when in fact, it could return a small return on investment and perhaps offer something of great value to the world. The money guys around me seemed to have smoke coming out of their ears while he was talking. It would have been fun (and spicy) to have a debate after his talk!
On a media panel moderated by Jessica Lessin, John Markoff and Steven Levy discussed the state of technology journalism and how it has evolved over the past twenty years.  
"The art of real investigative reporting has been lost to fast twitch journalism," says Levy who went on to share his opinion on the pitfalls of curation. He suggests that after content gets recycled umpteen times, no one knows who the original author is anymore since the primary source gets lost when it is replicated so frequently. 
Below, the 20 Years of Funding panel included Landmark Ventures' Zeev Klein, Acton Capital Partners Christoph Braun, Time Warner Investments Scott Levine, Israel Growth Partners Moshe Lichtman and Greycroft's Alan Patricof.
The closing interview was originally slated to be a fireside chat between Richard Saul Wurman and Iceland's president Ólafur Ragnar Grímsson but there was a change of plans. The final act was instead, a touching interview between Yossi Vardi and his former "boss" Steve Case.
Steve talked about his old days at AOL where he said he was less of a CEO and more of a mayor. In those days, he said the focus was on the 3 C's: context, content and community.  
Other pressing issues he raised was the fact that we'll fall far behind the innovation ladder if we don't make it a priority. "Immigration reform necessary to make sure we attract the best people to Startup America," he said. Vardi agreed which led to the role of startups today and how people will succeed. "People are not interested in facts, they're interested in good stories," says Yossi. 
Now, please join me on a visual journey to DLD NYC, starting with the DLD NYC Band Michael Aranella and his Dreamland Orchestra.
 Shahar Nechmad
Dina Kaplan
Ryan Rzepecki of Social Bicycles, David Rose with his new book Angel Investing, Brad Templeton and Dr. Amol Sarva.
 Steve Case watching one of the presentations from the front row.
I went back in time when I ran into this trio -- a former dynamic team together so many years later minus Jerry Michalski of course. Below, Daphne Kis, Kevin Werbach and Esther Dyson.
 Gino Yu, Renee Blodgett
 Yossi on stage
 Lakshmi Pratury, Steve Case, Renee Blodgett
 Sunny Bates and Nate Mook
 Dan Dubno and Gary Bolles
 Don Dodge, Petra Vorsteher, Renee Blodgett, Shara Nechmad
 Peter Hirshberg
 Jeff Jarvis
 Lakshmi Pratury, Asha and crew
 Lara Stein and Yossi Vardi
Steffi Czerny
 Renee Blodgett, Burda's Olga Kammerer and ELLE Magazine U.S. Correspondent Nadine Sieger 
The sax player gave me a closer look at his marvelous instrument.
Simeone Simeonov 
 Stephanie Hospital
Holly Harper Dodge & Don Dodge
Andrew Keen
 Stuart Gannes
Did I mention that they had live entertainment at the closing night after party? 
Kudos and hats off to Steffi, Yossi and team for pulling off yet another perfectly crafted and curated event!
All photo credits: Renee Blodgett, except for the group shot of Creative Cities which was pulled from the DLD blog.
May 7, 2014 in America The Free, Conference Highlights, Events, New York, On Technology, On the Future, TravelingGeeks, WBTW, Web 2.0 | Permalink | Comments (0) | TrackBack