March 20, 2020
The Coronavirus: A Spiritual Perspective!
You could say that words poured through me, not out of me.
What a turbulent and unpredicted ride over the last few weeks as we have all been dealing with a tsunami of news reports from around the globe. Unlike many health related risks in the past, Covid-19 is impacting the world – all of us, not just one country or region. We can no longer feel safe because it's happening "to those people over there" as humanity's ego so often does. We are all being hit by a virus that we as a global community are still trying to understand.
The Coronavirus itself isn't new but the strain is – as such, even the medical community is in unchartered territory as are the hospitals who are trying to ramp up support, beds, and supplies if the pandemic spreads.
On top of being in unchartered territory, the fact that we don't have enough testing kits yet, we are faced with even more uncertainty and doubt.
We're told that it is highly contagious – that it can pass through hair and eyelashes, can live on physical substances, such as stainless steel, metal and plastic for up to 3 days. (think grocery carts and door knobs) and on cardboard for up to 24 hours (think Amazon packages and UPS boxes).
With this deluge of information -- some of it hype and some of it real -- how do we know what reality is? And, can we truly control that reality?
As with any flood of fear-instigating data, there's always someone who can financially benefit and often it tends to be large corporations, pharma and yes, governments. The result of hysteria and panic can be potentially worse than the virus itself.
So even if some of this is in play, it doesn't mean that the facts from medical doctors are not very real nor does it mean that the threat isn't very real.
Some people have raised questions such as: "if we are truly to step into a greater consciousness, knowing what we know about manifestation and the higher vibrational energies that we all hold, are we not giving into the fear being created around us by staying at home?
Are we not giving into mass consciousness? Are we not allowing ourselves to be controlled? Are we not creating more damage by staying away from others when at this volatile time, we need to be unified more than ever?"
As with everything in a Quantum World view, there are no absolutes and so the answer is YES and NO.
Consider this: if there are no absolutes and only probabilities with multiple layers and complexities, imagine that Covid-19 has its own consciousness. What if humanity called its consciousness into our dimension on purpose?
OUR COLLECTIVE SOULS RESPOND TO HUMANITY'S AND GAIA'S HEARTACHE
In a world of growing isolation where so many have been building stronger relationships with their phones and social media accounts than the loved ones in front of them, we have been starving for a type of human connection that doesn't exist in a data bank in the cloud.
We are craving for a re-connection to the Earth, one which humanity has been pillaging in unhealthy ways for decades upon decades.
Gaia herself is calling out to be healed, asking humanity to wake up and see the repercussions of our actions.
What a better way for humanity to 'get the message' than for its consciousness to call forth an intrusive and disruptive consciousness to wake us up, even if that be in the form of a virus.
The Laws of Attraction and Repulsion ensue, that we as individual energy forms and yet part of the 'whole', will repeatedly bring forth whatever it takes for us to either wake up, or repeat the same pattern of disharmony over and over again.
Enter the domino effect which disruption often creates, where we are forced to take a step back and get out of the mud.
Our eyes have been so glued to a tree for so long (aka digital screens) that we have lost sight of the forest, the collective good and 'all that is' we are an integral part of. In this process, we have no choice but to return to our innate understanding that all is interconnected regardless of our belief systems, the color of our skin, the culture and language that we perceive defines us and so on.
We return to Oneness knowing that we are part of a universal consciousness and that universal consciousness is part of us– we don't operate out of time and space but we are time and space, not separate from it.
In other words, what if the virus is in fact a medicine for humanity, a sort of self-correcting one?
BUT, WHAT ABOUT PHYSICAL SEPARATION? HOW DOES THAT HELP US HEAL DURING SO MUCH UNCERTAINTY?
There's no question that there will be physical and emotional ramifications from this so called self-correcting medicine. Family members, especially those whose immune systems are compromised or the elderly, may die. We will miss the physical connection we have grown accustomed to in everyday life – at work, school and in our communities.
There's no denying that all of this feels painfully real in the physical world in this dimension in the here and now. But, how we interpret, process and handle the crisis we are faced with collectively as a global community is what is so critical to our healing.
Many have been living and suffering for a long time from a different kind of pain….a disconnection from themselves, from others and from Gaia herself. For those who were awake or in the process of "waking up," there was an unprecedented inner knowing that we better change our ways or die.
When the natural order of things – all living things – are in disharmony, Gaia needs to rebalance and because we are connected to Gaia's consciousness, that combined consciousness comes forward as ONE energy to self-correct.
The natural laws of the Universe have kicked in, forcing us to go inward and remember what's truly important. Once you do, you'll begin to see a bigger picture consciousness that is presenting itself from a macro-view. Rather than see the virus as some kind of evil manifestation, imagine that it as the emergence of divine intervention.
As with every re-balancing, old ways of doing and seeing things will die. Old orders, archetypes and structures will die off or at a minimum, diminish so a new way of seeing and doing things can finally sit into the creator's seat, get the voice it deserves and ultimately begin to thrive.
So, rewind the clock back to when I said that in a Quantum World view, there are no absolutes to the answer of "are we are giving in to old patterning by isolating ourselves right now?"
Let's look at a YES response. Yes, because we don't want to feed and give voice to the fear that could emerge on a global scale if we allow it to, which leads to the ego raising its ugly head. The fight or flight mechanism of "I better save myself or I will die." That is a lower vibrational mindset that doesn't serve us or the collective whole.
Let's look at a NO response. No, because we are allowing a new consciousness to emerge to correct the natural order and going with the ebb and flow of that energy, a bit like a martial artist approaches his or her opponent. Remember that we still exist in a human body which can catch the Covid-19 (known as a novel virus) even if our immune systems are strong.
While it may not have a deadly impact on those who are young and healthy, it doesn't prohibit us from being a vector, which means we can 'host' the virus and pass it along even without symptoms or ever getting ill.
So, because we are connected to other living things, we need to think about the impact we could have on others, especially those with impaired immune systems and the elderly. From this perspective, we have a social responsibility to carry out social distancing, at least for a little while.
For those of you who feel that being together during this time is the most important thing, consider a higher purpose, that of the natural law of order correcting itself. Rather than feel stressed and anxious, use this time to go inward and reflect.
This is also a time for allowing what is, a time for allowing just you and your Higher Self to BE in silence with the here and now. Alone. Listen to your inner voice that will guide you in ways that no one else can.
MINDFUL INTENTION: Peace, Love, Inner Knowing
If this is a time to reflect and be alone, does that mean during this time, we don't provide support to others? No, of course not – remember that we are all connected after all.
But, first and foremost, it means understanding the energy of the Covid-19 consciousness and working WITH the energy, not fighting it, nor retreating out of fear but out of respect for the energy. In understanding how to work with the energy of a new consciousness we don't yet understand, being humble is part of the process. We want to go with the flow of what the bigger picture has in mind for humanity, from a place of EBB and FLOW. Qigong masters understand this well.
Also during this time, mindful intentional meditation and staying in a high vibrational energy of unconditional love is what is also called for – it is not only powerful and healing for ourselves, but for those who are infected with the virus and the planet as a whole. This is about emerging with the FLOW of Universal Energy, not taking one side or the other.
Think of it as a retreat for soulful reflection and in that inward time, we can also support others energetically (remember there are no borders or boundaries to our energy fields).
Then, we may re-emerge feeling renewed physically, emotionally and mentally. On the other side lies a world which has shed a layer of skin or two and shall show us a new consciousness we can either embrace or not.
I hope we all learn from the lesson and embrace it collectively as a whole. Rather than fight it, go to fear or over analyze it, truly feel into the blessing that this correction will ultimately create for humanity.
Blessings to you at this time.
March 20, 2020 in America The Free, On Health, On People & Life, Reflections | Permalink | Comments (0)
January 09, 2017
Improve Your Personal Air with Sprimo
Let's face it -- indoor Air Pollution is dangerous and climbing at alarming rates. Air pollution in general rise worldwide, killing more than 3.3 million and one study says it could double by 2050. Given that we spend nearly 90% of our time indoors (some research says more) and indoor air pollution is slated to be from 3 to 10 times worse than outdoor air pollution, it's no wonder that that cases of Asthma and Allergies are climbing and at an all-time high. In addition to seasonal allergens, many also suffer from dust and chemicals from cleaning products, paints and other residues at home, work and school.
Photo credit: Air Filters for Clean Air
Think Your Indoor Air is Safe? Think Again!
When we think of air pollution, we tend to think of outdoor air pollution and that we're safe inside where we spend most of our time. If you think that all the places where you OR your kids spend time is at safe levels, think again. Studies show that 50% of America's schools have problems linked to indoor air quality and an issue in 6 out of 10 homes worldwide. Indoor air may contain lead from the old paints which have been connected to early brain development in children. Not only does research show that clean air helps people be more focused and efficient at work and can reduce sick leave time, but shows that purer air improves kid's productivity and results at school as well. Bottom line, what we breathe in day after day, can impact the quality of our sleep, energy levels and even life span.
Photo credit: The Climate Chief Indoor air you breathe can be hazardous to your health without any telltale signs, so having a personal air purifier by your side can improve your health and your life. Enter Sprimo, the "go-to" product for people who want the best quality air in the personal spaces they work, play or sleep. Unlike traditional air purifiers that focus on large square footage areas to measure success, Sprimo is aimed at improving the quality of life through bursts of clear air instantly. Sprimo's small, lightweight and nearly silent air purifier is smart and adapts based on people's issues, from chemicals and dust to seasonal allergens.
Anyone who suffers from allergies can benefit from Sprimo as well as those at higher risks, such as children and the aging. Parents who want to ensure their children are breathing in fresh air while they sleep can place a Sprimo on their bedside table at night. Because Sprimo is light, easily portable and nearly silent, you can bring it to work to improve the quality of air you breathe at your desk every day. Its convenient size also makes it a godsend for travelers who can use it on the road at hotels, gyms, spas, cafes and more. The purifier's low entrainment air flow works as a shield to block contact by reducing the chance of you breathing an airborne virus by up to 60%. With Sprimo, you can take charge of your health wherever you go. Sprimo's new Personal Air Module (PAM) and cloud-based mobile app delivers real-time data on air quality via your smart phone so you can be alerted wherever you may be. Simply plug it into your iPhone and you're good to go – you'll be alerted whether you're breathing in poor quality air or not.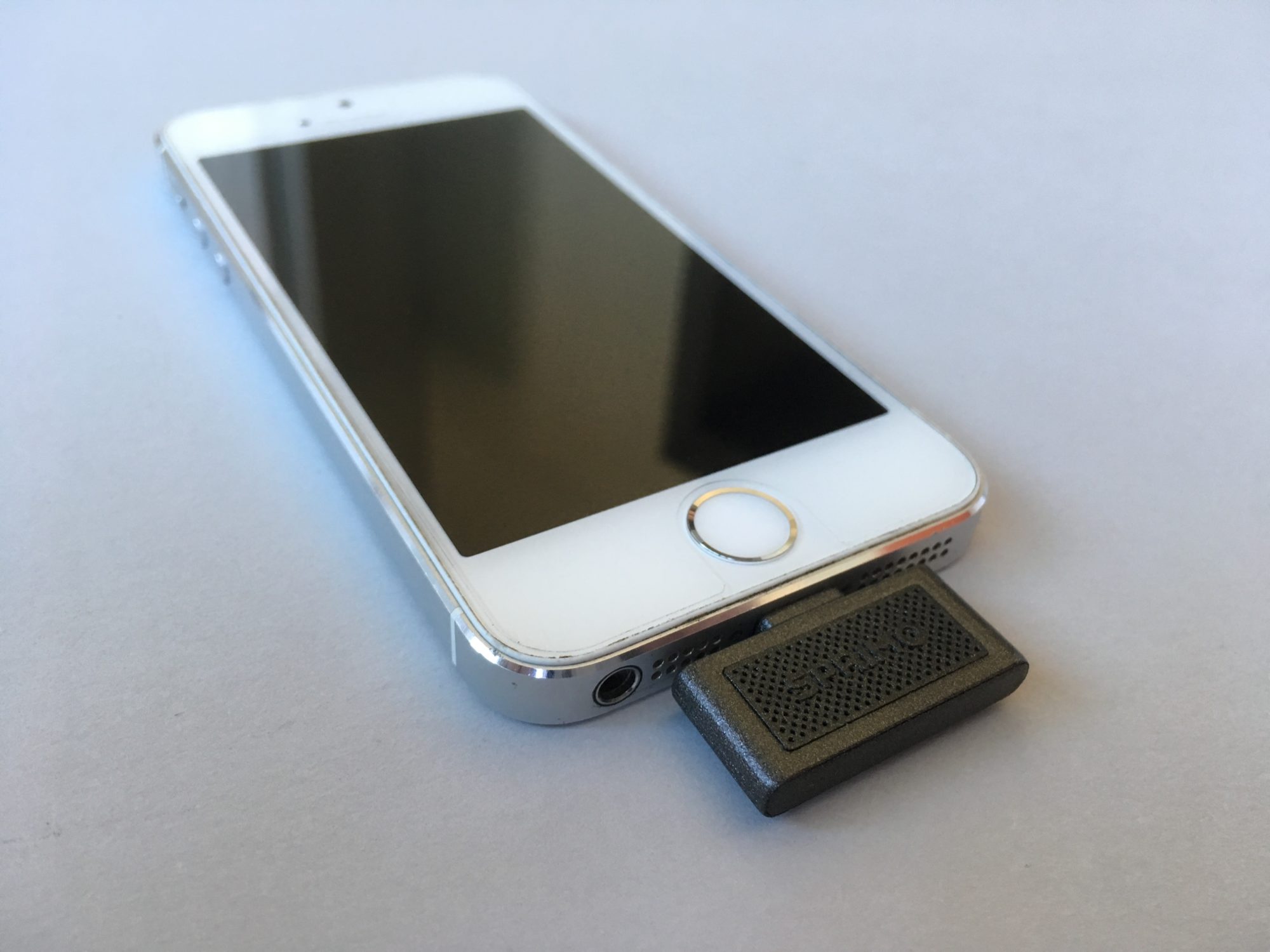 Sprimo showed its latest at the annual Consumer Electronics Show (CES) in Las Vegas this last week in the health and wellness section at Sand's Eureka Park. They will be kicking off a crowdfunding campaign on Kickstarter in March where they'll be taking pre-orders. More information can be found at www.sprimo.com and via their social media channels @SprimoLabs where you can sign up for their newsletter and be alerted when product is available among other useful tips on improving your lifestyle through healthier air.     Disclosure Note: I provide consulting to Sprimo Labs however all opinions expressed are my own.
January 9, 2017 in Client Announcements, Conference Highlights, Events, Magic Sauce Media, On Health, On Technology | Permalink | Comments (0)
May 10, 2016
uHoo, Most Advanced Indoor Air Quality Sensor Now Available for Pre-orders
When I was approached by a company that is trying to transform how we all think about the air we breathe, I was intrigued. After I learned that it wasn't an outdoor environmental play, but indoor air, I was even more intrigued. After all, how bad could indoor air be? It turns out, pretty bad.
After I did some of my own digging, I wanted to be involved. There are some alarming stats of why you should care and why what they're doing matters.
Meet uHoo, the most advanced indoor air quality on the market, which is now open for pre-orders over on IndieGoGo starting today.
More than any other product in the market, uHoo provides real-time alerts on unhealthy air, going deeper and broader than other products. What sets uHoo apart is its eight dedicated sensors, detecting Carbon Dioxide (CO2), Carbon Monoxide (CO), Ozone, Air Pressure, Volatile Organic Compounds, which are found in paint and home cleaning products, Temperature, Dust and Humidity and all sensors are dedicated, which is not the case with most other solutions.
With concerns on indoor air quality at an all-time high and the fact that we spend nearly 90% of our time indoors (some studies say more), uHoo aims to transform people's health by providing an affordable solution for asthma and allergy sufferers, for people with toddlers at home and for anyone who genuinely cares about their health.
Couple that with unhealthy indoor air being linked to cancer and heart disease, 6 in 10 homes being hazardous to their owner's health and half (yup, that's 50%) of America's schools having problems linked to indoor air quality, a product that detects the particles and chemicals we breathe in real-time can be transformative to our day-to-day lives.
What Don't We Know?
Given the tragic news reports on poor air quality in schools and drinking water in Michigan, it's more important than ever to be proactive and know whether you're in a healthy environment before it's too late. With uHoo, you can know first-hand what the quality of air is like in any room or building where you live or work. uHoo is only 3.3 inches in diameter, 6.2 inches high and weighs less than a pound, so it can easily sit unnoticed at home, in gyms, churches, spas, community centers, basements, your office or kid's bedroom. The list is endless as to where uHoo can be used.
According to the American Lung Association, "it's hard to know when air in your home needs cleaning; the indoor air you breathe can be hazardous to your health without any telltale signs." In other words, we can't manage what we don't know or can't measure. Their site includes other useful information worth checking out as well, like identifying what makes indoor air unhealthy and how pollution can hurt your body. They also have a useful list of what all of them are so you know exactly what could be in the air you breathe at home or work.  
Revolutionary For Businesses Too
You can have multiple devices on one account, so you can monitor different locations around the clock. This is not just a great feature for businesses that are looking to ensure the quality of the air is healthy for employee's optimal well-being and productivity, but can significantly reduce operating and health-related costs by knowing how to regulate the air more effectively.
Here's How It Works
Simply plug uHoo in to a power outlet and connect it to the WiFi network – uHoo does the rest. The quality of air is detected instantly and shows up on your smartphone via a free app (support for both iOS and Android).
All of this data is securely and safely stored in the cloud for easy access from anywhere in the world and can be shared with loved ones and/or health practitioners. The ability to share data and devices means that you can stay on top of other family member's indoor air quality, such as an aging parent or grandparent, or your child when you are away.  What else is cool is that it shows the history of your rooms over time. You'll also get notifications so you can track what's going on in real time.
Or, you can simply get a glimpse of your day, knowing which rooms performed well and which ones didn't. uHoo even recommends things you can do to improve your air depending on what the reading is. Imagine being able to track your kid's school remotely -- if the air is unhealthy, you can know about it right away. Same goes for your own home, office or wherever you spend a significant chunk of your time.
There's also a very cool Health Diary, which allows you to track how you're feeling and when. It will record symptoms or issues in the room you happen to be in, all of which correlates back to the data uHoo is picking up. 
You can also see results in chart form, which will lay out the results by VOCs, ozone, temperature, humidity, CO2 and so on. 
uHoo comes in two versions: Classic and Premium, the main difference being the number of dedicated sensors that the device will detect. The device comes with a power adapter, and a micro-USB cable.
Details on how to pre-order a uHoo from only $99 for a limited time can be found on https://www.indiegogo.com/at/uhooair. I love this - questions on any of it, let me know. Since I'm working the company, I already have a uHoo and absolutely love knowing when I'm breathing healthy air or not. This is particularly useful for travelers as well who stay in hotel rooms on a regular basis -- you might be surprised by the results, even from high end hotels.
They'll be shipping in Q4 of this year and availability is worldwide.
May 10, 2016 in America The Free, Client Announcements, Magic Sauce Media, On Health, On Innovation, On Technology, Travel, TravelingGeeks, Web 2.0 | Permalink | Comments (0)
June 23, 2015
Digital Health Summer Summit & Their Digital Health Playground
I've experienced some of Digital Health Summit's energy, largely at CES (Consumer Electronics Show) in Las Vegas, where it has grown in size over the years and now represents some of the most innovative technologies happening in the health, wellness and medical arena.
Last week, they held their Digital Health Summer Summit in San Francisco, which consisted of a full day of panel discussions, keynotes and something they refer to as Digital Health Playground, which is an expo of companies showing off their latest products.
Photo credit: LearnersOnline.com
The reason I've been so interested in digital health lately is not just because of the marketing and communications work I've done for HAPILABS and Kolibree over the past few years, both of which announced the world's first in their respective categories (connected fork and connected electric toothbrush).
This world obviously got me into deeper into the world of quantified self and devices that measure everything you do, from the quality of your breathe, to your sleep patterns and the steps you take every day. While I find quantified self interesting and in some cases, leaps ahead of our time, empowering individuals about their bodies in ways that was never possible before, I'm also concerned about over monitoring since doing so means that the EMFs emitted and other electrical energy that comes from these devices are close to our bodies if not on them 24/7.
I for one sleep more peacefully when I'm far away from anything that has bluetooth or wifi connectivity and when I'm not using my phone for texting or browsing, I turn it to Airplane Mode as a safety precaution. That said, the benefits of self monitoring for more serious medical conditions can be a godsend, particularly for kids and seniors, so that other family members can stay on top of their loved one's health as well. It's also useful for sending data back to your family when you're traveling and they're not with you.  
Photo credit: www.kpcb.com
The idea of digital health centers on the convergence of the digital and genetics with health, healthcare, medicine, living, and society.
The biggest benefits of digital health as noted above, include the empowerment of consumers to better track, manage, and improve their own and their family's health. There are of course compliance issues, as well as hospital and corporate adoption curves that run alongside these revolutionary changes happening in the digital world today.
At the Summit, we heard from Chief Medical Officer for AFIA Rob Smythe MD and author of The Digital Doctor, Professor and Associate Chair for the Department of Medicine Robert W. Watchter MD, who addressed the need for digital health to better demonstrate its effectiveness, as well as the issues around privacy, security and regulatory challenges.
With the abundance of health tech accelerators and seed funders pushing out a wide array of digital health companies, we also heard tips on how to avoid the funding valley of death given the long time gap between institutional funding and ultimate launch. Reps from Kleiner Perkins Caufield & Byers, Launchpad Digital Health, dRx Capital AG and DNAnexus took this subject on, which was soon followed by an interesting keynote from Michael Blum, MD and Associate Vice Chancellor for Informatics and Professor of Medicine and Cardiology/Chief Medical Information Office at UCSF.
Other panels discussed how partnering with strategic companies can better harness the power of talents and resources from both sides.
One of the more interesting dialogues was between moderator Karyn Skultety, Ph.D. and VP of Health Services at the Institute of Aging, and Commercial Lead at Big Health Dickson Waterfield and Co-Founder of Ginger.io Karan Singh. I like what they're doing at Ginger.io, which uses smartphones to improve mental health care.
Their app uses sensor data collected through the phone and self-reported information to identify people who may need help. Providers can use this data to better deliver support to the right people at the right time, making care more timely, effective and engaging. Ginger.io's Android and iPhone apps use data from your phone to safely and securely watch for days when your health may take a hit.
The Dealmaking, Piloting and Scaling panel presented the question: You Have What It Takes? Travis Good, MD and CEO & Co-Founder of Catalyze, Molly Coye MD and Sense.ly CEO Adam Odessky took on the topic head on, sharing insights on how to sell, pilot and scale successfully within the healthcare system.
Questions addressed included what healthcare systems looking for when they evaluate new technology, are all hospitals different or are there unified approaches entrepreneurs can take when working with them, and do you have a product that hospitals can actually implement to scale, among others.
Although nature will always win if I had a choice between trees, mountains and lakes and gadgets, toys and devices, I am a bit of a tech nerd when it comes to nifty things that can improve the quality of my life or my productivity. I'd argue that more devices than not add hassle to my life and extra time trying to figure out how they work and their effectiveness than the benefit they may actually provide.
One of the more interesting products being shown in the Expo part of the show, a small area set up for companies to do demos and show off their greatest, was Breathometer. Their mission is to build the World's First Portable Breath Analysis Platform to help people make smarter decisions, improve healthcare and to save lives.
You download the Breathometer mobile app on your smartphone, power on the Breeze product using the small button on the bottom of the product and the Breeze should automatically pair / connect with your smartphone.
Once connected, confirm it has been 20 minutes since your last drink, take a deep breath and blow into the mouth of Breeze for 5 seconds and Breathometer will give you your results. Beyond providing dependable blood alcohol concentration levels, the Breathometer app is designed to help you make informed, dependable decisions.
Another cool product at the event was Splitsecnd, emergency assistance the instant you need it. Splitsecnd is the only plug-in device that can provide live trip data, detect a crash, call for emergency help in less than 7 seconds and notify your emergency contact in an instant.
This is a great device when you're traveling of course, but it's also great for seniors and teenagers -- parents can not only detect if and where there has been a crash instantly, but monitor the driving behavior as well. The device plugs into any vehicle's 12V lighter outlet and uses airbag sensor technology to activate the emergency response system on impact, calling for help even when you can't respond.
The GPS monitoring features allow you to keep up with family and loved ones on the road. Using build in location software, splitsecnd works with local 911 dispatchers to send emergency aid right away. The splitsecnd response team will call your emergency contact so your family knows within minutes you have been in a car crash.
You can also view the past 10 trips of anyone on your account -- where and when they went and even the route they took. For android users only, it currently also tracks how often the driver texts while driving making it easy to see how often they are making safety a priority. Wow!
I also learned a lot about hearing loss -- I had no idea it was such a huge problem in the states, how much hearing loss impacts one's emotional state, how expensive hearing aids are and the fact that they're not covered by insurance. Huh? When they're priced in the $2-6K price range per hearing aid, imagine how many seniors go without, trying to live day to day without accurate hearing?
Apparently there are a significant and growing number of kids who suffer from hearing loss as well. I chatted to the Audicus team at the show, who focus on providing affordable hearing aids. Apparently traditional providers and manufacturers mark hearing aids up more than 10x to cover overhead and other miscellaneous costs whereas Audicus cuts out the middlemen by working with a top-tier, independent German manufacturer and delivering it straight to the consumer.
They believe that everyone deserves to "Live Loudly" so are focusing on dramatically bringing the cost of hearing aids down so it's more affordable to the average American. They also sell accessories -- two thumbs up!
Producer Jill Gilbert, Organizer and founder of Living in Digital Times Robin Raskin and their team put together an incredibly enriching event full of great ideas, people, products, services and platforms.
The event was co-hosted by CDHI - Center for Digital Health Innovation at UCSF -- more information can be found at www.digitalhealthsummit.com. Be sure to watch for their developments, updates, future event dates and locations.
June 23, 2015 in America The Free, Conference Highlights, Events, Magic Sauce Media, On Health, TravelingGeeks | Permalink | Comments (0)
April 29, 2015
Melding of Minds on the Future of Humanity Over an Arc Fusion Jeffersonian Dinner
Ever heard of a Jeffersonian dinner? I've been invited to one or two over the last few years, one of which was being held in Washington DC, where it was birthed in the 1800's by none other than Thomas Jefferson himself. Because of those invitations, I had some vague idea of what they were, but never actually participated in one until the Arc Fusion folks hosted one recently in San Francisco.
Photo credit: www.smithsonianmag.com  
Rewind the clock to 1819 and visualize yourself at a long and decadently adorned table with Thomas Jefferson at Monticello, his elegant Virginia home. Around the table, you're seated with a group of people steeped deep in culture, philosophy, education, history, politics, art, literature, science and theology.
The idea behind a Jeffersonian Dinner is to bring people together from different disciplines, creating a new cause-centered community around a topic of importance or significance you might want to discuss for whatever reason. This can be done to tap into new resources, raise funds for a non profit or important issue, or simply to expand the group's thinking about a variety of topics.
It's important that it be somewhat intimate so 12-15 people at a table is a good size and I'd argue that while someone's home isn't a requirement, it makes it more personal -- a private dining room could also work.
The purpose of the Jeffersonian Dinner is to build a sense of community and partnership around a shared interest or theme. One of the rules is that everyone participates in a single conversation and are not encouraged to engage in one-on-one dialogues with their partners on either side.     
Photo credit: blog.asana.com. 
How fitting that the San Francisco Arc Dinner be held at the 1880's Payne Mansion on Sutter Street and also how intriguing that the topic at hand was not about the past, but about our fears and concerns for the future, say in 100 years.
David Ewing Duncan kicked off the event. A historian, author, journalist and also CEO of Arc Fusion, which celebrates the conversion of IT, healthcare and biotech, David decided to take us down memory lane before dinner.
Photo credit: Arc Fusion Website.
We went back to 1915 and recalled some of the provocative insights, inventions and historical moments of the time. Franz Kafka's Metamorphosis Complete Idiot's Guide to Beating Stress was out at the time (surprising I know), the first EKG was used in 1913 and OMG was first used in 1917 (yes really). 
The industries David and his team at Arc are most interested in exploring are at the intersection of what is happening in health, IT and biotech. It's not hard to see why, with nearly $800 billion being spent on health and wellness and $1.1 trillion on IT services with $50 billion on Health IT alone. 
He asked attendees before they came to the dinner whether they felt they'd be alive 100 years from now. 18% said yes whereas 82% voted no. In case you think that even 18% is insanely overly optimistic, remember that the audience is highly vested in technology and some are actually working on the most important research in the fields on longevity/aging, science, technology and medicine.
The same audience voted on what will be most important to humanity's fate in 100 years -- 40% voted for politics whereas it was no surprise to see technology lead that vote at 60%. As far as the impact on humans in the next 100 years, 36% felt it would be in gene editing and a whopping 70% went for stem cells. Pharma only came in at 11% which tied with health and wellness and bionics took last place at 9%. 
Other things on people's minds included mood manipulation, synthetic biology, longevity tech, next generation deep learning and renewable energy. 
James Canton asked the audience to imagine a future where embedded devices and technology automate the work, resolving issues that need to be addressed in our bodies. The truth is that nano and quantum technologies are expanding so rapidly that we are now in a game changing time for our health. Innovative ecosystems will start to do disease detection for us, hopefully before it turns into disease.
Drew Endy asserted that learning "how to" solve problems is the secret to sustaining life over the long haul. His deepest wishes include a future where biology will have distributed manufacturing and distributed systems and that humans will start to think of a world outside of themselves. Hear hear.
Casey Lynett addressed where we are going with Alzheimer's pointing to some important finds for this disheartening disease that seems to be soaring not reversing. 
Artist and molecular biologist Una Ryan showed us her work, reminding us of the beauty inside our bodies through our cells, our protein and our blood. She refers to the image below as the Tree of Life since it contains everything that makes our bodies operate. 
The food they served at the dinner was not surprisingly farm-to-table and organic. It was also very purposely selected based on a fascinating premise -- each ingredient was chosen to serve every vital organ of the body. Dishes ranged from salads and nori rolls to fresh fish and wine for the heart -- two thumbs up for the Trefethen Cabernet Sauvignon that showed up on our table.
The most riveting part of the evening, at least for me since it touched on some of the most controversial conversations happening around healthcare today, was the fireside chat between venture capitalist and serial entrepreneur Vinod Khosla and renowned doctor Dean Ornish.
Both visionaries took the stage to share their take on the future of healthcare. Vinod formed Khosla Ventures to focus on both for-profit and social impact investments and as a big believer in the importance raw data can have the future of health, he invests in both healthcare and biotechnology.
Says Vinod, "almost nothing that is relevant in medicine today will be relevant in 20-30 years. Even though some of it may still be true, it will be too imprecise to be that useful so no one will use it." He asserts that medicine will be mostly science and data driven over the next 10-15 years.  
He added, "we will have more research opportunities but we won't use them because we won't have the causality which is most important."
He also went on to say that we won't use doctors that much in the future to get a diagnosis and what we may pay more credence to is the doctor or (non-MD) who has the highest EQ not the highest IQ. Hear hear Vinod! I couldn't agree more. Bedside manner, using common sense and logic and listening between the lines to a patient is something that so many traditional doctors so sadly "don't get."
Dean takes a slightly different approach although they agreed more than disagreed. While he agrees that data gives us a lot of useful information we may not have had access to twenty years ago, if all we are is a set of algorithms, then humans can simply be replaced by an app. The reality says Dean is that we are so much more.
What I love about Dean's approach and always have ever since I first met him now over a decade ago, is that while he's far from a luddite, he tries to get people (and the industry) to look at the underlying cause of an issue. He believes that lifestyle and diet shifts are fundamental game changers, pivotal to reversing symptoms and in many cases, the disease itself.
He's interested in lifestyle medicine which is very low tech, but the power of low-tech interventions is very very real and something that techies sadly discount all too readily, focusing most of their time on connected devices, data and the Internet of Things.
Personally I lose sleep at night thinking about how so many brilliant scientific and medical minds can be so misguided, overlooking the raw fundamentals of what can keep us healthy and happy, holistically so.
Bottom line, we need to treat the underlying cause and also look at the mind, body and spirit, NOT just the body alone.
This integrated approach is what the techies and scientists keep missing and a sad reason why insurance companies put holistic care like acupuncture and body work, organic food, diet modifications and supplements last on the priority list.
It's the same broken record when it comes to addressing the disgusting impact that processed foods are having on Americans today. (Note: processed food ingestion is increasing globally of course, but the yanks still sadly take the cake when it comes to fast food and boxed processed ingredients as their go-to- diet). I digress but the whole thing sickens me so much that I can't help but vent at times like this.
Truth be told, as Dean took the provocative and controversial low-tech stance amidst so many tech-centered entrepreneurs in the room that night, I wanted to stand on my chair and boldly blurt out - "GO DEAN and oh btw, don't stop here!"
He is a big advocate of lifestyle and diet changes and given recent research findings, they're finding that the same lifestyle interventions that deter heart disease are the same ones that can keep prostrate and breast cancer at bay and even in some cases, Alzheimer's.
You can apparently see a positive and reversing effects to 500 genes over the course of 3 months through lifestyle changes.  For most chronic diseases, which account for 86% of issues, we can reverse their onslaught through shifts in our lifestyle and diet. 
Dean thinks that we'll see a future where the placebo effect will be more important not less. Why? Because, it works.
Vinod doesn't disagree with Dean although he wants to see data behind it, proving that it's real. In his view, the math is the math of networks, but agrees with Dean that diet is important and that symptoms are the wrong way to look at a disease. 
Given that we live in an information age and are drowning in so much data we don't know what to do with it, I agree with Dean that while data may be important and there's no doubt having access to what our bodies are doing and why is useful, its only part of the equation. Plenty of people have data but even if you know that smoking cigarettes can kill you, if you're suffering from deep anxiety and depression, you're not going to quit smoking anytime soon.
Anxiety and depression are very real, particularly in the states. The stats are going up and pharma companies are making millions on drugs, some of which cover up the real issues that lay behind what is making them depressed in the first place.  
Dean asserts that what is even more vital is the mantra I keep beating people over the head with every day: the more so called connected we are, the more disconnected we are....I mean physically and emotionally disconnected, not the fact that we can now communicate with people instantaneously on Facebook or Skype from our cell phones in real time.
What's really missing is the deeper sense of meaning you get from being physically and emotionally connected to others. There's no doubt that people need to rediscover inner peace, joy and purpose in their lives.
Bottom line, it's all about changing the raw materials we give to people and place as a priority. I'll end with this note and thought to reflect on: if we can take this "ground level" low-tech approach seriously by beginning with the things that provide deeper purpose and meaning, then we can really begin to accelerate healing. While data can continue to feed the bigger picture, if we don't get back to the fundamental basics of what feeds the soul, we'll remain a far cry from a truly sustainable solution to holistic health, happiness and well-being. A big high five to Dean Ornish!  
For more information on Arc Fusion, check out their site at http://arcprograms.net/ where you'll also learn about their upcoming Arc Fusion Summit being held in southern California September 1-2, 2015. What David has created is a truly innovative, future thinking and leading-edge organization and he has managed to bring together some of the smartest minds to address what both plagues and interests us most today.
April 29, 2015 in America The Free, Conference Highlights, Events, Magic Sauce Media, On Health, On Innovation, On People & Life, On Science, On Technology, On the Future, Reflections, San Francisco, TravelingGeeks, WBTW | Permalink | Comments (0) | TrackBack
January 12, 2015
CES 2015 Wrap Up: From 3D Printing & Connected Devices to 4K TVs & Infrared Cameras
There was no shortage of companies jumping on the
"we must be connected to everything, or else.."
trend that was central to most announcements coming out of this year's
Consumer Electronics Show (CES)
in Las Vegas last week, an event that I've been going to for a couple of decades.
It was even the heart of Samsung's keynote address this year. At the Las Vegas Convention Center (LVCC), the main building for CES's heftiest exhibitors, it was Samsung (not Apple) who stole the show with its ever so impressive 360 screens that circled around its booth, showing flashy and compelling videos of cars racing and more.
It was all about their 4K TVs, which are bendable, flat and curved although Samsung had plenty to offer in the mobile, audio and home automation space as well. Samsung JS9500 series is a new concept in UHD (4K technology), which they tout as eco-friendly. It uses nano-crystal technology and an intelligent SUHD re-mastering picture quality engine, which gives vast improvements in contrast, brightness, color reproduction, and detail.
People seemed to be raving about FLIR at my evening networking events, a new infrared camera that connects to smartphones at around a $250 price point. As crazy as this sounds, the camera can spot pets and animals in the dark, as well as detect cold air drafts and leaking pipes in walls. FLIR ONE translates thermal energy into dynamic color images for personal safety, home repairs, outdoor adventures, and even artistic expression.
The "all things connected world" seemed to proliferate the Sands Convention Center, located just off the strip a stone's throw from the Wynn Hotel, where I demoing and singing Kolibree's praises, the world's first connected electric toothbrush with truly interactive feedback, gamification and 3D motion sensors. The toothbrush tells you how you've brushed, where you've brushed and where you haven't.
We had a dentist on-site who is also an advisor to the company explaining why this is important and how knowing where you're not brushing well empowers you to brush better next time around. In the old world, you'd only get that feedback from your dentist once a year, a far cry from the world we live in today where nearly everything can be connected thanks to Bluetooth technology.
A bit like Fitbit for your teeth, who also had a massive presence on the show floor not far from we hung our hats for the week, Kolibree differs from other connected brushes on the market, thanks to its proprietary technology, in that it provides an interactive map telling you exactly where you've missed, as well as where you've over-brushed and under-brushed.
All that data can be kept private or shared with your dentist, which is the first time that the dental industry will have access to this kind of data, all of which can be incredibly useful for both dentists and users.
Kolibree has teamed up with Dentegra who also had a presence at CES this year -- the combined forces will offer incentives and discounts on dental care, as well as 25% off the Kolibree toothbrush through the new Dentegra Smile Club to be launched early this quarter.
While healthcare is an obvious win for the connected market (think measurement of your sugar levels in real time if you're diabetic, feedback on your sleeping patterns so you can rectify through diet, exercise and other things, heart monitoring and reminders to take drugs), there were a host of other connected devices trying to prove that they were truly useful too.
The truth is - some were and some were....well, not so much.
New connected devices on the market seem to come in all types and sizes -- from blingy necklaces that vibrate when your husband sends you a text and baby diapers that let you know when your kid has pooped to washing machines, interactive cameras and Raticator, a rodent detectors that notify you when it has caught a rodent -- yes really (see the rat trap, a rat trap that uses a wifi chip to alert you when it electrocutes the rat).
Although I didn't see it, I heard about a toaster that notifies you when the toast is up. Really? Could I not see or hear it pop up from inside my kitchen?
Connected devices can truly be useful but quite honestly, only when the connection is used to solve a problem we have or make our lives easier in ways that matter. I understand the value of connected watches within reason, but when I asked one vendor what the default was on the completely flat shiny silver faced watch, he told me it was how many steps I took and I'd only get the time after a second tap.
Huh? That's like telling me that my smartphone's default is digital games and a list of recommendations on restaurants before being able to make a call. I want a watch to first and foremost give me the time and my phone to first and foremost allow me to make calls.
When the watch becomes stylish and adorns me with a l'il luxury I might not have had otherwise, it gets a little more interesting however, at least for a woman. So far, all of these connected gadgets seem to be designed by men for men -- big, bulky, black, silver and red seems to be the order of the day.
The gold and sparkling diamonds of Burg's blingy smart watch drew me over to their booth. It works via a SIM card on an Android 4.4 operating system, and is activated. The price point for this stainless steel and Swarovski crystal device is between $500-600. They also offer a range of fun colored sportier watches that track your activities.
Swarovski also had their own presence on the show floor and while I'm not much of a bling girl, I loved the designs of their soon to be released smart watches, most of which come with accompanying narrow glittery bracelets.
Glitter, diamonds and also black, white and midnight blue. They were my favorites of the connected watches and jewelry and I can't wait to test them out when they hit the market.
Misfit is also working with Swarovski on a new line called Shine. The Shine Collection includes the Swarovski Shine Activity Tracking Crystal and accompanying accessories.
Additionally, I loved the latest watches from Guess at the show, touting rich colors and elegant design. You can get scrolling alerts across a Led screen or be alerted via a vibration and it uses voice commands to communicate with your cell phone.
The watch is water resistant, and comes in midnight blue (for men only -- a shame since it's my favorite one of all the options), brown and rose for men, white and black for women and white with a bit of bling. The watches use Martian technology, which I wrote about in mid-2014. The line, which supports both iPhone and Android, is slated for a September or October launch of this year and will retail for around $350.
One of my favorite companies making tracking watches is Withings -- they had me at "hello" last year when they showed off their Activite watch in a beautiful and elegant soft brown leather. We can't wait to test it out in the next few months.
This year, they were showcasing Activite Pop, a line of watches that is focused on the more adventurous. Pop comes in lots of fun colors and like their other watches, you have easy access to both the time and notification of your activity so you know where you stand throughout the day and can decide what your next move should be.
Also showing off fun jewelry was FashionTEQ. Their Zazzi bracelet offers an elegant and more discreet way for women to receive messages and reminders when you have your cell phone in your pocket or purse. Why would I even consider the geekier options designed by men for men when I could wear something that looked like this? I'd love to test it out in my daily life in the not too distant future.
Speaking of jewelry, the connected vendors weren't the only ones fed up with the fact that techy products don't cater to women enough. Meet GemPhones.
I fell in love with these elegant ear buds disguised as a functional but beautiful necklace you can wear around your neck. A dressier option is one that resembles pearls whereas the funkier hipper brown and black motif is a nice everyday option for the younger hipster and frankly, for a woman in her forties. I'm game and can't wait to test these out.
Another mobile accessory I discovered solves a real problem -- LOST ear buds. I don't know about you but I'm constantly misplacing them, leaving them in the wrong bag or getting them tangled when I need them most. Sound Pockets has come up with a way around that by creating a plastic pocket that attaches itself to the bottom of your cell phone case and they're available in lots of fun colors.
A perfect solution for the college student and for the forgetful and busy among us who need a handy way to keep track of them.
Also for the active enthusiast, meet the ever so cool Rocketskates. They had a massive booth in the center of the Sands, where you could watch demos of people using the skates or even try them out yourself, which I did of course.
Blissfully happy at the end of my try....they're a bit like a cross between a segway and rollerskates.
Below is a little video of my experience with them so you can get an idea of how they work.
3D printing was another hot trend at this year's show. In the Sands alone, it seemed like the aisles of vendors touting their latest 3D printing solutions was never going to end. At one point, I found it a little dizzying and frankly, confusing.
While in no way yet mainstream, 3D printing, despite its hefty price point, is now a feasible possibility in today's world. Take a look at some of the objects these vendors were showing off in their booths -- from fashion and leather cell phone cases to sailboats, toys, dolls, objects and even food.
I had an incredible experience inside the massive 3D Systems booth (note that the funky leather smartphone cases above were made from one of their machines). Sense is a portable 3D scanner that can capture objects (including people) at 10 by 10 feet and its claim in addition to high quality scanning is that its price is much more reasonable than its competitive counterparts.
Below is a shot of me holding the captured image of "me" after they scanned me on the show floor.
The Sense is the only 3D scanner to deliver precise instant physical photography, so everyone can capture his or her scanable moments. Sense has flexible scan size and can capture everything from a picture-perfect cupcake to a full-body selfie, processing data in seconds for an instantly 3D printable file. Sense comes with an intuitive user interface with easy and automated zoom, track, focus, crop, enhance and share tools. Below is a video of my experience.
The 2015 CES Innovation Awards had its own section at the show, where they highlighted companies making cool and leading edge products.
Most of the products were displayed behind glass cabinets so you see but not touch and the range of solutions were vast.
In the Connected Home area, I discovered Edyn Garden who has a solar-powered Edyn smart garden system that takes the guess work out of gardening with their Wi-Fi enabled Edyn Garden Sensor.
The sensor monitors environmental conditions to make smart recommendations about what to plant and when to fertilize. This unique sensor works alongside the Edyn Water Valve and Edyn app to provide automatic watering options that deliver water when, and only when, plants need it, helping to conserve water and other precious resources.
The Fitness Section, where Activity Meets Tech, was bustling and this year, it seems as if there are now countless FitBit-like solutions that take fitness tracking and feedback to an entirely new level.
Lighting has been making a lot of new advances lately for both larger enterprises and new solutions consumers can use in their home -- from improving efficiency to controlling your room's colors and mood. Meet ilumi whose vibrant booth ambiance drew me over to learn more.
You simply download the free ilumi App from the App Store or Google Play, screw in your ilumi lightbulb and turn them on. You can control and customize each individual ilumi or groups of them - you can also program an ilumi light or set of lights to sync with certain music to affect a room's mood, make them change colors or diffuse them in some rooms and not others.
It is all done through a simple-to-use mobile dashboard, allowing you to take control of your home or office's lighting in just a few swipes or clicks. I think the idea is great, loved the team and can't wait to put them to the test - we hope to review them in the coming months ahead.
The Digital Health section was exploding with solutions that ranged from sugar tracking as mentioned above and activity trackers to tools to rest the mind. Muse has an interesting approach to settling your over active mind and had an experiential chair set up so you could put it to the test. And, so I did....
I sat inside a comfy chair while the brain sensing headband was place around my head with the goal at putting my mind at ease. As eerie as this sound, the headband essentially reads your brainwaves read while giving you simple activities and games to reduce stress, strengthen your brain and help you relax via its EEG sensors, all of which are constantly detecting and measuring your brain activity.
Below is a video someone from their team shot as I went through the process on-site.
I found CES this year to be more interesting than last although I wished I had time to really explore the LVCC in depth. I was living and breathing the Kolibree toothbrush and Dentegra's Smile Club for the week so amidst the buzz of home automation, fitness, 3D, cameras, audio devices and TV sets, it was rewarding to see Kolibree shine at CES for its second year in a row.
Last year, we only had a prototype to show and this year, Kolibree could demo two new mobile apps and talk about the compelling collaboration with Dentegra to help make dental care more affordable. Kolibree could also tout that its most advanced connected toothbrush will by shipping by the end of January. From gadget press and mom bloggers to Associated Press TV, NBC News, and even Sears Television, the team demoed to the world.
Kudos to Kolibree's team in Paris for getting the toothbrush ready for this very important show and for market and to the Dentegra team for coming up with an innovative way for uninsured consumers to receive affordable dental care through its Smile Club. Alas, with another CES behind us, it's now time to transform how Americans view dental care.
Photo credits: Top photo by Duke Chung from venitism.blogspot.com, Raticator from epestsupply.com, Flir One photo from their website, Samsung photo from Samsung website. Dentegra Smile Club mobile screen shot from the Dentegra Smile Club.com website and second ilumi photo of the mobile app from justelementary.com. Videos and all other photos courtesy of Renee Blodgett.
January 12, 2015 in America The Free, Client Announcements, Conference Highlights, Events, Magic Sauce Media, On Health, On Innovation, On Mobile & Wireless, On Science, On Technology, TravelingGeeks, Videos, Web 2.0 | Permalink | Comments (0) | TrackBack
January 11, 2015
Kolibree Connected Electric Toothbrush at CES 2015, First of its Kind with 3D Motion Sensors & Interactive Feedback
Kolibree was in full force last week at the 2015 Consumer Electronics Show (CES) in Las Vegas. It is the only connected electric toothbrush on the market that gives you real-time feedback using its 3D sensors (9 axis), and built in accelerometer, gyrometer and magnetometer. Kolibree's proprietary technology knows whether you've effectively reached every zone of your mouth and statistically what areas you have missed.
Once you brush your teeth, feedback on how well you've brushed goes directly to your smartphone via Bluetooth and the data is stored in an individual profile – you can also store countless people's brushing habits on one smartphone, making it motivating for the whole family.
The data can be kept private or shared with your dentist. "What's great about the Kolibree toothbrush, for a dentist who focuses on children's dental care, is that I can see how well they're doing and can coach them on where to improve. For patients who have just had dental surgery, I can even recommend which vibration is the most effective one based on the condition of their mouth," said Holly Hasegawa, DDS, MS, Co-Founder and Advisor of Kolibree. Below, Holly demos Kolibree to an eager-to-learn consumer.
The toothbrush has built in sophisticated sensors and spatial analysis which not only records where the brush is in your mouth but also understands how to collect and decipher that data so that it becomes truly useful for both users and dentists.   
Pirates is the answer to the biggest challenge parents and dentists have – motivating their kids to brush for two minutes without getting bored. The game, which was developed using the open Kolibree SDK, rewards kids with coins when they brush correctly and spend enough time at each location of their mouth.  After a series of brushings, parents and dentists have access to an interactive map showing the over and under brushed areas, data that can be used to help kids improve.
Kolibree Coach is a brushing app that tracks brushing movement and location and alerts you of your brushing accuracy in real time using a green or red halo, all while allowing your favorite music to play in the background. It makes the once boring two minute brushing time fun and engaging.
The app is the first of its kind to not only analyze the movement like many 3D motion sensors can but detect the location of the brush in your mouth. It can be customized by dentists who can coach their patients where to spend more time in neglected areas and program a lighter vibration after surgery...and, rewards are given for progress.
Kolibree also announced a collaboration with Dentegra Insurance Company, which focuses on providing affordable dental care for individuals and groups. Users who sign up for the Dentegra Smile Club have the opportunity to earn rewards and incentives for brushing properly. Once certain brushing milestones are met, users can earn points redeemable for a cleaning and checkup from a Dentegra network dentist. The Dentegra discount plan will not be an insurance program.

Kolibree also offers an open API for iPhone and Android, which means that developers now have access to the most advanced dental tracking device on the market. The SDK also offers access to the Kolibree dental professional platform linking dentists to patients and to the rewards system, which further enhances the brushing experience.  
The Kolibree connected electric toothbrush will start shipping in the U.S. this month and in Europe later in Q1 2015 and is priced at $199 retail.
Those who sign up for the Dentegra Smile Club will receive a discount on the toothbrush and can receive discounts from Dentegra network dentists. The Dentegra Smile Club is slated for launch in San Francisco and Austin in Q1 2015. For more information, visit dentegrasmileclub.com. 
The companies received some great media buzz at the show, including interviews with NBC News, Associated Press TV, New York 1, Sears Television, VentureBeat, Ubergizmo, Washington Times and a host of others.
Disclosure: I provide consulting services to both Kolibree and Dentegra. Photo credits: Pirates screen shot courtesy of Kolibree, Dentegra mobile shot courtesy of Dentegra and all other photos courtesy of Renee Blodgett.
January 11, 2015 in America The Free, Client Announcements, Conference Highlights, Events, Magic Sauce Media, On Health, On Innovation, On Technology | Permalink | Comments (0) | TrackBack
Kolibree & Dentegra Announce Collaboration at CES 2015
Kolibree and Dentegra Insurance Company announced plans at this year's CES show in Las Vegas, to offer innovative Kolibree Connected Electric Toothbrush, dental discounts and rewards through new Dentegra Smile Club, slated to go live early this quarter.
Dentegra offers innovative and affordable dental insurance plans to individuals and groups in 38 states and is one of the nation's leading stand-alone dental issuers on the public health exchanges of the Affordable Care Act. The new Dentegra dental discount plan will not be an insurance program, but rather a part of Dentegra's new "Smile Club" connecting members to advances in dental health care, pricing transparency, reviews and discounts on dental products and services.
The Kolibree Connected Electric Toothbrush is the first of its kind that offers 3D sensors and real-time interactive feedback to users in an innovative way. The toothbrush includes a free mobile app that keeps people of all ages engaged and motivated to brush better and for longer. Basically, it registers both brushstrokes and location in toothbrushing. A fun way to connect to their phones and mobile devices while improving their brushing techniques, the Kolibree toothbrush will also allow parents to see how well their kids are brushing on a daily basis as well as store the entire family's brushing behavior data on one smart phone. That data can be kept private or users can share that data with their dentist if they choose.


Dentegra's collaboration with Kolibree will give consumers access to the connected electric toothbrush at a significant discount, complete with interactive games. The combination of real-time dental discounts from Dentegra with Kolibree's real-time data on brushing behavior will empower users to take better care of their teeth while changing the traditional paradigm of how people think of dental care.
The announcement marks another step in Dentegra's recent growth and expansion. Last year, Dentegra launched PPO dental insurance plans in 24 public health care exchanges, and this year won approval to enter another 14, with insurance products that give children and families affordable, no-nonsense, easy-to-understand access to dental care.
Dentegra is working to pilot "Dentegra Smile Club," initially in San Francisco, CA, and Austin, TX, starting in Q1 2015.
The Dentegra dentist network - 22,000 strong across the nation and growing – will help Smile Club members obtain discounts on dental care including the cost of cleanings and a significant number of the most common dental care services.
Along with discounts on dental care, members will be able to purchase at a substantial discount the Kolibree Connected Electric Toothbrush, the first of its kind in the world with 3D motion sensors. Members who purchase and use the toothbrush can earn points redeemable for a cleaning and checkup from a Dentegra network dentist once certain milestones are met.
Rewards will be based upon information automatically collected by the Kolibree toothbrush. More details about the pilot discount plan and how it works will be available soon at www.dentegrasmileclub.com. 
January 11, 2015 in America The Free, Client Announcements, On Health, On Technology | Permalink | Comments (0) | TrackBack
April 10, 2014
Kolibree, World's First Connected Electric Toothbrush Now Live For Pre-Orders on Kickstarter
Today, Kolibree, the guys who brought the world's first connected electric toothbrush to market at CES in January, announced that their connected toothbrush is now available for pre-orders on Kickstarter, the renowned crowdfunding platform that allows users to help fund a project or product.
I've been involved in a marketing and communications role and as an advisor since the beginning, so it has been quite a fun ride so far. Since we first showed the prototype in Las Vegas at the beginning of the year, we have received overwhelmingly positive feedback from everyone from mom's who are excited about being able to monitor their kid's brushing for the first time, entrepreneurs who recognize great innovation and existing electric toothbrush users to geeks and developers who are interested in building third party apps to gamify the experience at an even deeper level.
We've come a long way since the beginning and Kolibree's earliest prototype -- it's now time to move this ever so elegant connected toothbrush to the next level!
Funds raised from Kickstarter supporters will be used to manufacture and distribute Kolibree's connected toothbrush, starting with a limited rollout in June and wide distribution worldwide starting in the U.S. and Europe in late Q3/early Q4  2014.
Unlike anything else that exists today, Kolibree's smart, connected toothbrush has a unique technology with sensors to analyze your brushing habits...
Those brushing habits are then displayed on a mobile dashboard you can readily access from your phone or tablet.
You can learn about your brushing behavior from that data to improve your habits over time. By being armed with smart data, you can be more empowered to take better care of your teeth and make future dentist visits less painful and less expensive. Kolibree is particularly useful for parents who want to instill positive brushing habits for their kids as early as possible.
The Kickstarter rewards are being offered at various funding levels. For those who want to be in the first commercial batch, the first 500 funders will be offered a Kolibree toothbrush for only $99, with a price point of $129 for the next 1,000 supporters.
The toothbrush at these price points will come in Feather White and include two brush heads. Supporters who wish to receive a Kolibree toothbrush in their choice of Feather White, Dove Gray, Berry Blue or Cerise Pink can do so for only $149, which will include two brush heads. All orders will receive an induction charging station and the free mobile app, which supports both iPhone and Android smart phones.
In addition, there will be a specific offer for developers for $199 with beta API access and free support and an educational software package for dentists.  
The Kickstarter campaign today, will run through May 23, 2014, has a fundraising target of $70,000. 
Designed for families, the free mobile app works with several toothbrushes so the entire family can participate and all of that data can be monitored in a single profile on one phone. Kolibree rewards your progress, allocating points to kids to encourage them to improve their brushing habits. Games will keep users motivated to improve their brushing habits as well as brush for longer each time.   
Kudos to the entire Kolibree team who are infused with passion and a commitment to getting this right....and it's only just the beginning! 
We welcome feedback and encouragement of course. Most importantly, for the next month, please meander over to the Kickstarter page and support the campaign in any way you can. That includes social media call outs, telling friends, calling your mom, ordering a couple as gifts - you get the idea! Please ACTIVATE and help Kolibree get to market!
April 10, 2014 in America The Free, Client Announcements, On Health, On Innovation, On Mobile & Wireless, On Technology | Permalink | Comments (0) | TrackBack
January 06, 2014
Kolibree Unveils World's First Connected Electric Toothbrush
Kolibree, a company dedicated to innovative solutions to keep you healthy and smart, launched the world's first connected electric toothbrush last night at the large renowned Unveiled Media Event in Las Vegas on the eve of the 2014 International Consumer Electronics Show (CES).  Unlike anything else that exists today, Kolibree's smart toothbrush has a unique technology to analyze your brushing habits and display them on a mobile dashboard you can readily access from your phone.  
Kolibree's connected toothbrush is paired with a mobile app. You simply download the free mobile app, connect via Bluetooth and every brushing is recorded. Then, the data about how you brushed automatically synchronizes to your smartphone telling you whether you brushed long enough and reached the hard-to-reach but important parts of your teeth and gums.
With the Kolibree connected toothbrush and mobile app, you can take control of your health and teeth with easy-to-understand monitoring and scoring. You can easily share your stats with your dentist and family or choose to keep it private. Designed for families, the app works with several toothbrushes so the entire family can participate. Kolibree rewards your progress and cheers you on when you are improving, allocating points to kids to encourage them to improve their brushing habits.
The Problem Kolibree Solves: Your dentist may have told you that plaque and tartar build up can lead to losing your teeth if not monitored and acted upon fast enough. Many people don't realize that poor dental care can also impact the overall care of your health.
While Kolibree does not proclaim to solve periodontal disease or suggest that it can keep cavities or gingivitis at bay, the better you take care of your teeth, the more likely it is that you can and will avoid serious problems.
Before Kolibree, the issue is that there has been no easy and quick way to monitor whether you're doing an A+ job or a C- one when you brush, so how can you improve on a habit you don't have any data about? Kolibree solves that problem, making it easier than ever.
The Kolibree connected toothbrush will be available starting in Q3 2014 but ready for pre-order starting this summer. The price of Kolibree will range from $99 to $199 depending on the model and will include a free mobile app.  
Full Disclosure: I am providing consulting to Kolibree.
January 6, 2014 in America The Free, Client Announcements, Conference Highlights, Events, On Health, On Technology, TravelingGeeks, Web 2.0 | Permalink | Comments (0) | TrackBack