August 21, 2019
Zen 2.0 Brings Connectedness & Compassion to Kamakura Japan
We are excited to team up with Zen 2.0 as a media partner this year. Based in Kamakura Japan, Zen 2.0 is an international conference on Zen and mindfulness that integrates modern wisdom and diversity into Kamakura's history and traditions. The event hopes to create a "soul connection" for what you could call an "awakening."
The event will take place this September 21-22, 2019 at Kencho-ji (venue name) in Kamakura, which is roughly an hour south of Tokyo along the coast. We feel that their vision is very aligned with our own, which is focused on global consciousness, compassion, spiritual learning and mindfulness. Zen 2.0 values compassion so highly that they list it as their first bullet for what they wish attendees to feel at the conference. In the middle of it all, it's about meeting like-minded people who are on a journey to awaken the magic within while having fun in the process.  This Mindful City of Kamakura is surrounded by nature and faces the water, which is nurturing and healing in itself.
Kencho-ji: Over 760 Years Old
The venue this year for Zen 2.0 will be held at Kita-Kamakura's
Kencho-ji
, the head temple of the Kencho-ji branch of the
Rinzai School of Zen
. The first and second Zen 2.0 events have been held at this historic venue that is over 760 years old.  Many visitors to Kencho-ji all agree that it possesses an incredible energy and just by setting foot onto the holy grounds of Kencho-ji can really feel the refreshing atmosphere contained within. 
August 21, 2019 in Conference Highlights, Events, On Japan, On Spirituality, On the Future | Permalink | Comments (0)
August 19, 2019
IONS Annual Conference Brings Together Scientists & Spiritual Seekers Under One Roof
Truth be told, I've known about Petaluma-based IONs (Institute for Noetic Sciences) for awhile now, and have attended some of their smaller workshops and events over the years. That said, we weren't aware of their annual IONS International Conference , now in its 18th year so were thrilled to team up this year as a media partner.  This summer's event which was held from July 18th-21st in Santa Clara, California brought together over 900 scientists, spiritual teachers and consciousness explorers all under one roof for several days of discussions around cutting edge research in consciousness science, personal transformation, and expanded human potential. So, what makes this event so special?
The fact that they can gather so many respected scientists, researchers and business entrepreneurs together to embrace spirituality publicly in a way that is rarely done is astonishing in itself. By embrace, I mean that those in the world of cutting edge science are listening to spiritual teachers and wisdom keepers in a way they haven't in the past and moreso, trying to figure out a way to not only deepen the conversation, but allow both sides an equal seat at the table.
Imagine a world where left and right brain thinkers & teachers can not just converse but understand & respect each other?? Where the mystical and the factual combine energies and create magic?[/caption] Moving away from the "us" (those who need data to be proven in traditional scientific ways for it to be real) and "them" (those who connect to the unseen world without proof and embrace ancient wisdom of top spiritual masters regardless of faith), is the way forward. You see, those who have had a mystical experience have often had more than one and they don't need scientific proof for their experience to be real, valid or self-affirming. Wisdom keepers are those who LIVE a spiritual life and while some have a religion which may be attached to it, more and more, people do not.
For so many, their "religion" may be of an ancient belief system like Buddhism, Hinduism, Judaism, Christianity or Islam but for others who are awakening now, particularly millennials, we are starting to see that their 'faith' if you like or connection is to that of the Earth, the elementals, and rituals which indigenous elders have worked so hard to keep alive for thousands of years. And, for others, it's the stars themselves -- they have an inner knowing that they are part of a greater universal make-up beyond the Earth and even beyond our Galaxy and Universe. This year's theme at IONs was "The Possibility Accelerator: Creating our Future, Now."
What was so beautiful was that science is starting to catch up if you will to some of the profound observations mystics have had for years. And while we heard from some of the scientific and research powerhouses like leading thinker, author and speaker Deepak Chopra, Dr. Daniel J. Siegel, who addressed the perspective of interpersonal Neurobiology. Dan included contemporary insights from the physics of reality and used the Wheel of Awareness to explore these questions and their practical implications.
ION's Chief Scientist Dean Radin (see our interview with him) spoke about some of his latest research findings.
Dean Radin in the media room before our interview.[/caption] We also heard from visionaries like Shamani Jane (CEO of the Consciousness and Healing Initiative (CHI), who also led a pretty interesting interactive embodiment exercise in her breakout session. Julia Mossbridge, Ph.D. spoke on the "Precog Economy," and what we can do to mitigate some of the risks. I've heard Deepak speak a number of times over the years -- in this powerful talk on day one, he spoke about intentions and manifestations. In other words, there are countless ways we make our intentions come true. So true that some people manifest their deepest dreams, wishes and desires while others do not. Deepak Chopra addressed the power of your view of reality (The Nature of Reality) and practical ways to experience transformation and healing in the process.
Above and below: Deepak Chopra on the main stage.
I'm relatively new to Rupert Sheldrake's work, however his name has been coming up quite a bit lately in the context of morphic resonance, a process whereby self-organizing systems inherit a memory from previous similar systems, which essentially means that the so-called laws of nature are more like habits. According to Sheldrake, "the hypothesis of morphic resonance also leads to a radically new interpretation of memory storage in the brain and of biological inheritance. Memory need not be stored in material traces inside brains, which are more like TV receivers than video recorders, tuning into influences from the past)."
This concept apparently lacks mainstream acceptance and has been characterized as pseudoscience however we see it as a reality in our work all the time. Rupert Sheldrake gave a talk on the main stage which addressed the various aspects of spirituality, from mainstream-like things like rituals, meditation and prayer to the impact of nature, flowers, gratitude, pilgrimage and music, which have no specific religious affiliation whatsoever. 
Rupert Shaldrake, Ph.D. covered both Science and Spiritual Practices.  Chris Grosso spoke about what it means to be Perfectly Imperfect. He shared his so called messy story with the audience, including his past addictions and his path to leading a clean and balanced life. Throughout this very tough process, he found healing and love although it wasn't an easy road. He asks: what does it mean to accept yourself fully in all of your perfect imperfection? He spoke of using our own difficult life experiences and tragedies as catalysts towards spiritual awakening through various meditations, creative exercises, compassion practices and more. 
Chris Grosso on Becoming Perfectly Imperfect, Being Okay with it and Finding Healing and Love in the Beautiful Mess of Being Human. Below, Director of Development and Communications Alex Morrison introduced IONs President and Chief Scientist Cassandra Vieten who I've seen speak before and we LOVE her energy!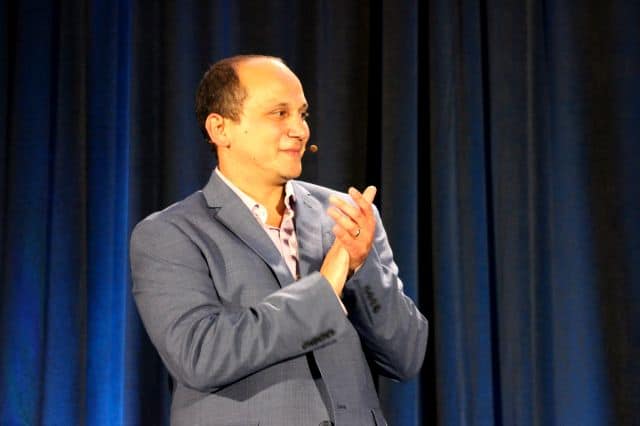 Alex Morrison, Director of Development & Communications at IONs
Cassandra Vieten summarized things beautifully which included interactive breakout sessions with others in the main room.  As a workshop leader and professional trainer, her research has focused on spirituality and health, transformative experiences and practices, development of mindfulness-based interventions for emotional well-being, and enhancing the effectiveness of change agents. Her primary interest lies in how psychology, biology, and spirituality interact to affect experience and behavior.
She wrapped with a question for all of us as a community to ponder: what kind of ecosystem can we create that will support the changes we want to make and the world we want to build? Her assessment included creative ways we can become world builders and change makers together collectively as a community.
Cassandra Vietan, Ph.D. on the main stage![/caption] ION's CEO Claire Lachance also graced us with her beautiful presence on the main stage. Although I didn't get time to connect with Claire for long, I loved watching her navigate the floor before, during and after the event. One thing I noted was how authentic she was when connecting with others, whether they be vendors or complete strangers. Her passion lies in values-driven strategies, organizational sustainability, and servant leadership. The key now is integrating those leading-edge business practices with valuable learnings from science and ancient wisdom traditions. I'm so excited to see what she has in store for IONs in the coming months ahead.
Claire Lachance, ION's CEO on the main stage.
Ervin Laszlo talked about the resurgence of the search for meaning and oneness through social togetherness. This has led to the cultivation of spiritual and transcendental experiences which is helping to restore coherence at a time when the world most needs it. Charles Eisenstein addressed Eco-Healing. He asserts that today's ecological crisis can best be understood as the inevitable terminus of an age-old story of separation. In other words, our separation from Mother Earth -- we love his work. John A. Jowell suggests that "othering" and "belonging" is the problem of the 21st century. He led a keynote address on Friday as the underlying issue we face today is who we are and what our relationship is to the "other."
Rollin McCraty, Ph.D. shared the science of the Gloabal Coherence Initiative, which leverages decades of research at the HeartMath Institute (we're fans!). Rollin talked about the interactions between humanity's energetic field and that of the Earth. If you don't think Gaia has her own consciousness, think again! Roger Nelson, Ph.D. is the Director of the Global Consciousness Project (GCP). His focus is on mental interactions, anomalous information transfer, and effects on physical systems by individuals and groups. He created the GCP in 1997, building a world-spanning random number generator network designed to gather evidence of coalescing global consciousness.  And we loved seeing Yvonne Cagle on the agenda. I first met her when I was involved with the Singularity University team many years ago. 
"We are Stardust." -- Edgar Mitchell, Founder of IONS
Yvonne was part of an Astrophysics Meets Theology Panel on Thursday evening together with Brian G. Keating, PhD. & Professor of Physics, Ginny Whitelaw, Ph.D. (and Zen Master), Luxas Mix, Ph.D. Priest & Researcher, H. Bruce McEver, MBA and Bruce Damer, Ph.D., Scientist, Designer & Author. The panel kicked off with a reference to a quote that IONS founder Edgar Mitchell was known to say: "we are stardust." The dialogue built bridges between these two arenas of exploration and how spirituality and astrophysics are not mutually exclusive but are complementary to and inform one another.
Amber Seitz, Bruce Damer, Renee Blodgett at IONs Conference Reception[/caption] We also loved the humor and authenticity of Frederick Chavalit Tsao, MS who came over from China. His talk was on Pioneering the Oneness Worldview in China and Beyond. He founded the SANGHA Retreat by OCTAVE Institute, he is creating opportunities for societal healing in China in a unique way and a festival is tied to it (its coming up in November 2019 in Shanghai). In an effort to foster harmonious communities, Fred shared his own story, one which reflects his belief that worldviews can essentially shift when people have the opportunity to be more mindful about the way they live, lead and gather together as a community. 
Chatting with Fred Chavalit Tsao at his book signing!
Inner Knowing From the Heart: Compassion, Forgiveness & Love
There were also plenty of voices from the other side. IONs board member Azim Khamisa has his own personal story and journey, which some of you may have heard as it hit national news in the states. Hailed by dignitaries such as the Dalai Llama, Bill Clinton and Al Gore, Azim delivers his inspirational message to a world in desperate need of forgiveness, peace and hope. Following the murder of his only son Tariq in 1995 through a senseless, gang-related incident, Azim chose the path of forgiveness and compassion rather than revenge, and this amazing choice led to the establishment of the Tariq Khamisa Foundation (TKF) and the subsequent forgiveness movement which has reached millions. 
IONs Boad Vice Chair Azim Khamisa led the NextGen Consciousness in Action Awards[/caption] Azim Khamisa presented the NextGen Consciousness in Action Awards to Lyla June, Jewel Love and Sarah Peck. Lyla is a poet, musician, anthropologist, educator, public speaker and community organizer of Dine, Cheyenne and European lineages. She also performs poetry, hip-hop, acoustic music and other performances. Jewel is a licensed psychotherapist and CEO of Black Executive Men, which is focused on wellness. His work helps black men in corporate America find inner peace through psychotherapy and other programs, including his work at Urban Healers, which aims to promote healthy masculinity through modern ceremonies and rituals. And, Sarah Peck has been leading spirit, mind and body programs at Teachers College, Columbia University for a decade, which includes her dissertation work working with spiritual healers and clients with serious illnesses.
Azim Khamisa  with Lyla June, Jewel Love and Sarah Peck.
Lyla Love really moved me with her talk on stage, addressing the importance of all of us reconnecting with the Earth and the ancient wisdom of our ancestors. She played the drum and sang an indigenous song from her own lineage, which is included in our wrap up video below. 
Lyla June on the main stage speaks out and sings an indigenous song/chant with drumming, which I couldn't help but get up and dance to (so inspiring!!!)[/caption] It wasn't until Lyla was on stage that I learned that she was the daughter of Pat McCabe, who is such an inspirational individual and speaker. Her talk was called Recognizing Our Perfect Design for Thriving Life. In other words, as cracks in foundational beliefs (we all have our own) begin to appear, as imposed knowledge gives way to inner knowing, we are in a perfect position to reconsider aspects of our design for a thriving life.
Who are we, she asks? And, how are we all related? She took an indigenous perspective to hit home her message and to allow us ever so gently to dive deep within ourselves where the best answers always lie. For within ourselves, we can tap into our Higher Self, which is indeed connected to the wisdom of our ancestors. All of our ancestors at one time or another were deeply connected to the Earth and the wisdom that lies within the consciousness of Gaia -- perhaps when we do feel lost or disconnected, it's because we've abandoned the inner knowledge we already have and our ancestors already passed on. This is a message which not only hits home with us in our work but one we share often as a powerful way to heal and renew our souls.
Pat McCabe, an inspiration for all of us: The Thriving Life Paradigm.
I missed the pre-conference workshop with Susan Mokelke, JD although would have loved to hear her take on Shamanic Journeying. In her workshop which focused on a Pathway to Another Reality, she asserts that the Shamanic Journey is one of the more visionary methods to explore the hidden universe otherwise known mainly through myth and dream. She used drumming in her workshop to help alter consciousness and awaken one's soul and dormant spiritual power, not unlike what we do in our own work -- so powerful! We love her work. ne of my favorite speakers Deborah Johnson brought the house down as she gave a captivating talk on the main stage about what it means to be human, what it means to show up, what it means to be spiritual, what it means to embrace the other, what it means to make a difference. She spoke of polarities (as in polar opposites, saying that you care and want to make a change to help humanity but then voting for something that hurts humanity)
Deborah Johnson gets a standing ovation at the IONs Conference[/caption] And, although I unfortunately missed the sessions with Jill Purce and Luisah Teish, Jill liberated the audience through the ecstasy of chant (we've been listening to her work all week) and Luisah spoke of the power of art, storytelling, ritual and folklore. So up our alley, she talked about the personality of the Moon (it does have one for those who doubt it) and her relationship to the Sun and Ocean -- SO love this. Attendees were able to perform an African Moon Ritual and produce a 'work-of-art' in honor of the Moon. Here are some shots of the event, which I would refer to as the "in between stuff," which is as powerful as the content itself. IONS attracts some of the most interesting attendees, so you'll find yourself in equally fascinating conversations in the hallways, at lunch and in between sessions. 
Dedicated to happiness and joy
A Japanese group we met who are working on innovative and conscious technology
A creative wall of leaves and birds -- attendees could add their own magic to the wall
Vendors were very diverse, from meditation best practices and centers dedicated to mindfulness to medical and holistic practitioners and companies -- Biofield Anatomy, which is the significance of energetic imbalances.
At our booth at this year's IONS -- above and below 
Playing around at other people's booths. Space Less Traveled: Documentary About Edgar Mitchell.
Attendees having lunch outside at this year's IONS
At the IONS Booth
The Awakened Futures Summit (Consciousness Hacking): Where Psychedelics Meets Technology
Creative energy at its best: IONS 2019
Cassandra Vieten, Ph.D. on the Ecosystem of Change: Creating our Future, Now
In the hallways -- they also had a bookstore set up so you could purchase speakers books as well as others. They had a book signing area as well for those wishing to ask speakers questions and have them autograph books.
Breakout Rooms at IONS 2019
Panel Discussions at IONS 2019
Magic Moments at IONS 2019
The main stage at IONS 2019
Joyful & Transformative Moments at IONS 2019
Speaker Bruce Damer at IONS 2019 at the final reception 
Above & Below, Performers on the main stage at IONS 2019
Experiential in Motion
They also had something they call poster sessions. Noetic researchers, scholars, community leaders and enthusiasts presented posters on their projects and passions. The poster sessions provided unique opportunities for attendees to connect with one another and discuss exciting projects where they may have shared interest.
A few of them included: Water: Fractal Antenna of Information with Denise Barrett, Why It's Important to Know Why We're Here with Annette Cravera Goggio, the ability to couple our position space with K space to allow us to imprint our intention with Allison Gillott, Aquarian Theosophy with Eric L. Lundgaard and the Integration of the Four Pillars of PSI Research with Marilyn Stickle. Other topics included Subjective Temporal Dynamics, the Pancea Theory, Sound Reiki, Thermodynamics and Metabolism, New Scientific Paradigms Meets new Non-Materalist Paradigms and more. We even saw a fun spoon bending experiment, which isn't new, but it's always fun to go through.
Photo credits, above and below: Zenka
Spoon Bending in action - oh so fun! Credit: Zenka
Exhibitors & Vendors
Some of the great exhibitors and vendors at this year's event included John F. Kennedy University, New Harbinger Publications, Unity International, Integral Transformative Practice, The Monroe Institute, Consciousness Hacking, River of Light Massage & Healing Arts, Biofield Tuning, Radiant Health/Network Spinal, The Extraordinary Project, DreamBuilder LIVE, Zero Balancing Touch Foundation, Biofield Healing Institute (fascinating stuff), Human 2.0 (we love what these guys are doing), IONS, LightHaus, Lucia N 03 Light Experience and the Space Less Traveled: Documentary About Edgar Mitchell.
People traveled from around the world, including: Canada, the United Kingdom, Belgium, Australia, Spain, Singapore, Japan, Israel, Switzerland, Portugal, Germany, Mauritius, Austria, United Arab Emirates, Thailand, Taiwan, Mexico, Hong Kong, Greece, Estonia, Czech Republic, Brazil, Sweden, South Africa, New Zealand, Italy, France, Costa Rica, and China.  Whoah, what a list, right? They had nearly 850 people attend this year, over 70 conference presenters and 23 exhibitors. Interested in learning more about IONs and their vision? For centuries, the power of science has propelled us forward. It has unlocked the mysteries of the natural world and driven human innovation. Robust scientific inquiry serves as the basis for progress by providing a sturdy, objective foundation on which to build. 
At IONS, they are inspired by the power of science to explain phenomena not previously understood, harnessing the best of the rational mind to make advances that further our knowledge and enhance our human experience. And, they're helping to get both sides together in a public forum, thereby giving credibility to both. The goal? To create a more compassionate and sustainable world, one which empowers and supports all aspects of humanity, not just the privileged, educated and traditional leadership.
"The mission of IONS is to reveal the interconnected nature of reality through scientific exploration and personal discovery, creating a more compassionate, thriving, and sustainable world." 
Here's a fun video summary we took of the event this year. Enjoy! Would we team up again? You betcha. It was our first, but hopefully not the last. We love that the event bridges the gap between Science and Technology and the world of Spirituality & Mystics. They allow a platform and space where both sides can come together to discuss cutting edge breakthroughs, research and more.
August 19, 2019 in Conference Highlights, Events, On Innovation, On Science, On Spirituality, On Technology, On the Future, Videos | Permalink | Comments (0)
January 14, 2017
Lifestyle, Technology, Home & Health: My Top Picks from CES 2017
Let's face it --- the annual
Consumer Electronics Show (CES)
which is held every year in Las Vegas, can be a dizzying experience. I've been going for about 25 years, almost always repping a product and sometimes more than one, from kids education software and the world's best speech recognition system in my younger days to a myriad of startup innovations ever since. I tend to find the product recaps predominantly male; in other words, most of the top picks tend to center around early adopter products and they tend to fall in the following categories: video, cars, audio, and big screen TV's. While these categories impact all of us, especially car technology, I tend to look at unique designs, products and services which also appeal to women and solutions that help travelers on the road, either be more productive, or have more fun. I've curated a list of 25 products in several categories and some of the factors that I looked at when making the cut include originality, innovation, design, and whether it is or can look at the bigger picture and solve a need beyond what it is doing today. I include wellness, because that matters to me a lot, so much so that we've expanded the
Wellness category
. In this piece, you'll find the following: Toyota's futuristic car that thinks for you, the easiest to learn electronic guitar you'll ever use, a smart suitcase cover, a smart bed, a personal connected wine bar, a companion robot, the world's smartest air purifier, a fashionable wrist wearable that pairs with headphones, vibrating jeans and swim suits that alert you when to apply more sunscreen, a stylish panoramic camera with 17 lenses, smart dumbbells, a smart skateboard, the world's first electric violin made from a 3D printer, a genetic measuring kit, a smart assistant, a Titanium folding bike, a wireless speaker with a wool covering to integrate with your living room, a wireless antenna so you can cut those ties to Comcast and others, intelligent thermal clothing, a device that helps women increase their readiness and interest in sex, an AI-based smart home hub, a voice operated kitchen assistant, a pocket flying camera that all travelers will love and smart aromatherapy to improve your well-being. I also shot
some video of this year's CES
, which runs around five minutes but it includes product shots and some on-site experiences, so be sure
to tune in
.
The Toyota Concept-i
Cars are always fun to see at CES since it allows you to get away from large TV screens, audio and video devices, and in this year's case, Virtual Reality and Connected Home promised life changing innovations
everywhere
. The new
Toyota Concept-i
is focused on utilitarian autonomous transport. This car is so futuristic looking that it may be hard to imagine driving, at least if you're a woman that is. It has scissor doors and edgy styling and while it's not available to purchase just yet, it is setting the bar for other manufacturers to meet in this category.
The guys at
Calty Design Research
center have dreamed up a new concept of automotive UX for Toyota -- intelligent cars that continually learn, and, in turn, keep getting smarter. They idea was to build a brilliant car that gets to know you and your needs, and then starts to anticipate them for you. Yui, in tandem with Artificial Intelligence (AI), anticipates your needs and informs the car so that Concept-i can consider and execute that next action accordingly.
It may sound all too futuristic, right? The key is that you're still in charge of the car however, through biometric sensors throughout the car, Concept-i can detect what you're feeling. That information then gets analyzed by the car's AI after which, automated features kick in. If you're feeling sad, the AI will analyze your emotion, make a recommendation and if necessary, take over and drive you safely to your destination. Yes, really! One of these days, it would be great to test drive this sleek device -- in the meantime, she's beautiful to look at for those into modern and future design.
D-Vine Connect, Your Personal Connected Wine Bar
At the Sands in Eureka Park, it seemed as if French startups were dominating the aisles. You couldn't turn around and not hear a French accent or French being spoke. Enter French start-up who apparently launched at last CES but came back with more innovation. Keurig for wine on steroids and beyond? Sort of. Their
D-Vine Connect
is a 10-Vins' wine-centric appliance, which allows you to taste a whole lotta wine at home without having to head to a restaurant or a vineyard. Given that we're big foodies here at We Blog the World and have a whole section dedicated to
Food/Wine
and
Restaurant Reviews
, we love this innovation. Their product features an interactive built-in touchscreen, which allows you to get top notch information instantly, kinda like having your own sommelier in your own kitchen. Imagine having wine transform into even better wine immediately. In other words, it actually changes the QUALITY of the wine. Additionally, D-Vine Connect helps you pair wine as well. For example, say you'd like to grill a steak with a salad and string beans for dinner. Or alternatively, you're in the mood for a smooth Cabernet Sauvignon or a Chardonnay -- D-Vine Connect will deliver suggestions on dishes, food pairings and so on that will go best with your preferred wine for the evening. This can be incredibly useful when you have guests over or simply don't want to think about it. Given my background in Artificial Intelligence (AI), I was impressed by the AI integration. Yes, this machine learns your tastes over time, so it can even make recommendations to you in the future based on your preferences. Simple, easy and oh so wonderful for wine lovers like me. Bravo! We liked the user interface as well, which makes it easy for anyone to browse through a myriad of wines and learn in the process. It's great for discovery and for making meals that much better.
We also love the fact that the D-Vine Connect sets the right temperature for each chosen wine. The machine decants it for you from a dispenser after you make a selection and approve, automatically. Their assistant plays movies with views of the vineyards and explanations from 10-Vins' oenologist about the wine you're tasting -- how cool is that? Apparently, it will also analyze data on wine consumption and share it with the wine industry. The D-Vine will be shipping later this year and apparently is planning to open a wine lounge bar in California before the end of the year - we hope that they let us know when they launch this so we can check it out.
Sleep Number 360 Bed
While we're talking lifestyle and home, we should also mention the
Sleep Number 360 Bed
, which was getting a bit of attention at the show. Imagine being tired after a long day and you're ready to head to bed, but before you do, the Sleep Number 360 automates a process that will keep you toasty warm before you dive under the sheets. Yes, really. The bed will heat up the foot of the bed, which is such a great feature for those who live in cold climates -- oh so lovely right?
Photo: BusinessInsider
What else is cool is that the bed also adjusts the actual angle as well as the firmness of the mattress as the user moves in his or her sleep, making it a more comfortable and relaxing sleep overall. For example, if you move from your back to your side, it will adjust accordingly. And, this feature will be a godsend for so many -- et hem, but can it work? I call it the Reduce Snoring Feature. In other words, if it senses you or your partner snoring, it will automatically adjust one of the individual headrests to make it stop. Wow, right? Could potentially save a lot of marriages. The bed also has a feature that will alert you to wake up, adjusting your alarm to your own preferences. The Sleep Number 360 smart bed uses SleepIQ technology and intelligent biometrics to sense everything you need so it can customize a sleep experience for you. Yup, the bed is kinda like a smart bed in that it knows how you're sleeping and comes with a mobile app so you can track it. In the morning, you'll both learn how the Sleep Number 360 smart bed is adjusting to your individual comfort and the effects the bed has on your sleep quality through something they refer to as a SleepIQ score.
While it's not yet customizable, they say it will be soon, which means great branding opportunities for your company or personal brand. Very easy to use, the cover goes on and comes off in about 30 seconds. The suitcase cover made of polyester and Spandex and are printed using a sublimation printing technology, a process whereby the ink is "transferred by evaporation" in the tissue (sublimate). Using this technique, even the smallest details can be printed apparently and the colors are not affected by washing nor can they disappear. The price is right too! Offered at around 45 pounds (American pricing hasn't been finalized but will be roughly in the same range), it includes the cover, a traceability system and insurance in case the bag is lost. Bravo! We can't wait to test them out on an upcoming trip.
My Buddy Robot
This adorable robot is being pimped as the Companion Robot, a new innovation from San Francisco and Paris-based Blue Frog Robotics.
My Buddy Robot
has a number of fun and useful features that enhance your home, making it smarter I suppose one could say. On the edutainment side, you can participate in interactive games, math and language learning, which is great if you have kids of the right age. There's also a security component as well. You can use My Buddy to patrol, detect, alert and notify you remotely of any issues at home, including a potential burglar. It can also act as a smart baby monitor, another great family feature in a device that does look like a friendly
'companion.'
He's adorable right? On the smart home side, My Buddy can act as a hub and connector to IoT and home automation appliances -- think thermostat, smart TV, door locks, motorized curtains, lights, a HiFi station and more. You may not want to enable all of those features depending on your needs and interests, but from climate control to the kitchen, there are useful benefits. Imagine it also acting as a photographer, a concierge, a messenger of daily weather, news, recipes and more.
I also think the elder care piece of it is also a wonderful feature. For example, you can use the robot to detect any falls from an aging parent, and it can maintain social links as well as act as an agenda posology. Cool stuff and.....the design is incredible cute. See a few second video clip of him buzzing around in Vegas in early January.
Helix Cuff
They were pitching the
Helix Cuff
as the world's first fashion wearable with smart wireless headphones -- on your wrist.
Helix Cuff
is the flagship product of
Ashley Chloe
, which caters to fashion-forward consumers who crave sleek digital wearables that are modern and elegant. Helix Cuff aims to bridge the gap between high fashion and functional form, they say. It comes in six fun colors and is paired with a smart app.
Magic Instruments Guitar
I don't know about you, but I've always wanted to learn how to play guitar. I started playing piano at age 5, have long loved dance and taken many a' lesson over the years, but after two guitar lessons, I gave up. Why? It seemed like it would take years before I could get to a comfort level of playing in front of a crowd, or even for myself. Learning traditional guitar is a lengthy endeavor and it can take months of finger-aching practice before the first song comes together.I love the approach Magic Instruments is taking and at CES this year, they allowed people to 'give it a go' in real time so you could see just how easy it is to learn with their electric guitar. Did I try it out? You betcha and had a blast in the process. You can play your favorite songs immediately while simultaneously practicing and learning traditional guitar skills. You won't even realize how quickly you're picking it up -- while the video of me learning may seem as if I clearly don't know how to play guitar, bear in mind that after just a few minutes, I'm already strumming some cords and you can in fact make out that we are attempting 99 Balloons. I simply followed an easy mobile app which guides you from playing a song with one-touch Magic Chords to playing traditional guitar chord fingerings, one chord at a time. Once you've learned them all (I didn't get that far btw), you can switch to Traditional Mode, and play it as a normal guitar. A cool feature for travelers? The guitar comes apart so it's easy to store and throw in a carry on bag when you need to get from A to B. We LOVE LOVE LOVE this!
If you love to sing,
Magic Instruments
elevates your talent by providing you with the power and freedom to accompany yourself. I somehow found myself singing on the Sands show floor ignoring who was watching, simply because I was 'so into the learning process.' Why? Because it was so easy and so much fun. Whether you want to personalize your favorite songs, or create your own original music, the guitar contains an encyclopedia of chords and scales in every key, all instantly available at your fingertips. Since I didn't have enough time to fully go through the process, we're keen on reviewing this fabulous musical device sometime this year, so we'll be covering it in more depth a little later on -- be sure to watch out for it. So far, I'm a huge fan though, so bravo to the team for making learning both easy and fun.
Spinali Design Clothing
Spinali Design produces smart clothes which are designed to integrate with your smartphone with a goal of helping to fight the "burnout" factor in your life. French designed and owned, they manufacture smart clothes (they had their jeans and swim suits at CES) and smart accessories. Their "smart bikini" line
Neviano
, embeds a device that alerts you when to apply more sunscreen. Cool, right?
A range of 70 swimsuits numbered from 01 to 06 (from the most covering to the least covering), combine design, sensuality, innovation and technology. The Neviano UV Protect has "suntanning tips" and as noted above, a "sunscreen alert", which integrates the function "Valentine" which makes sure you apply more sunscreen when necessary. The Neviano UV Protect also manages the UV index, the Distance function and the Multisensor function.
Their vibrating jeans (yes, really -- and we hope to review them soon) comes with two vibrating sensors on the belt which is connected to your smartphone via Bluetooth. The geo-location feature allows you to make it easier to find your car or your meeting place. A feature called "Ping" will allow people to interact with their surroundings through a vibration that can be customized by duration, frequency and intensity. They tout this feature for those who want to discreetly attract someone's attention, for people communicating in open offices, or for students. The system can also be programmed to inform you if you are running late. With its integrated push button, this smart clothing has a variety of uses, from security alerts, home support, geo-location of your children, isolated workers, and more.
The Hair Coach by Kerastase
You'd expect a hair coach product to come out of a French company wouldn't you? Powered by Withings, I had a chance to see the new hair coach at CES in early January. Totally personalized, they tout this as the world's first smart hairbrush that empowers you to track and improve hair health over time. This product results from a collaboration between
Kérastase, L'Oréal
and
Withings
, which brings state of the art sensors and app connectivity to everyday products. The resulting innovation is a brush that syncs seamlessly to your smartphone to provide valuable insights that can help revolutionize the home beauty routine. I had a chance to chat with someone about their new innovation in their booth, so while the sound isn't great,
my short video will give you an idea of the jist of it from a spokesperson at the show.
You simply brush and the technology does the rest. For dry hair, you can follow hair elasticity to learn how to avoid dry hair and measure your cuticle damage to help ensure moisture retention. It also helps with breakage and the ability to optimize sebum distribution to avoid tangles. The smart app will measure all of this and provide insight into how to avoid damaging hair. I love this since this so called gesture analysis helps you understand and improve brushing habits. The handle is sleek and lightweight and boasts high density of professional-grade boar and nylon bristles and the brush seamlessly integrates with a mobile app. The brush detects when it is being used and begins data collection automatically. As soon as you complete your brushing session, all data will be sent automatically to your phone via Bluetooth or Wi-Fi. They tell me it should be available sometime in Q3 of this year.
STARO: Panoramic Camera
I love the design of this very cool panoramic camera,
STARO
, not yet out and only shown as a prototype, at least that was my understanding. This 360 panoramic camera claims to have the highest resolution at 136 mp which avid travelers will love. It's also small,easy to pack and beautiful to look at as well. Of course, I only saw it at their booth so didn't have a chance to test it out though we'd love to sometime this year on a trip where we can catch the best drama of course. The stitching of photos is decent but may require software to make it all come together.
See a sample shot of the Great Wall below, where you can see that the camera was able to capture most of the highlight detail in the clouds, while also showing detail in the wall itself. As noted above, the camera has quite a few lenses -- 17 in total (multi-lense simultanous imaging), which makes shooting sports easy. All lenses can simultaneously photograph and stitch 17 photos into a single panoramic photo with 136 million pixels.
They also boast one touch shoots, all of which can be managed within the Staro mobile app. Three photos in different EV levels automatically do HDR-merge, which is what provides the higher dynamic range they tout as a notable feature. Auto 3D modeling makes scene roaming more fluent and smooth and it is compatible with computers/tablets/smartphones and VR equipment. They offer wifi synchronization as well which makes it easy for travelers on the road to post to social media and share with friends/family at home. Total weight is sweet at only .4 pounds.
This is a standalone device that can supplement other camera devices you may already be using, unlike the Insta360 Nano which I reviewed recently and included in both our Holiday Gift Guide as well as my top picks for 2016. The Insta360 Nano churns out a few different 360 effects and note that the below shot was a selfie I took from inside a balloon on my most recent trip to the Dominican Republic. Here's another shot taken on a boat from the same trip.
Helko's Smart Dumbbells
Since we're huge fans of wellness and holistic lifestyles here, I was drawn to the smart dumbbells at the show, which bring games to fitness from Helko. It seems to be early days from these guys so I don't have a lot of details on the product itself, except that its goal is to combine universal fitness equipment with multi-functionality of a biotracker and gamepad. These dumbbells are most definitely futuristic in every way with a modern sleek design that is sure to attract women and hipster millennials. They weave games and entertainment together to motivate your workouts -- cool idea and I'm looking forward to hearing more as they get closer to shipping.
SPECTRA: Most Portable & Intelligent Personal Vehicle
While we're talking about transportation, let's visit something smaller but also elegantly looking. Enter the SPECTRA, the most portable and intelligent personal vehicle. Like the Segway, you need to be aware of your posture and stance but it has a lot of great features to help you along the way. Unlike the Segway, it's portable, electric and they say, you're up and running after only five or so minutes of learning.
While this may be a little male dominated (it seems to be a theme for my post, right?), I love what these guys are doing. As a kid, I was a big skateboarder, so this chic innovation really resonated with me. As someone who has always had good balance, the Segway was a natural for me the moment I stepped on one so the SPECTRA in a natural progression, only smaller and cheaper.
Its length is around 19.4 inches, its range can go 11.2 miles at a 12.5 mile (top speed) and it only weighs in at around 12 pounds -- there are heavier laptops than this if you get all of the bells and whistles. The device boasts a 2D posture sensing module which has a series of pressure sensors and an intelligent algorithm, meaning you can control it simply by shifting your weight. Even though I gravitated to it because I'm a former skateboarder, you don't need any skateboarding experience to be able to use it -- they're designing this for everyone.
With the same stable structure as a skateboard, SPECTRA is mechanically robust (they say) and adaptive to all kinds of commuting needs. With the dual-hubmotor design in the front, it has the ability to climb up a 20 degree ramp and recharge when decelerating or going down ramp (nice feature!!). It comes with an app, which has a speed mode selection, digital control keys, a battery status and odometer screen, lock mode and sharing economy feature and a path post and SNS. There's also flashing brake lights in both the front and the back and in addition to the brakes on the bub motors, SPECTRA has dual protection with its extra electromagnetic drums. The company is Walnutt Technology and they're planning to do a Kickstarter campaign this spring, with shipping planned for sometime in the late spring or early summer.
Varius, World's First Electronic Violin (from 3D Printing)
3D printing is growing in popularity and is becoming more known among the masses. There seems to be no shortage of new products that can be created from a 3D printer, but an instrument? If you're a serious music guru regardless of what instrument you play (or teach), you may have a hard time thinking that an instrument created through a printer can deliver the same quality of sound as a traditional one. This will largely be a personal opinion of course, but the bottom line is that a 3D printed violin is now possible. Varius claims they're first to market with a 3D printed concert electric violin. Have a listen to a very short video I shot on the CES show floor of someone actually playing it.
Printed as a single piece, the 3D Varius violin departs from traditional musical instrument production technology. This particularity ensures a perfect accuracy of the audio spectrum and a total respect of the musician's emotion, they say. It was designed to facilitate the transition for all violinists from a classical violin to the 3Dvarius. Its dimensions can be customized and adapted to any morphology. The instrument was also designed to offer a maximal playing comfort as the weight distribution was optimized to re-create the comfort of a classical violin. Its sound sensors, located under each string, were carefully selected to accurately translate the sound frequencies.
ORIG2N
Join the genetic movement if you haven't already. I love this stuff -- bottom line, the more you know about your personal temple, the more proactive you can be to take better care of it. A very cool genetic assessment kit by Orig2n measures a bunch of things, including food sensitivities, fitcode (exercise, recovery, endurance, etc), your skin and whether you have genes or not for super strength, speed or intelligence (yes, really!).
I actually did this test with their team on the show floor so am still waiting for my results and whether I'm a SUPER WOMAN or not. It's a simple and quick process that merely requires you to take a swap of the inside of your cheeks (left and right) and send it in. Genetic assessments can empower you with information about your body so you can make more informed decisions about your fitness, diet and skin health. The company behind this cool test is ORIG3N, which is involved in stem cell research and regenerative medicine and apparently has established the world's largest cell repository in the world - how cool is that?
Based in my former hood and stomping ground -- Boston -- these guys are at the forefront of genetic testing in ways that can directly help consumers. After I get my results back in a month or so, I'll post an update on my experience including using their app.
Lenovo's Alexa Smart Assistant
Truth be told, I'm a Lenovo fan and no, I am not a Lenovo ambassador nor have they ever been a client. I've owned a few of their laptops over the years and long for one today after several years of glitches with my MacBook Pro. I don't want to hear it from Mac fan boys -- there are issues despite your love with the simplicity and beauty of a Mac's design and I don't just mean compatibility ones. The Lenovo at CES I'm referring to is not one of their latest laptops however but a speaker...something they refer to as the
Alex Smart Assistant,
which many in the press room compared to the Amazon Echo although it's a tad cheaper. They call it a smart speaker (of course it has to be smart given the trend at CES in the last couple of years) and it employs Amazon Alexa. The speaker is available in two models and a variety of colors. I cringed when I saw a male writer talk about how he gravitated toward the black edition, which apparently sports Harman Kardon speakers.
If you read WBTW often enough, you know that I applaud vendors who think about women buyers and offer a variety of fun colors and I don't mean masculine red, orange and bright blue. Lenovo gives us choices in elegant soft colors - bravo!! I've yet to test them out and would love to review a set, so check back for more when we get our paws on a pair. The basic Lenovo Smart Assistant is priced at only around $129. The Amazon Echo has 7 microphones whereas the Alexa has 8so in addition to their beautiful design, the sound should be top notch as well. The more advanced version (aka the Harman Kardon edition) delivers even better audio apparently.
Seattle Cycles' Titanium Folding Bike
This beautiful prize isn't an option for those on a budget. Starting at around $10K, the gorgeous titanium folding bike on the CES show floor was a stunner.
Seattle Cycles
tout their latest as the worlds lightest e-bike -- it folds up, is airline 'legal at only 16 inches and weighs about 18 pounds.
Designed for taking on travels by plane, boat or train, the Burke 20 can be folded and packed into a 28"x22"x12" suitcase in one minute, without disassembly of wheels, handlebar or use of tools. Unfolded, the 20-inch wheels, wide gear range, and a full titanium frame with an extended cockpit give a fast and reassuring ride. It apparently 'fits' like a full-size bike, has adjustable seatpots and handlebars and will work well for any rider from 5' tall to 6'+. It has a leather saddle, foam grip and MKS pedals. They may be targeting men, but I love the design and let's just say, wish I had one in my garage.
Photo credit: Seattle-Cycles.
Beoplay M5 Speaker
Not quite as attractive as the
Alexa Smart Assistant
, but a speaker that touts itself as a piece of furniture, the
Beoplay M5
is a wireless connected speaker that can function as a standalone or be connected to other speakers across multiple rooms. It is covered in wool so I applaud them for getting away from ugly black and gray, and the material is soft, covering is soft and can integrate well into a living room.
Photo: BeoPlay
Beoplay's music systems and speakers feature the
Bang & Olufsen Signature Sound
, sound which they say is honest, clean and with passion. We haven't tested these out yet either, but hope to sometime this year, so stay tuned. All their products are made from premium crafted materials and offer a palette of colors and placement options to match your style and interior. (YAY -- thanks guys!) For technical geeks, you may want to know that it's actually Bang & Olufsen's sub-brand which is a bit more affordable than some of their higher end solutions. To get your music music to the Beoplay M5, simply connect via Bluetooth, Chromecast, AirPlay, Spotify Connect, or Bang & Olufsen's Beolink Multiroom. It seems like this is going head-to-head (so to speak) with the Sonos Play:5, however unlike the Sonos, you don't need a dedicated app. With the M5, you can play it all via a regular Bluetooth speaker. Many of us want the ability to have Spotify et al to deliver music directly and have a little more flexibility and freedom for how we use the device. The cost is around $599.
The Mohu AirWave Wireless Antenna
Let's be honest, I HATE dealing with Comcast and am not alone. We've all been at dinner parties or networking events where there's a hate fest discussion over Comcast and it doesn't seem to be any easier to cut ties with them -- believe me, I tried. The last time I called to nuke my TV to bring my cost down and just use them for wifi access, it cost more, a way to keep you tethered to their God awful expensive plans. Also shown at CES, the
Mohu AirWave
wireless antenna can go anywhere in your house, and I have to admit, I love the fact that you can avoid those ugly wires which none of my engineer friends seem to mind. This flexible feature allows for optimal positioning, so you can access live, local broadcast channels onto your Fire TV, Apple TV, Android, iOS, Roku, and more. They tout this as the industry's first-of-its-kind wireless over-the-air (OTA) and over-the-top (OTT) device that integrates live, local broadcast TV with free streaming channels across popular streaming devices as noted above. It is really dedicated to people like me who are looking for smart and creative ways to CUT THOSE CABLE CORDS for good. AirWave was built to give cord cutters open, simple and complete wireless access to the live TV and streaming content they enjoy, all in one place and with no monthly fees.
Photo: Mohu
AirWave wirelessly connects to the Mohu TV application (available for free across all compatible devices), so you can channel up and down through live broadcast content and free streaming content in a familiar, cable-like TV guide. You'll be able to view streaming video in a cable-like program guide, complete with program descriptions and select your favorite channels, while also being able to view up to 14 days of upcoming content. You can set up AirWave anywhere in a home where there is an Internet connection and the price point is sweet at only $149. (available this spring). Bravo!! We can't wait to test this out -- if it works, I'll be their loudest voice and biggest fan!
Sprimo, World's Smartest Air Purifier
Let's face it -- indoor
Air Pollution
is dangerous and climbing at alarming rates. Air pollution in general rise worldwide, killing more than 3.3 million and one study says it could double by 2050. Given that we spend nearly 90% of our time indoors (some research says more) and indoor air pollution is slated to be from 3 to 10 times worse than outdoor air pollution, it's no wonder that that cases of Asthma and Allergies are climbing and at an all-time high. If you think that all the places where you or your kids spend time is at safe levels, think again. Studies show that
50%
of America's schools have
problems linked to indoor air quality
and an issue in 6 out of 10 homes worldwide. Purer air is said to improve kid's productivity and results at school. Bottom line, what we breathe in day after day, can impact the quality of our sleep, energy levels and even life span. Enter
Sprimo
, the
"go-to"
product for people who want the best quality air in the personal spaces they work, play or sleep. Unlike traditional air purifiers that focus on large square footage areas to measure success, Sprimo
is aimed at improving the quality of life through bursts of clear air instantly. Sprimo's small, lightweight and nearly silent air purifier is smart and adapts based on people's issues, from chemicals and dust to seasonal allergens.
Anyone who suffers from allergies can benefit from Sprimo as well as those at higher risks, such as children and the aging. The purifier's low entrainment air flow works as a shield to block contact by reducing the chance of you breathing an airborne virus by up to 60%. Sprimo's new Personal Air Module (PAM) and cloud-based mobile app delivers real-time data on air quality via your smart phone so you can be alerted wherever you may be. Simply plug it into your iPhone and you're good to go – you'll be alerted whether you're breathing in poor quality air or not. They'll be taking pre-orders starting in March and Sprimo will ship sometime in Q4. See a
video of me at their booth
- note that the steam you see was made possible by cold ice and merely for the purpose of seeing roughly how large the clean air blanket is around you when using Sprimo.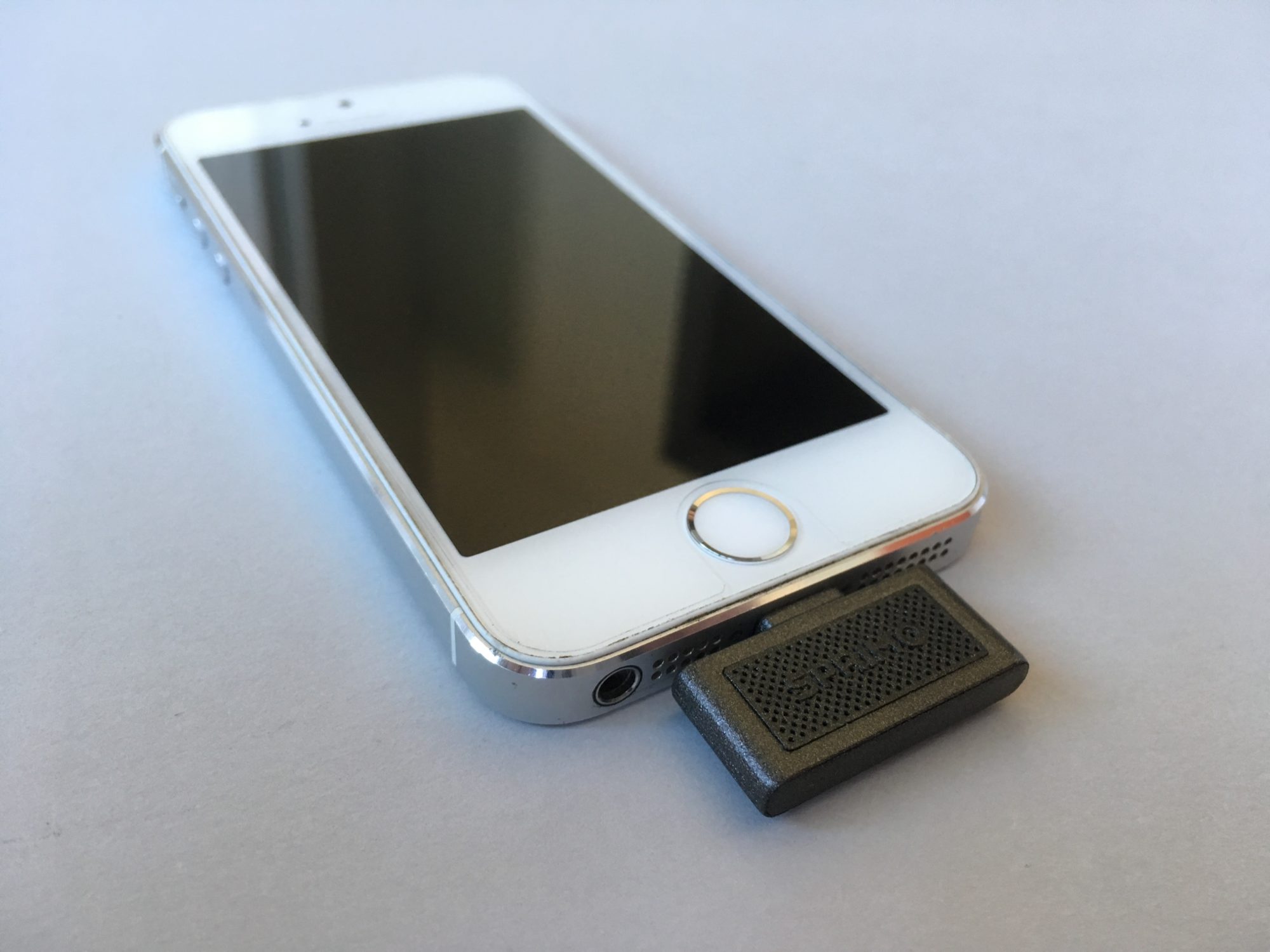 C-me Pocket Flying Cameras by Hobbico
Truth be told, I didn't have much time to learn about this product at all but I did SEE it briefly and loved the design as well as the fabulous four color options. I've been wanting to test out a drone for awhile now, however the combination of ugly designs, the price and the fact that they seem to cater mostly to men, has held me back. Top all of that with the need to get a certificate, a process of registration that albeit I'm told is easy, is still a barrier. They're also sizeable and I get the feeling there's more of a learning curve then I'm willing to commit to, at least now. And dang, they're noisy.
Travelers will likely be most interested in camera drones, which are typically ready-to-fly quadcopters that have stabilized cameras for shooting both video and stills. Drones with cameras can be used for a variety of things, including video production, search and rescue, agriculture and more. The simplest reason to use one is to simply see the world from above, which is an entirely different perspective than we normally get when we travel. I ran across a small and attractive one that seems to be a great fit for travelers called C-me, which they don't really call a drone, but a pocket flying camera -- they tout it as the smallest micro folding pocket flying camera to be precise. Those who think (like I do) that most drones are ugly, made for geeks and too bulky, take a look at this more consumer-oriented option that comes in fun colors and cloaked in a design that women will love.
Photo: Hobbico.
It's small enough to fit in your pocket and provides one-touch instantaneous social media sharing of full HD images and videos including selfies - bravo! So, whether you're taking high-flying selfies or full HD aerial images and videos of your trip to the Grand Canyon, Hobbico's C-me makes selfies and video easy. It is the first micro folding drone that fits in your pocket, the first device of its kind with a Full HD 8MP digital camera, and the first to feature touch-of-a-button social media sharing to your favorite social channels. It's also a snap to use – no previous flight experience necessary – as it comes with an innovative single-thumb control interface that can be mastered in only five minutes plus connectivity to the most popular IOS and Android smartphones via their free-to-download C-me app. When not in flight, the arms and propeller blades uniquely fold completely inside the body cavity for the ultimate protection against accidental snagging or catching that can cause damage or imperfection to the blades or arms resulting a less-than-perfect flight performance. A proprietary chip delivers many of the features of a commercial-grade drone for half the price of other camera drones. The device uses a Full HD 8MP digital camera with resolution equivalent to the iPhone 6 and self-generated WiFi, which all travelers will love. There's also a 360° option for panoramic video, a burst mode that captures up to 15 images sequentially with one touch and a feature which I love, a ten second delay timer, although I wish they offered longer options, i.e., 25 seconds and even up to a minute for those harder to take shots when you're on the road. Nature shots come to mind. And look at this fabulous C-me in PURPLE! Although we haven't tried it yet, they tout one-touch takeoff and landing, which for those who fear the drone learning curve, seems like a godsend. It's not quite available yet (dang) but a spokesperson tells me I may be able to get my paws on one sometime in March to review -- we can't wait!
Photo: Hobbico.
Clim8: Intelligent Thermal Clothing
This is a B2B innovation -- in other words, it's not clothing you can go out and buy, but technology that will be built into clothing you already know, a bit like the Intel chip inside for clothing, but rather than speed, it's about warmth, or more accurately -- regulation. They don't think of themselves as a smart wearable but it absolutely is in that it's smart about regulating the temperature in your body. You can receive what they refer to as thermal consistency in order to maintain personalized comfort, no matter what the weather conditions or activities that you do.
Their revolutionary (their word, not mine) textile process, integrates tiny sensors into the yarn, leading to optimal temps. Sensors in the garment monitor skin temperature and their app analyzes your surroundings, activities and skin temperature. From this process, heating zones embedded into the garment activate to adjust skin temperature and maintain thermal comfort. Cool, right? The garment then regulates heat exchanges by evaporation as it matches sweating zones on your body.
Fiera: Personal Care Device for Women
So many online sites cater to the geek in all of us, but let's face it, most of the picks and reads are tailored to men. I read the round-ups and rarely do we find cool innovation picks that's about something a bit more obscure or, hmmm, controversial, like sex.
Fiera
, which they refer to as a Personal Care Device, is the first hands-free wearable product for women, which is designed to increase interest in and physical readiness for sex, naturally. Fiera is used before sex to help get her mind and body ready for a physical, mental and emotional connection with her partner. Given that the chief 'scientific officer is a woman, I decided to listen for a bit longer when I first heard the pitch at the Showstoppers media event.
Photo: TheVerge/YouTube.
The device is typically worn for 5-15 minutes and features pattern and intensity settings for a customizable experience. Fiera uses gentle suction and stimulation to enhance blood flow, increase lubrication and get a woman ready to go, so to speak. The company was founded by ExploraMed Development which is an incubator that has launched a bunch of disruptive healthcare solutions to market apparently. Does it work? Let's just say I haven't tried it yet, but I think it's a cool idea.
WooHoo's Smart Home Hub
WooHoo
is an Artificial Intelligence based Smart Home Hub & Cloud-based platform designed by
SmartBeings.
They were exhibiting at Showstoppers and at the Sands (Eureka Park), so in the early startup category. They say they're the first device with facial recognition, voice recognition, an Internet of Things (IoT) hub and a 7 inch touchscreen all in one. The world's easiest-to-use cloud based SmartHome software is also baked in, they say. Is it the easiest and most innovative? Hard to say since I only had a quick peak at it, but I like the promise. With a name like WooHoo, it's no surprise that they're Silicon Valley based, the home of some of the silliest names I've ever heard. That said, its easy to remember and I suppose....cute! Think of it as an Amazon Echo combined with a Nest Cam except that it also has a touchscreen. Its motion detection is a useful feature as well, meaning you can use it as a security cam for your home (cool) and you can make video calls on it as well, the connection being via Bluetooth, Z-Wave, Wifi, and more. The extra security comes from a number of ways, but some of it has to do with its smart ability to recognize both your voice and your face, as well as your own personal touch, i,e, customize it with your own commands that you use frequently.
Photo: WooHoo
Its early days, so it's not shipping yet, but I'll be curious to test it out when it is and not one of the earliest shipping ones either - I'd rather wait until any early version bugs are ironed out, but overall, it seems to be a really comprehensive solution with lots of bells and whistles for the price.
AromaCare, a Wellness Aromatherapy Companion
You know we're huge fans of mind/body balance here at
We Blog the World
, so much so that we have an entire section dedicated to
wellness
, from general
wellness travel
to
wellness stay
s and
health-related products and services
. I love Aromatherapy and am a huge believer of its value -- we even included essential oils in our
holiday gift guide
this past year. Imagine a smart aromatherapy diffuser and a smart app that allows you to control smells through your smartphone. The
AromaCare
delivers you a blend of essential oils by a simple and calibrated way to improve your well-being and health.
Photo: AromaTherapeutics
Their connected diffuser creates a well-being bubble for 20 minutes, which they refer to as a "personal and natural care" session. The company behind it,
Aroma Therapeutics
, has developed six blends as ready-to-use essential oil capsules:
Sleep
to help improve falling asleep and improve sleep quality,
Calm
to destress and calm down,
Tonic
to stimulate the body and soul,
Memory
to improve concentration,
Breath
to liberate the lungs and
Pollen
which provides seasonal support. AromaCare also plans a White capsule for people wishing to use personalized treatments (by using their own essential oils), a feature that I personally love. It works with a mobile App which allows you to control sessions, get access to the consumption as well as coaching
- Boost, Air or Zen -
sessions over a one-month period in order to obtain longer lasting health benefits.
Hello Egg
What a name right? Hello Egg seems like it would be an assistant right? Maybe even one that belongs in the kitchen? This smart voice-operated kitchen assistant from a company called
RnD64
(seriously??) has a number of useful features, including the ability to plan your weekly meals and order groceries for you. It will also provide easy-to-follow step-by-step recipes via video RnD64, whose name I'll never remember, unveiled it for the first time at this year's CES.
Photo: RnD64
Think of it as a smart digital assistant that can automate your meals for you based on dietary preferences and needs and can also adjusts to unplanned surprises, such as a friend stopping by for a bite and you have very little in the fridge. Hello Egg can also overlook your kitchen pantry, orchestrates your shopping list priorities, and if you want, handles the delivery of your groceries, a godsend for so many single men I know. The device will also answer cooking-related questions and backs you up with 24/7 support of a real cooking experts team -- who couldn't use that? I know I could. Give or take, it will be priced around $350 and available sometime in Q2. My video recap of the show:
January 14, 2017 in America The Free, Client Announcements, Conference Highlights, Events, Magic Sauce Media, On Technology, TravelingGeeks, Web 2.0 | Permalink | Comments (0)
January 09, 2017
Improve Your Personal Air with Sprimo
Let's face it -- indoor Air Pollution is dangerous and climbing at alarming rates. Air pollution in general rise worldwide, killing more than 3.3 million and one study says it could double by 2050. Given that we spend nearly 90% of our time indoors (some research says more) and indoor air pollution is slated to be from 3 to 10 times worse than outdoor air pollution, it's no wonder that that cases of Asthma and Allergies are climbing and at an all-time high. In addition to seasonal allergens, many also suffer from dust and chemicals from cleaning products, paints and other residues at home, work and school.
Photo credit: Air Filters for Clean Air
Think Your Indoor Air is Safe? Think Again!
When we think of air pollution, we tend to think of outdoor air pollution and that we're safe inside where we spend most of our time. If you think that all the places where you OR your kids spend time is at safe levels, think again. Studies show that 50% of America's schools have problems linked to indoor air quality and an issue in 6 out of 10 homes worldwide. Indoor air may contain lead from the old paints which have been connected to early brain development in children. Not only does research show that clean air helps people be more focused and efficient at work and can reduce sick leave time, but shows that purer air improves kid's productivity and results at school as well. Bottom line, what we breathe in day after day, can impact the quality of our sleep, energy levels and even life span.
Photo credit: The Climate Chief Indoor air you breathe can be hazardous to your health without any telltale signs, so having a personal air purifier by your side can improve your health and your life. Enter Sprimo, the "go-to" product for people who want the best quality air in the personal spaces they work, play or sleep. Unlike traditional air purifiers that focus on large square footage areas to measure success, Sprimo is aimed at improving the quality of life through bursts of clear air instantly. Sprimo's small, lightweight and nearly silent air purifier is smart and adapts based on people's issues, from chemicals and dust to seasonal allergens.
Anyone who suffers from allergies can benefit from Sprimo as well as those at higher risks, such as children and the aging. Parents who want to ensure their children are breathing in fresh air while they sleep can place a Sprimo on their bedside table at night. Because Sprimo is light, easily portable and nearly silent, you can bring it to work to improve the quality of air you breathe at your desk every day. Its convenient size also makes it a godsend for travelers who can use it on the road at hotels, gyms, spas, cafes and more. The purifier's low entrainment air flow works as a shield to block contact by reducing the chance of you breathing an airborne virus by up to 60%. With Sprimo, you can take charge of your health wherever you go. Sprimo's new Personal Air Module (PAM) and cloud-based mobile app delivers real-time data on air quality via your smart phone so you can be alerted wherever you may be. Simply plug it into your iPhone and you're good to go – you'll be alerted whether you're breathing in poor quality air or not.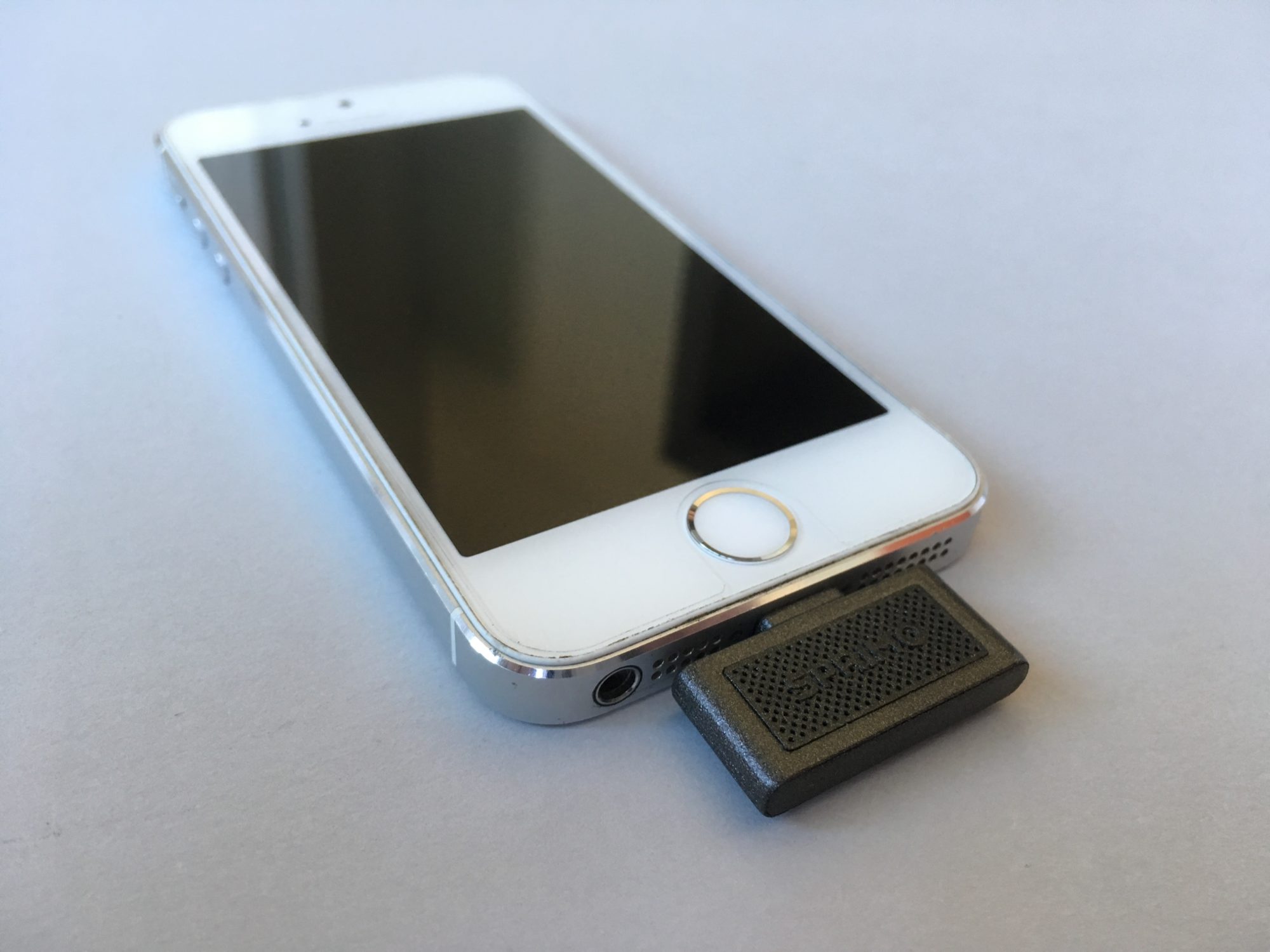 Sprimo showed its latest at the annual Consumer Electronics Show (CES) in Las Vegas this last week in the health and wellness section at Sand's Eureka Park. They will be kicking off a crowdfunding campaign on Kickstarter in March where they'll be taking pre-orders. More information can be found at www.sprimo.com and via their social media channels @SprimoLabs where you can sign up for their newsletter and be alerted when product is available among other useful tips on improving your lifestyle through healthier air.     Disclosure Note: I provide consulting to Sprimo Labs however all opinions expressed are my own.
January 9, 2017 in Client Announcements, Conference Highlights, Events, Magic Sauce Media, On Health, On Technology | Permalink | Comments (0)
May 27, 2016
Exploring the Future of Travel @ TravelTechCon
Introducing Travel Tech Con, an independent conference organized by a group of travel startup founders who share a common passion of moving the travel industry forward. Now in its first year, the event this month spanned over two days, the first of which had 15 startups present at the Plug & Play Center in Sunnyvale California. Day two focused on players in the world of travel tech addressing what needs to change in the next ten years to bring an industry with an antiquated infrastructure up to what consumers expect in 2016 and beyond.
Photo credit: EMaze.
From Virtual Reality, Artificial Intelligence, Blockchain, the Internet of Things, Big Data, Open Travel Standards, Automotive Innovations and more, we heard from Adobe's Head of Global Industry Strategy & Marketing for Travel & Hospitality Mohammad Gaber, Emergent VR's Peter Wilkins on the future of VR and Travel, OSLET's Gadi Bashvitz on using personalization to drive conversions, Chute's Ranvir Gujral on AI, GEIOS' Michael Frischkorn talked about using IoT to help travelers create more memories, and Roomstorm's Maksim Izmaylov talked standards, a necessary for efficient global communication.
There was also an interesting panel on emerging automotive tech which was addressed by Roadgazer's Maria Mokhnatkina, Bosch's Tom Lindma, Skurt's Tin Hang Liu and Princeton Optronics' Alexey Kovsh. The second day was held at Yelp so not surprising to hear from Yelp's Rachel Zhao who talked about making it global while keeping it local. SFOX's Akbar Thobhani, Factom's Tiana Laurence and Norm Rose talked about the opportunities Blockchain can bring.
Think of it as a distributed network that offers value….value that can't be duplicated. When you're dealing with strangers, blockchain can offer tremendous benefits. Since travel is so distributed and so global, blockchain is a way to help make travel booking more direct and more efficient, cutting out the umpteen number of middle men that are in the way of a vendor and the consumer today.
This will allow direct booking will increase and improve. Since blockchain is all about being decentralized, it may be harder at first to establish loyalty although new models will certainly evolve to re-engage and build loyalty with customers. The future is here but it's just not distributed…yet. The idea for vendors is that they should be able to continue using their existing systems but supplement them with blockchain to more directly reach their customers.
Blockchain is contextually the next infrastructure platform that could eliminate the middle man in travel as well as help to reduce fraud. Other trends include the growth of services like AirBNB and couchsurfing and as more services like it emerge, identity and transparency will increasingly become more important. And of course, we talked about the interests of millennial travels since their patterns of behavior is so different than the generations behind them.
Millennials increasingly want experiences not physical objects. People are traveling earlier than ever and they want to see the world. There's less fear than ever before, largely because millennials are more familiar with the world because of social media and technology.
While so many tour companies and destinations still focus on print articles and advertising, they don't realize that most millennials find their ideas about where to travel and what to do through social media and online networks. They trust what their friends recommend on these social networks over something they might read in a magazine they don't have a personal connection with.  Because they use technology all the time and it's an integral part of their world, they also expect technology to be part of their travel experiences.    
May 27, 2016 in America The Free, Conference Highlights, Events, On Innovation, On Technology, On the Future, Travel, TravelingGeeks | Permalink | Comments (0)
March 30, 2016
DENT 2016: From the Morality of Sex Robots & AI to Free Diving & Mental Health
Putting a dent in the future -- isn't that a compelling idea? And, what's even more compelling is that it means such different things to different people and why the eclectic DENT Conference in Sun Valley Idaho, is so unique.
From technologists, entrepreneurs and scientists, to artists, astronauts and Olympic Gold medalists, people gather around to hear radical new ideas, learn from the best of the best and share their best practices, all under the roof of the Sun Valley Inn, a stone's throw from Baldy Mountain and incredible skiing, even in the Spring. The brain child of Seattle-based Steve Broback and Jason Preston, DENT is now in its fourth year and my third year of attending, DENT's format is a mix of educational, interactive and thought provoking, with un-conference break-out sessions, fireside chats and general talks.
Since the backbone of the conference stems from the technology community, it seemed fitting that American futurist and author Amy Webb would speak. As the Founder of the Future Today Institute and an Adjunct Professor at New York University's Stern School of Business, she dabbles in a lot of projects. She asks us wryly: "What happens when we get what we say we want?" On the topic of Emerging Tech Trends and the hot button in Silicon Valley right now: Big Data, she addressed where and how that data will change how we think about the world and how we interact with it. What if an algorithm could predict our news? What if a news story could be written by an algorithm, using curated and scraped data that could get published? If you follow financial and sports news today, you may be surprised to learn that many of these stories are already being written by algorithms. Yet, it's not something we really think about and curation is already there in some industries. What if algorithms designed our real world experiences OR even more radical: what if algorithms could program our people?
Photo credit: www.goldenhourblog.com
I've been seeing this for the last few years -- curation is becoming more and more automated and we are moving towards hyper personalized news. Rather than reading a single news story, data that reaches our desktop or mobile device is becoming more personalized for you....all programmed by an algorithm.
The nugget of news will be personalized based on our own old data and online behavior which means that there's an infinite number of possible stories that could be distributed. What if in the not too distant future, there will be editors but no journalists. Imagine that you will have your own personalized news feed that is pre-filtered based on your likes and preferences.
Yes, it's happening, but it begs the question: is that what we really want? Because there are so many possible places to get our news, the real value will be super customized and personalized. Sure, it will be content vetted, but isn't there an element of joy when we discover new things outside our comfort zones? If the vetted, curated big data funnel merely delivers me content on travel, photography and food because those are topics of interest I search about the most, will I ever learn about something new I might want to try, like martial arts or sky diving?
And, if I'm a democrat that searches more for Bernie Sanders talks than Ted Cruz, will the articles on Bernie be more favorable than the ones on Ted Cruz, and how does that algorithm decide what bias to let me see -- and more importantly, not see. What gets marshaled to the top and what gets moved to the third page of my search? Machines are learning from human behavior every day, including political views, our income brackets and the ugly biases of racism and homophobia. Truth be told, we are leaving bread crumbs everywhere, every single day. Perhaps in the future, we will PAY to be anonymous and that will be worth more than anything else. I couldn't agree more.
Amy reminds us that the future isn't something that happens to us passively -- – it is something that we are creating proactively and collectively. PATH's CEO Steve Davis addressed Malaria. What does Malaria have to do with technology and innovating the future you ask? A lot when you reflect on the fact that it's 2016 and with all of our advancement, Malaria still remains the number 3 killer in the world.
A child dies every two minutes, and 453,000 people die each year. How is that possible you wonder? It's not just that Malaria is a disease of poverty, but Malaria contributes to poverty. 
If you're not familiar with PATH, they work on vaccines, drugs, diagnostics, service and system innovation and they partner with organizations to drive down these diseases that affect so many and so unfairly. With so many creative and bright minds in the room, Davis asked people to think about how to effectively design new issue and systems over the next 10-15 years around products, around operational management and logistics and around financing, all of which could accelerate the progress they make in Africa and beyond.
Currently, Malaria is not being solved by the private sector but he suggests that the real solution is a complex level of collaborations between private sector and governments and that cost and affordability is critical to solving this. Says Davis, "In regular technology innovation, we think about the cost later.
With Malaria, we need to think about the ultimate cost first and then design around that to get to that price, otherwise it won't work." They work in endemic conditions, where there's not proper education systems and the environment is harsh which means that their work comes with enormous constraints. It should be no surprise that the health systems they work in, especially in Asia and Africa, are incredibly complicated from years of aid and development agency and colonialism mixed with new agencies pouring money into the system.
They are tracking index cases through droids and an app and using this model alone, they are attempting to check and treat every household to better figure out where people may have gotten infected. With a bunch of new data models, knowing where the reservoir is and where the mosquitoes are, is critical to their long term success.
They've been working with Tableau to see where transmission is coming from and to give the data back to the health workers in the front line. To make malaria history, they need to deploy resources faster than the disease can spread, so it's an aggressive but important mission. There's a huge sea change in global demographics. The faster we can get people in these countries to move into lower and middle working class, the faster we can eradicate diseases that are impacting so many.
Photo credit: Tableau.com website.
A few of their projects include the ISS Food Intake Tracker, which provides NASA scientists a better understanding of nutrition to help mitigate negative physiological effects of spaceflight. The challenge budget for this was only around $144,600 and a challenge award was $36,288. They also wanted to find a new space suit glove solution since the ones they've been using for years are brutal on the hands. Talk about the power of outsourcing ideas to the community at large!!
Parenti says their mission is to teach marketable skills to lead to jobs when prisoners get out. The idea is this: if we could reduce the percentage of recidivism and break the reincarcernation cycle then maybe the kids of those prisoners won't go down the same path as their parents did. Today, they're already teaching technology skills in San Quentin, which is an industry known for judging the quality of your work, rather than stigma of your past.
Apparently, there are three parts to free diving: time, depth and distance. The current world record is eleven minutes and 35 seconds, going down to 129 meters on one breath. Crikey - I can't imagine the possibility and yet I've learned through my travels to nearly every continent, to never be surprised at what humans are capable of.
Like in life's daily obstacles, Mandy had to learn how to overcome the evil monkeys in your head when you're having an off-day. That off day might look and feel even worse if you're free diving below 200 meters in Canada's waters, which is like swimming in complete darkness than it would if you were at 200 meters in crystal clear warm Caribbean waters. She highly recommends visualization, which I subscribe to as well and used it when I first walked over hot coals for the first time. It's effective in sports, reaching goals and of course, on that very off day.
Lest not forget a photo walk, the views of snowy Baldy Mountain even in Spring and late night conversations in one of Sun Valley's massive sized hot tubs, an experience not to be missed.
While you won't see the Avista Concept on the road as a production vehicle, its sculptural beauty and performance apparently aim to inspire the next generation of Buick vehicles. They were on-site to bring people into a surreal 3D world of that concept car.
March 30, 2016 in America The Free, Conference Highlights, Events, Magic Sauce Media, On Innovation, On Science, On Technology, On the Future, Science, Travel, TravelingGeeks | Permalink | Comments (0)
March 07, 2016
Watermark Conference for Women Hits Bay Area on April 21
I love conferences and events solely dedicated to women, especially those where mentorship is part of the value-add, whether that be from listening to inspiring powerful women's talks throughout the course of the day or networking with women going through similar issues you might be facing at home or at work. I'm new to learning about the Watermark Conference for women in the Silicon Valley Bay Area and plan to attend this year. At last year event, former U.S. Secretary of State Hillary Clinton who's now in the race for the White House, delivered a keynote address to thousands of attendees.
Keynotes this year include Glamour's editor-in-chief Cindi Leive, TV personality, comedian and author Mindy Kaling, Sama and Laxmi founder Leila Janah, Soccer Superstar Abby Wambach and Entrepreneur John Jacobs.   The conference has networking, professional development, inspirational panels and keynotes.   More details can be found on their site, including speakers, sessions and bios on the keynotes: https://www.watermarkconferenceforwomen.org. This year's event will be held in San Jose on April 21, 2016.
 

Watermark offers Community & Connection, Info & Inspiration, Motivation & Momentum....

so you can Discover What You Want & Achieve It!
The event brings together acclaimed women who share their wisdom and expertise on a wide range of personal and professional development topics, to help you find clarity on your goals and what you need to accomplish them.
Topics include managing your money, reinventing your career, dealing with change, how to market yourself and network effectively, how to help your community, finding funding for your business, managing your health, attitude and more.
The event is targeting non-profits, community leaders, entrepreneurs, self-employed women, job seekers, students, or frankly anyone looking for some motivation and inspiration.
They will also have an Exhibit Hall which will feature organizations showcasing a wide variety of products and services as well. What else is cool is that the conference advocates for the advancement of women in the workplace by offering regular leadership development programs and networking opportunities and promoting gender diversity and equality initiatives.
Watermark also supports girls' leadership programs, as well, to help build a well-qualified workforce for the future. The Watermark Conference for Women is generously underwritten by presenting sponsor Juniper Networks and supported by the following sponsors: Cisco, EMC,  Amazon, Gilead,  Akamai, Johnson & Johnson, Mercer, riverbed, and Oracle. Media partners include: KFOG-FM, KGO 810 and NASH FM. You can follow them on Twitter @wtrmrk as well to join in an ongoing discussion.
March 7, 2016 in America The Free, Conference Highlights, Events, Magic Sauce Media, TravelingGeeks | Permalink | Comments (0)
January 25, 2016
Find X With Thought Leaders & Visionaries at TEDxBerkeley on Feb 6
From innovative surgery and extraterrestrial intelligence to reporting from war zones and Grammy-Award winning music, this year's theme for TEDxBerkeley 2016 -- Finding X, which will be held at Zellerbach Hall in Berkeley CA on February 6, will look to solutions to our world's imperfections. Sixteen riveting speakers will address how we identify these problems and make sense of them in the larger systems where they belong.
Whether it be voyaging into uncharted technological or scientific territory, reconciling our diverse perspectives of the human condition, or unearthing the parts of ourselves that give our lives direction and meaning, we all hope to make an impact on this world by Finding X.
Now in its 7th year, this prestigious TEDx event will bring together thought leaders, visionaries, innovators and 54 performers who will enlighten and inspire more than 2,000 attendees across core disciplines impacting the world, from medicine and education to technology and diversity.
TEDxBerkeley strives to curate an outstanding group of inventive and provocative speakers who can shift global conversations in a way that makes the world a better place, central and core to TED's mission. The goal is to get us all to re-think conventional ideas and the status quo so that we can all make a positive difference in our own communities. Tickets for TEDxBerkeley 2016 are on sale through Friday, February 5 or until they sell out.
Attendees or those viewing via Live Stream at http://www.tedxberkeley.org starting at 10 am PST/1 pm EST, can also participate in the conversation on social media by using #TEDxBerkeley on Twitter, Facebook and other popular social networks.
This year's line-up includes:
Christopher Ategeka

: Award-Winning Social Entrepreneur & Nano-Technology Inventor that identifies early detection and monitoring of chronic diseases.
Celli@Berkeley: a cellist quartet made up of undergraduate and graduate students united by the passion to express the uniquely rich possibilities of the cello. 
Kathy Calvin:

As President and CEO of the United Nations Foundation, Kathy works to connect people, ideas, and resources to the United Nations to help solve global problems.

Jacob Corn:

Scientific Director of the Innovative Genomics Initiative & on faculty at UC Berkeley in the Molecular and Cell Biology Department, Jacob focuses on neurobiology, infectious disease, and oncology.  

Stephanie Freid

: An International Conflicts Journalist, TV correspondent for CCTV (China) and Turkish TV International networks, Stephanie reports from some of the world's toughest conflict and war zones.

Rose Gelfand, Molly Gardner & Isa Ansari:

this trio from Oakland School for the Arts Literary Arts Department, are performance artists who specialize in the spoken word and poetry on stage.

Rob Hotchkiss

: Grammy Award-winning Musician for the Best Rock Song for five-time nominated "Drops of Jupiter", and was the musical force behind hits such as Meet Virginia, Free, I Am and Get To Me.  

Naveen Jain:

An Entrepreneur & Philanthropist, Naveen is the founder of Moon Express, World Innovation Institute, inome, Talent Wise, Intelius, and InfoSpace.

Jeromy Johnson

: An EMF Expert, Jeromy is dedicated to mitigating the negative impacts of Electromagnetic Field (EMF) exposure, helping to implement solutions that reduce and eliminate EMF pollution around the globe.

Reverend Deborah L. Johnson:

Minister, Author & Diversity Expert, Deborah teaches practical applications of Universal Spiritual Principles and is founder of The Motivational Institute, which specializes in diversity.

Aran Khanna

: As Computer Scientist & Security Researcher on personal privacy, he builds tools that empower users to discover the consequences of the digital footprint they're leaving.

John Koenig:

Creator & Author of The Dictionary of Obscure Sorrows, which fills gaps in language with new terms for emotions, some of which ('sonder') have entered the language outright.

Ellen Leanse

: As Apple's first User Evangelist, she brought Apple online in 1985 and has since helped more than 40 companies and policy makers increase their innovation and impact.  

Susan Lim:

As Surgeon and Entrepreneur, Susan broke through the gender glass ceiling in transplantation surgery by becoming the first in Asia, and the second woman in the world to have performed a successful liver transplant.

OSA Chamber Choir

: the largest audition-only high school Vocal ensemble at the Oakland School for the Arts, this ensemble has performed for Governor Jerry Brown's inauguration, Obama's campaign tour and many other notable events.

Sonia Rao:

A BMI Spotlight artist, Sonia is a singer and songwriter whose latest album Meet Them At the Door is a collection of heart-felt pop songs that showcase her piano skills and soulful voice.

Amandine Roche

: A Human Rights Expert, Amandine's focus is on civic education, democratization, gender and youth empowerment.

Sriram Shamasunder:

Sriram aims to deliver comprehensive healthcare in resource poor areas of the world through his work at UCSF and as co-founder of the HEAL initiative.

Andrew Siemon

: Andrew is an Astrophysicist, Director of the UC Berkeley Center for Search for Extraterrestrial Intelligence (SETI) Research & lead scientist for the "Breakthrough Listen Initiative", a $100 million effort that is conducting one of the most sensitive searches for advanced extraterrestrial life in history.

Joshua Toch:

After being bullied because of Cerebral Palsy, Joshua founded Mind Before Mouth, which equips students to better deal with social aspects of life and get through times of hardship.

UC Berkeley Azaad

: UCB Azaad is a competitive Hindi Film Dance team which motivates audiences to connect with Bollywood culture.
This year's partners include Repertoire Productions, Vÿykn Water, Zola, Peet's Coffee, Fast Imaging, 18 Rabbits, Larabar, Victor Hugo Winery and EthiCal.    
I am proud to be a co-curator again this year, joining Chris Lew as TEDxBerkeley's 2016 curator and co-curator R. Jennifer Barr together with an incredible team behind us, including Leilani Gutierrez-Palominos, Max Wolffe, Melody Jung, Aaron Chelliah, Mehdi Kazi, Sean Kelly, Krupa Modi, Aashna Patel, Andrew Veenstra, Alvin Wan and Joe West.
January 25, 2016 in America The Free, Client Announcements, Conference Highlights, Entertainment/Media, Events, Magic Sauce Media, On Education, On Technology, San Francisco, TravelingGeeks, WBTW | Permalink | Comments (0)
January 17, 2016
New York Times Travel Show Round-Up, Much More Fun Than CES!
I missed last year's New York Times Travel Show since we were about to embark on a 5 week long journey cross country -- our hashtag for the tour was #WBTWxAmerica for those interested in seeing photos on Twitter, Facebook and Instagram. We left New York the week before the event, and only a day before the city got hit with a snowstorm.
This year, we were proud media partners of the event since it remains one of my favorite travel shows in the industry. I love the fact that the show is a great mix of trade and consumer content and brings together some of my favorite destinations in the world all under one roof.
Despite the fact that is an American East Coast event, countries as far away as Taiwan and Japan showed up, there were wellness offerings from gems like Tahiti, St. Lucia and Bali, plenty of South American representation, and it took me nearly a day to make my way through the Africa aisle alone. From learning cool facts about specific destinations and exploring the latest from African safari tour companies, which we'll be expanding in 2016, I could have easily spent a full day in discovery mode.
Below, Arthur Frommer, from the infamous Frommer's Guides, opened the official consumer day of the event, which included a formal ribbon cutting at the entrance on Saturday morning, January 9. Some of my personal highlights are outlined below - as always, questions or comments, leave them in the comment section or feel free to tweet or email me @weblogtheworld.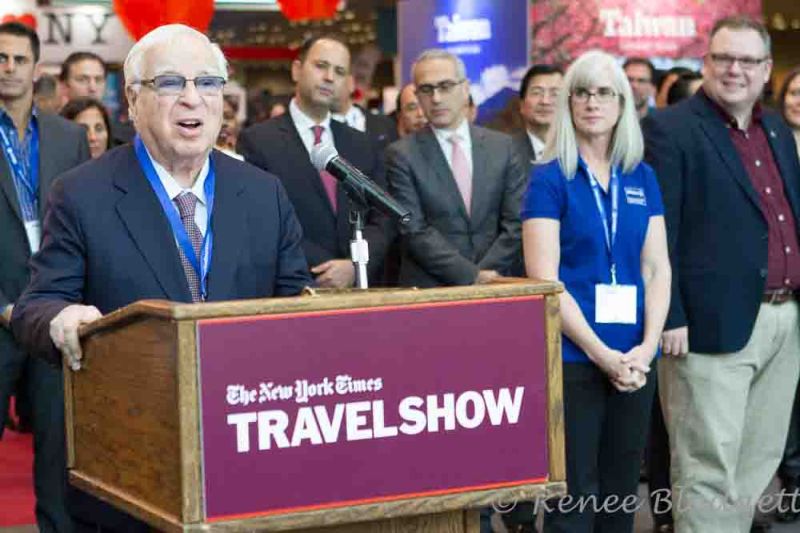 Eastern Europe
I was thrilled to see my pals from Estonia, Lithuania and Latvia on-site; we went on a press trip with them a few years back and loved it -- see my coverage of Estonia and Lithuania. They also served scrumptious cheese from the region which I dared not say no to -- food is such an integral part of travel for me, that I can't separate the two. Speaking of food, Dubrovnik is having a Good Food Festival from October 20-23, 2016, where you'll get dinner with a famous chef, taste traditional and not so traditional dishes, take part in gastro tours, entertainment and live musical performances and have an opportunity to attend workshops and presentations. More details at www.tzdubrovnik.hr.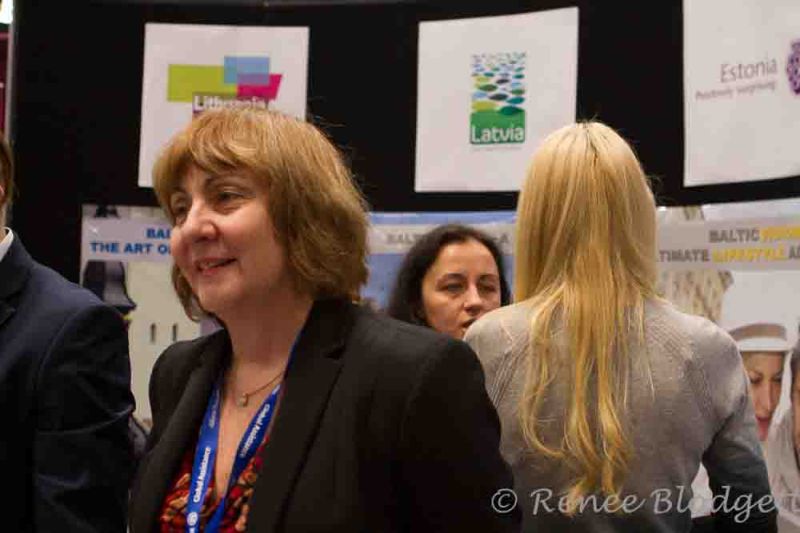 Croatia was promoting Wellness Travel among other things, which was exciting for us since we are not only expanding our Wellness coverage significantly in 2016, but it's a personal passion of mine and has been for years. Be sure to read my Wellness Travel Round-up of the show, which is going live next week.
I also got enticed by some of Adriatic's tours, which does land tours to Croatia, Montenegro, Slovenia, Bosnia, Herzegovina, Albania and Macedonia and charter cruises of the area. They specialize in excursions to Croatia and the Balkins, including island hopping, which had me at "hello." Niche Touring offers fully guided travel for small groups, which makes for a much more intimate setting, something we applaud.
They too focus on Croatia, but to off-the-beaten-path hidden places often not found on a typical tourist itinerary. Their tours emphasize the history, local food, and culture of each region, shared by the Croatian people you meet along the way. We're keen on reviewing one of their tours as I was impressed by their big heart and personalized approach to tours of the area, which include both water and land experiences.
I didn't have time to visit the Hungary or Czech Republic booths, although I have been in recent years and they remain on my fabulous destination list, so if you haven't been, be sure to read our coverage (Hungary and Prague specifically). Our content on Russia isn't deep but it's worth a meander as the content is full of rich photographs and history. And, my last trip to Berlin Germany this past year included more time in East Berlin than West, so be sure to read through our coverage over the past year.
Europe
I've lived in Europe, traveled through the continent extensively and have had long stints in Amsterdam, Corfu, Innsbruck and London, where I studied for many years. In fact, I've been to every country except for Norway which is very much calling to me -- seeing new images of northern fjords makes it hard to resist. If you're eager to see what I'm referring to, there's no better place to start than Instagram - do a search for #Norway and you'll be blown away.
This past year, I went to Germany and Austria, so be sure to browse through my articles of Berlin, Vienna and Salzburg, including a fabulous one on Salzburg's 50th Anniversary of the Sound of Music and the previous fall, I went to Normandy and Brittany, where I took so many enticing photos, you'll be booking your flight to France tomorrow. High on my "return list" over the next two years are Greece, Italy, Switzerland and Spain. Who knows -- maybe one will even be a winter trip. It was great running into Michael Gigl from the Austrian Tourism Board aka @AustriaTravel at the show.
I didn't spend time with destinations at the show because of my strong familiarity of the countries, however I did talk to a few tour companies and river cruise companies who are offering some interesting itineraries in Europe today. I'm far from a cruise expert although hope to experience a few of the higher end cruise lines so we can do a unique comparison based on "physical/experiential", "fine touches" and "wellness" in 2016 and 2017.
On my hot list right now are RIVER CRUISES. Watch for more from us in that area as we begin to explore what some of the leaders in river cruising are doing in Europe and Asia. For example, Uniworld Boutique River Cruises operate a fleet of 21 river cruising cruise ships along the rivers of Europe, Russia, Egypt, and China.
All inclusive Scenic offers unlimited drinks and butler service for guests and Viking River Cruises apparently has six new Viking Longships making debuts in 2016 across Europe. Avalon operates 15 ships in Europe and eight more in the Galapagos, Mekong Delta, China and Egypt and AmaWaterways has an impressive list of options through European rivers as well. Itineraries across river cruise companies range from major cities like Amsterdam, Budapest, and Vienna to delightful, small towns and villages like Austria's Durnstein and Germany's Breisach.
Africa
Africa, in particular, South Africa has always had an emotional hold on me, largely because I spent an exchange student year abroad in South Africa during my most formative years, lived there again just as Apartheid was lifted and led a blogging tour there roughly a decade later.
I also taught English in Kenya, saw some of the most surreal desert scenery on the edge of Somalia, slept on beaches in Lamu, Pemba and Zanzibar and saw gorillas up close in Uganda and Zaire before the western world had an opportunity to. I have gone on life changing safaris in Tanzania, Kenya and South Africa where I watched elephant trunks swaying in unison over a river for hours and was transformed by a tree standing alone in silence along the Namibian Border.
I was swept away by the hospitality and insights of the people of Zimbabwe and it's majestic Victoria Falls, ate so many avocados and bananas on Dizzy and Wally's farm in Zambia that I could barely walk, and I was brought to tears by the generosity and warmth of the Malawi people where we camped on a beach for more than a month. In the nineties, I marveled at ancient tombs in Egypt and fell in love with the markets of Morocco -- the list goes on. It's clear that I have a bias but with good reason. Africa is a magical continent and it boasts far more than safaris and Stellenbosch boasts some of the best wine you'll ever taste.
The girls from Zambia were a hoot and I could have talked to them for hours and after seeing stunning photos of Botswana, my heart cried out to be there with nothing more than me, a tripod and my Canon 7D. I've been wanting to go to Madagascar for years as well as to some of Mozambique's more remote islands where they boast luxury experiences worth having. And, if I got an invitation to Mauritius, I'd be packing my bags tonight. Morocco and Egypt had plenty to take in (Egypt handed out fun t-shirts) and I learned about luxury properties in Casablanca I didn't know existed.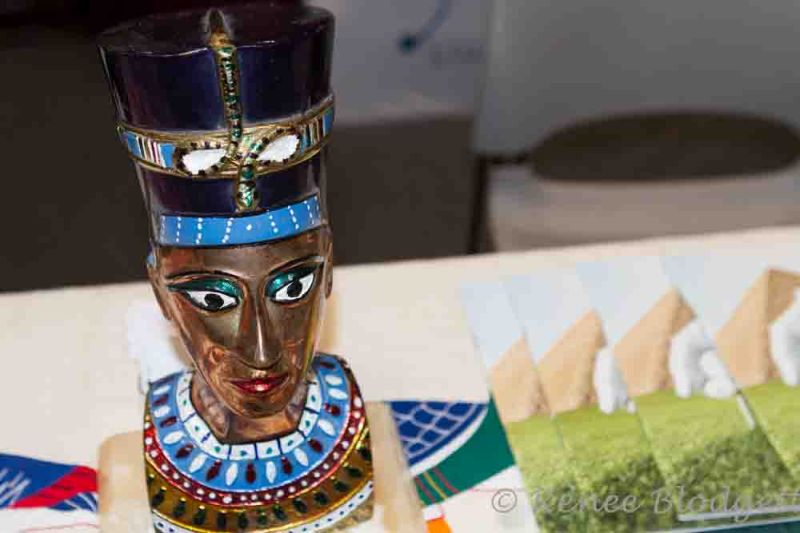 African tour companies were in full force, from offering a variety of options, whether it be glamping in the bush, safaris, photo tours, luxury resorts and spas to cruises departing from Cape Town. Uber Luxe Safaris were offering unique itineraries, from chimpanzee trekking, a canopy walk in the Nyungwe Forest National Park, Birding, Water Fall Trails, tea tours and hanging with monkeys. Uber Luxe Safaris is based in Rwanda and specializes in authentic luxury experiences in East Africa.
The Zulu Nyala Private Game Reserve looked compelling. Nestled between the wilderness reserves of Mkuze, Hluhluwe, St. Lucia and South Africa's Sodwana Bay, the reserve boasts elephant, rhino, buffalo, hippo, giraffe, leopard, cheetah, antelope and more. The privately owned reserve is home to over 40 different species of animal and bird life and on-site, they have 50 ethnic-styled suites and panoramic views from common areas in the Lodge.
They also have a tennis court, craft and curio center, a games room, which is great if you're traveling with kids in tow, a pool, a bar and reading lounges. I chatted with the guys from Eyes on Africa for awhile who offer tours to Namibia's Etosha National Park, Sossusvlei red sand dunes, South Africa's Kruger National Park, Livingstone and Vic Falls, River rafting and helicopter flights in Zimbabwe and Zambia, canoe rides along the Lower Zambezi River, Mount Kenya, Amboseli National Park, Zamzibar, Selous, Africa's largest wildlife reserve, the Serengeti for the Great Migration, Kilimanjaro and the Ngorongoro Crater, island hopping in the Seychelles and swimming with whale sharks in Mozambique among other experiences.
I was also enticed by Bush Butlers, who I might add were the only ones who served Biltong at their booth - two thumbs up! They offer tailor-made safaris and tours to a number of intoxicating locations, from Tanzania, Kenya and Bostwana to Uganda, Zimbabwe, Namibia and South Africa.
They cater to your needs, which include family style safaris, luxury safaris, or beaten track adventure style trips. Some of the highlights include seeing hippos in Gabon, viewing gorillas in Uganda, ballooning in Namibia, taking in Madagascar's Baobabs, seeing the world's largest land migration in Tanzania's Serengeti, scuba diving with whale sharks and manta rays, and catching tiger fish on the mighty Zambezi River. I can assure you that going through the Namibian Desert in a 4x4 Explorer will transform the way you look at the world.
Original biltong from South Africa - I was in heaven!
Antarctica
While I still haven't been to Antarctica, we have a bunch of coverage on We Blog the World from other writers, so be sure to read through them and take in the photos.
The images are breathtaking and before seeing them, it wasn't a big priority on the list, but today, it's in the top 10. Hurtigruten is one company I discovered at the show that encompasses all things Antarctica. They're known as a leader in polar exploration and offer new Discovery Style Voyages, which is great for people with a true spirit for exploration and learning, but without the rigors of a full expedition.
Photo credit: ESTHER KOIJKMEIER.
MS Midnatsol is the ship, which holds a maximum of 500 travelers, and they start and end in Punta Arenas at the tip of Chile where I visited a few years ago. I'd encourage you to take the time to explore Chilean Patagonia including Torres del Paine if you venture that far south. The ship explores some of Chile's deep fjords before making it's way to the more wild and beautiful Antarctica. Remember how I said that Norway was calling to me earlier on? Note to self: Hurtigruten also sails to Norway, visiting 34 small ports, most of which big ships simply can't enter.
Asia
Truth be told, I didn't spend as much time in the Asia section as I had hoped, but did visit Japan, Taiwan who always has a big booth at the show, China, Indonesia, Thailand and Malaysia. There were some great dance and music performances on-site all weekend and many countries were giving out bites, with all the spices from home. Oh so delish!
Malaysia had a colorful area with cultural backdrops where you could dress up in a traditional costume and have your photo taken - my favorite was this little girl who was eager to pose in front of the camera. Adorable!
While China can be overwhelming given the country's size, I find that it's worth spending time with locals who specialize in tourism since they have detailed maps, which you often can't find online and can elaborate on some of the gems outside traditional hot spots like Shanghai and the Great Wall.
I spent time with the rep from the region of Henan, which is central and to the north of the country, which touts a number of unique excursions and adventures. We may explore this region in more depth and consider a trip in the future.
Sri Lanka and Sri Lankan Airlines was holding a fun promotion at the show, which involved social media; simply engage your audience with a photo and hashtag #SriLankanUSA2016 for an opportunity to win a trip. Here, I learned a lot more about Sri Lanka than I expected and it's risen to the Must Visit List, so stand by as we do a little more research and plan for a future trip.
Central America and the Caribbean
Panama has been getting more visibility lately as has El Salvador so I spent time gathering information on eco-friendly lodges, resorts and wellness getaway ideas for both countries.
The Dominican Republic  was handing out a salted cod concoction!
Cooking demonstrations were part of the agenda on both days for a variety of destinations including Latin America. On Saturday, they had a Taste of the World Kid's Kitchen where Robert "Chef Bobo" Surlves and Spoons Across America engaged children in hands-on tasting and cooking classes. There were number of other cooking presentations as well, from Taiwan and South Africa to upstate New York and Lebanon.
Anguilla presented me the biggest surprise from the Caribbean Region. A place I knew so little about before the New York Times Travel Show, I left with a burning desire to visit -- after doing a little digging, it seems like an ideal location for a romantic getaway or a wellness retreat.
North America
We love Canada and there's a ton of coverage on We Blog the World so be sure to read through the articles, which cover a variety of regions from the west to the east coast and everything in between.
We also have coverage of some of the southern Arctic region as well.  As for the U.S., remember that we drove across country earlier this year, so in 2015 alone, we hit around 20 states between our trip and other side trips on both coasts separate from our journey. It's hard to say what my favorite memory was, but rest assured, there was no state that didn't hold a precious gem of some kind, whether it be blues music, food, culture, dancing, fashion, theater, thermal baths or nature.
There is a ton of coverage on our trip, which includes New York, Virginia, Tennessee, Arkansas, Oklahoma, Texas, Mississippi, New Mexico, Arizona, California. If you've never done the drive, I strongly encourage it and feel free to hit us up for tips. Below, a shot of a break we took at dusk on the way from Oklahoma to Texas.
This year, hot on the list is New Hampshire, Vermont, more Upstate New York (we're biased remember) and Long Island (I've yet to really explore), Pennsylvania and North Carolina. A trip to New Orleans would also be a nice plus if there's time between our international travel.
South America
As lame as it sounds, I only visited one booth in South America - Argentina, a country I've been wanting to visit for years.....of course, they were pouring fabulous wine wine from Mendoza on Sunday and serving cheese, crackers and salami to accompany. I love the Argentina Tourism PR and marketing team as well as the guys from Aerolineas Argentinas. One of these days, you'll find a wealth of rich photography taken on my Canon 7D from an extended stay in Argentina, so stand by.
Above, I refer to Ines Segarra as the Head of Fun for Argentina, although her official role is the Director of Tourism based out of New York.  That doesn't mean I'm not paying attention to other countries on the continent.
Also high on my wish list is Peru and Colombia, although we have plenty of coverage on We Blog the World on both from other writers. At the show, I talked to a few tour operators about some of the excursions they offer to the region. I loved my time in Chile and Ecuador, including the Galapagos Islands, so be sure to read our coverage of both countries, where there are plenty of engaging stories and photography from other writers as well.
At some juncture, I want to see and experience Bolivia's Salt Flats or Salar de Uyuni in Spanish. It is located in the Daniel Campos Province in Potosí in southwest Bolivia near the crest of the Andes and they were formed as a result of transformations between several prehistoric lakes. It is apparently covered by a few meters of salt crust, which has an extraordinary flatness and is beyond surreal. While this photo is sure to blow you away, you'll find plenty of other breathtaking images on the web and on Instagram.
Photo credit: Huffington Post Below, saying YES to GLOBAL WELLNESS in the Wellness Pavilion, a new section of the show this year. (see my write-up for the specifics).  Also in the Wellness Pavilion, I attended a light experience with the folks from Color Spa -- more details in the wellness travel post.
There was an entire section dedicated to fun things for kids to experience across cultures and tons of music and traditional culture.
Trade Day
Trade Day is simply what it says it is....the day those of us who are in the travel trade come together to learn from each other and network. It is typically held the day before the official show opens, and tourism boards, government officials, cruise lines, safari companies, hotels and resorts, chefs, authors, journalists and others in the travel biz, partake in conversations centered around marketing, sales, operations, logistics and best practices.
To give you a snapshot, I attended panels on Travel Media in the Digital Age with Facebook's Mike Rooney, PhocusWright's Lorraine Sileo, and TripIt's Lauren Moreno, a session on Wellness Travel with Anne Dimon of Travel to Wellness, Brian Povinelli of the Westin and Bonnie Levengood of MSC Cruises, and a Culinary Tourism discussion with TravelSommelier's Darren Humphreys, Parla Food's Tim Ries, Friends of the High Line Stephanie Schneiderman, and Tia Stephanie of Tours Cultural Journeys to Mexico and Colombia.
The cruise lines showed up in force and we heard from Cruise Planner's Michelle Fee, Celebrity Cruises Michelle Homoky, Wendy Whitener of Carnival, Ken Muskat of MSC, Lisa Falango of Royal Caribbean, Anthony Viviano from Princess & Cunard Line, and river cruising specialists, Cindy Christen from CroisiEurope, Cindy Sullivan from Globus, Susan Shultz from American Cruise Lines, John Restuccia from Uniworld, Chris Greco from Rauck and Kirsten Karst from AmaWaterways. Other sessions included a focus on Europe, the Caribbean, Asia, Latin America, Hawaii, Florida and National Parks.
Speaking of Florida, they had a great chef at their booth who was preparing delicious popcorn, shrimp and papaya - YUM!
I'll end with a visual of where this piece began -- below is a shot of Arthur Frommer doing the ribbon cutting on Saturday morning. Bravo and kudos to the New York Times Travel Show team. If you haven't been before, it's a must attend, so be sure to watch for announcements on next January's date and the details.
January 17, 2016 in America The Free, Conference Highlights, Events, Magic Sauce Media, On the Future, Travel, TravelingGeeks | Permalink | Comments (0)
June 23, 2015
Digital Health Summer Summit & Their Digital Health Playground
I've experienced some of Digital Health Summit's energy, largely at CES (Consumer Electronics Show) in Las Vegas, where it has grown in size over the years and now represents some of the most innovative technologies happening in the health, wellness and medical arena.
Last week, they held their Digital Health Summer Summit in San Francisco, which consisted of a full day of panel discussions, keynotes and something they refer to as Digital Health Playground, which is an expo of companies showing off their latest products.
Photo credit: LearnersOnline.com
The reason I've been so interested in digital health lately is not just because of the marketing and communications work I've done for HAPILABS and Kolibree over the past few years, both of which announced the world's first in their respective categories (connected fork and connected electric toothbrush).
This world obviously got me into deeper into the world of quantified self and devices that measure everything you do, from the quality of your breathe, to your sleep patterns and the steps you take every day. While I find quantified self interesting and in some cases, leaps ahead of our time, empowering individuals about their bodies in ways that was never possible before, I'm also concerned about over monitoring since doing so means that the EMFs emitted and other electrical energy that comes from these devices are close to our bodies if not on them 24/7.
I for one sleep more peacefully when I'm far away from anything that has bluetooth or wifi connectivity and when I'm not using my phone for texting or browsing, I turn it to Airplane Mode as a safety precaution. That said, the benefits of self monitoring for more serious medical conditions can be a godsend, particularly for kids and seniors, so that other family members can stay on top of their loved one's health as well. It's also useful for sending data back to your family when you're traveling and they're not with you.  
Photo credit: www.kpcb.com
The idea of digital health centers on the convergence of the digital and genetics with health, healthcare, medicine, living, and society.
The biggest benefits of digital health as noted above, include the empowerment of consumers to better track, manage, and improve their own and their family's health. There are of course compliance issues, as well as hospital and corporate adoption curves that run alongside these revolutionary changes happening in the digital world today.
At the Summit, we heard from Chief Medical Officer for AFIA Rob Smythe MD and author of The Digital Doctor, Professor and Associate Chair for the Department of Medicine Robert W. Watchter MD, who addressed the need for digital health to better demonstrate its effectiveness, as well as the issues around privacy, security and regulatory challenges.
With the abundance of health tech accelerators and seed funders pushing out a wide array of digital health companies, we also heard tips on how to avoid the funding valley of death given the long time gap between institutional funding and ultimate launch. Reps from Kleiner Perkins Caufield & Byers, Launchpad Digital Health, dRx Capital AG and DNAnexus took this subject on, which was soon followed by an interesting keynote from Michael Blum, MD and Associate Vice Chancellor for Informatics and Professor of Medicine and Cardiology/Chief Medical Information Office at UCSF.
Other panels discussed how partnering with strategic companies can better harness the power of talents and resources from both sides.
One of the more interesting dialogues was between moderator Karyn Skultety, Ph.D. and VP of Health Services at the Institute of Aging, and Commercial Lead at Big Health Dickson Waterfield and Co-Founder of Ginger.io Karan Singh. I like what they're doing at Ginger.io, which uses smartphones to improve mental health care.
Their app uses sensor data collected through the phone and self-reported information to identify people who may need help. Providers can use this data to better deliver support to the right people at the right time, making care more timely, effective and engaging. Ginger.io's Android and iPhone apps use data from your phone to safely and securely watch for days when your health may take a hit.
The Dealmaking, Piloting and Scaling panel presented the question: You Have What It Takes? Travis Good, MD and CEO & Co-Founder of Catalyze, Molly Coye MD and Sense.ly CEO Adam Odessky took on the topic head on, sharing insights on how to sell, pilot and scale successfully within the healthcare system.
Questions addressed included what healthcare systems looking for when they evaluate new technology, are all hospitals different or are there unified approaches entrepreneurs can take when working with them, and do you have a product that hospitals can actually implement to scale, among others.
Although nature will always win if I had a choice between trees, mountains and lakes and gadgets, toys and devices, I am a bit of a tech nerd when it comes to nifty things that can improve the quality of my life or my productivity. I'd argue that more devices than not add hassle to my life and extra time trying to figure out how they work and their effectiveness than the benefit they may actually provide.
One of the more interesting products being shown in the Expo part of the show, a small area set up for companies to do demos and show off their greatest, was Breathometer. Their mission is to build the World's First Portable Breath Analysis Platform to help people make smarter decisions, improve healthcare and to save lives.
You download the Breathometer mobile app on your smartphone, power on the Breeze product using the small button on the bottom of the product and the Breeze should automatically pair / connect with your smartphone.
Once connected, confirm it has been 20 minutes since your last drink, take a deep breath and blow into the mouth of Breeze for 5 seconds and Breathometer will give you your results. Beyond providing dependable blood alcohol concentration levels, the Breathometer app is designed to help you make informed, dependable decisions.
Another cool product at the event was Splitsecnd, emergency assistance the instant you need it. Splitsecnd is the only plug-in device that can provide live trip data, detect a crash, call for emergency help in less than 7 seconds and notify your emergency contact in an instant.
This is a great device when you're traveling of course, but it's also great for seniors and teenagers -- parents can not only detect if and where there has been a crash instantly, but monitor the driving behavior as well. The device plugs into any vehicle's 12V lighter outlet and uses airbag sensor technology to activate the emergency response system on impact, calling for help even when you can't respond.
The GPS monitoring features allow you to keep up with family and loved ones on the road. Using build in location software, splitsecnd works with local 911 dispatchers to send emergency aid right away. The splitsecnd response team will call your emergency contact so your family knows within minutes you have been in a car crash.
You can also view the past 10 trips of anyone on your account -- where and when they went and even the route they took. For android users only, it currently also tracks how often the driver texts while driving making it easy to see how often they are making safety a priority. Wow!
I also learned a lot about hearing loss -- I had no idea it was such a huge problem in the states, how much hearing loss impacts one's emotional state, how expensive hearing aids are and the fact that they're not covered by insurance. Huh? When they're priced in the $2-6K price range per hearing aid, imagine how many seniors go without, trying to live day to day without accurate hearing?
Apparently there are a significant and growing number of kids who suffer from hearing loss as well. I chatted to the Audicus team at the show, who focus on providing affordable hearing aids. Apparently traditional providers and manufacturers mark hearing aids up more than 10x to cover overhead and other miscellaneous costs whereas Audicus cuts out the middlemen by working with a top-tier, independent German manufacturer and delivering it straight to the consumer.
They believe that everyone deserves to "Live Loudly" so are focusing on dramatically bringing the cost of hearing aids down so it's more affordable to the average American. They also sell accessories -- two thumbs up!
Producer Jill Gilbert, Organizer and founder of Living in Digital Times Robin Raskin and their team put together an incredibly enriching event full of great ideas, people, products, services and platforms.
The event was co-hosted by CDHI - Center for Digital Health Innovation at UCSF -- more information can be found at www.digitalhealthsummit.com. Be sure to watch for their developments, updates, future event dates and locations.
June 23, 2015 in America The Free, Conference Highlights, Events, Magic Sauce Media, On Health, TravelingGeeks | Permalink | Comments (0)