« Will VoLTE Eliminate VoIP in 2016? | Main | Find X With Thought Leaders & Visionaries at TEDxBerkeley on Feb 6 »
January 17, 2016
New York Times Travel Show Round-Up, Much More Fun Than CES!
I missed last year's New York Times Travel Show since we were about to embark on a 5 week long journey cross country -- our hashtag for the tour was #WBTWxAmerica for those interested in seeing photos on Twitter, Facebook and Instagram. We left New York the week before the event, and only a day before the city got hit with a snowstorm.
This year, we were proud media partners of the event since it remains one of my favorite travel shows in the industry. I love the fact that the show is a great mix of trade and consumer content and brings together some of my favorite destinations in the world all under one roof.
Despite the fact that is an American East Coast event, countries as far away as Taiwan and Japan showed up, there were wellness offerings from gems like Tahiti, St. Lucia and Bali, plenty of South American representation, and it took me nearly a day to make my way through the Africa aisle alone. From learning cool facts about specific destinations and exploring the latest from African safari tour companies, which we'll be expanding in 2016, I could have easily spent a full day in discovery mode.
Below, Arthur Frommer, from the infamous Frommer's Guides, opened the official consumer day of the event, which included a formal ribbon cutting at the entrance on Saturday morning, January 9. Some of my personal highlights are outlined below - as always, questions or comments, leave them in the comment section or feel free to tweet or email me @weblogtheworld.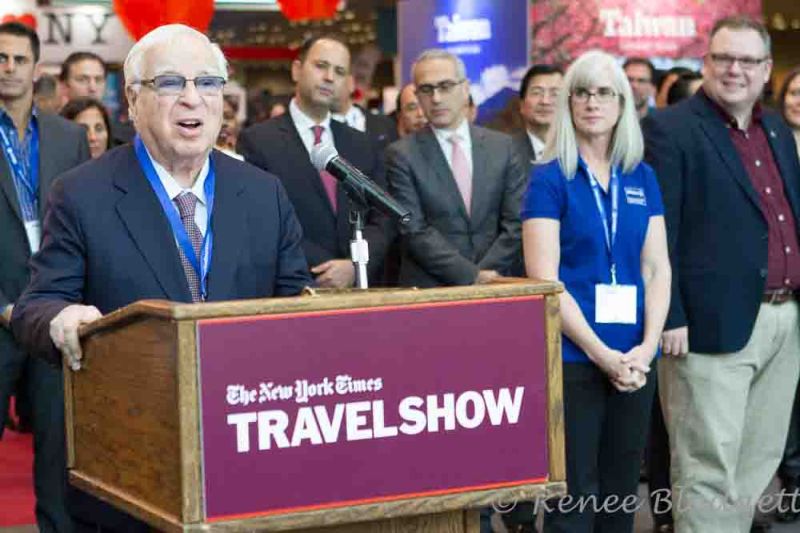 Eastern Europe
I was thrilled to see my pals from Estonia, Lithuania and Latvia on-site; we went on a press trip with them a few years back and loved it -- see my coverage of Estonia and Lithuania. They also served scrumptious cheese from the region which I dared not say no to -- food is such an integral part of travel for me, that I can't separate the two. Speaking of food, Dubrovnik is having a Good Food Festival from October 20-23, 2016, where you'll get dinner with a famous chef, taste traditional and not so traditional dishes, take part in gastro tours, entertainment and live musical performances and have an opportunity to attend workshops and presentations. More details at www.tzdubrovnik.hr.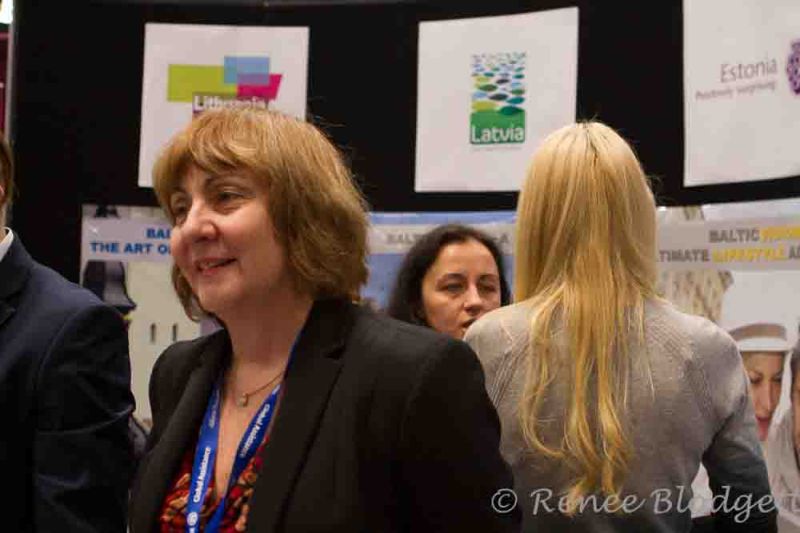 Croatia was promoting Wellness Travel among other things, which was exciting for us since we are not only expanding our Wellness coverage significantly in 2016, but it's a personal passion of mine and has been for years. Be sure to read my Wellness Travel Round-up of the show, which is going live next week.
I also got enticed by some of Adriatic's tours, which does land tours to Croatia, Montenegro, Slovenia, Bosnia, Herzegovina, Albania and Macedonia and charter cruises of the area. They specialize in excursions to Croatia and the Balkins, including island hopping, which had me at "hello." Niche Touring offers fully guided travel for small groups, which makes for a much more intimate setting, something we applaud.
They too focus on Croatia, but to off-the-beaten-path hidden places often not found on a typical tourist itinerary. Their tours emphasize the history, local food, and culture of each region, shared by the Croatian people you meet along the way. We're keen on reviewing one of their tours as I was impressed by their big heart and personalized approach to tours of the area, which include both water and land experiences.
I didn't have time to visit the Hungary or Czech Republic booths, although I have been in recent years and they remain on my fabulous destination list, so if you haven't been, be sure to read our coverage (Hungary and Prague specifically). Our content on Russia isn't deep but it's worth a meander as the content is full of rich photographs and history. And, my last trip to Berlin Germany this past year included more time in East Berlin than West, so be sure to read through our coverage over the past year.
Europe
I've lived in Europe, traveled through the continent extensively and have had long stints in Amsterdam, Corfu, Innsbruck and London, where I studied for many years. In fact, I've been to every country except for Norway which is very much calling to me -- seeing new images of northern fjords makes it hard to resist. If you're eager to see what I'm referring to, there's no better place to start than Instagram - do a search for #Norway and you'll be blown away.
This past year, I went to Germany and Austria, so be sure to browse through my articles of Berlin, Vienna and Salzburg, including a fabulous one on Salzburg's 50th Anniversary of the Sound of Music and the previous fall, I went to Normandy and Brittany, where I took so many enticing photos, you'll be booking your flight to France tomorrow. High on my "return list" over the next two years are Greece, Italy, Switzerland and Spain. Who knows -- maybe one will even be a winter trip. It was great running into Michael Gigl from the Austrian Tourism Board aka @AustriaTravel at the show.
I didn't spend time with destinations at the show because of my strong familiarity of the countries, however I did talk to a few tour companies and river cruise companies who are offering some interesting itineraries in Europe today. I'm far from a cruise expert although hope to experience a few of the higher end cruise lines so we can do a unique comparison based on "physical/experiential", "fine touches" and "wellness" in 2016 and 2017.
On my hot list right now are RIVER CRUISES. Watch for more from us in that area as we begin to explore what some of the leaders in river cruising are doing in Europe and Asia. For example, Uniworld Boutique River Cruises operate a fleet of 21 river cruising cruise ships along the rivers of Europe, Russia, Egypt, and China.
All inclusive Scenic offers unlimited drinks and butler service for guests and Viking River Cruises apparently has six new Viking Longships making debuts in 2016 across Europe. Avalon operates 15 ships in Europe and eight more in the Galapagos, Mekong Delta, China and Egypt and AmaWaterways has an impressive list of options through European rivers as well. Itineraries across river cruise companies range from major cities like Amsterdam, Budapest, and Vienna to delightful, small towns and villages like Austria's Durnstein and Germany's Breisach.
Africa
Africa, in particular, South Africa has always had an emotional hold on me, largely because I spent an exchange student year abroad in South Africa during my most formative years, lived there again just as Apartheid was lifted and led a blogging tour there roughly a decade later.
I also taught English in Kenya, saw some of the most surreal desert scenery on the edge of Somalia, slept on beaches in Lamu, Pemba and Zanzibar and saw gorillas up close in Uganda and Zaire before the western world had an opportunity to. I have gone on life changing safaris in Tanzania, Kenya and South Africa where I watched elephant trunks swaying in unison over a river for hours and was transformed by a tree standing alone in silence along the Namibian Border.
I was swept away by the hospitality and insights of the people of Zimbabwe and it's majestic Victoria Falls, ate so many avocados and bananas on Dizzy and Wally's farm in Zambia that I could barely walk, and I was brought to tears by the generosity and warmth of the Malawi people where we camped on a beach for more than a month. In the nineties, I marveled at ancient tombs in Egypt and fell in love with the markets of Morocco -- the list goes on. It's clear that I have a bias but with good reason. Africa is a magical continent and it boasts far more than safaris and Stellenbosch boasts some of the best wine you'll ever taste.
The girls from Zambia were a hoot and I could have talked to them for hours and after seeing stunning photos of Botswana, my heart cried out to be there with nothing more than me, a tripod and my Canon 7D. I've been wanting to go to Madagascar for years as well as to some of Mozambique's more remote islands where they boast luxury experiences worth having. And, if I got an invitation to Mauritius, I'd be packing my bags tonight. Morocco and Egypt had plenty to take in (Egypt handed out fun t-shirts) and I learned about luxury properties in Casablanca I didn't know existed.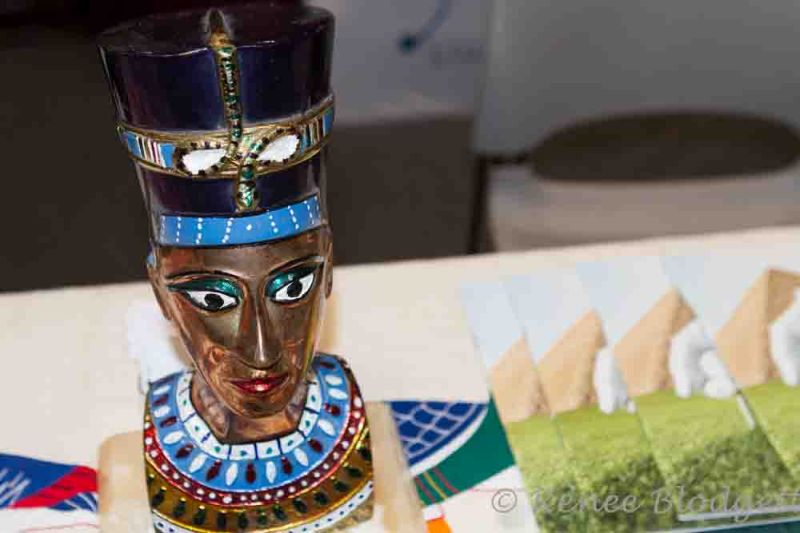 African tour companies were in full force, from offering a variety of options, whether it be glamping in the bush, safaris, photo tours, luxury resorts and spas to cruises departing from Cape Town. Uber Luxe Safaris were offering unique itineraries, from chimpanzee trekking, a canopy walk in the Nyungwe Forest National Park, Birding, Water Fall Trails, tea tours and hanging with monkeys. Uber Luxe Safaris is based in Rwanda and specializes in authentic luxury experiences in East Africa.
The Zulu Nyala Private Game Reserve looked compelling. Nestled between the wilderness reserves of Mkuze, Hluhluwe, St. Lucia and South Africa's Sodwana Bay, the reserve boasts elephant, rhino, buffalo, hippo, giraffe, leopard, cheetah, antelope and more. The privately owned reserve is home to over 40 different species of animal and bird life and on-site, they have 50 ethnic-styled suites and panoramic views from common areas in the Lodge.
They also have a tennis court, craft and curio center, a games room, which is great if you're traveling with kids in tow, a pool, a bar and reading lounges. I chatted with the guys from Eyes on Africa for awhile who offer tours to Namibia's Etosha National Park, Sossusvlei red sand dunes, South Africa's Kruger National Park, Livingstone and Vic Falls, River rafting and helicopter flights in Zimbabwe and Zambia, canoe rides along the Lower Zambezi River, Mount Kenya, Amboseli National Park, Zamzibar, Selous, Africa's largest wildlife reserve, the Serengeti for the Great Migration, Kilimanjaro and the Ngorongoro Crater, island hopping in the Seychelles and swimming with whale sharks in Mozambique among other experiences.
I was also enticed by Bush Butlers, who I might add were the only ones who served Biltong at their booth - two thumbs up! They offer tailor-made safaris and tours to a number of intoxicating locations, from Tanzania, Kenya and Bostwana to Uganda, Zimbabwe, Namibia and South Africa.
They cater to your needs, which include family style safaris, luxury safaris, or beaten track adventure style trips. Some of the highlights include seeing hippos in Gabon, viewing gorillas in Uganda, ballooning in Namibia, taking in Madagascar's Baobabs, seeing the world's largest land migration in Tanzania's Serengeti, scuba diving with whale sharks and manta rays, and catching tiger fish on the mighty Zambezi River. I can assure you that going through the Namibian Desert in a 4x4 Explorer will transform the way you look at the world.
Original biltong from South Africa - I was in heaven!
Antarctica
While I still haven't been to Antarctica, we have a bunch of coverage on We Blog the World from other writers, so be sure to read through them and take in the photos.
The images are breathtaking and before seeing them, it wasn't a big priority on the list, but today, it's in the top 10. Hurtigruten is one company I discovered at the show that encompasses all things Antarctica. They're known as a leader in polar exploration and offer new Discovery Style Voyages, which is great for people with a true spirit for exploration and learning, but without the rigors of a full expedition.
Photo credit: ESTHER KOIJKMEIER.
MS Midnatsol is the ship, which holds a maximum of 500 travelers, and they start and end in Punta Arenas at the tip of Chile where I visited a few years ago. I'd encourage you to take the time to explore Chilean Patagonia including Torres del Paine if you venture that far south. The ship explores some of Chile's deep fjords before making it's way to the more wild and beautiful Antarctica. Remember how I said that Norway was calling to me earlier on? Note to self: Hurtigruten also sails to Norway, visiting 34 small ports, most of which big ships simply can't enter.
Asia
Truth be told, I didn't spend as much time in the Asia section as I had hoped, but did visit Japan, Taiwan who always has a big booth at the show, China, Indonesia, Thailand and Malaysia. There were some great dance and music performances on-site all weekend and many countries were giving out bites, with all the spices from home. Oh so delish!
Malaysia had a colorful area with cultural backdrops where you could dress up in a traditional costume and have your photo taken - my favorite was this little girl who was eager to pose in front of the camera. Adorable!
While China can be overwhelming given the country's size, I find that it's worth spending time with locals who specialize in tourism since they have detailed maps, which you often can't find online and can elaborate on some of the gems outside traditional hot spots like Shanghai and the Great Wall.
I spent time with the rep from the region of Henan, which is central and to the north of the country, which touts a number of unique excursions and adventures. We may explore this region in more depth and consider a trip in the future.
Sri Lanka and Sri Lankan Airlines was holding a fun promotion at the show, which involved social media; simply engage your audience with a photo and hashtag #SriLankanUSA2016 for an opportunity to win a trip. Here, I learned a lot more about Sri Lanka than I expected and it's risen to the Must Visit List, so stand by as we do a little more research and plan for a future trip.
Central America and the Caribbean
Panama has been getting more visibility lately as has El Salvador so I spent time gathering information on eco-friendly lodges, resorts and wellness getaway ideas for both countries.
The Dominican Republic  was handing out a salted cod concoction!
Cooking demonstrations were part of the agenda on both days for a variety of destinations including Latin America. On Saturday, they had a Taste of the World Kid's Kitchen where Robert "Chef Bobo" Surlves and Spoons Across America engaged children in hands-on tasting and cooking classes. There were number of other cooking presentations as well, from Taiwan and South Africa to upstate New York and Lebanon.
Anguilla presented me the biggest surprise from the Caribbean Region. A place I knew so little about before the New York Times Travel Show, I left with a burning desire to visit -- after doing a little digging, it seems like an ideal location for a romantic getaway or a wellness retreat.
North America
We love Canada and there's a ton of coverage on We Blog the World so be sure to read through the articles, which cover a variety of regions from the west to the east coast and everything in between.
We also have coverage of some of the southern Arctic region as well.  As for the U.S., remember that we drove across country earlier this year, so in 2015 alone, we hit around 20 states between our trip and other side trips on both coasts separate from our journey. It's hard to say what my favorite memory was, but rest assured, there was no state that didn't hold a precious gem of some kind, whether it be blues music, food, culture, dancing, fashion, theater, thermal baths or nature.
There is a ton of coverage on our trip, which includes New York, Virginia, Tennessee, Arkansas, Oklahoma, Texas, Mississippi, New Mexico, Arizona, California. If you've never done the drive, I strongly encourage it and feel free to hit us up for tips. Below, a shot of a break we took at dusk on the way from Oklahoma to Texas.
This year, hot on the list is New Hampshire, Vermont, more Upstate New York (we're biased remember) and Long Island (I've yet to really explore), Pennsylvania and North Carolina. A trip to New Orleans would also be a nice plus if there's time between our international travel.
South America
As lame as it sounds, I only visited one booth in South America - Argentina, a country I've been wanting to visit for years.....of course, they were pouring fabulous wine wine from Mendoza on Sunday and serving cheese, crackers and salami to accompany. I love the Argentina Tourism PR and marketing team as well as the guys from Aerolineas Argentinas. One of these days, you'll find a wealth of rich photography taken on my Canon 7D from an extended stay in Argentina, so stand by.
Above, I refer to Ines Segarra as the Head of Fun for Argentina, although her official role is the Director of Tourism based out of New York.  That doesn't mean I'm not paying attention to other countries on the continent.
Also high on my wish list is Peru and Colombia, although we have plenty of coverage on We Blog the World on both from other writers. At the show, I talked to a few tour operators about some of the excursions they offer to the region. I loved my time in Chile and Ecuador, including the Galapagos Islands, so be sure to read our coverage of both countries, where there are plenty of engaging stories and photography from other writers as well.
At some juncture, I want to see and experience Bolivia's Salt Flats or Salar de Uyuni in Spanish. It is located in the Daniel Campos Province in Potosí in southwest Bolivia near the crest of the Andes and they were formed as a result of transformations between several prehistoric lakes. It is apparently covered by a few meters of salt crust, which has an extraordinary flatness and is beyond surreal. While this photo is sure to blow you away, you'll find plenty of other breathtaking images on the web and on Instagram.
Photo credit: Huffington Post Below, saying YES to GLOBAL WELLNESS in the Wellness Pavilion, a new section of the show this year. (see my write-up for the specifics).  Also in the Wellness Pavilion, I attended a light experience with the folks from Color Spa -- more details in the wellness travel post.
There was an entire section dedicated to fun things for kids to experience across cultures and tons of music and traditional culture.
Trade Day
Trade Day is simply what it says it is....the day those of us who are in the travel trade come together to learn from each other and network. It is typically held the day before the official show opens, and tourism boards, government officials, cruise lines, safari companies, hotels and resorts, chefs, authors, journalists and others in the travel biz, partake in conversations centered around marketing, sales, operations, logistics and best practices.
To give you a snapshot, I attended panels on Travel Media in the Digital Age with Facebook's Mike Rooney, PhocusWright's Lorraine Sileo, and TripIt's Lauren Moreno, a session on Wellness Travel with Anne Dimon of Travel to Wellness, Brian Povinelli of the Westin and Bonnie Levengood of MSC Cruises, and a Culinary Tourism discussion with TravelSommelier's Darren Humphreys, Parla Food's Tim Ries, Friends of the High Line Stephanie Schneiderman, and Tia Stephanie of Tours Cultural Journeys to Mexico and Colombia.
The cruise lines showed up in force and we heard from Cruise Planner's Michelle Fee, Celebrity Cruises Michelle Homoky, Wendy Whitener of Carnival, Ken Muskat of MSC, Lisa Falango of Royal Caribbean, Anthony Viviano from Princess & Cunard Line, and river cruising specialists, Cindy Christen from CroisiEurope, Cindy Sullivan from Globus, Susan Shultz from American Cruise Lines, John Restuccia from Uniworld, Chris Greco from Rauck and Kirsten Karst from AmaWaterways. Other sessions included a focus on Europe, the Caribbean, Asia, Latin America, Hawaii, Florida and National Parks.
Speaking of Florida, they had a great chef at their booth who was preparing delicious popcorn, shrimp and papaya - YUM!
I'll end with a visual of where this piece began -- below is a shot of Arthur Frommer doing the ribbon cutting on Saturday morning. Bravo and kudos to the New York Times Travel Show team. If you haven't been before, it's a must attend, so be sure to watch for announcements on next January's date and the details.
January 17, 2016 in America The Free, Conference Highlights, Events, Magic Sauce Media, On the Future, Travel, TravelingGeeks | Permalink
Comments
The comments to this entry are closed.