« January 2012 | Main | March 2012 »
February 23, 2012
Dastoli's "Machines of the Working Class" at SXSW
Robert and James Dastoli are identical twin brother filmmakers hailing from Los Angeles whose short film "Machines of the Working Class" will be part of the SXSW Midnight Shorts program on March 9th, 10th and 16th, 2012.
The two minute short features practically built robots having an unusually profane conversation. SXSW marks the fifth flm festival screening of Machines of the Working Class in the past year, with a screening at the Florida Film Festival coming up in April.  
 Check out their amusing behind the scenes featurette on YouTube here. 
February 23, 2012 in America The Free, Entertainment/Media, Events, WBTW | Permalink | Comments (0) | TrackBack
February 22, 2012
TEDxBerkeley 2012's Inspiring Innovation Merges Magic, BioData & Technology With Film, Oceans & Plants
Most people in my circles know what a TEDx event is but for those of you who don't, it is a local, self organized event that bring people together to share a TED-like experience, in the spirit of ideas worth spreading.
This video gives you an idea of what these non-profit events are like, which extend far beyond Berkeley. Cities around the world are organizing TEDx events, with a goal to teach, share, collaborate, educate, faciliate and grow. Ideas worth spreading means that some of these ideas can revolutionize (and have revolutionized) the world because of a new relationship or partnership that has evolved as a result of the wider distribution of these ideas and the courage and dedication of people behind making the 'magic' happen.
It's the second year I've been involved as co-curator of TEDxBerkeley, an event held at Berkeley's Zellerbach Hall every February. In attendance were well over 1,000 people from a broad range of disciplines and minds - from academic, music and science to medicine, technology and the arts.
15 ground-breaking thinkers, leaders and performers entertained and educated the audience through storytelling, performance and anecdotes from their life experiences.
Given that UC Berkeley is involved, so were some of the professors and students, including the opening act by DeCadence (pronounced dee-KAY-dence, with a capital 'C'), a vocalist group that sports eye-catching blue and gold capes and creative dance moves at nearly every performance.
The musician in me couldn't help but call out music brilliance first and while we're on the topic of incredible voices, Charles Holt stole the stage with his storytelling and singing of "He Lives in You," my favorite Lion King number.  
He had me at "go" is an understatement, largely because of his intuitive nature, the fact that he lives his life through that intuitive lense and his witty and incredibly honest stories of his mother and grandmother from the south, which will leave you crying and laughing at the same time.

From music to dance, Jodi Lomask then awed us through her dance troupe. Known for her work with an organization she founded called Capacitor 15 years ago, she works with world-renowned research scientists to create original dance works that draw attention to critical environmental issues. 
I think about people I know who spend their life committed to understanding oceans and I think about the moment it was for me that I got one step closer: deep sea diving off the coast of Australia some 60 or so feet below the surface. In that world, that remarkable world, you truly understand the beauty of a world we need to cherish and preserve.
Her dancers showed us that beauty through a combination of violin, dance movements in and outside of rings in somewhat of a Cirque du Soleil style and environmental videos, all creating an outer world exerience for us to share.
One of my favorite moments of the performance is below...the intertwining of minds, hearts and bodies.
Also involved in conservation and the environment was Dr. Maria Fadiman who I had the pleasure of setting up with a new Twitter account (social media will get us all, the deep hidden voice says, lurking in the background), is a fascinating combination of geologist, comedian, nature lover and ethnobotanist, her work focuses on the relationship between people and plants.
From South Florida, her style was very informal for an academic crowd yet had people laughing as she pounced onto the stage with a machete in hand, telling one humorous story after another of her time in the jungle, the majority of her time spent in the rainforests of Latin America.
She has worked with Tibetan children in teaching them to record their own ethnobotanical traditions and is currently working on a global scale cross cultural study of people's use of a cultural keystone species (the flora and fauna that are deemed important to the survival of a culture), and how these plants can act as larger ecosystem preservation incentives.
AutoDesk's CEO Carl Bass walked us through five trends of innovation, using Kickstarter and Moon Express one example of companies doing something extremely unusual. 
Digital fabrication is where you change the rules about how things are made, referencing 3D printers, showing us examples of various things which can be printed into a variety of materials, including rubber, plastic and metal.
It's amazing what can be printed on a 3D printer now...I ran into BitTorrent's Bram Cohen at SF Music Tech who showed me a very interesting 3D ring he was wearing on his finger. Additionally, imagine 3D buildings and even a 3D-printed human kidney. 
We also heard about the rise of information, aka the wisdom of the crowds and the wisdom of the 'cloud.' Not only are we all becoming creators in our own way on our own personal platforms, but we're becoming curators as well.  
Then, ARZU's Connie Duckworth, who took the stage in vibrant red, focused on international development sharing things learned from her work in Afghanistan. She says of the current state of international development:
The international development industry is dysfunctional.
Big money brings big unintended consequences.
Hope can't thrive in the world's worse places.
She believes that we have an urgent call to change the structure of the international development industry, which holds in its hands the lives of billions of people at the bottom of the pyramid.
Their thinking is that somehow inherently flawed short term thinking will move into sustainable systems. Big money when not hosed in the right direction can create a lot of chaos. She asserts that its a key reason that so many people lose so much faith in their government.
She refers to another unintended consequence of big money going to the wrong places: Brain Tilt, which is when the most highly educated local people (engineers, professors, doctors), all end up working for expats in low level positions. Local smart people are working as drivers and clerks rather than working in higher level positions because they can get paid so much more in the other positions.
Connie defines the quest for peace as security. "We all see the world through our own lens of experience, so for me, success all starts with a job. This is how people start with a way to solve those basic level needs, such as the ability to eat and feed their family."  She encouraged the audience not to just sit back and want peace, but believe in it and take action.
We went on a gratitude journey with Nipun Nehta of Service Space who asked us how we could all have more "Gif-tiv-ism" in the world?
Rather than focus on money, we wanted to focus on giving, in other words, the idea of unleashing the power of compassion capital. "Once you unleash compassion," he says, it's amazing what happens. "Stay focused on adding value and discovered untapped capital."
When small acts of giftivism get connected and activated, it rekindles a gift economy. A gift culture, he says, is marked by four key shifts:
Shift from Consumption to Contribution – Instead of asking "what can I get," open with "What can I give?" He says if you open each door with a different question, about what can you give, it changes the entire dynamics.  

Shift from Transaction to Trust:

Build synergy. He refers to Karma Kitchen, a restaurant in Berkeley, where you pay for the people ahead of you or behind you rather than for your own bill. 26,000 meals so far and  people continue to pay it forward.

Shift from Isolation to Community:

it is not enough that we connect, but rather how we connect.  When you serve other people together, you create a network of 'gift ties.'

Shift from Scarcity to Abundance:

Cultivate inner transformation to arrive at enough. "There is enough for everyone's need but not enough for everyone's greed." 
Hear hear Nipun. From gift economies, we shifted to Gopi Kallayil from Google who talked about the power of social and a connected world, particularly during the 18 days of the Egyptian protests, showing us a video where Desmond Tutu is talking to the Dalai Lama on Google+, a clip which has now been watched 2 million times. This is a great example of how social media is driving innovation around the world. 
We saw examples from Libya and Kenya to South Africa and Egypt, where during the protests, they were able to express how they really felt and more importantly, people were able to listen to those words on YouTube and other platforms. They sang, "the most important thing is our right and writing our history with our blood – if you were one of us, better not blabber and tell us to go away and leave our dream and stop saying the word "I". In every street in my country, the sound of freedom is calling. In every street in my country, the sound of freedom is calling." Powerful stuff.  
From the vantage point of healthcare, intuition and communications, Dr. Neha Sangwan encourages everyone to be proud of yourself for "listening to yourself." Often, listening to ourself comes second to listening to opinions of others, whether they be friends and family or a doctor we're seeing for a particular issue.
She asks, "what if communication is the cure that we're missing? What is the way we talk to ourselves & whether we choose to lean into our discomfort & show up in the world? What is this is the prescription for health long before I need to write you a prescription?"
Her talk was highly emotional as she brought us a journey around the world to the Middle East, where she spoke to women, sharing with us insights she learned about their world, their pride and in turn, what we can learn from them in the western world.
A professor at Berkeley, Ken Goldberg who closed the talks, on nothing other than robots. Yes, robots...and what we can learn from them. As someone who worked in speech recognition for years and did a project for the Willow Garage guys (I love PR2 and even danced with one), I was eager to hear his insights.
Ken thinks robots can inspire us and that we have a lot to learn from them. Some of those insights from various projects over the years include: always question assumptions. It's amazing how quick we are to turn to other people's assumptions and make decisions based on them without digging deeper. Secondly, when in doubt, improvise.
I couldn't help but smile but when i realized that both of these recommendations btw are great ones for start-ups as well as for children. So is tihs one: When your path is blocked, pivot. In start-up culture, we learn to pivot a lot, something that Fortune 500 companies should pay more attention to...
Author and thought leader David Ewing Duncan focused on DATA and how do we make sense of it all?', something he thinks is an awesome achievement of humanity, for 'better or worse.'
Because of his background, he centered his talk around bio-data. He points out that today, we can get a micro-analysis of our blood work, which can tell us how just whether we have a high chance of cancer and chronic diseases, but how empathetic we are as human beings. He notes "more experiences, more tests leads to more data."
But, as so many of us know, we have so much data, that its often overwhelming, so much so we can't make sense of the data we have at our fingertips. This is David's point.
Whats needed, he asserts is a new mindset in every occupation. "Enough of all this data, what does this data actually mean?" he says. "We need a revolution in interpreting the tools and the data as well as a radical shift in resources. In other words, how do we go about testing 42,000 genetic traits?"
Clearly, we need a radical shift in resources. There's only 4% invested on translational medicine and he thinks there needs to be a reversal in resource allocation. He also pointed to trends in the future for all the students sitting in the hall: "we're going to need 500 million analysts in 6 years and we only have 100 million today." Clearly, these are the people who are going to be well versed at making sense of all that data and transforming it into something usable and most importantly, actionable by individuals.
Tapan Parikh, a Berkeley University professor brought us back into traditional technology and current trends. Tapan's research interests include human-computer interaction (HCI), mobile computing, speech UIs and information systems for microfinance, smallholder agriculture and global health.
He showed us photographs and results of some of his work in rural areas. Of his latest projects, Tapan has been designing, developing and deploying information systems in the rural developing world – initially in India, and now also in Latin America and Africa.
Tapan and his students have started several technology companies serving rural communities and the development sector. It was inspirational to see what they have accomplished so far and to see what is possible with resources, tearing down silos, sharing among communities and better access.
What he hopes to represent is the notion of showing respect for where you come from. He says, "Pick a challenge that is important to you" (for him, it was setting up real-time video conferencing, knowledge sharing and instant messaging in India), "and stick to it." He adds, "Don't assume you know what people need for their development - let them speak up, don't act for them."
I was thrilled that Tiffany Shlain was able to join us this year as I've always been a fan of her work. She has been making films for 20 years, and some of them have hit Sundance, Tribeca, Rotterdam and others and her films have won over 36 film festival awards.
Tiffany says, "each time we were able to change the way we recorded film and show reality, we were able to change reality itself."
She showed us snippets from her most recent film: Connected: An Autoblogography About Love, Death & Technology, A Declaration of Interdependence." Connected had its U.S. theatrical tour this past fall and is now available for people to host their own screenings. 
The U.S. Department of State's Bureau of Educational and Cultural Affairs and the University of Southern California's School of Cinematic Arts (SCA) announced earlier this month the 29 films selected for the American Film Showcase, an international cultural diplomacy initiative that brings people together worldwide through film and Connected made the list.
The movie is enlightening and sad at the same time, taking us deep into what is happening around us in a connected world and how technology is shaping and reshaping us. Bravo!! I have a love/hate relationship with technology myself -- the timing of this film couldn't be more perfect.
"Do something radical and true," she says. "We as humans should declare our human interdependence." Film projects they're working on for others are centered on life's most emotional topics: engagement, power, money, wisdom, death, inspiration, the brain and others.
Now that we're back to Entertainment, the E in TED, the last two speakers this year were performers: magician Robert Strong and violinist Lindsey Stirling.
Robert Strong is known as 'The Comedy Magician' and in watching him, it's so clear that magic is his life passion. He has performed on every major television network, in more than 40 different countries, in all 50 states, and twice at the White House.  
I never paid much attention to the word magic until I renamed my own consultancy with Magic in the name. Now, I see 'magic' everywhere and am a true believer that perception is reality and that we can create any outcome we want through our own belief systems.
Lindsey Stirling, who I first saw play at Idea Festival in Kentucky last fall, is often referred to as the Hip Hop Violinist. Her passion, energy, and presence is magnetic, so much so, that you can't help but want to get up on stage and dance as she jumps around, violin and all, around you. Here's some background on her work. Let's just say that I'm a huge fan.
Check out last year's (2011) TEDxBerkeley talks on video. And a few talks from last year to get you inspired were Chip Conley on remembering that we're human in business, Anat Baniel on flexibility and vitality, Lopas Brunjes on carbon reduction, Bryan Alvarez on living organisms in our body, and Shore Slocum on spiritual awakening and awareness and how this can transform your everyday life. 
Photo Credits: Lightbulb - Kauffman.org, Speaker images by Renee Blodgett
February 22, 2012 in America The Free, Arts & Creative Stuff, Conference Highlights, Entertainment/Media, Europe, Events, Magic Sauce Media, Music, On Education, On Health, On Innovation, On People & Life, On Poems, Literature & Stuff, On Robotics, On Technology, On the Future, San Francisco, Social Media, WBTW, Web 2.0 | Permalink | Comments (0) | TrackBack
Womzit's SXSW® GO: Mobile App to View/Build Schedules & Navigate the Show
SXSW® GO from Womzit, is going to be the official mobile app at SXSW, which will allow you to view/build your schedule, view maps of what's happening, where and how to navigate to locations.
The app allows you to sync your online schedule with your phone, so as things change, your schedule will too. It will also allow you to tap into the thousands of SXSocial Registered Attendees who are going, browse by category, view profiles and make connections from within the app.
SXSW GO is now available for iPhone, iPad, and Android. Blackberry and Windows Phone 7 versions are coming soon apparently.  
February 22, 2012 in America The Free, Conference Highlights, Events, On Mobile & Wireless, Social Media, WBTW, Web 2.0 | Permalink | Comments (0) | TrackBack
February 18, 2012
Is What I Crave Connected to My Heritage, Where I Live or Both?
It always seems to take over a month for those post holidays sugar and fatty food cravings to disappear. I've noticed that those cravings are often more prevalent during certain times of the year and when I visit certain parts of the world, and it's not just because those "cravings" are the only things that locals eat.
I currently live in northern California and have lived in 10 countries, including more than my fair share of cold-weathered cities. There's no question that colder climates can make you crave heartier dishes and hotter temperature foods, even though Brits argued that soups and curries helped them cool down in India during the colonial years.
Since living on the west coast, I crave more sushi than when I lived in Boston. When I visit northern European cities, I crave more red meat even if there's fish or chicken on the menu and the weather is warm.
Culture contributes to those cravings and may explain why my Italian-born friends prefer a crisp Sauvignon Blanc over a buttery Chardonnay and how I developed such a tight bond with South African biltong that it's hard to convince natives that I wasn't raised there.  
That said, there are some dishes I crave that feel like they're "part" of who I am, such as squash, kobasa, duck, and toast for starters. Call it comfort food but I wonder, is it a craving for "comfort" or is it connected to heritage, where generations of eating certain things gets passed on, embedded in our DNA if you will?  
When my grandfather sat down for lunch, his staple to-go plate included cold meats, pickles and onions. My grandmother would add a bowl of onions to the table since he added onions to more dishes than I'd care to admit.
Observing this behavior was subliminal at best, yet here I am years later craving many of the same things my grandfather ate, and have noticed a "craving" increase of some of his favorite dishes as I get older.
There are examples of this across the globe, such as the thousands of banana varieties in Africa alone, not to mention vegetables and fruits not that plentiful in the west like guava and okra. Whatever we have an abundance of, we eat, another reason I'm thrilled the holidays are over.
When we lived in Florida, oranges were a regular sighting in our kitchen as was coconut juice when I hung my hat in Kenya. I lived on curries in London and ate French fries with peanut butter sauce in Amsterdam.    
But, how much of our cravings are connected to other factors such as our body chemistry and general health?
Rest assured, there are lots of foods that make me feel better, such as fruits and vegetables. And, when I eat healthier, my body chemistry changes as do my cravings. When I used to juice regularly, I'd find alcohol and low-alkaline foods hard to stomach. Our bodies adapt just as our ancestor's bodies adapted to different kinds of foods as a result of changes in climate, food availability and the economy. (Think The Depression).
Many doctors and health experts may argue that our cravings have nothing to do with heritage whatsoever. There's certainly no shortage of doctor-blessed diets that promise to reduce your cravings, decrease your "bad" cholesterol and add years to your life.
D'Adamo suggests that the human blood type is key to the body's ability to differentiate self from non-self. Lectins in foods, he asserts, react differently with each ABO blood type and to a lesser extent with an individual's secretor status.
One source suggests that orange juice is bad for my blood type whereas grapefruit juice and I should shine. The truth is that while I like both, I prefer grapefruit juice and "feel" healthier drinking it.  
One of the noted symptoms of adrenal fatigue, a condition where your adrenal glands become "tired", is a craving of salty, fatty, and high protein food such as meat and cheese. Some blood type diets observe that Type O's don't find dairy products and grains as 'body-friendly."  It makes you wonder what percentage of people from northern Europe are Type O's versus those who hail from Africa or Asia?
Chinese Medicine for Maximum Immunity by Elias & Kethum suggest that I should add more "cool foods" to my diet and avoid red vegetables such as tomatoes and red peppers which can make you feel more "irritable & off-balance" and bitter foods and beverages, which are considered more 'healing.' They focus on five elemental types: wood, fire, earth, metal, and water. After doing a questionnaire, they recommend certain foods based on your results and tell you to avoid others, with the goal of getting your body into balance and harmony.  
Albeit not new, Dr. Barnet Meltzer has written about something he refers to as "food swings", the reactions in your mind and body to what you eat, a link between your diet and your emotional and physical well-being. Female friends have admitted that they may eat more at times when they knowingly don't want to attract men into their lives.
Those who have tried the Atkins Diet know that it makes you forget about carbs after the first week and soon, its promise to drop the pounds becomes a reality, for a price that is and not necessarily a healthy one.
A highly alkaline and juice diet made me enjoy raw foods in a way I never thought was possible. Being a vegetarian for awhile made me despise the smell of meat for a few years and Rosedale's diet argues that Leptin, a hormone produced by fat cells, tells the brain when to eat, how much to eat and when to stop eating.
The time of day you eat is also a factor. When I returned from Italy several years ago, I craved pasta in the mornings and it wasn't until I avoided carbs until late afternoon that those sharp cravings disappeared.
The Telegraph's Science Correspondent Richard Alleyne unveiled research in 2009 that examined how the time of day you eat affects how much weight you put on; eating high fat foods during the day led to a 20 per cent weight gain.
This is just the beginning of an exploration of how cravings are connected to heritage, location, time and health. If you have ever documented your cravings and have insights to share, let's evolve the conversation. Over to you, health afficiandos, doctors, researchers, experts and those who are as genuinely curious as I am about this topic, to offer your opinions and data.
February 18, 2012 in America The Free, Europe, On Food & Wine, On Health, WBTW | Permalink | Comments (0) | TrackBack
February 15, 2012
D Dive into Media: Where Big Media Meets Digital Explosion...
How we tell stories is not linear, so what will emerge to transform storytelling in the face of new media? How much value -- real or perceived -- does vinyl have today when digital is winning because of convenience? As digital video continues to explode and the quality gets better and better, will the cable bundle last?
These were a few of the questions the D: Dive Into Media event explored in late January in Laguna Niguel, California, a fascinating event focused on the future of media. Says host Peter Kafka on opinions versus behavior:
"Nearly everyone is convinced that the TV industry is ripe for massive disruption, brought on by some combination of free Web video and pay video services like Netflix. But the pay TV business is behaving as though it has all the leverage in the world... buying big bundles of programming, at ever increasing rates, and forcing customers to buy all of it if they want to watch TV."
He also points to the fact that Hulu is generating more than $400 million a year only five years after its launch and that even Twitter is in the big media game now, "hoping that they can help TV programmers and movie makers attract new eyeballs."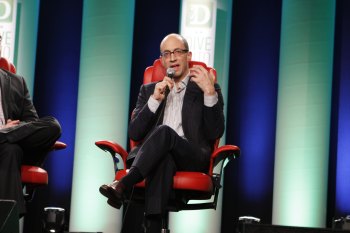 From ESPN's John Skipper, Warner Music Group's Edgar Bronfman Jr., Clear Channel's Bob Pittman and Viacom's Philippe Dauman to Martha Stewart, the New Yorker's David Remnick, Twitter's Dick Costolo and singer, songwriter Neil Young, we heard their views and where they were taking their businesses -- and why.
News Corp talked about the growth of the Hispanic market segment and their plans to roll out a Spanish language channel. Chase Carey seemed to think that the cable bundle will still be the way people access information in the next five years in some way or another although it will look "very different in 20 years."
From news and entertainment, we moved to e-reading, where Coliloquy, whose tagline is: Reading and Writing. Reimagined, took the stage. On a mission to push the boundaries of how we think about narrative and storytelling, they allow you to customize books on the fly, even a romance novel designed with a woman's desires in mind. Hearing Lisa Rutherford read saucy erotica excerpts at a technology and media conference was enlightening to say the least.
Songify had an interesting app that turns everyone into a singer, even if you're not actually singing. Co-founders Prerna Gupta and Parag Chordia entertained the crowd using their voices -- one trained and one not, demonstrating how their technology transforms an off-key tune into something enjoyable.
Vevo's Rio D. Caraeff discussed the increasingly blurred lines of content, which he believes should be everywhere. It's certainly true that as the Internet continues to transforms things, consumers will come to expect their favorite content showing up wherever they are, whether it be on their mobile device, tablet, TV or PC.
"We're in the 'audience business,' says Caraeff, who thinks there's a lot of value in aggregation. "We're not trying to take anything away from the artist or get in the way of their value with fans," he adds. "We just want to be everywhere artists want to work."
It wasn't dissimilar to what Martha Stewart and her president Lisa Gersh echoed on stage. "It's all about where our customers need access and where they want to view content," said Martha. Adds Lisa, "We try to think about television as video." They're looking at a bunch of prime time formats and of course, the web.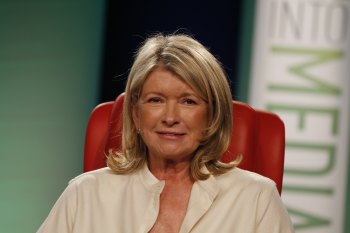 Martha says that the viewer has changed and it's continuing to change at 'lightening speed.' "As soon as there's something better, people jump to it. Look at the rapid adoption of the iPad," she says. The same thing is happening with television. In addition to being everywhere their customers expect "trustworthy reliable" content, the other two C's they are focusing their attention on is commerce and community, areas they don't necessarily think are being done "well" today.
The most unlikely guest at the event was Neil Young who is on a mission to bring people back to high quality audio, the depth and texture that makes up 95% of what is missing from a song you hear on an iPod or other device. Apparently, Jobs and Young were talking about how to raise the bar on audio quality before he died. Said Neil to the audience, "Steve Jobs is a pioneer in digital media yet when he went home at night, he listened to vinyl."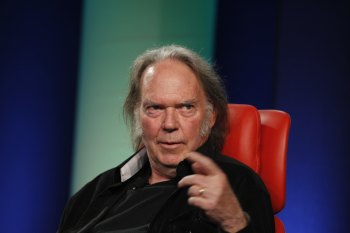 It was hard not to be teary-eyed at that moment. "When you get to the depth of 100% of the 'music value,' you get to the 'soul' of the music. That's what I'm trying to do and want to do," he says. He referred to the 'soul' value of music as the 'emotional value and how much "emotion" is lost in digital.
Then, he brought us back to the sad memory of what we lost, "You have to know that if Steve Jobs lived long enough, he would make that a reality."
Neil Young shouting to the world that digital is degrading music isn't a bad thing -- it's a reality and many in the current generation may never have heard or understood the 'soul of music' (that other 95%) that Neil talks about.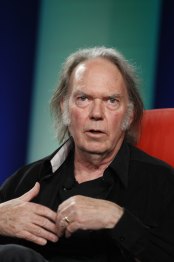 We've been listening to it just long enough to perhaps forget about the depth and texture we heard twenty years ago when we listened to the same song on vinyl. It's just that the convenience of having terabytes of music on an external hard drive and thousands of song on a small pocket-sized device that we can access in the middle of rural Africa is hard to pass up.
Frankly, I still have an old fashioned record player and it's not tucked away in an attic or my garage -- it's in my living room a few feet away from my flat screen TV, which sits on a rustic wooden cabinet with tons of components that are hooked up to an iPod, one of the five I own. While I care about that depth of sound and have high quality speakers scattered throughout the house, pushing a playlist is all I have time for most of the time.
And yet, every holiday at a bare minimum, the turntable goes on and all the vinyl comes out -- the old 1930s and '40s tunes my grandparents listened to and my collection of Blues and '70s play loudly through the house, extending onto the balcony for the neighbors to hear.
Sure, digital media is changing entertainment -- it's changing news and feature viewing, it's changing the value and need for smarter aggregation and curation, and it's most certainly changing music, but it doesn't mean we can't and shouldn't have access to both if we want a deeper experience once in awhile.
Photo Credits: Renee Blodgett
February 15, 2012 in America The Free, Conference Highlights, Events | Permalink | Comments (0) | TrackBack
February 12, 2012
Top Ten Social Media Blogs
The Social Media Examiner recently chose the top ten social media blogs they suggest following. Reprinted here. 
#1: Social Mouths
Social Mouths, the brainchild of Francisco Rosales, provides deep and honest looks at social media marketing and trends that impact our industry.
The site contains detailed posts with real-world examples, and addresses new and difficult topics.
#2: ViralBlog
Viral Blog provides a daily stream of social media trends and inspiration through case studies and other interesting articles.
The site has excellent content with useful tips and advice.
#3: We Blog the World
We Blog the World, although it focuses largely on travel, food/wine and reviews, it also has a lot of content around innovation, social media as well as technology and mobile reviews.
#3: Jeff Bullas
Jeff Bullas takes a close look at how businesses can get found online through social media.
The site has excellent content with solid social media insights.
#4: Hubze
Hubze has built an audience by focusing on social media trends and tips on social media marketing tactics.
The site contains a nice variety of media, including articles and podcasts.
#5: The Sales Lion
The Sales Lion from Marcus Sheridan is a blog that seeks to build community around inbound marketing, blogging, business and life.
The site fosters strong community with great participation through comments.
#6: Pushing Social
Pushing Social from Stanford Smith provides practical blogging tips and resources from a fresh perspective.
The site contains creative, informative and readable posts with deeper-than-average advice.
#7: Heidi Cohen
Heidi Cohen provides intelligent insights on social media tactics and trends, all while making the complex simple.
The site contains comprehensive and thoughtful content.
#8: MarketingTech Blog
MarketingTech blog provides a technology-focused approach to new media marketing.
The site covers a variety of topics and media, including radio and video.
#9: Likeable Media
Likeable Media keeps readers current on industry trends and new tools while also providing strategies and tactics for using Facebook and social media marketing.
The site contains very current information on new tools and platforms.
#10: SplashMedia
SplashMedia provides interesting takes on strategy, tips and trends, while their SplashCasts offer some great success stories.
The site features great use of a video show as well as diverse postings with good in-depth content. 
Republished from the Social Media Examiner who chose the lucky ten a coule of weeks ago. Congrats to the winners. 
February 12, 2012 in America The Free, Europe, Social Media, WBTW, Web 2.0 | Permalink | Comments (0)
February 03, 2012
TEDxBerkeley's 2012 Theme "Innovation" Kicks Off Third Year at Zellerbach Hall on Feb 4
Tomorrow, Saturday, February 4, 2012, UC Berkeley will gather world leading thinkers, visionaries, creative pundits, philosophers, academics and doers to host the third TEDx Berkeley Event (a 501c3) at Berkeley's Zellerbach Hall. It's the second year I've been involved in the event and we're thrilled to have a stellar line-up of speakers once again.
The theme this year is: "Innovation." 15 ground-breaking thinkers, leaders and performers will cover a diverse number of global issues and topics, ranging from health and toxicity, politics in a new media world, robotics, machine learning, and mobile computing to the arts through life-changing film & storytelling, micro-finance, the gift-economy and "magic."  
Below is a list of the 2012 TEDxBerkeley speakers and performers. Visit the TEDxBerkeley speaker page for their detailed biographies and updates.
Carl Bass:

president and chief executive officer of Autodesk, Inc., the leader in 3D design, engineering and entertainment software. 
Connie Duckworth: founder of ARZU, Inc., a 501 (c) (3) non-profit organization, and a retired Partner and Managing Director of Goldman, Sachs, & Co., where she was named the first woman sales and trading partner in the firm's history during her 20 year career.  
DeCadence

: UC Berkeley's DeCadence (pronounced dee-KAY-dence, with a capital 'C') musical group is best known around the Bay Area for their one-of-a-kind quirkiness and lovable eccentricity. 
David Ewing Duncan

: best-selling author of seven books published in 19 languages; he is a journalist and a television, radio and film producer and correspondent. His most recent best-selling book is Experimental Man: What one man's body reveals about his future, your health, and our toxic world.  
Dr. Maria Fadiman: a leader who works with the human/environmental aspect of conservation, who was named one of National Geographic's Emerging Explorers in 2006. 
Ken Goldberg: an inventor working at the intersection of art, robotics, and social media. At UC Berkeley, Ken teaches and supervises research in Robotics, Automation, and New Media. 
Charles Holt: speaker & performer, Charles has entertained sold-out audiences around the world, including The John F. Kennedy Center The Turkish-American Association in Ankara, Turkey, and Rikers Island Correctional Facility. He speaks to groups and organizations in order to empower, encourage, and uplift audiences everywhere.
Gopi Kallayil: does marketing at Google for Google Plus and previously for the Company's flagship advertising product, AdWords, in the Americas and Asia Pacific and for AdSense, Google's publisher‐facing product. 
Jodi Lomask

: founder of Capacitor, she has been commissioned to create original works for NASA, TED, SFO, Computers and Structures, the California Academy of Sciences, and the Salvadorian Olympic Gymnastics Team.
Nipun Mehta: founder of ServiceSpace, an incubator of projects that works at the intersection of volunteerism, technology and gift-economy.
Tapan Parikh

: Assistant Professor at the School of Information at the University of California, Berkeley.
Neha Sangwan, MD: an Internal Medicine physician, she is also CEO and founder of Intuitive Intelligence, and acts as a corporate communication strategist to empower healthcare practitioners, organizational leaders and corporate employees in their own self-care.  
Tiffany Shlain

: honored by Newsweek as one of the "Women Shaping the 21st Century," Tiffany is a filmmaker, founder of the Webby Awards, and cofounder of the International Academy of Digital Arts & Sciences.
Lindsey Stirling: a violinist for 19 years with a range that extends from classical to rock and roll. She became known as Hip Hop violinist from the America's Got Talent contest.
Robert Strong: the Comedy Magician has been crisscrossing the world since 1985 entertaining audiences large and small, young and old, formal and casual, and everything in between. Twice voted San Francisco's 'Best Comedian', Robert has appeared in more than 40 different countries, in all 50 states, and twice at the White House. 
Additionally, TEDxBerkeley has collaborated with AppBaker to release an exclusive iPhone app for the event. The app features an interactive schedule, speaker profiles, Twitter wall, and much more. TEDxBerkeley has also partnered with Livestream to provide high-quality live video of the event.
The TEDxBerkeley team includes curators Kevin Gong, a translator who has volunteered for the Global Lives Project; Renee Blodgett, founder of Magic Sauce Media, We Blog the World, a global blog network that covers every culture in the world and Magic Sauce Photography, and Jennifer Barr, VP/Operations at Northern CA Wharton Business School Club; Volunteer and Logistics Coordinator Eleanor Yang; Director of Logistics Navi Ganancial, serial volunteer and social media marketing guru; Director of Sponsorships Linda Xu; Technical Director Rocky Mullin, production volunteer for EG and TEDMED, musician & producer and Speaker Logistics Coordinator David Allen.
February 3, 2012 in America The Free, Arts & Creative Stuff, Conference Highlights, Events, Magic Sauce Media, On Education, On Innovation, On People & Life, On Technology, On the Future, San Francisco, WBTW | Permalink | Comments (0) | TrackBack