« Top Ten Social Media Blogs | Main | Is What I Crave Connected to My Heritage, Where I Live or Both? »
February 15, 2012
D Dive into Media: Where Big Media Meets Digital Explosion...
How we tell stories is not linear, so what will emerge to transform storytelling in the face of new media? How much value -- real or perceived -- does vinyl have today when digital is winning because of convenience? As digital video continues to explode and the quality gets better and better, will the cable bundle last?
These were a few of the questions the D: Dive Into Media event explored in late January in Laguna Niguel, California, a fascinating event focused on the future of media. Says host Peter Kafka on opinions versus behavior:
"Nearly everyone is convinced that the TV industry is ripe for massive disruption, brought on by some combination of free Web video and pay video services like Netflix. But the pay TV business is behaving as though it has all the leverage in the world... buying big bundles of programming, at ever increasing rates, and forcing customers to buy all of it if they want to watch TV."
He also points to the fact that Hulu is generating more than $400 million a year only five years after its launch and that even Twitter is in the big media game now, "hoping that they can help TV programmers and movie makers attract new eyeballs."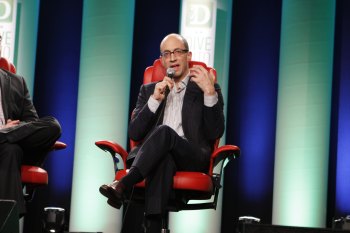 From ESPN's John Skipper, Warner Music Group's Edgar Bronfman Jr., Clear Channel's Bob Pittman and Viacom's Philippe Dauman to Martha Stewart, the New Yorker's David Remnick, Twitter's Dick Costolo and singer, songwriter Neil Young, we heard their views and where they were taking their businesses -- and why.
News Corp talked about the growth of the Hispanic market segment and their plans to roll out a Spanish language channel. Chase Carey seemed to think that the cable bundle will still be the way people access information in the next five years in some way or another although it will look "very different in 20 years."
From news and entertainment, we moved to e-reading, where Coliloquy, whose tagline is: Reading and Writing. Reimagined, took the stage. On a mission to push the boundaries of how we think about narrative and storytelling, they allow you to customize books on the fly, even a romance novel designed with a woman's desires in mind. Hearing Lisa Rutherford read saucy erotica excerpts at a technology and media conference was enlightening to say the least.
Songify had an interesting app that turns everyone into a singer, even if you're not actually singing. Co-founders Prerna Gupta and Parag Chordia entertained the crowd using their voices -- one trained and one not, demonstrating how their technology transforms an off-key tune into something enjoyable.
Vevo's Rio D. Caraeff discussed the increasingly blurred lines of content, which he believes should be everywhere. It's certainly true that as the Internet continues to transforms things, consumers will come to expect their favorite content showing up wherever they are, whether it be on their mobile device, tablet, TV or PC.
"We're in the 'audience business,' says Caraeff, who thinks there's a lot of value in aggregation. "We're not trying to take anything away from the artist or get in the way of their value with fans," he adds. "We just want to be everywhere artists want to work."
It wasn't dissimilar to what Martha Stewart and her president Lisa Gersh echoed on stage. "It's all about where our customers need access and where they want to view content," said Martha. Adds Lisa, "We try to think about television as video." They're looking at a bunch of prime time formats and of course, the web.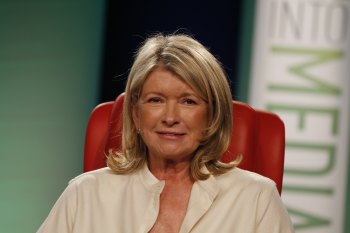 Martha says that the viewer has changed and it's continuing to change at 'lightening speed.' "As soon as there's something better, people jump to it. Look at the rapid adoption of the iPad," she says. The same thing is happening with television. In addition to being everywhere their customers expect "trustworthy reliable" content, the other two C's they are focusing their attention on is commerce and community, areas they don't necessarily think are being done "well" today.
The most unlikely guest at the event was Neil Young who is on a mission to bring people back to high quality audio, the depth and texture that makes up 95% of what is missing from a song you hear on an iPod or other device. Apparently, Jobs and Young were talking about how to raise the bar on audio quality before he died. Said Neil to the audience, "Steve Jobs is a pioneer in digital media yet when he went home at night, he listened to vinyl."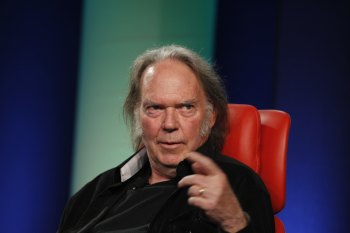 It was hard not to be teary-eyed at that moment. "When you get to the depth of 100% of the 'music value,' you get to the 'soul' of the music. That's what I'm trying to do and want to do," he says. He referred to the 'soul' value of music as the 'emotional value and how much "emotion" is lost in digital.
Then, he brought us back to the sad memory of what we lost, "You have to know that if Steve Jobs lived long enough, he would make that a reality."
Neil Young shouting to the world that digital is degrading music isn't a bad thing -- it's a reality and many in the current generation may never have heard or understood the 'soul of music' (that other 95%) that Neil talks about.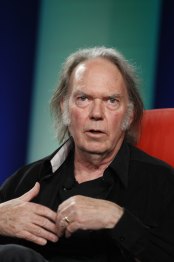 We've been listening to it just long enough to perhaps forget about the depth and texture we heard twenty years ago when we listened to the same song on vinyl. It's just that the convenience of having terabytes of music on an external hard drive and thousands of song on a small pocket-sized device that we can access in the middle of rural Africa is hard to pass up.
Frankly, I still have an old fashioned record player and it's not tucked away in an attic or my garage -- it's in my living room a few feet away from my flat screen TV, which sits on a rustic wooden cabinet with tons of components that are hooked up to an iPod, one of the five I own. While I care about that depth of sound and have high quality speakers scattered throughout the house, pushing a playlist is all I have time for most of the time.
And yet, every holiday at a bare minimum, the turntable goes on and all the vinyl comes out -- the old 1930s and '40s tunes my grandparents listened to and my collection of Blues and '70s play loudly through the house, extending onto the balcony for the neighbors to hear.
Sure, digital media is changing entertainment -- it's changing news and feature viewing, it's changing the value and need for smarter aggregation and curation, and it's most certainly changing music, but it doesn't mean we can't and shouldn't have access to both if we want a deeper experience once in awhile.
Photo Credits: Renee Blodgett
February 15, 2012 in America The Free, Conference Highlights, Events | Permalink
TrackBack
TrackBack URL for this entry:
https://www.typepad.com/services/trackback/6a00d83451c79e69e2016762603858970b
Listed below are links to weblogs that reference D Dive into Media: Where Big Media Meets Digital Explosion...:
Comments
The comments to this entry are closed.