January 14, 2017
Proposed Cut of Planned Parenthood Funding by New Administration
As I listened to the discussion over the new Administration's (can't even say his name) proposed $250 million cut of Planned Parenthood on NPR this week, I thought "is this a throw-back Thursday joke of some kind?
This de-funding proposal, as all listeners of the latest developments know, is for standard women's reproductive health services since federal funding doesn't fund PP abortion. As someone who has lived in Africa twice and helped to bring on TEDx speakers to address the importance of birth control and empowering women in Africa and other developing regions of the world, I find it astounding that in the supposedly most developed country in the world, we're having this conversation in 2017. Apparently most Americans still support Roe v. Wade (most recent numbers from Pew Research say 69%) and we've come so far with women's equality and rights or have we?
I was raised by my grandparents which means that my conditioning came from people born in 1915. Think about it. When I went on the pill for the first time after returning to the U.S. from living abroad, it came from Planned Parenthood – I wasn't in an at risk category but felt safe going there when there were few people I could talk to about birth control. The grandmother who raised me died when I was 16 and I wasn't about to turn to my grandfather. Yet, an interesting thing happened after I finally disclosed it to him. He said, "smart move – I'm glad you took the initiative, especially without your mother here to guide you." Then we started talking.
He told me about a hospital scene when my grandmother was giving birth to my dad and the doctor asked him if there were any issues, what his decision was: to save my grandmother or the baby? I asked him with my wide open 21 year old eyes, "What did you say?" "Of course, I told him to save your mother. What kind of question is that?" as if I was a fool for not knowing the answer. My eyes watered up. Pro-lifers will likely say that the baby's life is equal to the mother's and sure, it is – after all, in an ethical argument, all lives are equal. After all, if there were labor issues in this scenario, I wouldn't be here to write this heartfelt stream of consciousness or whatever it is turning into. Moments after his response, it occurred to me that the doctor asked my grandfather to make that decision. "Didn't mom have the right to make that call herself?" I asked him. "No," he responded. "It was the man's decision."
My grandfather was about as Republican as it gets, conservative about a lot of things and born in 1915, was an adult during times like this and yet he was pro-choice. Here we are having this conversation over a hundred years later as to WHY any government has a right to decide for a woman about her reproductive health? To decide for or in any way, impact a woman's constitutional rights? Oh United States of America in all of your intellectual, financial, military and world power glory, haven't you become smarter? Don't you know that women and diversity are the pulse of this powerful land?
How and where did this country get so lost? To a place of putting other desires above honor, truth and dignity. We have charted into a new world and definition of what it means to be an American or at a minimum, what American will now project to and come to be defined by the rest of the world.
Let's not be so complacent or remotely okay with a new status quo, one which has begun to suggest that a man or woman's honor, word, integrity, or conduct means nothing. How do we explain that words, conduct, and honor are not fundamental to America's ideology to our children who are watching and listening every single day? Words can't describe how I feel as a woman listening to what is happening to this country and knowing what is yet to come in the next four years. The PP cut is just the beginning of many decisions that will take us far far back in time.
Meryl Streep summed it up in 5 powerful sentences in a response to the President's Elect's distasteful mocking of a reporter's disability: "It kind of broke my heart when I saw it, I still can't get it out of my head, because it wasn't in a move. It was real life. It was the moment when the person asking to sit in the most respected seat in our country imitated a disabled reporter, someone he outranked in privilege, power and the capacity to fight back. This instinct to humiliate, when it's modeled by someone powerful, it filters down into everybody's life. Because it kind of gives permission for other people to do the same thing".
January 14, 2017 in America The Free, On People & Life, On Women, Reflections, TravelingGeeks | Permalink | Comments (0)
November 26, 2015
Turn Back To The Land That Shaped You This Thanksgiving
Happy Thanksgiving! On the morning of another Turkey Day, I reflect on the things I am grateful for, and there are plenty despite it being a rocky year.
I salute this day to the people in my life who stood by me during the rocky and the joyous and to a place which shaped who I am today – the Adirondacks.
In a world where we look at miniature screens more than we talk to or perhaps even touch people or a tree, I think we all too often forget about the importance of nature – the land that originally fed Americans when they first landed in New England so many moons ago…..my and your ancestors. It was about Communion. Harvest. Sharing. Being Thankful. Joyous for making it to a New Land, a land which was so ripe for harvesting and planting, they did.
When I was a child, our nourishment still came from this land. In our home, we didn't eat chemically modified food. I was lucky to be raised by my grandparents who held values from the turn of the last century, led by a misfit grandfather who showed me how to tend a garden and even more importantly why knowing how had so much value. Some of the things we grew in that garden we ate on the holidays. My grandmother canned everything, from jams and jellies to blueberries to make pies and tomatoes, which we used for sauce in the winter.
I challenge you to two things on this Thanksgiving day as we gear up for a month long holiday season of commercialism and even more technology being thrown our way as an important "must have" in our lives.
First, return to the land that raised you….the hood you call home and really look at the earth where you played, first learned how to ride a bike and perhaps where you first swam in a natural body of water such as a lake, pond or ocean. Be with it. Understand it. Feel it. Be grateful for it in a way you may never have. Teach your kids how to be with it and feel it.
Secondly, think about everything you put in your body and…your children's bodies. If it's modified and not natural, don't do it. Really think twice about supporting a horribly "gone-wrong" food system in this country that can only change if everyone stands tall and says NO MORE to fructose corn syrup, GMOs and processed boxes of crap.
Eat healthy and wisely today and every day moving forward. Be thankful for the earth that raised you and the fact that you can make choices every day about how you treat people and what you eat.
If we don't give time and energy to our land (and to how food is planted on our land), there may be a time where that choice is no longer ours!
November 26, 2015 in America The Free, Holidays, On People & Life, On Spirituality, Reflections, TravelingGeeks | Permalink | Comments (0)
November 19, 2015
A Toast to Silence Along the Jamaican Coast...
For the second night in a row, I hadn't bolted the door. When I woke up, I had that dizzying feeling you get when you've passed through too many airports in a short period of time, wondering where you were and what day it was.
There wasn't a sound to be heard except for a distant bird's call that didn't remotely sound familiar. I tried to put my attention on it so my mind didn't race off into the land of thought, the ever land of thought that never seems to shut down. What hadn't I done the day before that still needed my attention and all the things that so often steals precious time away from the serenity that this precious island had to offer.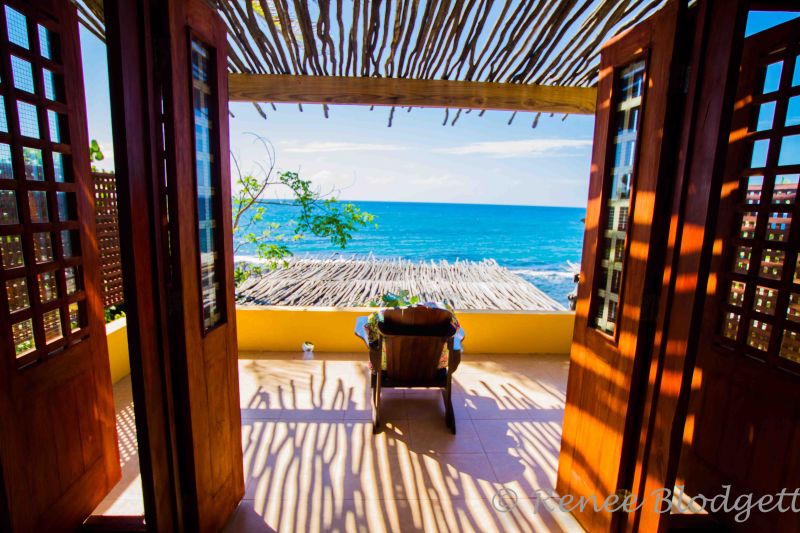 I was on the very same Caribbean island that I read about for the first time when I was ten, and while I hadn't heard of Reggae or the Blues yet, the novel painted such a rich picture that I knew the rhythm and beat by heart, so much so that I imagined drums on the ceiling of my bedroom and if anyone ever asked me, I would swear they were real, as if a helicopter dropped them by night and parachuted them away the moment daylight hit.
My imagination couldn't have been more vivid at the time and dancing colors of multiple rainbows were part of the canvas of life I painted for myself each and every day; it was a beautiful innocent time where stormy grays and dark blacks didn't exist, not even in my mind's eye. It was the start of my exploration of music and I so wanted to be the character in that mystery novel I can't recall the name of, just so I could dance all night and write music all day.
I wanted braids in my hair with bright purple ribbons and to see the sun set so far south of a coast I only knew as bitter and cold. I had finally gotten to Jamaica and while I was far away from that ten year old self, I couldn't help but wonder where the character in the book had lived and what they were doing now. After all, the character must have been based on someone's experience a long long time ago and to this day, I'm convinced of it.
The story shaped my musical path and the kinds of destinations I gravitated to for so many years and while part of me longed to dance the night away with purple ribbons woven through soft brunette braids, this journey was to experience a different side of Jamaica….the silent side.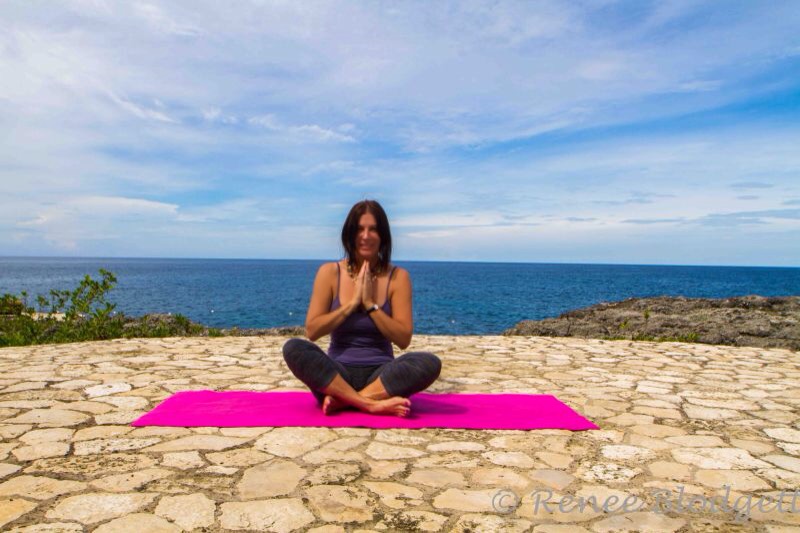 The breeze began to move the wooden shutters in the French doors of my room which led out onto a stone patio which faced a windy Atlantic sea. As they moved, I could see the flickering light of early morning, the sun so much brighter and warmer than what greeted me at home.
Still fatigued by a long year of travel and transition, my groggy state stumbled towards the flickering light and slowly opened the door I forgot to bolt and as I did, the wind grabbed it away from me, blowing it wide open and with it, the other side.
I stood there in my black knickers and turquoise sleeveless top with the lace v-neck top that barely showed a tan line from the day before feeling the warmth on my face, completely aware of how healing it felt. Wiping my eyes, I heard the silence within the silence as I suddenly noticed a flock of tiny little yellowish white butterflies dancing in the sky, eye level between me and the bushes in front of my cottage.
I smiled as wide as a child does every minute of the day. No more racing, I thought. No more activities, I begged. No more to-do's, asks, demands and bills I wished. Just butterflies, the here and now butterflies before me that were as precious as an unaware newborn.
Like a newborn would, I watched them buzz around the sky as if it were the most magical fairy tale ever seen. I breathed in the sun, gazing from left to right, taking in the lush green tree to my right, the crashing waves up against the rocks ahead of me and the bright pink bourgainvillea flowers that lay scattered around the gardens. They were everywhere in Jamaica and I never grew tired of seeing them.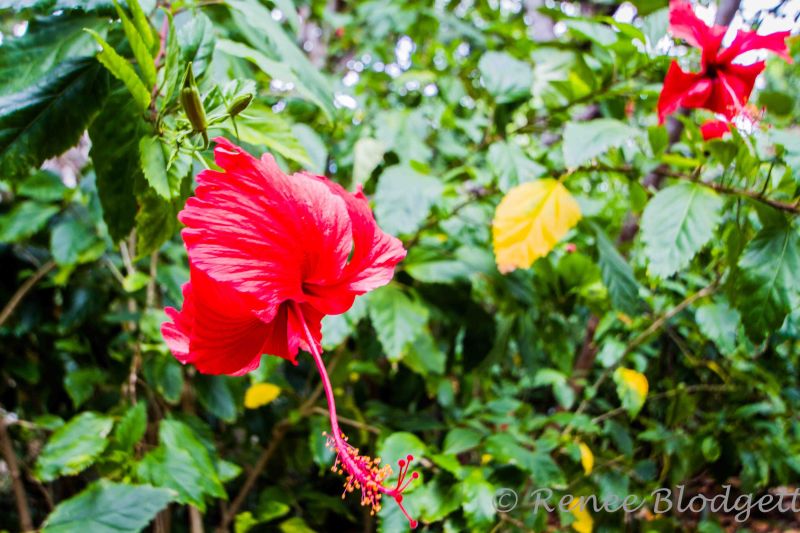 The beach area to my right and left was known as Treasure Beach in the St. Elizabeth Parrish, one of 14 on the island. It is called the "Bread Basket" of Jamaica in that it is most known for its farming and fishing, and provides 80% of the agriculture in Jamaica. The grass and trees were lush and green for unlike the dry arid California that continued to face a drought, rain wasn't a stranger to this land.
The rains often hit during the afternoons in the Fall and so mornings were typically glorious, loaded with sunshine, happy birds and dancing butterflies.
Not in the mood to open a laptop or cell phone, I looked around the room for something to bring with me to the Adirondack chair on the patio since I was oh so not ready to face other people's voices just yet.
There were two fashion magazines on my bedside table and a Holy Bible underneath the night stand, something provided by the property. I realized at that moment that I hadn't picked up a bible in at least a couple of decades and so with a curious but wry smile on my face, I grabbed it and slowly made my way outside.
While I do believe in God, I'm equally able to connect with atheists and agnostics for the simple reason that I believe that religion and religious dogma is the root of so much pain and destruction in the world, which has resulted in more division than unity. I probably subscribe to more of a Buddhist's view of the world than anything else perhaps and within that context, I now see the bible as a fascinating book with poetic writing that can provide masterful insights into the mind of mankind and the instincts that drive his or her ego.
I read a few passages from Matthew and while beautifully written, I felt they didn't provide as much guidance to someone lost or in need as Pema Chodron or Ken Wilbur does, at least for me. Lost in pure reflection, I closed my eyes as I felt the sun quickly heat up as early morning made its journey to mid-morning.
The sounds began to change, as simple as the pace of the wind and the waves which continued to crash upon the shore. Jamaica is the kind of place that makes it easy to believe in God or if you really can't go there, then a Universe that will provide exactly what you need when your heart is open to receive.
As I opened my eyes, fearful if I didn't my mind would start racing on all the things that made me a slave to life rather than me creating one, I saw once again the dancing butterflies buzzing around, unaware of time and likely unaware of thought itself. I wanted to be that butterfly, full of so much energy and beauty, knowing that it brings the same pure smile to a baby as it would a 90 year old man, and even more importantly, for the same reason.
I wondered if butterflies knew that when they finally blossomed from their caterpillar state that they had such a short life to live and in that knowing, they focused on happiness and joy through the only ways they knew how…. by dancing lightly and freely through the air. Or, like the character in my Jamaican novel, did the butterfly not realize how short its life would be but simply decided to focus on painting a new canvas of life each and every day, one that would bring them and others around them pure joy?
For my Jamaican character, it was writing music and playing drums and for the Jamaican butterflies before my eyes on that beautiful morning, it was dancing through the sky as if thought didn't exist and never would.
Perhaps my two Jamaican experiences would overlap after all, the fictional fairytale I had only known as a child and the real one that was as memorable and precious as the story, but rather than a life filled with music, it was also filled with silence. Both were equally perfect and both swept me away into a different land, where there was no time or space for thought, but only smiles, laughter and peace.
"The World Surrenders to a Silent Mind" -- Lao Tzu
That's what life is like when you're truly present I reminded myself, whether it's a storybook character or a butterfly or you shedding your own wings, ready to fly away. 
I nodded in gratitude to the Jamaica before me, the silent one, the one full of soft ocean breezes, dancing butterflies and Caribbean trees. I raised my hand to the sky, as if holding a glass of wine to make a toast.
 "To Silence," I said to the swarm of Jamaican-born butterflies, so unaware of the impact they had on me on one morning in their short lives. In return, they continued to dance before me as my smile got wider and wider. And then, I went back to that innocent and precious dream where butterflies, clouds, skies, fields of grass and music were all one.
Photo credit for butterfly dream image: www.photoshopcreative.co.uk. 
November 19, 2015 in Music, On People & Life, On Spirituality, Reflections, Religion, Travel | Permalink | Comments (0)
June 03, 2015
What Can You Find Out About Yourself on Ancestry.com?
I've always been fascinated by ancestry for as long as I can remember, but probably moreso because as a child, I knew very little about my blood mother, who we used to all refer to as my "real" mother. In fact, story has it that she simply disappeared when I was around 2 and that little was known about her except that she was living in Florida and from French descent. I always probed - what do you mean by French descent? The response was always the same -- "her mother spoke French, her father was French, they lived in Canada for awhile, dunno."
So I was left wondering whether they were French Canadian or French European, but always thought the latter and later learned that her parents and grandparents were more old school French that I originally imagined and that on my father's side, my great grandmother who I knew personally until my teenage years when she died a ripe old age, had an ancestral past with the French Huguenots. No wonder I was so taken by the French Huguenot history and culture when I roamed through Europe like a bohemian nomad in my early twenties.
Photo credit: Reddit.com
Sometimes I wish that they had blogging tools (and the Internet for that matter) when I was that bohemian nomad, so many of those stories could have been captured online. The truth is that my travel was so bohemian, it may not have worked for a blog -- I crashed with people and camped more often than not and often did swaps of sorts to make my way around the world, doing everything and anything you can imagine for my "keep", from washing dishes, waiting on tables and smashing olives to selling art, milking cows, packing foam in a factory and picking greengages.
Through that entire era, I came across French Huguenot references several times without actually knowing it was part of my heritage.  I've always believed that we're creatures of knowing more than unknowing and that we naturally tap into the source of what makes us purr or light up when we listen to our own body rhythms.
Then, and only then, will we synergistically migrate towards what we crave and inherently know, and life will flow like a well moving river, processing only major obstacles, not absorbing the small ones, the kind that hinder our progress in the world.
They also tend to be the ones that get in the way of what could so easily be our best days otherwise. Being connected to the earth and letting the earth guide us while listening to our body along the way (which includes our breath btw), is as close to the perfect way to live as it gets and connects us to our ancestry in ways we don't even realize in real-time.
That brings me to something I've thought a lot about, which is whether our heritage and ancestral roots are connected to what we naturally crave, whether that be people and places, or food, which I wrote about a few years ago. 
In that article, I refer to my grandfather's typical lunch diet, which consisted of cold meats, pickles and onions. He loved sauerkraut and we made it in one of those old fashioned wooden machines my Uncle Ed had several times over the years.
Pate was also commonplace as were stews, homemade soups, and plenty of cheese. Some of this perfectly ties into my so called French Huguenot past and my suspicion that some of my family came from East Germany or at least somewhere in the former Eastern Bloc.
It turns out that as Jewish as my father's grandmother looked at the time, if French Huguenot was indeed part of her ancestry, even if only 50%, it's no wonder that she was so adamant about keeping Protestant alive in our family, creating more than just a mild disturbance when I was sent off to catholic school for a few years.
Historically, Huguenots were French Protestants inspired by the writings of John Calvin in the 1530's and they were mostly concentrated in the southern and central parts of France. A series of religious conflicts followed, known as the Wars of Religion, which resulted in something referred to as the Edict of Nantes which granted Huguenots substantial religious, political and military autonomy.
The fugitives depicted above are French Huguenots - Photo from FineArtAmerica.com 
So, in all the countries I've explored, which now exceeds 85 if I recall at last count, it's no wonder I feel so comfortable in France, but as all Americans know, we're muts of sorts and rarely is our ancestry from one or even two countries if we travel far enough back in time. So, where else have I felt like I "belonged" in a country you ask?
Truth be told, Ireland, Scotland, Italy and parts of Eastern European culture all resonate with me at a level I can't quite understand at the oddest of times. Having some Irish and English heritage always made sense to me since my grandmother's parents on my father's side hailed from England.
As far as I could tell from the laborious stories over the years, they were "oh so particular," according to my grandfather and he'd always add "oh so English," whatever that meant to a man with likely French Huguenot and Eastern European roots.
Alas, when I ran into the founder of Ancestry.com in Dublin Ireland late last year and we started chatting about the roots of his business (pun definitely intended), I realized I had to find out my ancestral background. What surprised me the most when I got the results was the fact that English roots were extremely far down on the list when for so long, I assumed I was only one generation removed from being all things British and whatever comes with that label. I did, after all, feel pretty comfortable when I lived in England for all those years after college, even though it seemed to take a minimum of a year before I truly understood their wit, banter and subtle candor.
So if English heritage was so far down the food chain so to speak, what was at the top? Nearly 60% fell into France and parts of Germany, something that didn't surprise me. What DID surprise me is that nearly 20% of my make-up is Italian! Bravo I say except that my skin is far more nordic than it is Mediterranean although I tend to crave Italian food often. And, my first encounter with a Brunello stopped me in my tracks.
 Screen grab blown up from Ancestry.com results and shown in miniature here The rest of my genetic make up was scattered, from Northwest Russia and Finland to Greece, England to Ireland.  What about the American Indian who bore children with one of my great uncles I thought?  I'm not quite sure where that would fall, but let's see where Ancestry.com does the breakout across the globe.
Courtesy of Ancestry.com 
How does Ancestry.com determine your ethnicity estimates? They get the percentages and breakdown for your genetic ethnicity by comparing your DNA to the DNA of other people who are native to a region. The AncestryDNA reference panel contains 3,000 DNA samples from people in 26 global regions (above).
They build a reference panel from a larger reference collection of 4,245 DNA samples collected from people whose genealogy suggests they are native to one region. Each panel member's genealogy is documented to determine whether they are indeed representative of people with a long history (hundreds of years) in that region.
Then, each DNA sample from a given region is tested and compared to all others to construct the AncestryDNA reference panel. In the end, 3,000 of 4,245 individuals are chosen for the Ancestry DNA reference panel and then then compare your DNA to the DNA in the reference panel to see which regions your DNA is most like.
When they calculate your estimate for each ethnicity region, they run 40 separate analyses and your genetic ethnicity estimates and likely ranges for these estimates come from these 40 analyses.
Courtesy of Ancestry.com 
The process shows the average estimate as the given percent for each region and the general spread of the 40 estimates is shown as the probable range. Ancestry.com's analysis suggests that your actual ethnicity for this region lies somewhere in this range.
Courtesy of Ancestry.com 
Going through the process is easy. You simply spit into a tube, send it off and wait for your results which you'll receive by email.
Once they arrive, you have an activation code they match with your DNA and voila, you're given your genetic breakdown via an online account you create at Ancestry.com.
What's more interesting however, is what you can then do with Ancestry.com as it doesn't stop with your sample. You can create a family tree on their site and as soon as you begin a tree, they automatically look through billions of historical records, photos, and other Ancestry trees for information about your family.
When they find something, a green leaf appears on your family tree. Another cool thing about the site is the ability to dig deeper through advanced filters and downloadable research guides. Because their community is growing, you can also get tips from other members and even from fourth and fifth cousins you never knew you had. A few of my matches below....
As more members join, the likelihood of more matches increase over time. If U.S.-based, you can get a US Discovery membership, which allows you to search their 8 billion records, and build, grow and share your family tree online, attaching photos and documents.
You can find distant relatives, connect with the world's largest online family history community, record video and audio stories of your family directly from your family tree and share access to your family history so your own family and friends can join and add to the data.
It's a cool process and definitely worth doing. I still have a boat load to do on the search side, so discovery for me is just beginning. Over time, perhaps I'll do an update with even more exciting insights and finds. More information can be found at www.ancestry.com.  
June 3, 2015 in America The Free, Europe, On People & Life, On Science, Reflections | Permalink | Comments (0) | TrackBack
April 29, 2015
Melding of Minds on the Future of Humanity Over an Arc Fusion Jeffersonian Dinner
Ever heard of a Jeffersonian dinner? I've been invited to one or two over the last few years, one of which was being held in Washington DC, where it was birthed in the 1800's by none other than Thomas Jefferson himself. Because of those invitations, I had some vague idea of what they were, but never actually participated in one until the Arc Fusion folks hosted one recently in San Francisco.
Photo credit: www.smithsonianmag.com  
Rewind the clock to 1819 and visualize yourself at a long and decadently adorned table with Thomas Jefferson at Monticello, his elegant Virginia home. Around the table, you're seated with a group of people steeped deep in culture, philosophy, education, history, politics, art, literature, science and theology.
The idea behind a Jeffersonian Dinner is to bring people together from different disciplines, creating a new cause-centered community around a topic of importance or significance you might want to discuss for whatever reason. This can be done to tap into new resources, raise funds for a non profit or important issue, or simply to expand the group's thinking about a variety of topics.
It's important that it be somewhat intimate so 12-15 people at a table is a good size and I'd argue that while someone's home isn't a requirement, it makes it more personal -- a private dining room could also work.
The purpose of the Jeffersonian Dinner is to build a sense of community and partnership around a shared interest or theme. One of the rules is that everyone participates in a single conversation and are not encouraged to engage in one-on-one dialogues with their partners on either side.     
Photo credit: blog.asana.com. 
How fitting that the San Francisco Arc Dinner be held at the 1880's Payne Mansion on Sutter Street and also how intriguing that the topic at hand was not about the past, but about our fears and concerns for the future, say in 100 years.
David Ewing Duncan kicked off the event. A historian, author, journalist and also CEO of Arc Fusion, which celebrates the conversion of IT, healthcare and biotech, David decided to take us down memory lane before dinner.
Photo credit: Arc Fusion Website.
We went back to 1915 and recalled some of the provocative insights, inventions and historical moments of the time. Franz Kafka's Metamorphosis Complete Idiot's Guide to Beating Stress was out at the time (surprising I know), the first EKG was used in 1913 and OMG was first used in 1917 (yes really). 
The industries David and his team at Arc are most interested in exploring are at the intersection of what is happening in health, IT and biotech. It's not hard to see why, with nearly $800 billion being spent on health and wellness and $1.1 trillion on IT services with $50 billion on Health IT alone. 
He asked attendees before they came to the dinner whether they felt they'd be alive 100 years from now. 18% said yes whereas 82% voted no. In case you think that even 18% is insanely overly optimistic, remember that the audience is highly vested in technology and some are actually working on the most important research in the fields on longevity/aging, science, technology and medicine.
The same audience voted on what will be most important to humanity's fate in 100 years -- 40% voted for politics whereas it was no surprise to see technology lead that vote at 60%. As far as the impact on humans in the next 100 years, 36% felt it would be in gene editing and a whopping 70% went for stem cells. Pharma only came in at 11% which tied with health and wellness and bionics took last place at 9%. 
Other things on people's minds included mood manipulation, synthetic biology, longevity tech, next generation deep learning and renewable energy. 
James Canton asked the audience to imagine a future where embedded devices and technology automate the work, resolving issues that need to be addressed in our bodies. The truth is that nano and quantum technologies are expanding so rapidly that we are now in a game changing time for our health. Innovative ecosystems will start to do disease detection for us, hopefully before it turns into disease.
Drew Endy asserted that learning "how to" solve problems is the secret to sustaining life over the long haul. His deepest wishes include a future where biology will have distributed manufacturing and distributed systems and that humans will start to think of a world outside of themselves. Hear hear.
Casey Lynett addressed where we are going with Alzheimer's pointing to some important finds for this disheartening disease that seems to be soaring not reversing. 
Artist and molecular biologist Una Ryan showed us her work, reminding us of the beauty inside our bodies through our cells, our protein and our blood. She refers to the image below as the Tree of Life since it contains everything that makes our bodies operate. 
The food they served at the dinner was not surprisingly farm-to-table and organic. It was also very purposely selected based on a fascinating premise -- each ingredient was chosen to serve every vital organ of the body. Dishes ranged from salads and nori rolls to fresh fish and wine for the heart -- two thumbs up for the Trefethen Cabernet Sauvignon that showed up on our table.
The most riveting part of the evening, at least for me since it touched on some of the most controversial conversations happening around healthcare today, was the fireside chat between venture capitalist and serial entrepreneur Vinod Khosla and renowned doctor Dean Ornish.
Both visionaries took the stage to share their take on the future of healthcare. Vinod formed Khosla Ventures to focus on both for-profit and social impact investments and as a big believer in the importance raw data can have the future of health, he invests in both healthcare and biotechnology.
Says Vinod, "almost nothing that is relevant in medicine today will be relevant in 20-30 years. Even though some of it may still be true, it will be too imprecise to be that useful so no one will use it." He asserts that medicine will be mostly science and data driven over the next 10-15 years.  
He added, "we will have more research opportunities but we won't use them because we won't have the causality which is most important."
He also went on to say that we won't use doctors that much in the future to get a diagnosis and what we may pay more credence to is the doctor or (non-MD) who has the highest EQ not the highest IQ. Hear hear Vinod! I couldn't agree more. Bedside manner, using common sense and logic and listening between the lines to a patient is something that so many traditional doctors so sadly "don't get."
Dean takes a slightly different approach although they agreed more than disagreed. While he agrees that data gives us a lot of useful information we may not have had access to twenty years ago, if all we are is a set of algorithms, then humans can simply be replaced by an app. The reality says Dean is that we are so much more.
What I love about Dean's approach and always have ever since I first met him now over a decade ago, is that while he's far from a luddite, he tries to get people (and the industry) to look at the underlying cause of an issue. He believes that lifestyle and diet shifts are fundamental game changers, pivotal to reversing symptoms and in many cases, the disease itself.
He's interested in lifestyle medicine which is very low tech, but the power of low-tech interventions is very very real and something that techies sadly discount all too readily, focusing most of their time on connected devices, data and the Internet of Things.
Personally I lose sleep at night thinking about how so many brilliant scientific and medical minds can be so misguided, overlooking the raw fundamentals of what can keep us healthy and happy, holistically so.
Bottom line, we need to treat the underlying cause and also look at the mind, body and spirit, NOT just the body alone.
This integrated approach is what the techies and scientists keep missing and a sad reason why insurance companies put holistic care like acupuncture and body work, organic food, diet modifications and supplements last on the priority list.
It's the same broken record when it comes to addressing the disgusting impact that processed foods are having on Americans today. (Note: processed food ingestion is increasing globally of course, but the yanks still sadly take the cake when it comes to fast food and boxed processed ingredients as their go-to- diet). I digress but the whole thing sickens me so much that I can't help but vent at times like this.
Truth be told, as Dean took the provocative and controversial low-tech stance amidst so many tech-centered entrepreneurs in the room that night, I wanted to stand on my chair and boldly blurt out - "GO DEAN and oh btw, don't stop here!"
He is a big advocate of lifestyle and diet changes and given recent research findings, they're finding that the same lifestyle interventions that deter heart disease are the same ones that can keep prostrate and breast cancer at bay and even in some cases, Alzheimer's.
You can apparently see a positive and reversing effects to 500 genes over the course of 3 months through lifestyle changes.  For most chronic diseases, which account for 86% of issues, we can reverse their onslaught through shifts in our lifestyle and diet. 
Dean thinks that we'll see a future where the placebo effect will be more important not less. Why? Because, it works.
Vinod doesn't disagree with Dean although he wants to see data behind it, proving that it's real. In his view, the math is the math of networks, but agrees with Dean that diet is important and that symptoms are the wrong way to look at a disease. 
Given that we live in an information age and are drowning in so much data we don't know what to do with it, I agree with Dean that while data may be important and there's no doubt having access to what our bodies are doing and why is useful, its only part of the equation. Plenty of people have data but even if you know that smoking cigarettes can kill you, if you're suffering from deep anxiety and depression, you're not going to quit smoking anytime soon.
Anxiety and depression are very real, particularly in the states. The stats are going up and pharma companies are making millions on drugs, some of which cover up the real issues that lay behind what is making them depressed in the first place.  
Dean asserts that what is even more vital is the mantra I keep beating people over the head with every day: the more so called connected we are, the more disconnected we are....I mean physically and emotionally disconnected, not the fact that we can now communicate with people instantaneously on Facebook or Skype from our cell phones in real time.
What's really missing is the deeper sense of meaning you get from being physically and emotionally connected to others. There's no doubt that people need to rediscover inner peace, joy and purpose in their lives.
Bottom line, it's all about changing the raw materials we give to people and place as a priority. I'll end with this note and thought to reflect on: if we can take this "ground level" low-tech approach seriously by beginning with the things that provide deeper purpose and meaning, then we can really begin to accelerate healing. While data can continue to feed the bigger picture, if we don't get back to the fundamental basics of what feeds the soul, we'll remain a far cry from a truly sustainable solution to holistic health, happiness and well-being. A big high five to Dean Ornish!  
For more information on Arc Fusion, check out their site at http://arcprograms.net/ where you'll also learn about their upcoming Arc Fusion Summit being held in southern California September 1-2, 2015. What David has created is a truly innovative, future thinking and leading-edge organization and he has managed to bring together some of the smartest minds to address what both plagues and interests us most today.
April 29, 2015 in America The Free, Conference Highlights, Events, Magic Sauce Media, On Health, On Innovation, On People & Life, On Science, On Technology, On the Future, Reflections, San Francisco, TravelingGeeks, WBTW | Permalink | Comments (0) | TrackBack
November 25, 2014
SAND 2014, The Nonduality Event That Bridges Science & Spirituality
SAND is such a great name for a conference and no, it doesn't hold that acronym because it's a travel conference that focuses on adventure in the sand. SAND stands for and is about all things that encompass Science and Nonduality.
The mission of SAND is to forge a new paradigm in spirituality, one that is not dictated by religious dogma, but based on timeless wisdom traditions of the world, informed by cutting-edge science, and grounded in direct experience.
I first attended the event two years ago (see my blog post from 2012), when it was held in Marin, just north of San Francisco. While they have an annual event in Europe as well, the U.S.-based event is always held in California.
This year, they headed south and set up shop for their nearly week long event at the Hayes Mansion on Edenvale Avenue in San Jose California, a resort which was once a lavish private estate.
People across continents and from all walks of life started flowing in on October 22 for this annual gem of an event. It was an entirely different vibe this year and I'm not sure if it was due to its extravagant venue choice, the fact that the quality of the content was even better or that I'm a little further along on my spiritual journey. My guess is that it's a combination of all three.
Surrounded by lush, emerald green lawns, accented with gardens of vibrant, colorful flowers and guarded by towering palm trees, the 100-year old mansion was transformed into a spiritual wonderland inside and out. Outside was an experiential oasis, which included a sound therapy tent run by Danny Goldberg (below).
Here, you could lie down and go into a deep hypnotic relaxation through a series of vibrational sounds. The sounds and vibrations of singing bowls, gongs and chimes guide us into a deep meditation, passing through our body and opening blockages while allowing our minds to quiet.
A wide range of ancient world traditions from Confucianism to the Pythagoreans' claimed that sound could not only "tune the soul" but affect our cosmological & social worlds as well. I couldn't agree more - the experience was transformational.
Also outside was another relaxing technique in the form of a bed, a floating bed that is. The Floating Bed, a company started by John Huff, is mishmash of creativity, comfort and paradise. Says John, "not only is it great for a more relaxing and deeper sleep, but also useful for people with disabilities such as Autism, Autism Spectrum Disorder, PDD-NOS, Aspergers, Fragile X, ADD, ADHD and others.
Allowing the swinging bed to gently swing you back and forth while watching the world walk by, was a lovely way to spend a relaxing hour at the conference. I imagined where I could put such a contraption in my home and then remembered that I lived in a city. One can dream however, one can dream...
While the first time around, I tried to take in as many sessions as possible, this time I honored a more non-intentional flow. In other words, I didn't map out my agenda in advance nor did I make sure I had to attend every important talk by every renowned academic or yogi. I went with the flow and what my own bio-rhythm told me to do.
Using this approach, I met exactly who I was supposed to meet at the right time. By being as present as I could at every given moment despite the intellectual and spiritual eye and audio candy being thrown my way, the individuals I met, the experiences I had and the conversations that transpired along the way, were that much more powerful.
Being in your body as much as possible at an event like this is as important as digesting the data if not moreso, for it is through your body and spirit that you transform, not through your mind. From TransDance, yoga and meditation to art expression, RUMI poetry readings and Qigong with master Mingtong Gu, there were a number of ways you could experience mind/body immersion.
The community itself is what allows you to better process what you process during your SAND experience. Most of the people who attend could also be speakers, which is how profoundly interesting the attendees happen to be, alongside warm, authentic and soulful.
This is a community that spans religions or simply has none, however their core is central to the nonduality vision, which is to embrace a new integrative paradigm in which science and spirituality reenter into meaningful dialogue.
The idea is to authentically bridge an empirically responsible and non-dogmatic spirituality with a humanistic science willing to consider questions of context, perception, meaning and purpose. AND, that is precisely what happens at SAND....the melding of ideas across cultures and disciplines is discussed in hallways, in the bar, the experiential rooms, at the sessions, and over dinner.
In between the formal and structured content is quite frankly, is where the real magic happens at SAND. Below, co-founder Maurizio Benazzo talks about his own insights and inspiration for starting the event.
Imagine a conversation on healing the schism between science and spirituality while forging a new understanding of what it means to be human, with a professor of science, an emergency room doctor, a holistic healer, a film producer, a musician, a martial artist and a technology entrepreneur all within an hour.
Mind boggling is an understatement and within that boggling comes a little bit of chaos and confusion, all of which is designed to open you up to new possibilities and definitions of humanity as we currently  understand it.
The result is a profound mashing of ideas through both heart and mind, allowing you to leave not just refreshed and re-centered but able to tackle the world around you in a much more compassionate way while leaving ego behind at the door.
The more you tap into the world of consciousness and interconnectedness, the more you are able to celebrate the mystery of life and the love that emanates from it, a far cry from seeing the world and the players on its stage as cynical, which is easy to do given how unconnected people around us seem to be on a daily basis.
Those who are some of the best in the world in helping you tap into your highest levels of consciousness showed up at SAND for the week, including the likes of Rupert Spira who led some of the morning meditation sessions -- I loved his calmness and powerful presence.
Other session leaders, speakers and topics included Yasmin Bar-Dor on finding harmony in this moment, John Hagelin on entanglement, space-time wormholes and the brain, David Barash on biology and self as functions, Meriel Gold on the ground of being, John Prendergast on secrets of the heart, Richard Lang on seeing who you really are, Sally Kempton on Shakti and self awareness, Ellen Emmet on the awakening body and Gabor Mate on mind/body unity and the stress/disease connection -- this was a powerful talk btw.
There was also Adam Hall on the polarity paradox, Stanly Klein on quantum mechanics and the entanglement of life (this went deep, so artists and right brain thinkers beware), Scott Kiloby on addiction, Paul Smit on enlightenment for lazy people, Edward Frenkel on mathematics as hidden reality, Swami Beyondananda on inter-spiritual nature and conscious agents, Donald Hoffman on entangling conscious agents, Nick Day on how movies and storytelling can connect us across time and space and Lothar Schafer on quantum reality and the spiritual mind.
And this my friends, is nowhere near an exhaustive list of the talent and pure energy I discovered at SAND this year.
Some of my Top Highlights:
Judith Orloff

 

who suggested that vulnerability is our deepest strength. 

She says, "being in fear makes you present." Check out radicalchoices.org.

Coleman Barks

and his beautiful

RUMI poetry

readings (below and my slightly cut off video of him speaking here).
Attendees who asked and challenged questions like:
When you're practicing the passion of your life, you're not seeking, you're cultivating.
What if we were free enough to be whatever we happen to be at any moment?
What's key is being intimately honest and present with where you're and being okay with all of it regardless of what is going on.
The wonderfully inspiring graphics and art by designer Rico Martin - check out www.richimage.com.
Susanne Marie who suggests that Embodiment is never ending.  (in the peach sweater below) She says, "the wholeness realizes there's a process going on. Know that nothing can be lost in that process. Step back from the experience and realize you are the space that everything is arising from.
The space itself is the whole and within that wholeness, that's all there is." On fear, she says, "one of the ways to deal with fear is to break it down into sensation.
Everything you're feeling is part of your own wisdom -- your own wisdom, which is the purest kind. If we can get close to that fear, we'll suddenly notice an awareness of a piece of it that we define as fear and something else that we inherently already know.
That knowiness of what is allows us to step back from the fear while at the same time walking towards it. Once you walk towards it and rest with it, there's a reflective piece of it all that you just know. All experience is good. One piece of what I'm feeling is not any worse than another because it's all part of a greater force at work.
Fear is all of these aspects of emotion and none of it is separate from God. When you are truly there with that, fear is just a sensation, nothing more....and then you'll find that the fear dissipates." I loved her energy!!
Gary Weber, who talked about the necessity to upgrade our mental operating system. He says, "if we can change our thinking just how we did from flat earth to round earth, we stand a chance."
He described the challenges with our current problematic operating system and how to decrease your self-referential internal narrative, fears, and desires and function more clearly and effectively, operating in "now, now, now" from a place of peace, presence and stillness.  
See his video on this topic, which has much of the same content as his SAND presentation. I love his style and his ability to nail the most fundamental obstacles that get in our way through humor and direct candor. More info at www.happiness-beyond-thought.com.
The Importance of Breath. So often, we are running around and don't think about how we're breathing, how shallow it is and how often we actually hold our breath without even realizing it. I discovered SPIRE, which is currently in beta. Below, founder Neema Moraveji gives me a demo.
Spire monitors and analyzes your breathing patterns in real time to show when you are focused, tense, or frazzled. Stress triggers the brain's 'fight or flight' response, causing elevated heart rate, muscle tension, and shallow breathing. Your breath connects to your brain through the longest cranial nerve, the vagus, to influence your body, brain, and state of mind.
 Improving the way you breathe eases pressure on the heart and cultivates a 'rest and digest' response in the brain. Spire helps monitor this and gives you feedback in real time and over time so you can improve your breathing and therefore, your overall quality of your health and your life. Below is an interview I did with Neema. Have a listen.
Film - All About Nothing from directors Paul Smit and Robert van der Broek. I had an opportunity to speak to Robert briefly afterwards who came over from Holland for the event - I loved his energy, so be sure to watch out for the film in the U.S. More info on Robert's site at www.allesoverniets.nl.
Qigong with Master Mingtong Gu: in this very educational and yet completely in your body session, Mingtong Gu took us through the various meridian points of our bodies and as we went there, we focused, chanted and released, relaxing into our breath and into the presence moment.
Wisdom healing Qigong was credited as the most effective method of Qigong healing by the Chinese government in 1997. Its success lies in these six treasures, or golden keys as it is commonly referred to: Haola ("I AM"), Inner Smile ("I am LOVE"), Service ("I am Connected"), Trust ("I am Enough"), Chi Field ("I am a co-creator") and Practice ("I am NOW").
His teachings involve showing people how to get energy to flow more freely through movement, sound and mind visualization and meditation.
I also discovered another product, which isn't quite there yet for consumers given its $13K upward price tag, however could be a godsend for health practitioners and holistic healers. The brain child of Harry Massey and Peter Fraser, miHealth is a practical system for detecting the body's fields and correcting areas in the most need.
I tried this nifty device on site and sat with Todd Zimmerman from NES Health (the parent company) who walked me through the process, how it works and where it can be beneficial in both clinical and non-clinical worlds.
After placing my right hand on their non-invasive, clinically researched, handheld device, the miHealth system did the rest.
The combination of the connected device and powerful software produced a print-out of areas where I had blockages. This biofeedback allows practitioners to locate, unblock and release energy blockage in areas of the body. The idea is to see beyond symptoms and provide a more effective and targeted way to rejuvenate the body's energy by releasing energy blockages throughout.
From scientists, philosphers, physicists, spiritual healers, sufi and zen teachers, yogis, and anthropologists, to musicians, artists, film producers, academics and psychotherapists, the nondual conversation is a rich and rewarding one, for through all of it, there's a desire for oneness, something that if we were all to allow ourselves to go there, would be the most peaceful serene sensation we've ever known.
Through that level of personal transformation, we can transform people around us, including the planet. And, while on this path to a so called golden age for humanity, you'll found beauty, purpose and deeper understanding in the simplest of things.
Truly, the....simplest of things, the opposite of complexity, which is what we're getting hit with on a daily basis, one of the most dangerous ones being, digital information overload.
November 25, 2014 in America The Free, Conference Highlights, Events, Magic Sauce Media, On People & Life, On Science, On Spirituality, On Technology, San Francisco, TravelingGeeks, Videos | Permalink | Comments (0) | TrackBack
November 23, 2014
The Paris That I Never Seem to Tire Of...
I'm in a taxi whizzing down Boulevard de Magenta, one of those wider than normal Parisian streets. There are cheap shops where you can buy mobile phones, bags and wedding dresses in the windows on both sides and you wonder what surprise will come around the next corner.
We pass a sign for a Bach concert at one of the music halls, somewhere around Place de Clichy. My driver hangs a right on Rue de Rocroy and the street gets narrower. Small shops, a coiffure Mixte, a few not so stellar looking 2 star hotels, a cafe brasserie and tabac on every corner, a nail salon and a few optique stores for glasses. In my rear view mirror, I see travel agent and pharmacy signs as we weave in and out of even more narrow alleys and roads.
The meter is escalating and I can't help but think of the sign that had prefix prices for certain districts of the city. He is miserable and not worth the fight despite his fabulous taste in classical music which he has blaring from some device in the front seat I can't see. Salt and pepper, a sharp nose, no smile. He refuses to smile in fact and he hates that I am paying by credit card.
It was the first Sunday of the month and the sky was hazy but the day was warm, a rarity on Paris visits. I originally had plans to get out of Paris for the day with a friend, take in some gardens and have a picnic in a park however after the plans fell through, I changed course and decided after a taxi towards a more remote spot on the Seine, I would begin to walk and keep walking until the sun set.
One of my favorite things to do is meander through Paris without a clear purpose and just see what shows up. I had started my morning in a funky part of the Marais, where art and graffiti were plastered across walls before jumping into the cab. As the desire to see more nature and less people increased, it was time to move towards the water. And so....I asked the driver to stop on the Seine where there were very few people.
The Seine
A couple of hours go by and I'm swept with gratitude as I sat along the Seine on that warm afternoon. I received a message at 5 am that same morning from an acquaintance who had just finished a ten day meditation retreat and I couldn't help but wonder during those reflective hours if I could do something like that knowing how hard it is to shut my mind down. He had asked me how often I meditated and I began to reflect on what meditation meant to me.
A meditative state for me isn't necessarily a specific place and time I dedicate to silence and breath but more of a state of being, one which I find hard to do in Silicon Valley, yet can so easily be brought into the moment I leave.
With a SIM card in my phone that gives me the ability to text or call, I purposely put it away deep into the bottom of my purse. Instead of the rings, beeps and web page loading distracting me, I listen to the sounds of Paris amidst the haze of the sky.
Most shops are closed, yet locals and tourists alike buzz past me on roller blades and bikes while boats zip past them making their way under each bridge that crosses the Seine as far as my eye can see.
From there, I figured I would pop into the Pont Neuf metro stop on the 7 line and keep going until some visual or sound suggested I get off - I love days like that when you don't have to be anywhere else other than towards what moves you in a given moment.
Despite my miles of walking, it still felt like a blissfully lazy day. Paris has a way of making even the most unconscious present, for her sounds, textures, smells and historical colors have a way of weaving you into her storyboard, inviting you to share her glory with everyone you encounter after you leave her soil. While her spell is cast on you, you become conscious of all of 'her' grandeur, including the most intricate details. A family rides by on bikes, a bright yellow balloon fixated to the boy's handlebars, an elderly couple walks their Jack Russell, a blue-eyed blonde blades past me alone followed by a dark handsome 30 something year old with Caribbean features.
A gray haired man in his sixties with a professor-like beard sets up shop nearby and pulls out a mahogany hard bound leather book and while I can't make out the text, my guess is that he's reading some Eastern European dialect. My gut says he's Hungarian.
Yanks walk past me with day packs, a baggy t-shirt hangs loosely over the older man's overweight middle. A brunette with a fabulous brown leather sachet strolls by ever so pensively.
She stops and then...pauses. As she looks out over the river, she pulls out a notebook and writes something down. Then, she raises her face, glances over at me and gives me a smile before tucking her notebook in a side pocket and moving along on her journey to who knows where. I wonder where for quite awhile until that thought was interrupted by a falling chestnut which landed near my right leg. The fallen chestnut dangled off the lengthy stone stair I had been sitting up against for hours.
As I continue to watch a very eclectic world drift by, an out of breath man and his daughter get off their scooters and begin to walk them along the main path that runs along the river.
A Chinese couple and their children speed by on bikes, the nearly bald teenage son's hands are off the handlebars, as if a symbol of his new profound freedom half way across the world while on holiday with his obviously wealthy family. A well dressed Italian couple give me a warm smile as they walk up the stairs next to me; the man's face turns to curiosity as he sees me writing with such purpose and speed.
Of course I'm writing about you I wanted to say with the same curious look and warm smile he gave me, but instead I redirect my attention to the sounds of the scooters and motorbikes in the distance, the taxi cab horns and the oh so familiar sounds that rollerblade wheels make, especially when the bearings are loose. I spot my first graffiti -- Buble But glares back at me from across the river, plastered in red on the back of a metal book stall, one of the many set up along the Seine to entice tourists to buy.
Then, I see two lovers embrace and I can tell from their energy that they both chose to be here and that it wasn't one edging the other on for some redeemable lifetime romantic moment of sorts.
Romantic it was however and they brought me into their world for just a moment. Accents told me that he was European and she was an Aussie and I couldn't help but wonder if Paris was a meeting place to ignite these two lovers to the next level or if they had been together for years.
I decide to walk to Notre Dame since it is almost in my view. I have been to this remarkable church at least a dozen times and yet I always get a slight skip in my walk when I see her beauty emerge as I make my way around the corner and she stands sprawled before me. All the cafes that line up along the edge of her have become tourist haunts -- crepes and coffees are twice the price and it's more crowded than any of the surrounding streets. Yet, I'm called into sit down at one regardless.
I choose the one on the corner at the very end of the road, mainly because the man making the crepes is so obviously French, which isn't as common as you'd think in Paris anymore.
So many crepes from local stands are now crispy from being cooked for too long. While I typically go for a savory crepe (mushrooms, ham and onions is my favorite), I opted for an apple sauce and coconut crepe and the 40 something year old charming local who made it for me, nailed it - Yum!!
I left the cafe happily with my decaf cappuccino and my perfectly cooked crepe and proceeded to the bridge where I sat along its edge watching a street performer, three massage therapists taking clients on in small chairs in the middle of the street and a not so funny clown who was attempting to get kids to laugh by holding a bicycle upside down while circus music played in the background. Before I left this crowded part of Paris I know so well, I contributed to the lock bridge, which is always a favorite stop of mine....the romantic in me I guess.
Montreuil Market Heading to Montreuil Market was somewhat depressing after the peace and serenity of Paris' magical river, the same one that artists have painted to and been inspired by for centuries. I remember visiting the market over a decade ago and then again a decade before that and from my hazy recollection, it's changed significantly. I seem to remember more antiques, paintings and jewelry, knick knacks and appliances.
Now it appears to be more of an old fashioned flea market, the kind you might find in America's midwest where trucks come for the day and try to sell cheap clothes and shoes for the widest margin they can get. There were aisles with tires, oil, toothpaste, soap detergent, tea kettles and even Middle Eastern traditional shawls, but for the most part, it was a collection of clothes heaped in piles for those with enough patience to sift through for hours on end.
If you haven't been however, I suppose its worth stopping by for the mishmash experience. Hours are 7 am to 7:30 pm at night and the market is open two days a week on Sundays and Monday's. The official address is Avenue du Professeur André Lemierre 75020 Paris. Télephone: 01 48 85 93 30.
The best way to get there is on the Metro Line 9 and the stop is Porte de Montreuil. The market is a short walk up the main drag from the exit to the station.
Latin Quarter
I come across fun jewelry with semi precious stones that an adorable Peruvian is selling. He is standing across from La Boulangerie de Papa, a quaint cute blue salon that also has an outside creperie stand on the corner. It's a mere block away from the Greek eaterie I had so much fun in four or five years ago on a cold winter's night. Gyros by the dozen....Moroccans nearby calling me to eat at their restaurant, offering deals and sweet nothings I can't make sense of.
Onion soup or fish soup, egg, salad and beef, chicken or fish followed by chocolate mousse, ice cream, cheese or fruit for E12 to 17 a head all inclusive and every variation in between although they all sound like the same offer after awhile.
Restaurant after restaurant on Rue de la Huchette, one of the main drags, I find that there are too many offerings to choose one, something I often feel when I'm walking through the Latin Quarter. Then, Le Lac de L'ouest for Chinese, Thai and Vietnamese food across from the creperie but I'm not in the mood for Asian food, so I keep walking through her narrow streets.
A sweet creperie stands calls out to me with far too many sugar rich toppings to say yes to, such as chestnut, caramel, chocolate, strawberry, lemon, sugar, butter, honey, Nutella, apricot, banana and coconut, all ranging from 3.50 to around 8 euros.
Then a warm smile outside a restaurant on Rue de Huchette stops me in my tracks and so I indulge. Aperitifs start with Kir Cassis ou Peche, Kir Breton, martinis, tequila, cognac, Calvados, Cointreau, Grand Marnier and Rum. I have a small Kir Cassis although he tops up my glass before I can say no thanks to another. For E9.90, you can get Provencale or Cocagne or Complete or Bistrot or Basquaise or Kermaria AND a sweet crepe (various choices) with either cider, coke or apple juice.
Boulevard St. Germaine to Boulevard Des Italiens via Avenue de L'Opera Food stalls outside on the street on Boulevard St. Germaine sprawl in both directions. Viva Espana Bodaga grabs my attention with scrumptious looking Spanish food cooking away in large pots.
I sample some ham and then more Spanish food at Monceau Gardens.
I walk into Neo Cafe on 126 Boulevard St. Germaine to make sure my directions are in sync as I begin to realize I'm much further away from my hotel than I had thought.
Florian directs me in a deep dark and sexy voice, one that suggests there's a wink along with it even when there's not. Within a block or so from this quaint little cafe, I stumble upon another one called Tennessee Cafe, which isn't quite as quaint and it seems like it caters to yanks with its burgers and English menus. What is adjacent to Tennessee Cafe however grabs my eye.
There's a little passage called Passage de St. Andre, which is a narrow pedestrian cobblestone street that runs alongside the cafe. It looks historical and authentic in every way but it's hard to tell in Paris where everything is ten times older than even the oldest American city.
Cafes, bars and restaurants are strung along the left as you make your way down the cute pedestrian passage. I decide to have a drink at one of the cafes but need to move around a homeless person on his cell phone in the glass entryway to Thomas Travel to do so.
There's another homeless person along Boulevard Des Italiens who has a giant stuffed tan colored Snoopy sitting near him as he lay tucked up in his sleeping bag. I spot the elderly man perched up against a giant iron box on the same boulevard.
He had set up a fishing pole that dangled a cup from some fast food chain and while it slowly moved to the wind, he occasionally yelped into the dark streets. Then the giant life-sized chocolate lion in one of the windows along Boulevard St. Germaine and a giant pink elephant.
Then, a cafe calls my name. Here I stop and have a cappuccino while I watch people waltz by for the next hour or so.
The Canals
In the spring, summer and fall, a great place to hang out is on the banks of Canal Saint-Martin. People lounge here, picnic here, play music here and hold hands. On Sundays, two streets running parallel to the canal, Quai de Valmy and Quai de Jemmapes, are reserved for pedestrians and cyclists.
The Canal Saint-Martin neighborhood is nestled between Gare du Nord and Republique in Northeastern Paris, in the 10th arrondissement. The main streets around the canal include Quai de Valmy, Quai de Jemmapes, Rue Beaurepaire and Rue Bichat and I'd recommend walking down all of them. It's a charming part of Paris not to be missed.
Other areas I love to wander through and try to each and every trip I make to Paris, include the Marais near St. Paul, Bastille and Luxembourg Gardens.
Be sure to check out our Paris section for great shopping tips, restaurant finds, and other reflective pieces like this one. There's also lodging & top hotels in France, and top hotels in Paris as well as general content on France. (travel to France).    
November 23, 2014 in Europe, On France, On People & Life, Reflections, Travel, TravelingGeeks | Permalink | Comments (0) | TrackBack
November 22, 2014
Nature From Your Roots Is The Best Serenity Source There Is...
It's no secret to anyone who has followed my posts for awhile, that I have a soft spot for the Adirondacks and that I spent my childhood hiking in her woods, climbing her peaks and swimming in her waters.
For those who haven't followed my travels and may not even know where the Adirondacks are, it refers to the Adirondack Mountains, a mountain range in upstate New York, roughly a 3-4 hour drive from New York City.
The Adirondacks are not that close to get to for urban travelers nor for those who only have a short window to see a few major highlights when they come to the states. If you have a car, it's a fairly easy shot up the New York Thruway but if not, you're stuck on a not so stellar Trailways bus which I had the misfortune of taking this past summer.
That said, if you give the Adirondacks your time, you'll experience a serene spirit and sense of peace you've never known before.
Does that serenity and peace come from the Mohawk Indians of yesteryear? The Hudson River with her long history and roots?
Or, does it come from the pine trees? Perhaps it's the loons who wake you up in the morning and sooth your weary soul as the sun sets? I'm sure it's a combination of all of them and more, or perhaps its merely the remoteness of the place combined with the fact that people are about as genuine as they get.
I rarely get back to the Adirondacks for a myriad of reasons. Family have passed or those who are still alive, feel as if they have.
The place brings me as much sadness as it does joy for many of the same reasons that Richard Russo writes about in Elsewhere, also his old stomping ground. A few friends and family felt that he was a bit "harsh" about the area, and yet I felt he spoke his truth, which is all there is really... Deep down, I recognize that his truth resonates with countless people I know in the area, even if they never dare say so. For as vocal as I am, I rarely ever dare say so either.
Why? Because doing so may come across as attacking your hood rather than supporting it as many point out of Russo's writings. As I get older, I'd rather take the approach I take with everything in my life even if it backfires: speak up about what matters in the most authentic way possible.
It goes a bit like this: if there's something positive you can take from a person, place, experience or thing, embrace what works and integrate it into your life. If it doesn't, learn what the blockage was or why there was a failure and even what caused it and either try to improve upon it or simply let it go. Letting go is so hard isn't it? Hard, but oh so necessary if we want to move forward in our lives and...heal.
Even those among us who tout no dysfunction in their family upbringing, need healing. While my views and memories are not quite as harsh as those of Richard Russo, there are haunting memories of redneck towns and boroughs, all of which are surrounded by some of the most beautiful natural beauty I have ever known.
When the industries that supported American small towns collapsed, (in the case of the Adirondacks, it was leather), so did people's hopes, dreams and aspirations. With that collapse came a sense of desolation, depression, anger and for those who supported the troops, post war traumatic stress.
This is the world I grew up with and knew. Some people's anger or perhaps a softer way of putting it is disappointment that they didn't get what they wanted or felt they deserved in life, turned to drugs, alcohol or the unemployment line. I saw it around me growing up.
For those who didn't end up any of those categories, they either thrived at their profession and generally remained happy or did okay at their profession -- enough to have a decent life -- and complained bitterly about things around them on a daily basis.  Why should it be any surprise that old mill towns like Gloversville, Johnstown, Amsterdam, Fonda, which faced harsh economic and social times, wouldn't get hit with a sorrowful axe?
I try to go to a place of empathy or sympathy when the chips are down although truth be told, it's not always easy. In the work environment where I placed my cards now more than twenty years ago, negativity rarely sees the time of day.
There's no time for it. In Silicon Valley, they simply rise above it or they don't survive. But that doesn't work for everyone. And, I get it and understand it....I've been to both sides and back again. This isn't meant to be a rant, but rather a reflection on what is - you know, understanding and knowing what we can control and what we can't control.
I am sure that I resonate with thousands of Americans when I say this: you love your family and close friends even if there are a few who are not in alignment with the positive life choices you're now making as an adult. Yet, from time-to-time, their pull drags you through the ringer at times, even when it's not healthy for you to go there.
Perhaps that comment isn't addressing thousands, but everyone I know, for all of us have hidden fears, dark secrets and a portion of our past we'd rather keep hidden. All of us have people who have torn at our heart strings and done it so often that we can barely breathe if we think about embracing it one more time knowing we'll only get smacked if we do.
The Adirondacks is that place for me and yet I love her as much as I fear her, for the memories she serves me on every visit are mixed with the pure joy of an innocent childhood and a dysfunctional environment that kicked far too many families in the but.
So, while the authenticity of the people is as pure as the water that comes down from the mountains above the winding Benson Road, it's sometimes hard to hear the voices. It's not because we don't love those voices, but because we do. Richard Russo, I understand, painfully so and yet what you miss in your memoir is the sheer beauty of the nature that surrounds Adirondack State Park.
Is it because you never had an opportunity to sleep under her stars? If not, walk with me and I will show you her beauty. For those of us who were blessed enough to grow up inside her woods and among her lakes, rivers and ponds, perhaps we were saved from the misery that crippled so many others who didn't get her joy.
Like Thoreau who was healed by Walden Pond's waters, the nature we know best heals our deepest wounds if we only allow it. When I go back, despite the fact that I love people and anyone who knows me knows this to be true, all I want to do is spend time with HER, the Adirondack mountains. For within her natural beauty, there's no pain, resentment, pity, misunderstanding, frustration, jealousy or all the things I get hit with from external forces, like so many of us do.
She dishes me nothing but pure joy and frankly, we all need a place like that. We may all have someone -- a family member, a friend or a boss -- who make us feel as if "we're not good enough or simply enough". It's that other parallel universe and all the negative voices in it that we need less of in our lives, not more. Make positive choices that serve you in your life as you march on, not hurt you or hold you back from a purer destiny.... Nature doesn't have an ax to grind or something to settle.
The lake doesn't tell me I should have done something else, become someone else, lived somewhere else or married someone else. It simply is. And while I've been witness to some of the most stunning natural settings across four continents in the last couple of years, there's nothing like your childhood soil. And, this is mine.....
All the photos I took above are of East Caroga Lake. Be sure to read my latest blog post which includes more stunning photos of the region - The Adirondack Loop, which was done in mid-October of this year.
Also read other posts I wrote about the area and while there are several, start with The Allure of an Adirondack Summer and Lake George, The Queen of American Lakes.
 Thanks to my childhood friend Bob who opened his camp and heart this summer, where I had some time to reflect upon all the things that make Adirondack's lakes so great and in particular the one where we first learned how to fish -- Caroga Lake.  
November 22, 2014 in America The Free, On Nature, On People & Life, Reflections | Permalink | Comments (0) | TrackBack
November 20, 2014
Surf Summit, Where Technology, Entrepreneurism & Surfing Meet
Imagine a conference that combines surfing, technology and entrepreneurship on Ireland's magical wild coast. A subset if you will of Dublin's Web Summit, the first ever held Surf Summit brought 200 attendees to the west coast of Ireland to join in discussions, surfing and other adventurous and cultural activities.
When I told people I was going to an event where they planned to surf in Ireland's coastal waters in the middle of November, they looked at me as if I was a bit mad, unless of course they happened to be Canadian or from a Nordic or Celtic country.
You see, the Scots, the Welsh, the English, the Scandinavians and the Canadians thought this sounded perfectly normal, for when you come from a country where it is cold and rainy, you need to have a "can-do" attitude regardless of the climate or you simply won't experience anything at all. I learned this from living in England many moons ago and it has made me a lot more resilient because of it.
Iceland is another great example of where their personal and cultural life infiltrates into their business life in a positive way and adds to the entrepreneurial spirit, rather than detracts from it. I was born into water -- in other words, I grew up on lakes, was thrown into one before I could walk and was waterskiing by 5.
None of that quite prepares you for the cold waters of the Atlantic, however the enthusiasm of the entrepreneurs at the Summit made it easier to embrace it all. Below is a beginner lesson on the shores of Keel Beach on Achill Island which is part of West Ireland's Wild Atlantic Way.
Achill Island
is the largest island off the coast of West Ireland. The island is a magical place where the light seems to bless the Irish coast regardless of whether its foggy, cloudy, raining or clear blue skies and sunny, a rarity, especially in November. That said, we had our moments.
Other adventurous activities took place as well such as zorbing, rope climbing, zip lining, and archery thanks to the guys at Wild Atlantic Way Adventure Tours.
I had oddly never heard of zorbing and when they told me it involved getting thrown into a massive inflatable ball and being thrown vigorously down a hill, I was thankful I was on the archery team. That said, when I walked past the ball on my way to Archery, I couldn't help but be mesmerized, so much so that I looked at Jenni, the Finnish girl I was hanging with at the time and said, "let's do this."
Next thing you know, we were inside a massive inflatable ball, strapped in on all sides and yes, thrown down the hill. Needless to say, it was a blast and our screams surpassed all the others we were told.
I decided to go ziplining as well, since I've always loved the sport. While it may not have been as invigorating as the times I flew through the jungles of Costa Rica, Ecuador or Hawaii, it was fun nevertheless.
Below, people threw themselves towards a target hanging from a tree, with both themselves and the target connected to ropes.
Archery wasn't quite like I had learned it as a child at summer camp in the Adirondacks of upstate New York.
Instead, there were two teams and rather than shoot an arrow into a target (speaking of targets, check out my most recent encounter with guns in Kentucky), you shot rubber objects into the opposing team.
I felt as if I had signed up for a history lesson on what it was like for the Scots to win a war before there was ammunition. Only in a Celtic Land I was thinking to myself throughout the entire process, but with a smile on my face.
Speaking of Celtic Lands, it wouldn't be a conference in Ireland if it didn't have plenty of beer and pub culture.
On the main drag of Westport lies a few renowned pubs my old friend Peter told me about, which is worth having a pint or two if you make it to Westport.
Enter McGings on High Street and Matt Malloys on Bridge Street, both popular favorites among locals. Matt Malloys is known for its live traditional Irish music and Matt has purposely kept the pub small, so that they can congregate - as they do, from all 32 counties - to enjoy a pint and a tune.
At the evening sessions of the event, they served Guinness on tap which is always a treat, since regardless of whether you only like Guinness or love it (I'm in the last category), it always tastes better in Ireland.
Ask anyone who has been to Ireland and is a regular Guinness drinker and they'd have to agree. In the midst of all of these physical activities which we never seem to incorporate into our more stationary tech events in the states, was a series of talks over meals.
We heard from John Huikku who has done everything from lighting and compositing, to 3D matte painting, environments and look development. He spent 15 years working at Disney and worked on Lord of the Rings: Return of the King in New Zealand of all places. Edgars Rozenthals talked about drones, Airdog and Kickstarter, Andrew Cotton talked about surfing but also big ideas and equating his daredevil life riding the waves (such as him tackling the surf created by the St. Jude's  Storm in Portugal recently), to taking risks and chances in business and life in general.
While you may only think risk behavior on waves that could kill if you hit them wrong may only be a male choice, think again! Anastasia Ashley, who was drawn to the ocean as early as she can remember, was body boarding by age 4 and surfing by age 6. 
She has since become a prodigy and has won over 200 amateur events, including the NSSA National championships at age 16, before she turned professional full time.
She loves the immediacy of digital media for reaching fans. She says, "I could be shooting something for a brand or a magazine and it can be up within a few days" which is a great way to deepen the engagement.
She adds, "when you're in the media, you read everything about yourself," but has learned to love it all -- the good interactions and the bad.
When you're a celeb female surfer and do a twerking video, you shouldn't be surprised when it suddenly goes viral and gets 7 million views.
While there are lots of positive sides to what she has accomplished, she acknowledged that "females in any sport get the short end of the stick," referring to men who still tell her she doesn't deserve her fame and notoriety." Jimmy Gopperth and Jonny Golding talked about what you can take from rugby and apply to business, of which trust and teamwork were his top two.
Decision making was another biggie, particularly making decisions under pressure, which happens as much on the field as it does in and out of the board room. Niall Harbison encouraged people to take risks. Being a true entrepreneur says Niall, means that you can't be afraid to fail. 
Other tips to entrepreneurs included banging the door down no matter how hard it seems, not taking no for an answer, having incredible focus on your main goal, instilling amazing culture into your business and thinking globally beyond your own geographic borders.
He has high ambitions for both PR Slides, which recently raised €500,000 in funding, and Lovin' Dublin. The latter sells Dublin as a hipster paradise somewhere between London, New York and Berlin, but it has been accused of loving Dublin and not Dubliners.  
He said that he learned a lot going through this process, including that even if you hear people on the street using words like 'knacker' and 'junkie', it doesn't mean you should write it. Below, the film panel...
We also heard from Ireland's prime minister Edna Kenny who talked about a very proud Mayo county.
He stuck around for awhile to chat with entrepreneurs, take photos and share what he does well - storytelling with a dry and charming sense of humor.
Below is a snippet from his talk.
And, of course, there was traditional Irish music wherever we turned -- from the classic pubs in downtown Westport and nearby villages to our evening sessions at the Hotel Westport, which is known for hosting conferences and events.
Below is a snippet from their playing.
What was so unique and special about Surf Summit was its intimacy and its location, which almost has spiritual qualities.  The nature, the air, the skies, the rainbows, the breeze, the sand, the long dry grass - all of it was magical!
Combine that with a couple of days of fascinating conversations about start-ups and entrepreneurship with founders from nearly every continent, and apps and products that cross a myriad of industries, from gaming, drones, digital entertainment and mobile social apps, to luxury, lifestyle, healthcare, travel, transportation and insurance, it was all there.
Ultimately, smaller and carefully targeted and curated events are going to win as we see a proliferation of tech events in the same on-stage session formats with crowds too large to make sense anymore.
I think choosing an out of the way location is also a great idea, since it shows commitment on those who sign up -- and its not easy to leave, encouraging intimate talks and connections during the days and evenings.
And, in this case, I got to see a little bit of West Ireland, which was as beautiful and special as I thought it would be. Bravo Achill Island, Wesport, Wild Atlantic Way and Mayo County!
All photo credits: Renee Blodgett, except for Malloy's pub, which is from their website.
Both video credits: Renee Blodgett. OTHER GREAT RELATED POSTS TO READ: See our other posts on Ireland, Food & Wine in Ireland (including Dublin restaurant reviews), Web Summit 2014, the Top Travel Apps from Web Summit this year and Ireland tech events and top Ireland festivals.
November 20, 2014 in Europe, Events, Magic Sauce Media, On People & Life, On Technology, Travel, TravelingGeeks | Permalink | Comments (0) | TrackBack
February 13, 2014
Speakers Rethink, Redesign & Recreate at TEDxBerkeley 2014
This year marks the fourth year I've been involved as co-curator at TEDxBerkeley, an annual TEDx event held at Zellerbach Hall in Berkeley California. Now in its fifth year, this was the first year the event sold out at 1,700 and that's not including volunteers and our team. We had an outstanding line-up of speakers and performers this year, and the talks were centered around this year's core theme: Rethink, Redesign, Recreate.
Below is a summary of a handful of the talks, but you can find out more about the speakers on the TEDxSpeaker page and through their online videos which should be posted sometime in February or early  March 2014.
Kicking things off in the morning was well renowned entrepreneur and former Apple evangelist, Guy Kawasaki,  whose talk was entitled The Art of Innovation. 
Addressing entrepreneurs and wanna-be entrepreneurs, he suggests that rather than draft a mission statement, create a vision with real meaning...in other words, a mantra of why you should exist. Fedex doesn't equate to a series of trucks that deliver packages, but Peace of Mind.    
He also pointed to the fact that so many companies try to innovate from the same growth curve rather than jump ahead of the curve which is where real innovation happens - that was Kodak's fail btw. Change in an industry is inevitable, so don't lag behind because you're too set in the way you do business and too inflexible to pivot to a new vision before it's too late. When you start to think from a truly innovative place, you're essentially rolling the dice.  
If you have indeed jumped to the next innovation curve like Apple did, it's okay to have some crappiness in your product suggests Guy, as long as you get it out there. No surprise coming from an Apple veteran who worked alongside Steve Jobs who is known for his infamous slogan: Real Artists Ship. Taken from Steve Levy's book Insanely Great, which chronicles the creation of the first Mac, he writes: 
"One's creation, quite simply, did not exist as art if it was not out there, available for consumption, doing well. Once you get the computers into people's homes, you have penetrated their minds. At that point all the clever design decisions you made, the turns of the interface, the subtle dance of mode and modeless, the menu bars and trash cans and mouse buttons and everything else inside and outside your creation, becomes part of people's lives, transforms their working habits, permeates their approach to their labor, and ultimately, their lives. 
But to do that, to make a difference in the world and a dent in the universe, you had to ship. You had to ship. You had to ship."
I couldn't agree more and have seen more ego and time spent on details that simply don't matter get in the way over the years of getting a product to market for the long haul. The next part is also true - once you ship, you will suddenly be surprised how people start to use your product in ways you didn't even anticipate. With Twitter, it was the same case as well as from countless other products and services which have been documented over the years. It's up to the customer not to you since they drive your future.  
 He also thinks its smart to polarize people even at the expense of major push back from corporate brands. He cited Tivo as an example because of its ability to time shift TV. Great products polarize people – don't be afraid of polarizing people because that will upset the status quo.
He also spent some time on the "pitch." Hear hear Guy since so many social media purists argue that there no longer is a pitch, it's just a conversation.
Bottom line - both need to happen in a raw and inherently authentic way for sustainable success. It's astonishing to me how many CEOs don't get that.
Also in the first session, Carol Sanford started her talk with a moving statement "It took me 42 years to find an answer of how to change the world." She moved into a dialogue about what she refers to as The Responsible Entrepreneur, which is anyone who is helping to bring a new business into the world which creates a better world. To learn more about the modern entrepreneur and the responsible ones, she dives into the Four Game Changing Archetypes.  
Of those timeless archetypes, she cites the warrior who can see things the rest of us cannot see, the clown or the court jester who thrives on bringing the connections to those who cannot see the nation, the hunter who thinks about governance and how things work.
Every Responsible Entrepreneur represents an archetype, each with a unique role to play in the entrepreneurial system.
As she references in a post she wrote, "cultural anthropologists have identified all four in every healthy culture, and all four are needed to ensure the health of our own evolving social system. Each takes on change differently in search of different outcomes and all four approaches can also be found inside established organizations, among intrapreneurs who lead change." 
Archetype 1 is the Freedom Entrerpeneur, driven by the desire to live freely and creativity, and their contribution is the intense pursuit of perfection, potential and "doing it right." Examples include Steve Jobs and a Samurai warrior. 
Archetype 2 is the "Social Entrepreneur", who is the  foundation of change, since they play a key role in identifying and exposing gaps in traditional thinking. They often sacrifice for the greater good while seeking to mend a tear in the fabric of society others often don't see. 
Richard Branson exemplifies this archetype when he takes on outrageous endeavors to call attention to what's missing from the global dialogue, or when he designs businesses that foster camaraderie and mutual understanding. 
Archetype 3 aka, the Reciprocity Entrepreneur supports the whole by making sure that all life gets what it needs. In other words, they work to make the systems that nourish us healthy. Reciprocity entrepreneurs see the need to work in balance with human and natural systems. They seek to reduce the harm we do on Earth and in society.
An example of this archetype is Oprah Winfrey, who in the course of her routine business has done more to evolve education—for girls in particular—than anyone in the traditional school systems. Lastly, Archetype 4 who is the Regenerative Entrepreneur. They seek to guide people and organizations as they cross boundaries and create transformations for a better world.  
What I loved most about her talk was the correlation to tribal behavior that can be garnered from each modern stereotype and why each one is valuable to the "whole" since each of the four archetypal entrepreneurs approaches growth and change differently. She notes that each is critical to revitalizing democracy and, on the larger world stage, capitalism itself. 
Rather than go into the works of Richard Branson and Steve Jobs, she talks about the warriors who are doing innovation in the fishing industry and in sectors and products most of us may have never heard of, but are bringing forth true consciousness in a unique way.
She refers to them as the reconnection entrepreneurs. She says to the audience: "If you're one of those people who wants to change the world, ask yourself:
Do I want to change industries by connecting us with values and can I go after a whole industry?  Can I bring conscious to the way I do business or the way I do a non-profit? Do I want to bring a sense of repriocity where we understand that we're all part of a whole? Do I want to reconnect us to government and corporate business and individuals where we are all complete?" I loved this woman's energy!
Connective Bahavior Expert Kare Anderson spoke on the power of mutuality and how to think about mutuality in work relationships. What do you well and with whom and when do you not?  That wonderful sweet spot of shared interests can be an inoculation and help us see things in a bizarre way," said Kare.
For most of our lives in the business world, we've been advised to lead and manage others. We've been taught to resolve conflict, influence, negotiate and otherwise attempt to get what we want from people.
Through self-improvement, we're told we'll become happier, smarter and more attractive, successful and self-aware. The problem with that paradigm however, she asserts, is that there is no "us" in the equation.
Wouldn't you prefer the camaraderie of smart collaboration over being lead, persuaded or managed? What's missing is the guidebook on how to engage with others to accomplish something more powerful together than we can alone.
From within that mindset, she addressed successful methods to be successful, such as the best ways to find and recruit the right partners and groups, following a set of rules of engagement? 
Mutuality happens in the military, it happens in the operation room, it happens in boardrooms, it happens when we create big things, says Kare. There are benefits to hanging out with those who can help you think about a process differently, i.e., fast thinkers hanging out with slow thinkers. 
Seeking people out who are different can provide more meaning, more adventure and more assistance. The more grounded we are, the more we can see people more clearly and understand what they are saying and not saying.
Specificity creates clarity. Sometimes you need to slow down to get that clarity and to make things happen. When you slow down, people suddenly start smiling more which improves interconnections at work and at home. Often, when we see something that move us, we project other qualities that have no relationship to them. 
Think about when you get in sync, you suddenly start to walk together. Welcome to the power of mutuality. When you walk together in sync, you suddenly start working together more effectively.  Whatever holds our attention controls our lives and what gets rewarded, gets repeated. Our behavior is contagious to the 9th degree.
In a civilization where love is gone, we turn to justice. When justice doesn't work, we turn to violence.  Violence isn't just about shooting, it is about ignoring humanity. The anecdote is mutuality. Great great talk!
Paul Rucker is a visual artist, composer, and musician who combines media, often integrating live performance, sound, original compositions, and visual art. His work is the product of a rich interactive process, through which he investigates community impacts, human rights issues, historical research, and basic human emotions surrounding a subject.
Paul spoke about Recapitulation, his Creative Capital project that parallels slavery with the current day prison system. He did this with data visualization of maps he created of the US prison system with data from the organization Prison Policy Initiative, and a slave density map from 1860 showing slave populations in some areas of the south at over 90 percent. 
Even though the US population is only 5 percent, the prison population makes up 25 percent of the worlds prison population.
Whereas African Americans comprise only 12 percent of the country's total population, they make-up 40 percent of those incarcerated. His work also examines the colossal disparity in the racial composition of the U.S. prison population and points to the vast number of African American's whose lives have been affected by both the institution of slavery and prison system. Paul says "Slavery worked".
From a cost benefit analysis, you can't argue with free labor. The economic impact was tremendous. In 1860, cotton was 60 percent of US exports. The US provided 75 percent of the world's cotton. This was an estimated 200 million dollars at that time. 
Rucker taught about the importance of knowing history, and the amendments and how language was used and manipulated.
He paralleled lynching with current shootings by police of unarmed men and then showed an animation of a postcard from 1915 that he brought to life and composed new music for the imagery.  A powerful cello player, Paul often weaves in controversial and painful issues into his playing and his storytelling.   
Before, during and after giving us a historical glimpse into these issues through animated video, sculpture and digital prints, he fired up his cello again and again, each time breathtakingly beautiful. A refreshingly creative approach to storytelling, his execution was a sweet mix of a rich interactive process through combines community impacts, human rights issues, historical research and basic human emotions.
You're left feeling that his work is rare, his findings are important as are the way he presents them and that he's one helluva musician.
One of the more intensely passionate talks was by biologist Tim Shields, who is more excited about tortoises than life itself. Because the world looks at environmentalism and issues surrounding it as boring, a bit like "broccoli," says Tim, it's not a lot of fun. If something isn't fun, people won't spend time doing it.
For someone who has spent his entire life dedicated to studying and observing the life of tortoises, it's also not a lot of fun seeing their dramatic decline, largely because of the increased numbers of ravens who are destroying them, now growing by roughly 1,000% in the West Mojave Desert. Ravens destroy desert tortoises and they are also destroying trees.  
Says Tim, "it's in parallel to the human species through its negligence of having no idea of what their impact is having on the planet."
It's the truth but not the whole truth. After growing tired of reporting on the tortoise decline, he began to focus all his efforts on the raven problem. In that process, he created a laser and they are now working on the notion of enabling people to fire a remote laser via email or via the Internet. The idea has a few moving parts.
Given that the world of gaming, drones and rovers are thriving, he wanted to figure out how to merge that growth with protecting a species.  
Taking environmental action has to be deadly serious business is how we think of environmental action. We take it with a sense of grimness, as if we're sacrificing some of our time for a worthy cause. He asserts that this approach could make conservation fun. 
Players could monitor feeds from an array of drones over the region of Africa and report on poachers on the ground. How about games to monitor tropical forests or far less than stellar activities happening in the Amazon? 
Ecologists and biologists could identify possible candidates for the games since it's a win for them given they'll have thousands of people out there with eyes and ears to report back.  
The gear heads and the inventors can manufacturer the devices, the game players can bring their skins and talented thumbs, the game developers can create the games and rovers and environmental organizations can help spread the word.  It's a fascinating idea and personally, I can't wait to follow his progress.
Randy Schekman, who teaches molecular biology and has won a Nobel Prize, addressed the issues that are throttling the ability for more scientific papers to make it into the public domain. He suggests that we are faced with a broken system for scientific reviews.
Does that mean we're in the dark ages with the review process? After all, it is the 21st century so there should be no reason to limit someone's access through a print only model or place limitations so only a fraction of scientific papers can ever be read. 
"We need to democratize science publication so any reader of science has the ability to read a paper free of charge," says Schekman. He encouraged people to sign a paper called DORA (Declaration of Research Assessment), which is being put forward by scholars in an effort to defeat the influence of commercial venues which negatively control the output of scholars around the world.
Beth Kanter is most known for her work around social change for social causes and her area of passion: "Individual Social Responsibility" or ISR.
She notes that individuals taking small action online can have a huge impact, whether its to help you raise money for a non-profit, someone's sickness or cause or to metabolize grief, which she did when she lost her dad. She launched an online fundraiser to honor her father and benefits went to the surf rider foundation and an ocean conservation program.  
She encourages people to start their own ISR program. Key ways to get started: first, identify your passion and your spark, in other words, find something that you care about. Then she suggests, start talking about what you think makes the world a better place.
She gives the example of a 13 year old who wanted bullying to stop at her school and started talking about it online, an effort which led to reduced bullying around the world.
There are also organizations like Giving 2.0, which is designed for college students to learn about social responsibility with your peers - you can join or start an organization. Think about what you can do to make the world a better place and start speaking out about it. All it takes is a droplet into the online ocean so to speak.
Marnie Webb's work is also around non profit work and social responsibility as well as tools that create a 'better good.'  Marnie wanted to recreate how we look at social issues and how we think about abundance.
She says, "when we start thinking about abundance, we often don't think we have enough, but if you start thinking about abundance differently, from a possibility place, things start to shift."
Marnie raises examples of organizations which have made a dramatic impact, such as D.C. Central Kitchen, whose mission is to reduce hunger with recycled food, training unemployed adults for culinary careers, serving healthy school meals, and rebuilding urban food systems through social enterprise. After they kicked things into gear, people began to realize that people in soup kitchens were eating better than kids were eating in local schools.
They made a paradigm shift. Youth Uprising helps youth kids in Alameda, in apparently one of the worse areas of the United States. Kids were crying out for a safe place to hang out and so they turned an abandoned Safeway supermarket, then a derelict building, into a a safe environment and playground where kids could go to play.
Asks Marnie: "what if we look at resources that exist and figure out a way to do this together by orchestrating a way to raise enough money and resources and get it out to the right people?" For what it's worth, I have been a fan of Marnie's work for years.
Brenda Chapman touched my heart when I first heard her speak at TEDxUNPlaza, an event I was also involved in earlier this year. She started her career as a story artist at Walt Disney Feature Animation where she worked on films such The Little Mermaid, The Rescuers Down Under, Beauty and the Beast, The Hunchback of Notre Dame and Fantasia.
Chapman was the story supervisor on The Lion King (my favorite modern musical and yes, I've seen it a half dozen times). She is most known for her work as writer and director of the Oscar, BAFTA and Golden Globe winning Brave. 
Brenda is a great storyteller and this came out as she went back to childhood to share her journey with the TEDxBerkeley audience.
She spoke of her professional timeline starting back to the days when stories depicting the dreams of a little girl revolved around marrying a prince and living happily ever after to the more modernistic and adventurous image we see in BRAVE.
My favorite moment (and this was during rehearsal) was when she spoke of the moment she knew she'd become a feminist.
She looks at us with tender but intense eyes as she goes back to the past and recalls that defining moment, "when my father said 'we can't find the salt and I have 3 women in the house?", a man who retired to the LazyBoy chair after work every day while women made dinner, cleared the table and washed the dishes.
While my grandfather changed his thinking and behavior dramatically once he hit his late seventies, this way of 'being' for men in the 1960's and 1970's was very common. I couldn't help but think when she recited her defining moment live on the TEDxBerkeley stage the next day, "was this woman also in my kitchen when I was a child?"
The woman behind me, also in her forties, burst out laughing and one eye exchange said it all - Brenda had clearly been in her kitchen when she was growing up too.
"It's about observation and change," says Brenda. Observe something deep in your heart and deep in your core and do something about it." She asks, "what is the one thing that keeps you up at night and what can you do about it?" Her work is indicative of her childhood history and of her commitment to making a change for how women are perceived starting at an early age through the medium of children's animated films which may end up as musicals on Broadway, which Beauty & the Beast most definitely did.
I applaud you Brenda Chapman for your soul-searching work and for making the world a better place for women by depicting a different image of what we (as women) will accept and also what is possible.
Other speakers included Leslie Lang, Roberto Hernandez, Sarah Hillware, Dr. Alan Greene, Edward Miguel, Dutta Satadip and Ashley Stahl. 
Performers included The California Golden Overtones, Yonat Mayer, musician/clown and aerial acrobatic Nikki Borodi and Vangelis Chaniotakis and New Orleans Manifesto, a jazz group which included bandleader John Halbleib, Chloe Tucker, Manuel Constancio, Stephan Junca, Adam Grant, Hermann Lara and Sam Brown-Shaklee.
All photos: Renee Blodgett.
February 13, 2014 in America The Free, Client Announcements, Client Media Kudos, Conference Highlights, Entertainment/Media, Events, Magic Sauce Media, On People & Life, On the Future, San Francisco, TravelingGeeks, WBTW | Permalink | Comments (0) | TrackBack